Short S23 C Class Empire Flying Boats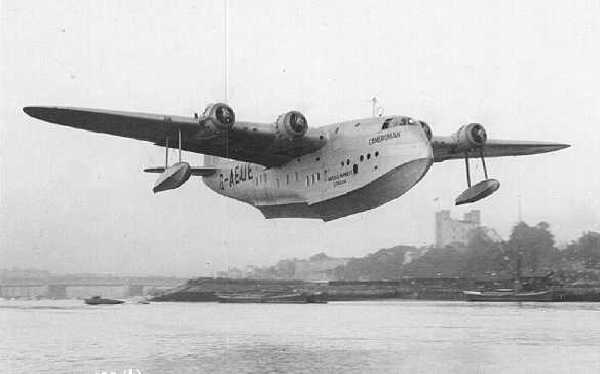 A picture of every Empire Boat!
.Quicktime movie of Sunderland taking off.
With a video camera inside the model looking out under the wing through the float and under the engines. To view this movie you need to have Quicktime Player. It's a free download.
---
SHORT SUNDERLAND 1/10 model
---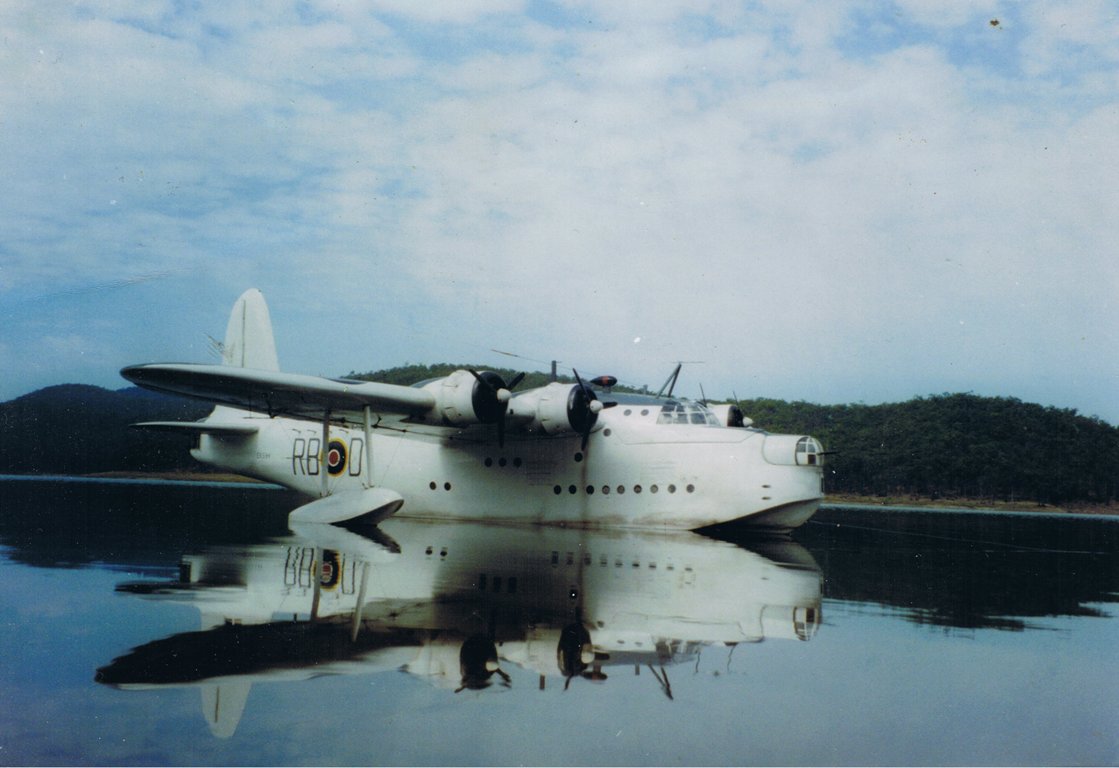 Sunderland model at rest on Hinze Dam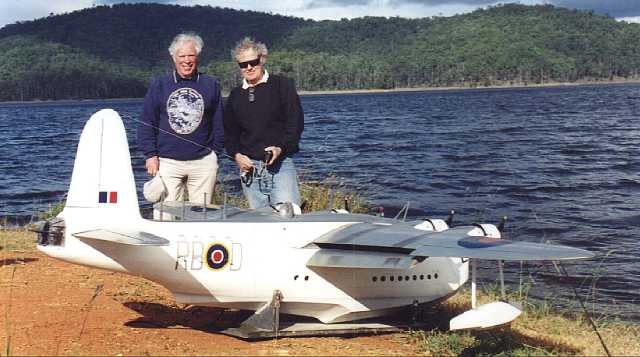 Geoff (r) with David Boddington, magazine editor legend.
Jan Hermkens drew the plans for this Sunderland.
I built a plywood Sunderland from his plan, and made moulds from that.
Jan, from Netherlands, is one of the great scale model builders and fliers of our time. You can visit his website at http://www.janhermkens.nl/ .
His Sunderland won scale model competitions in its day, flying from the land with its beaching gear.
Here are some of his other winning models.
My Sunderland model flying past (picture by Bruce Virtue)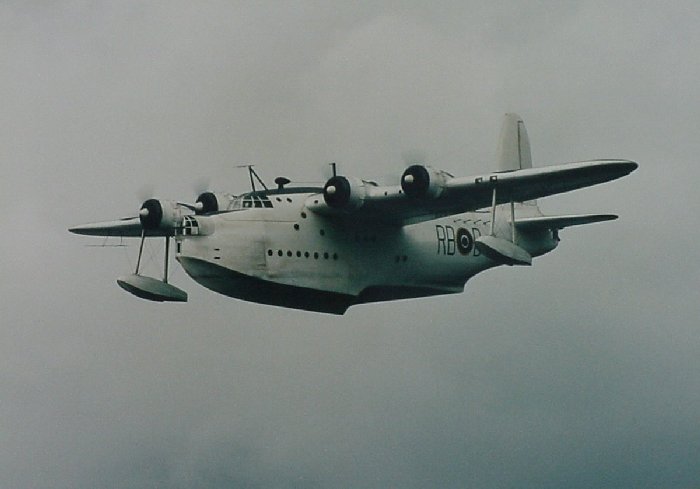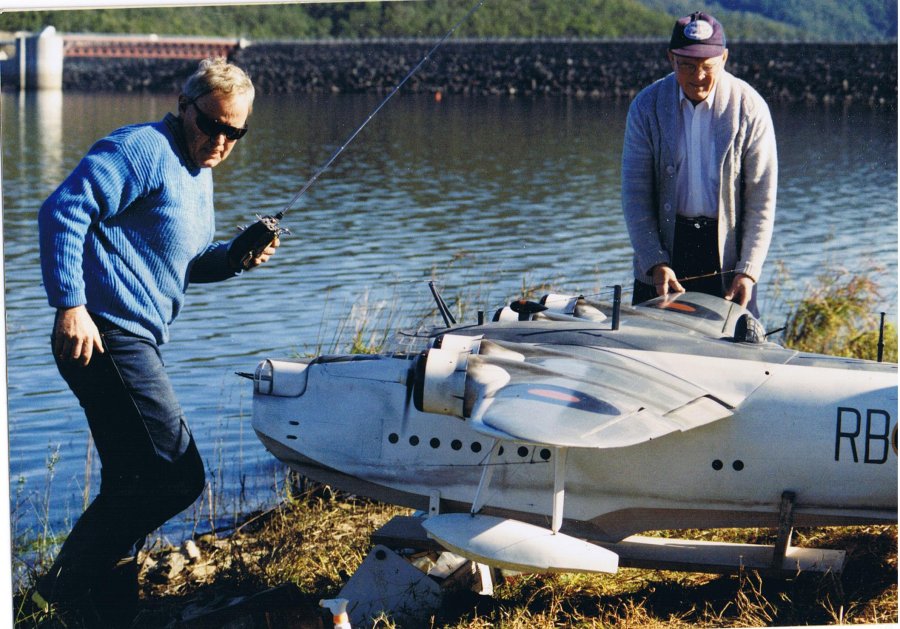 banking
Sunderland on final with full flap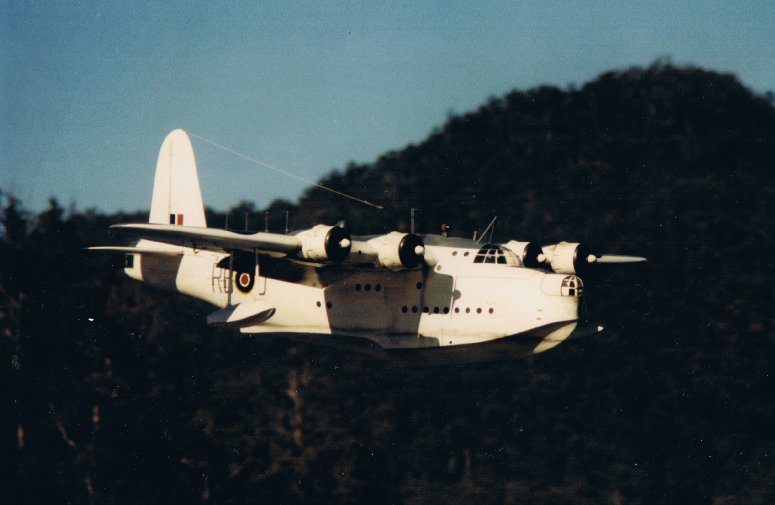 takeoff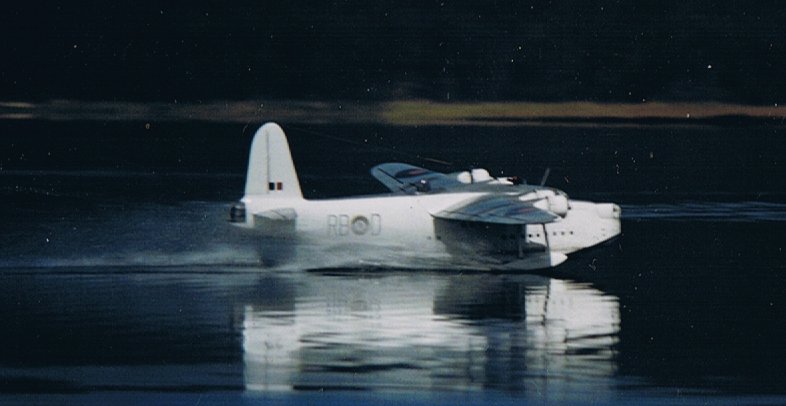 Sunderland flaring for landing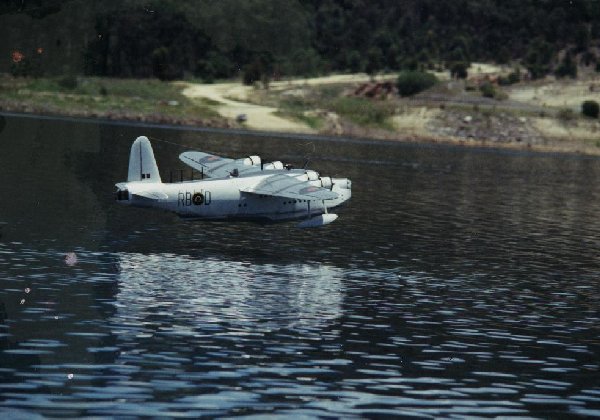 taxying at Lord Howe Island.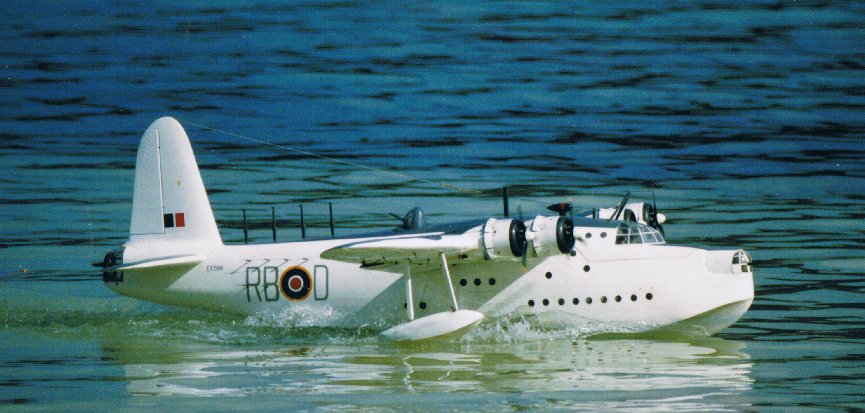 Landing on the lagoon at Lord Howe
Peter Phillips,Abbey, and myself at Lord Howe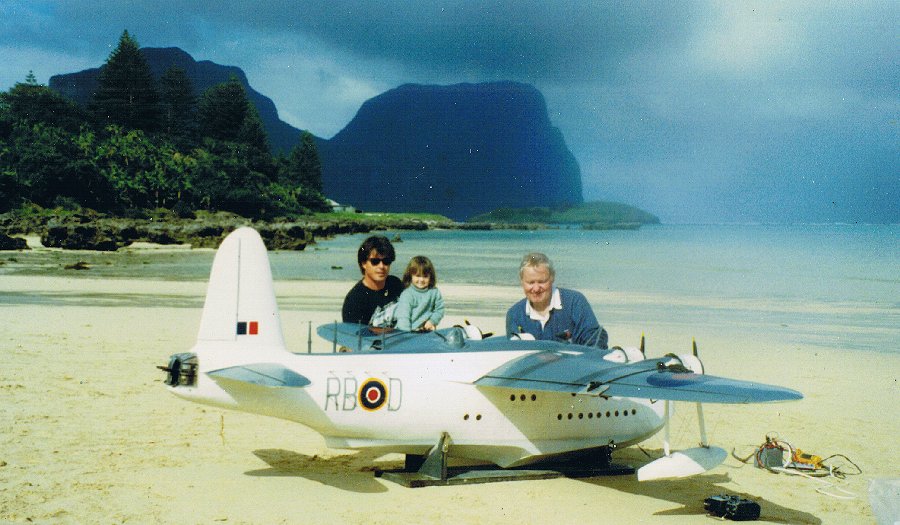 At Lord Howe we flew the Sunderland for the local residents and schoolkids who were allowed out of school to watch.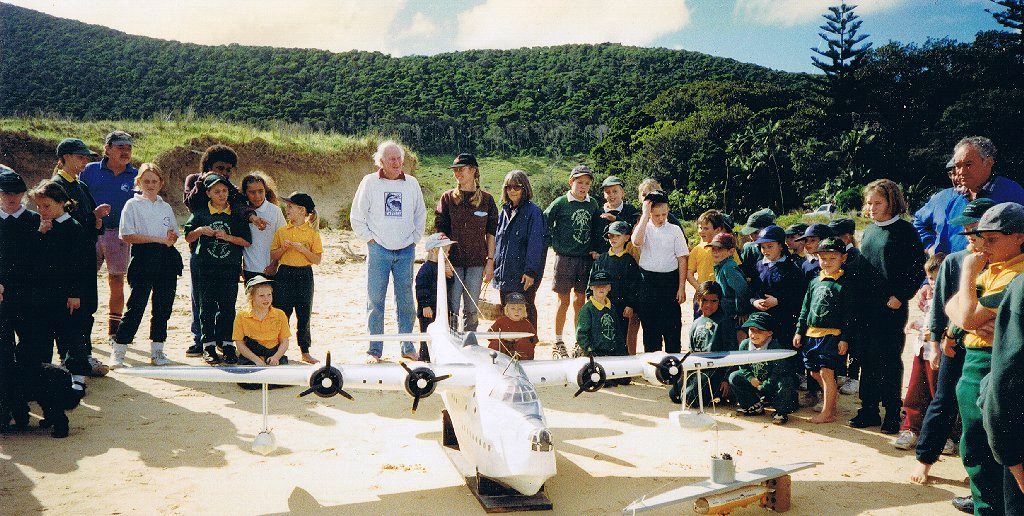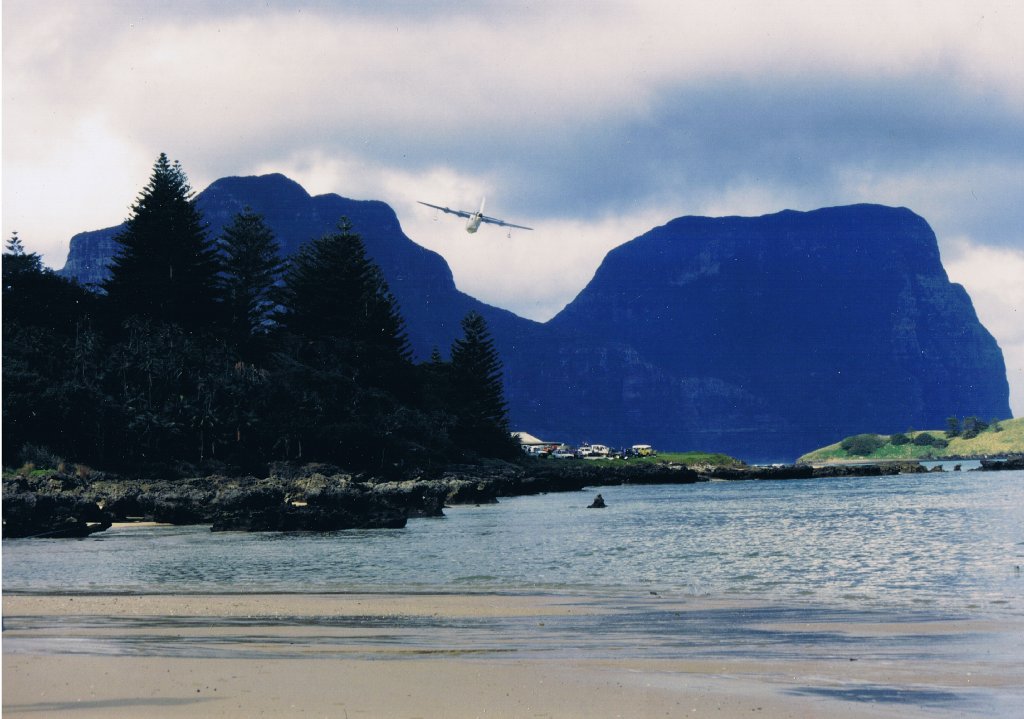 The details of the model are:
| | |
| --- | --- |
| Scale: | 1:10 |
| Wingspan: | 3.45m (11 ft 2 ins) |
| Weight: | 23.5 kg (50 lbs) |
| Engines: | 4 x A.S.P. .46 two stroke with Bolly 3-blade 11 x 4.25 props |
| Radio: | JR X3810 8 channel with 11 servos with control to the following: Rudder, Elevator, Ailerons, Rudder, Throttles, Flaps, Bomb drop. The rudder is mixed with port or starboard throttles for taxiing on the water via a mixing switch. |
The static models of the Sunderland, (four to date), are on display in four "Trader Duke's" restaurants in Southern Queensland, at Maroochydore, Caboolture, Coomera, and Southport.
Sunderland in Action
Sunderland model depth charging a huge Submarine Model "Surcouf" by Patrick Drake. The powerful plume from the Depth Charge has destroyed the portside tailplane of the Sunderland.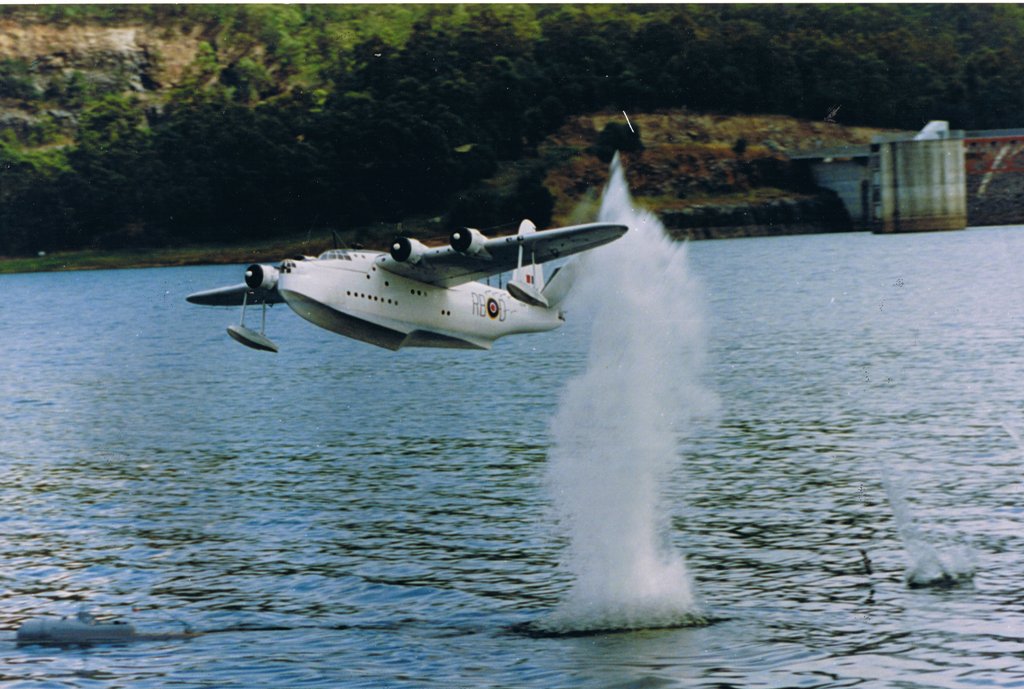 (Pics by the late Bruce Virtue)
Note the tailplane blown off by the depth carge. The model continued to fly and landed normally.
Considering that the model is flying at approximately 50 knots, the photographer did rather well to capture the moment that the tailplane was deflected.
Another shot of the Sunderland at speed, Depth Charging "Surcouf".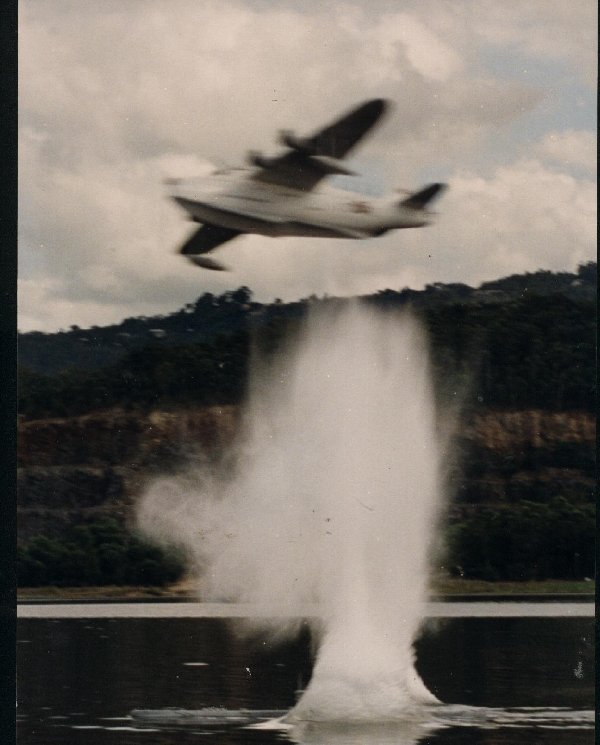 And another, this time bombing Patrick's U-Boat .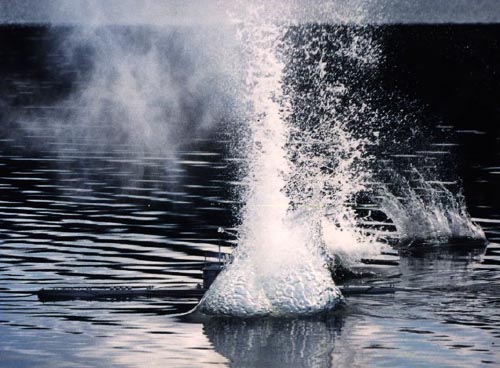 DC's straddle the u-boat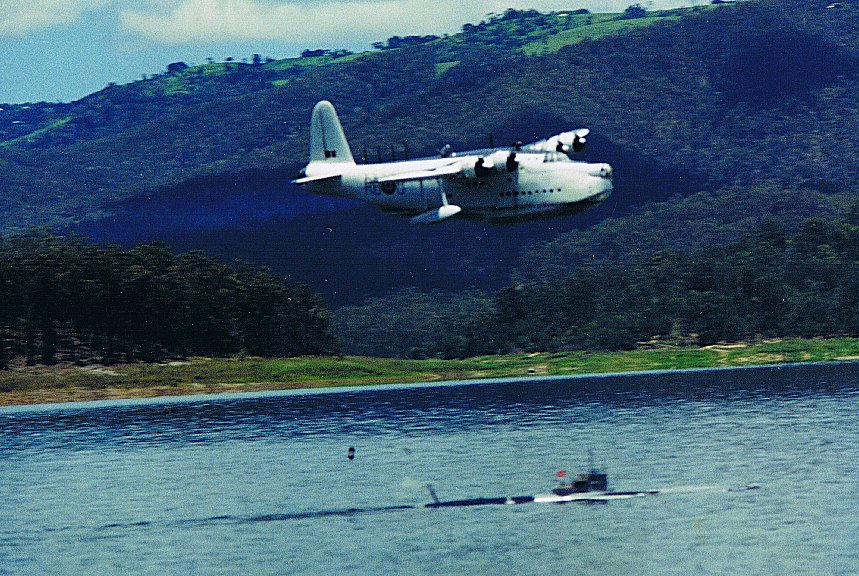 Fighting back! Surcouf fires its' guns!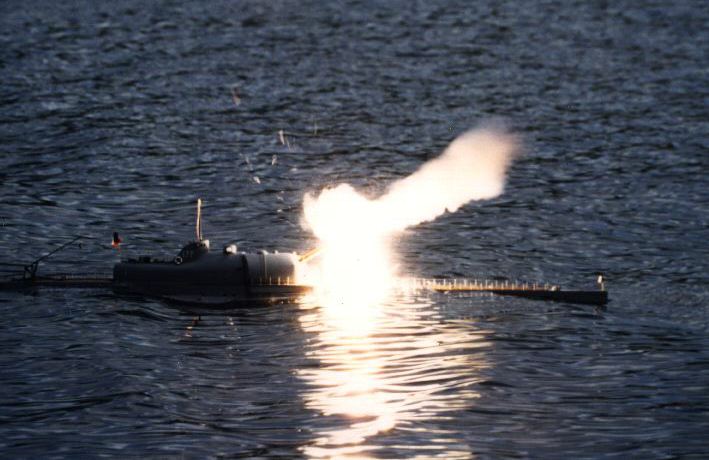 This is EK594, the Sunderland of 10 squadron RAAF that the model was based on: My father F.W.(Bill) Reichelt flew this aircraft: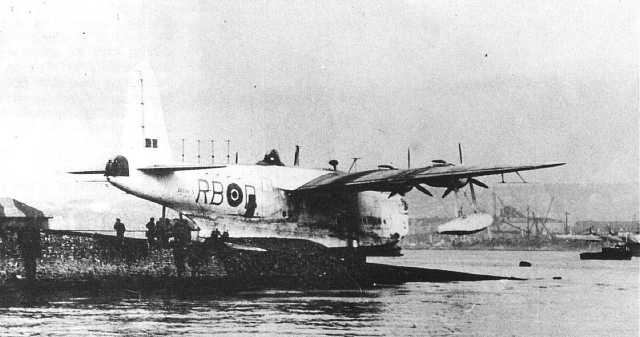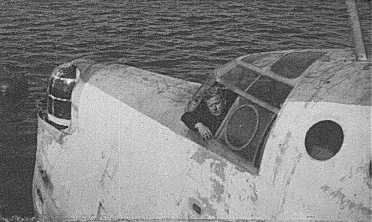 Dad in 1945
My workshop looked like Shorts factory at Rochester for a while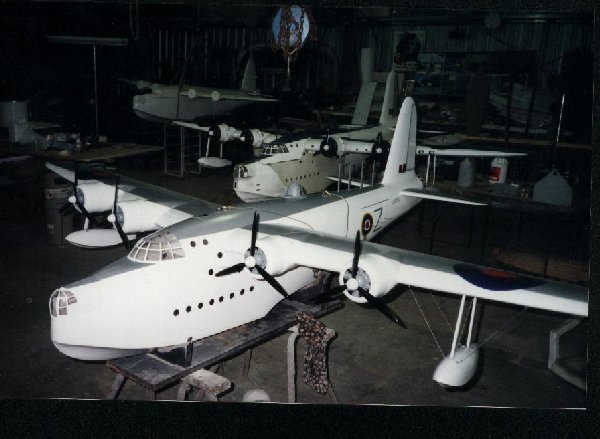 The Sunderland model, after five years flying, was donated to 10 Squadron at Edinburgh RAAF base in S.A. It now hangs in the Briefing room.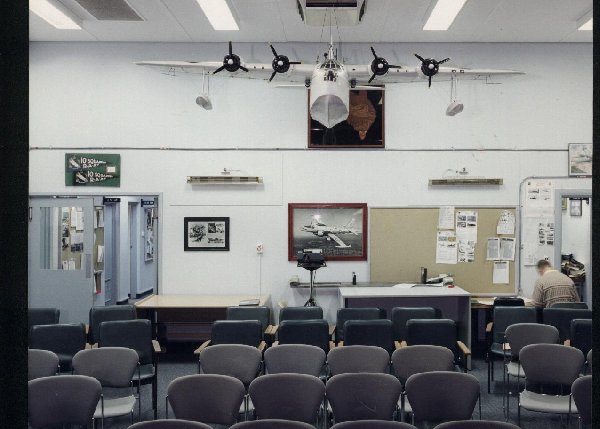 For the Bert Hinkler Hall of Aviation also, this refurbished replica of Hinkler's Avro Avian with ADC Cirrus engine.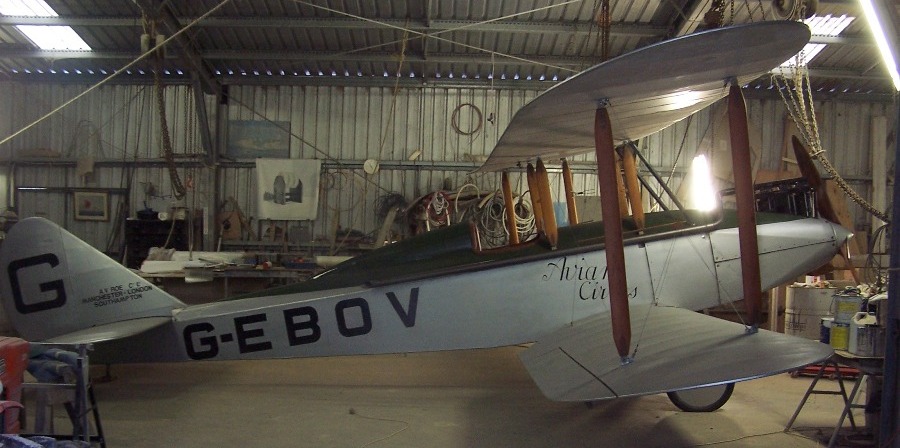 Now started for QANTAS FOUNDERS OUTBACK MUSEUM...a DH50 replica. Making the engine from fibreglass. It represents an Armstrong Siddley Puma.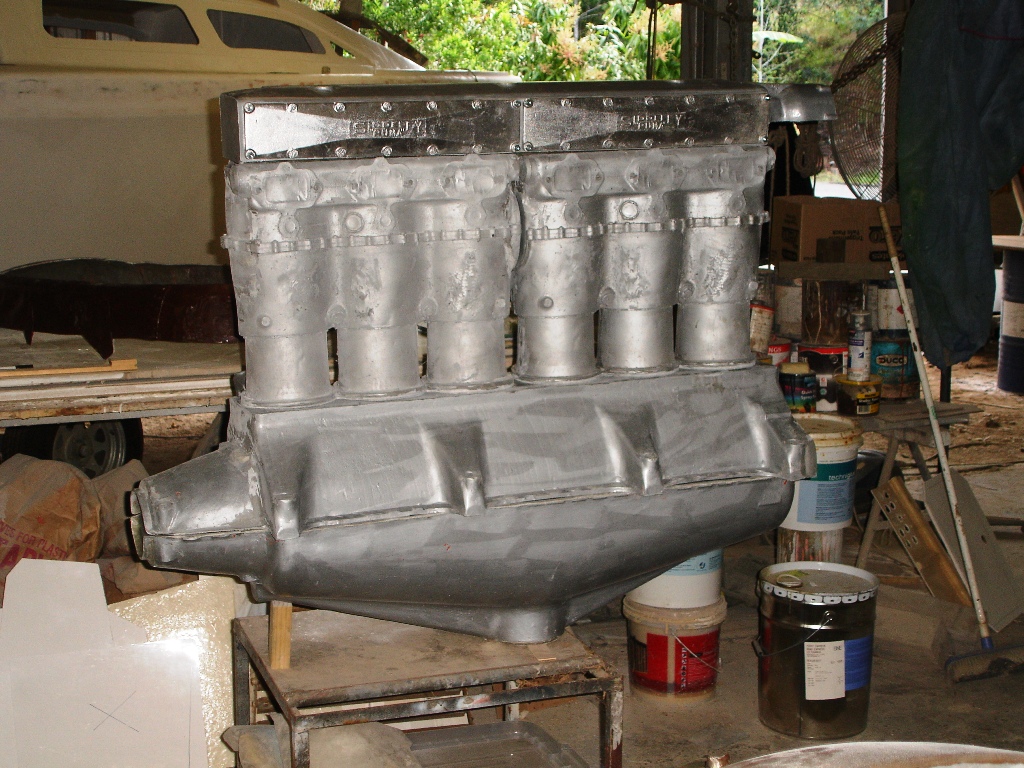 This is the original engine in UK which I hope to emulate.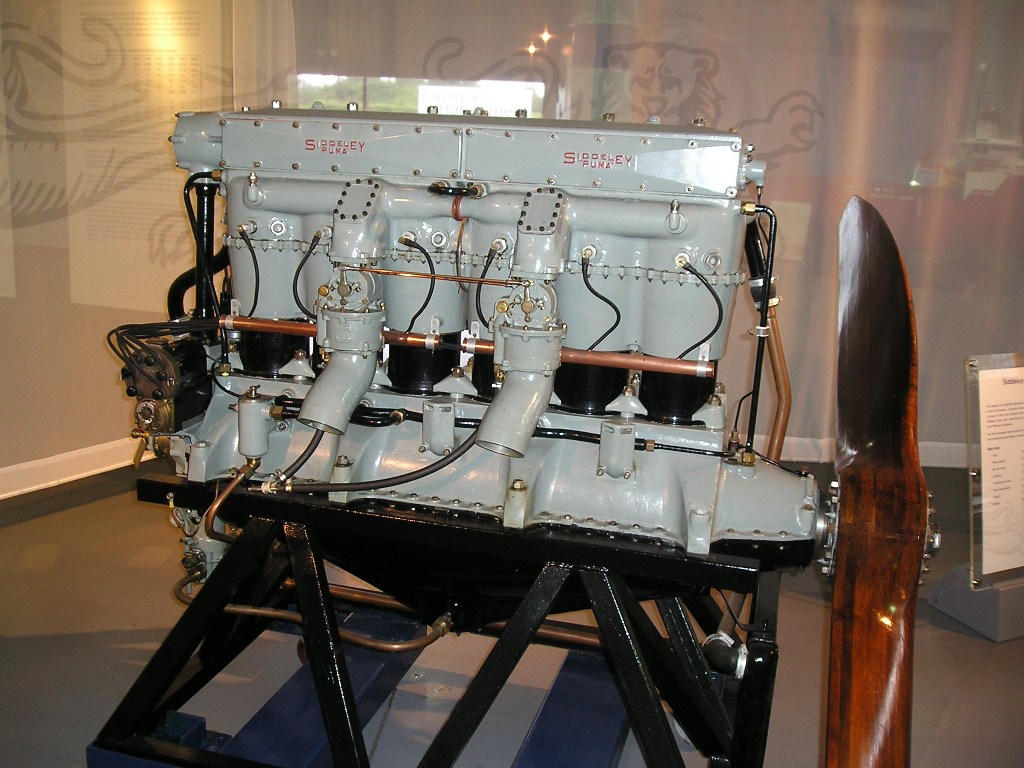 Here is the replica so far as of 21/11/09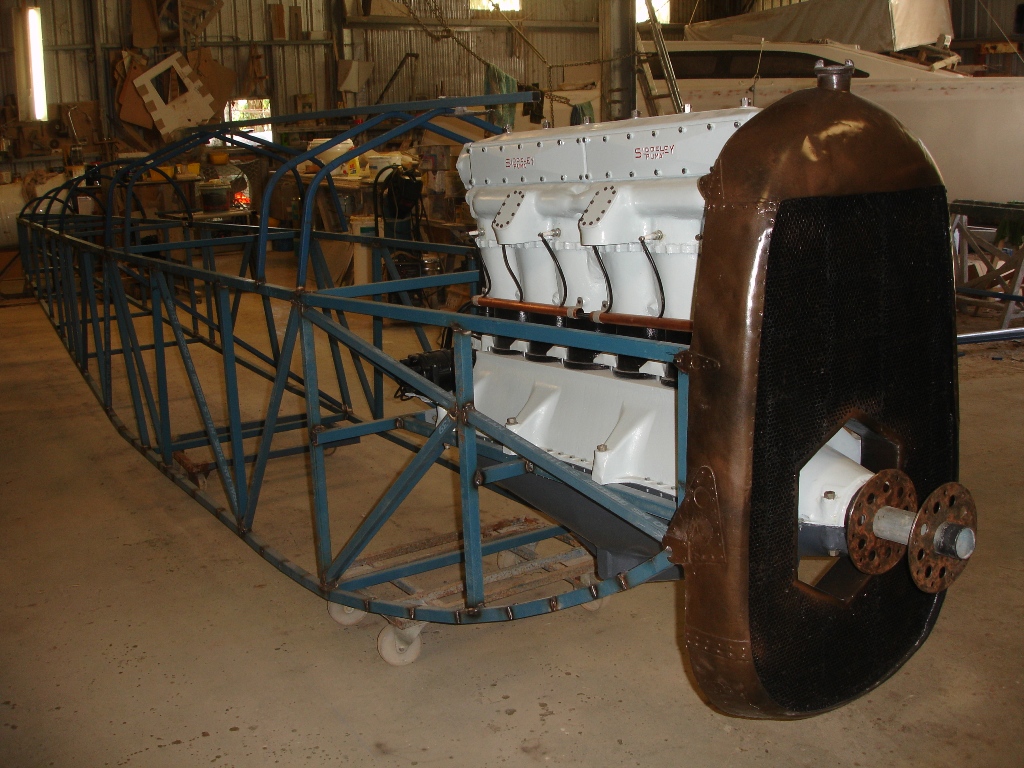 Fuselage with undercarriage so far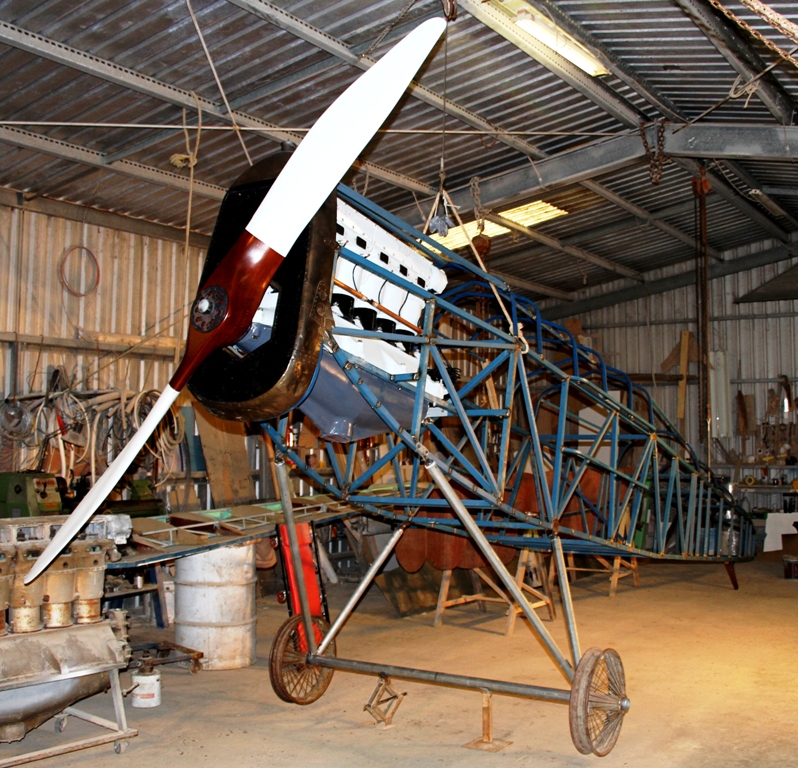 Family Model Album

Last updated 21stNovember2009