Ross 780e Airwave 990
Contact us at reichelt1@gmail.com Other activities... Replica and Model Aircraft
Seaway 25 Callisto recently restored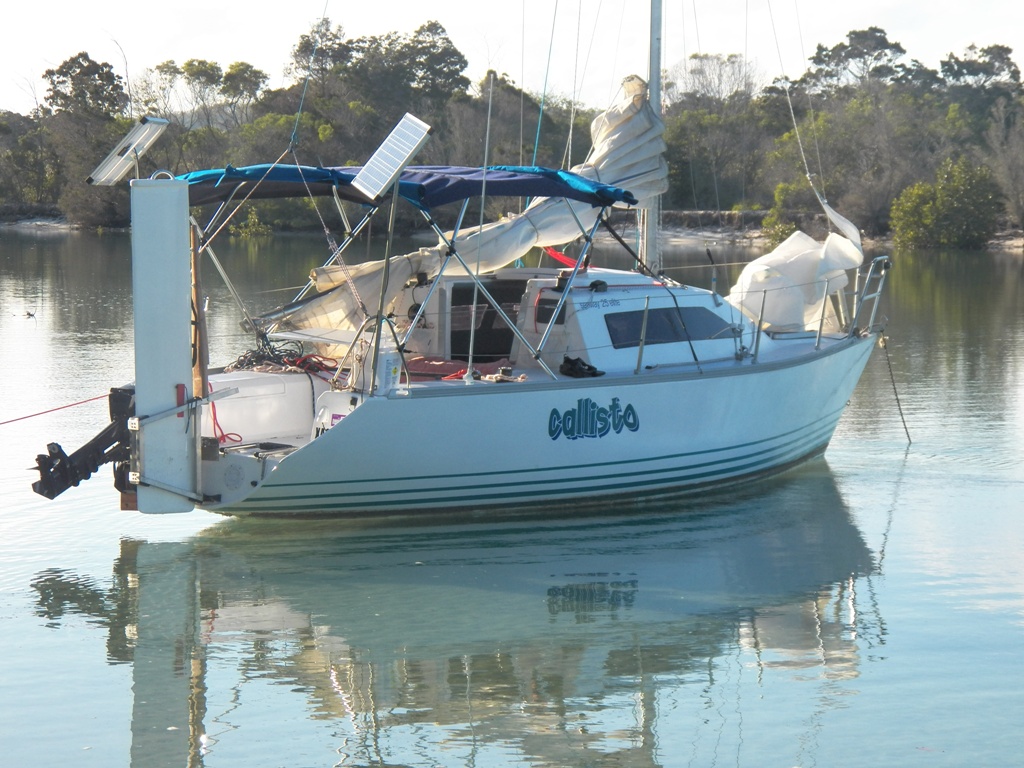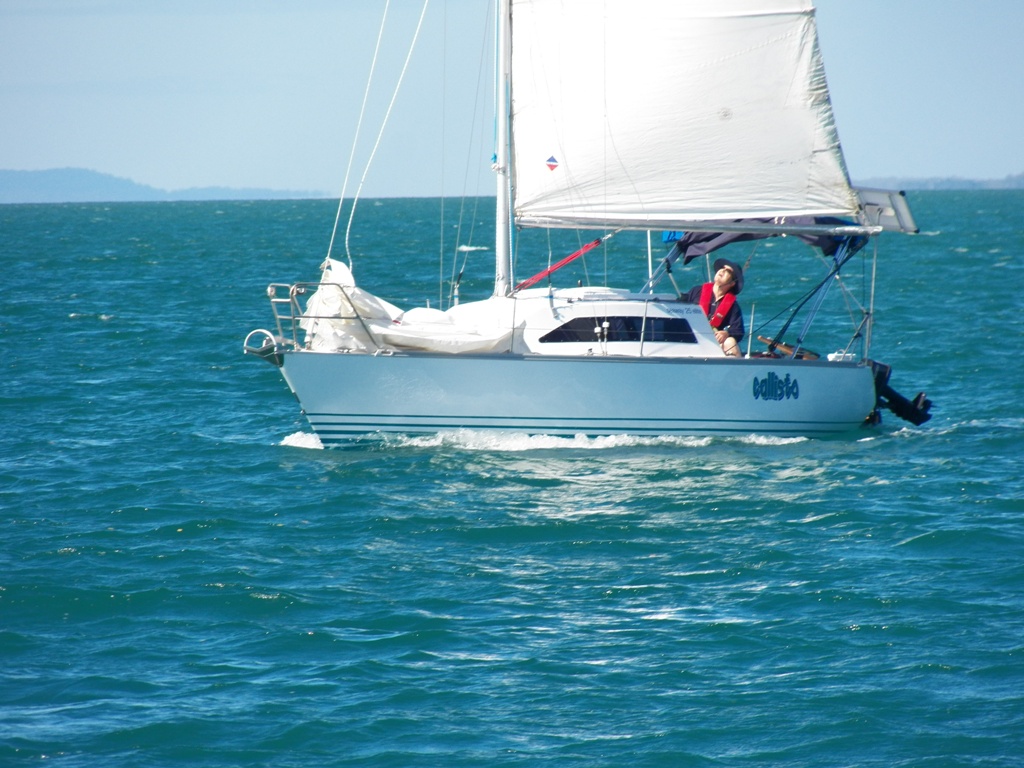 Ross 780e
New Ross 780 e 8.2m yacht.
Note: (Even though the boat is now 8.2m long, it's still a variation of the older 780, so we have decided to keep the name Ross 780 to avoid confusion with the Ross 830. The 'e' means 'extended')
The 780 moulds have been altered to improve the cruising abilities and features of this yacht.
the hull and deck have been lengthened to 8.2m. This gives us an extra 200mm of length to the hull in the galley/bathroom area, and an extra 200mm of length to the cockpit.
The keel will be approx 120mm longer to increase stability.
The performance may be minutely enhanced by the slight increase in WL length and stability; on the other side of the equation is a bit more windage.
After 68 Ross 780's made since the 1980's, we're officially 'retired' now and the 780 isn't still in production. However we intend to keep making a small number of boats to be sold as fully fitted yachts, albeit fitted to a fairly basic stage.
Here are some pics of the yacht. When we can we'll get pictures of the 780e's sailing.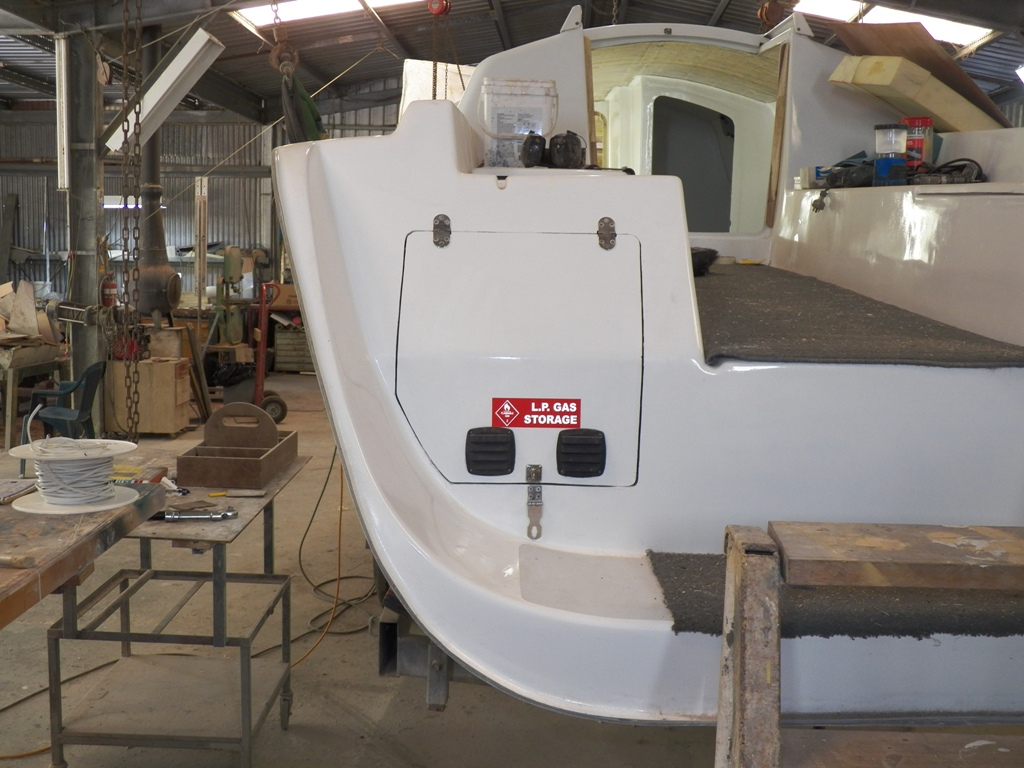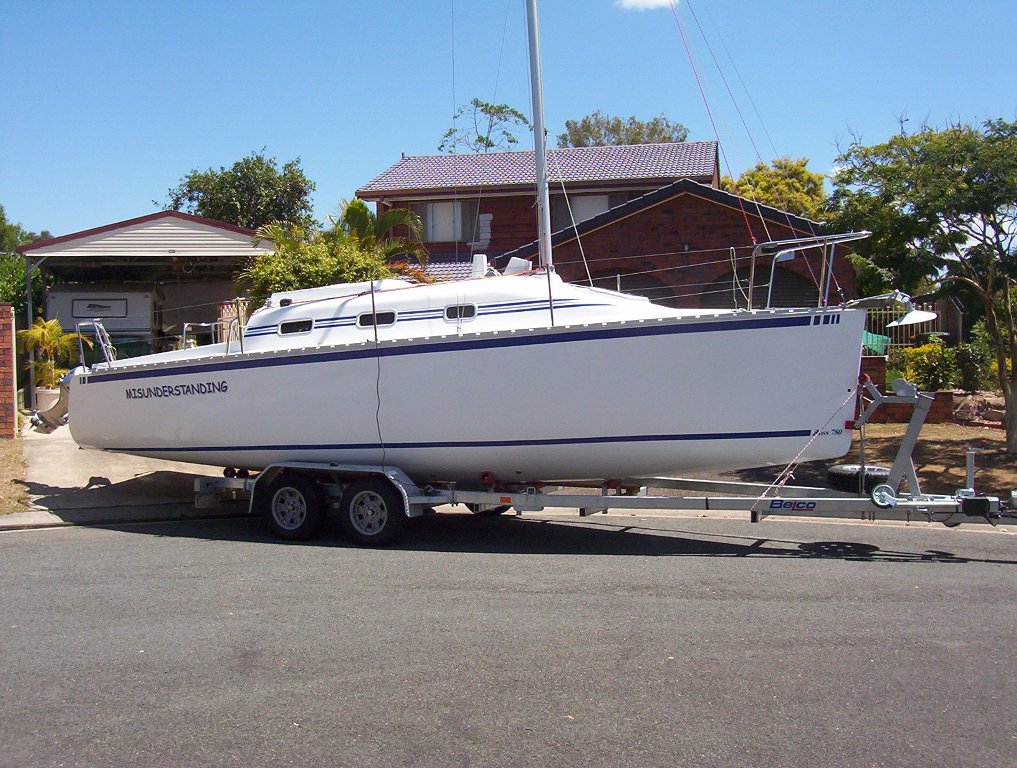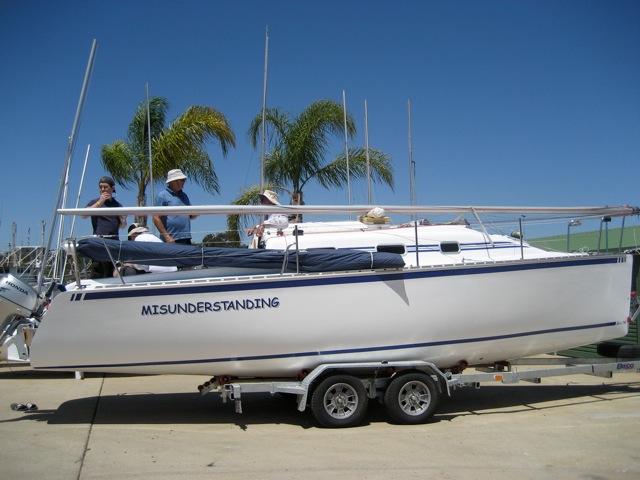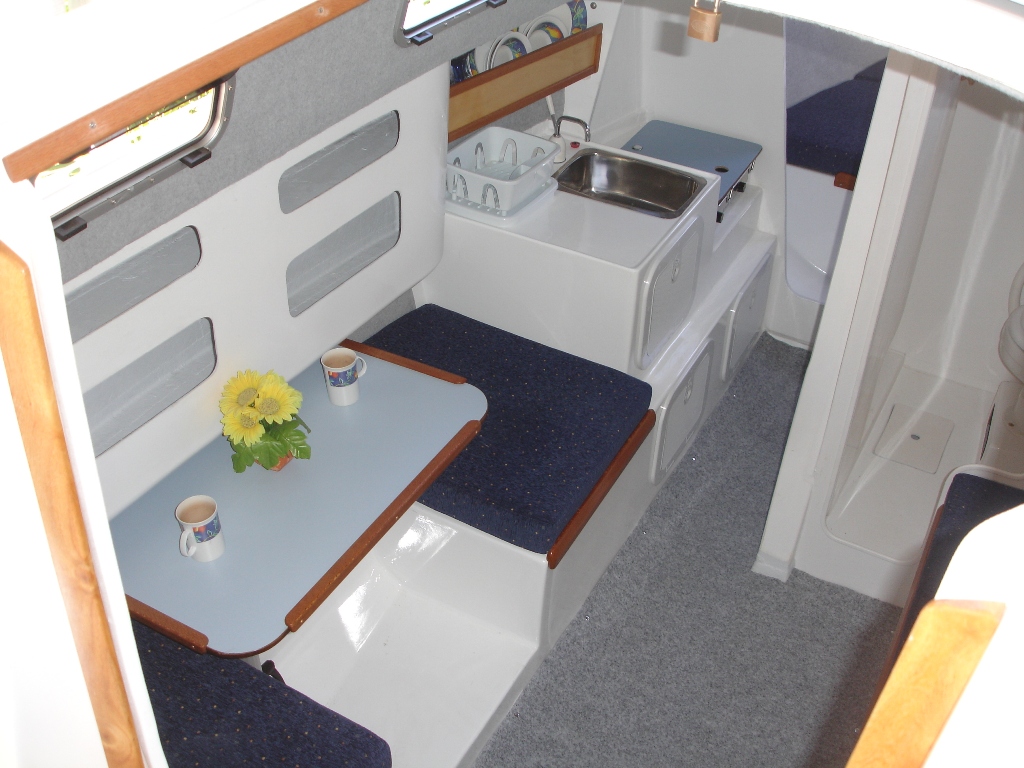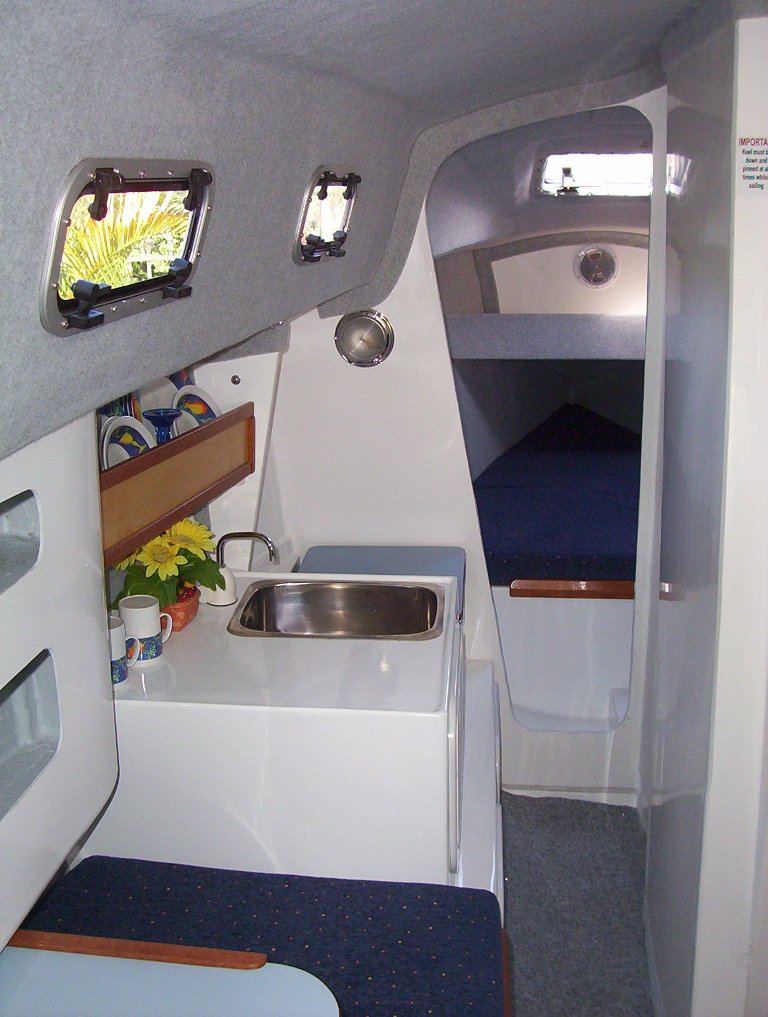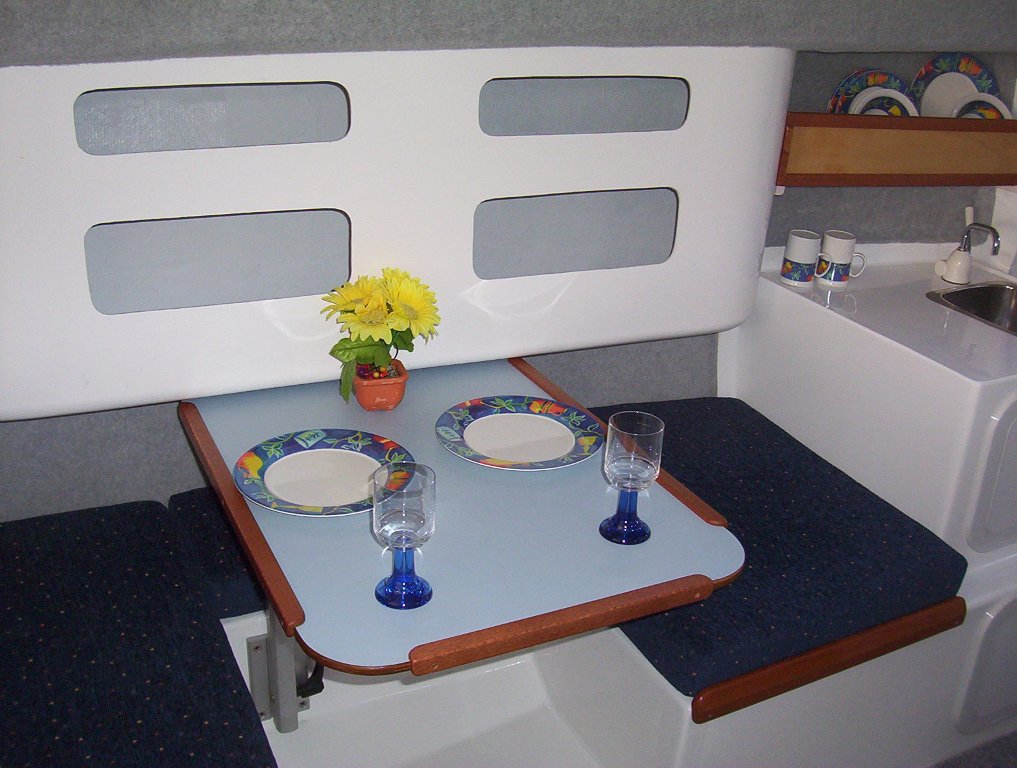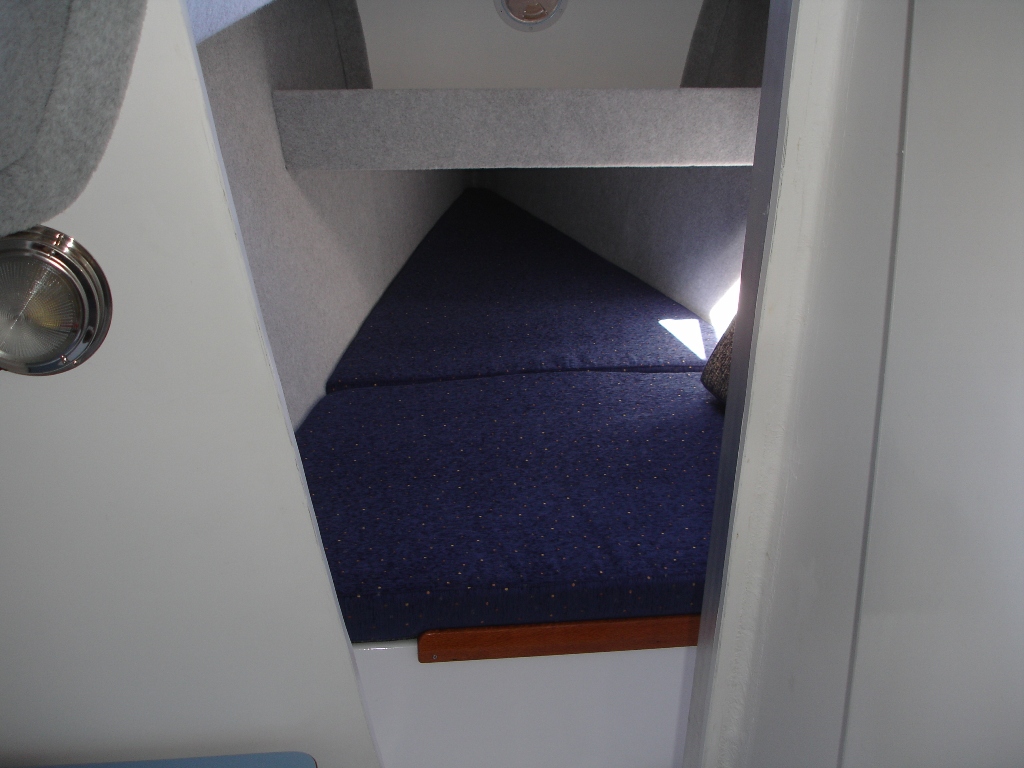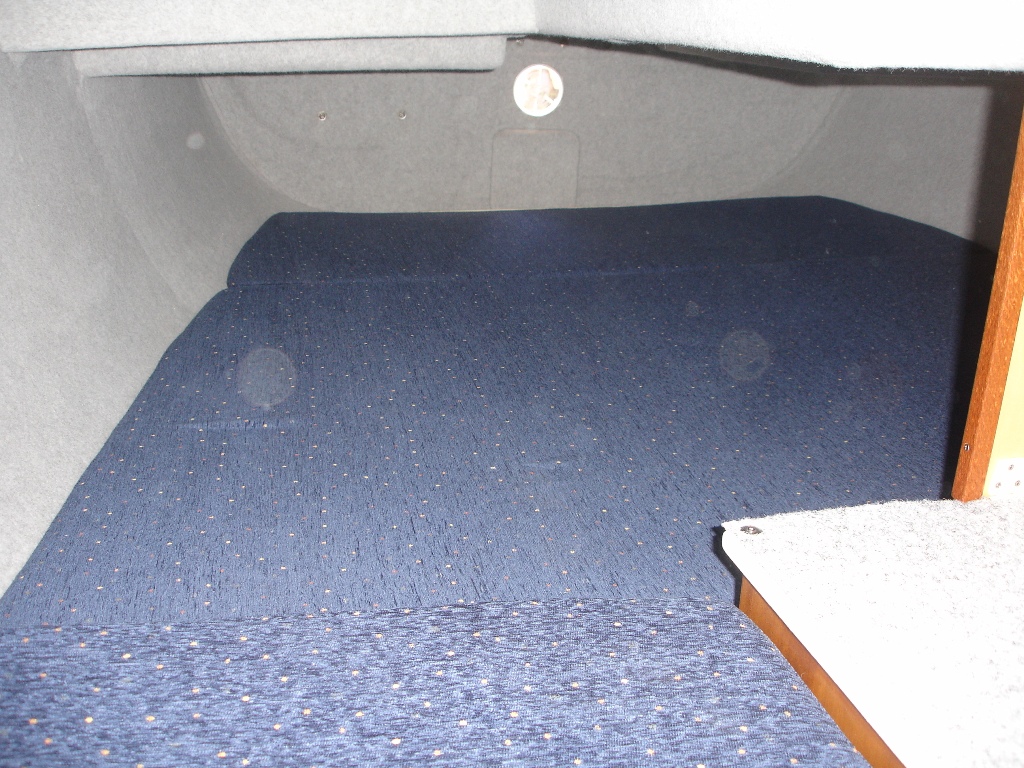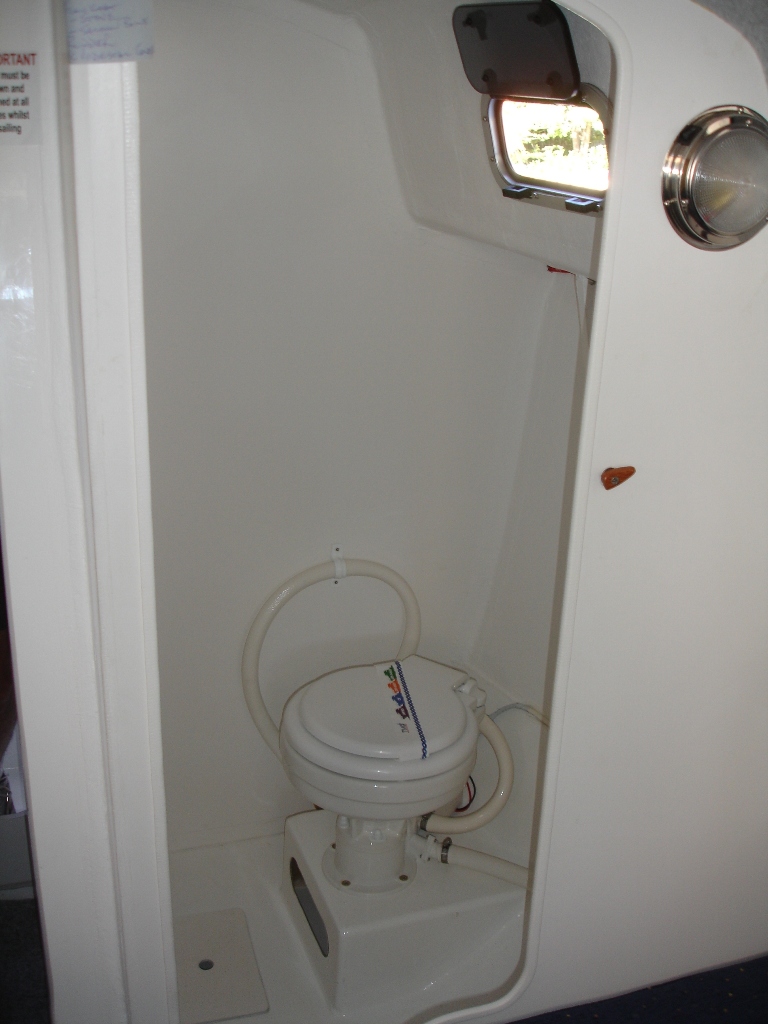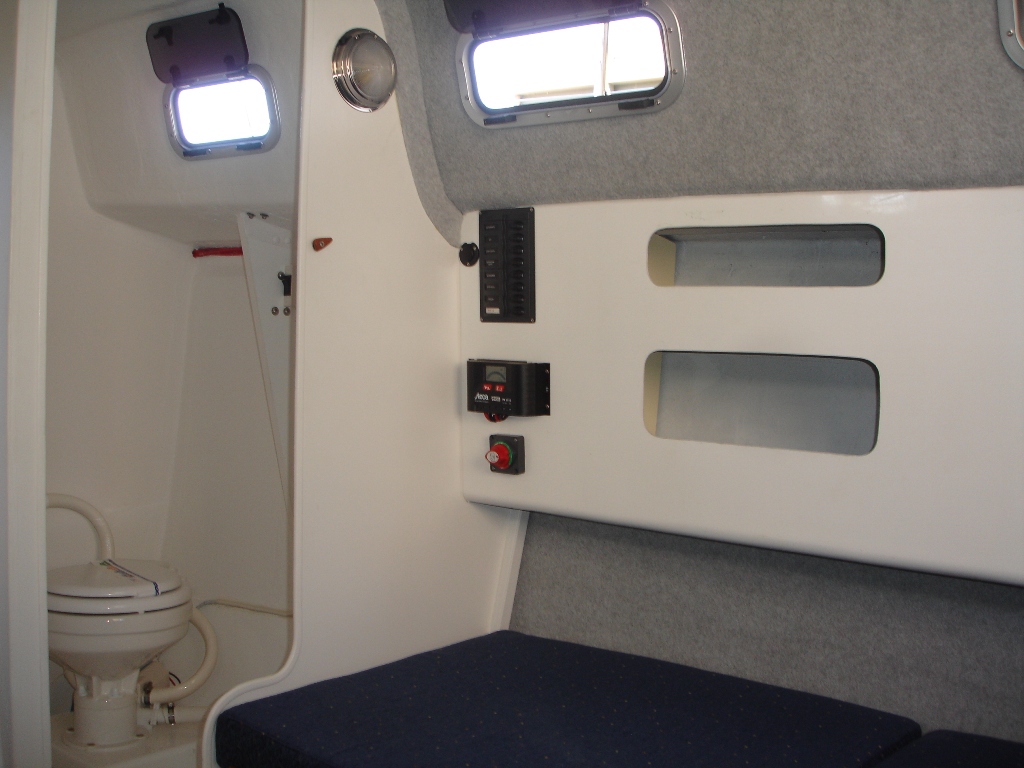 Seaway 25 "Volcano"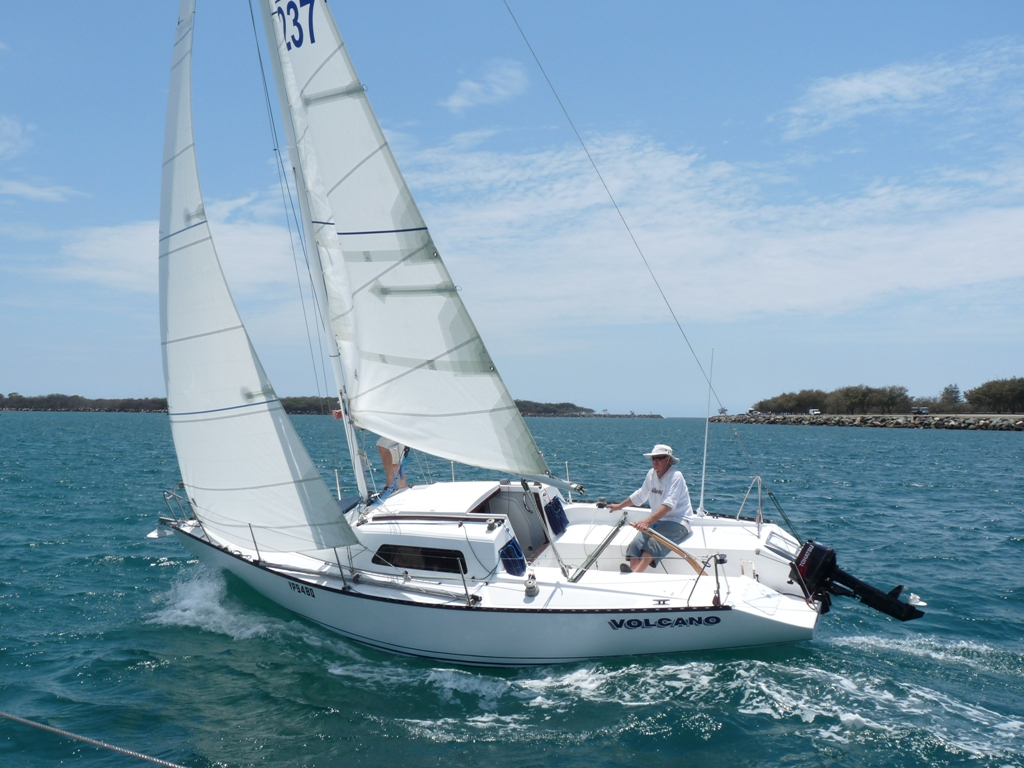 Volcano is now for sale for $23,000 without trailer or 28,000 with an "as new" Swiftco 2.9 tonne ATM trailer. Volcano on the trailer weighs around 2.6 tonnes.
This fully restored classic is much better than new, and has new sails and many modern features including fully enclose bathroom with electric toilet and exhaust fan.
Pressurized water system with sink in galley and bathroom, and 90 litre Vinyl Ester water tank.
Toilet has 90 litre holding tank with its own macerating pump.
Provision on pushpits for 2 x 40Watt solar Panels
Set up for your car fridge under the steps with power supply.
Huge permanent front v berth and large portside saloon berth.
Electric raisable 300kg keel
Traditional IOR style rudder has a storage slot in the deck.
New Tohatsu 9.8hp outboard with 7 amp charging.
"Volcano" is a 36 year old Seaway 25 that was wrecked in cyclone Ului in the Whitsundays.
We have restored the boat to its former glory after an extensive rebuild spanning two years.
The progress of the rebuild can be seen at Trailer Sailer Place .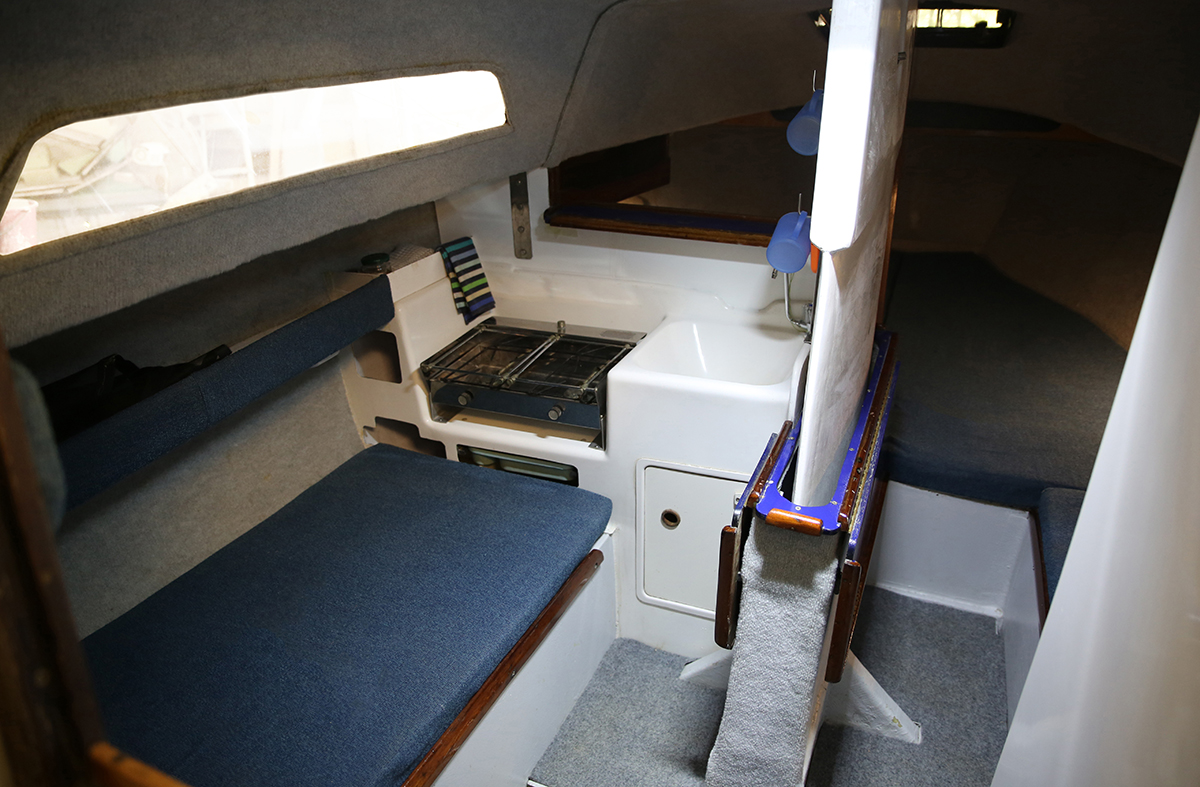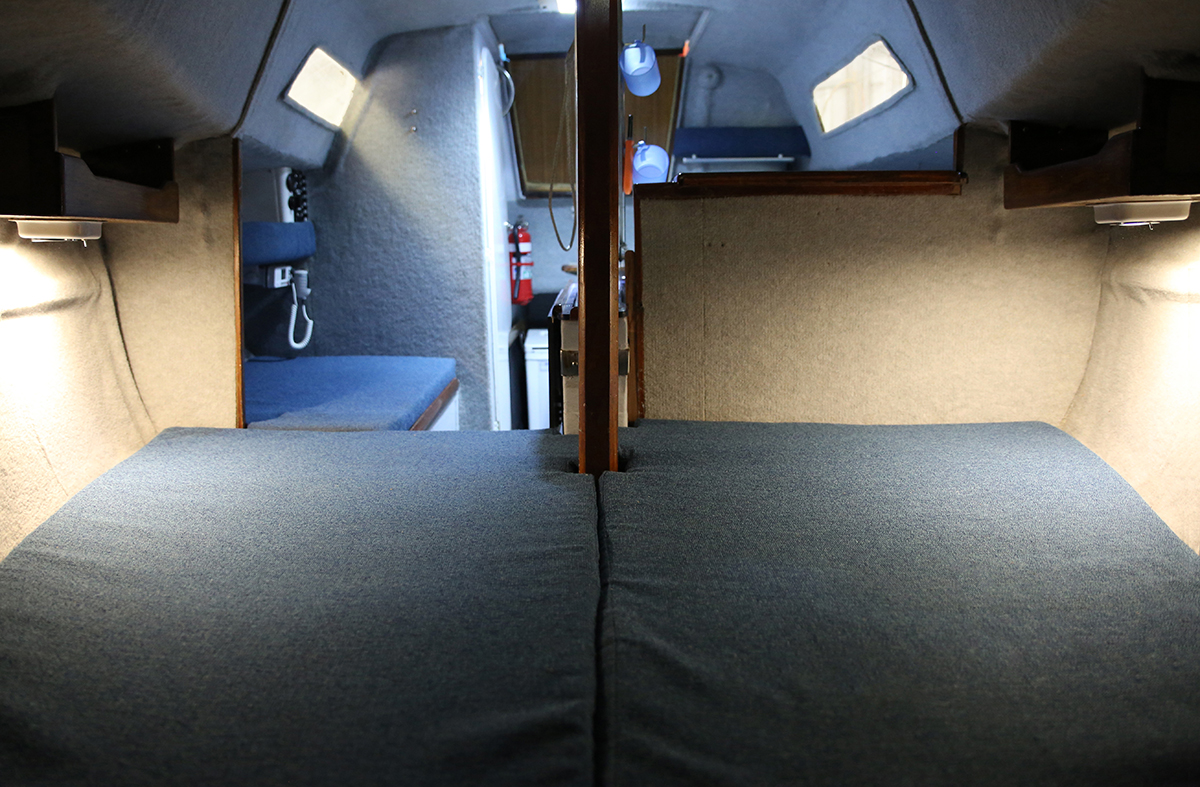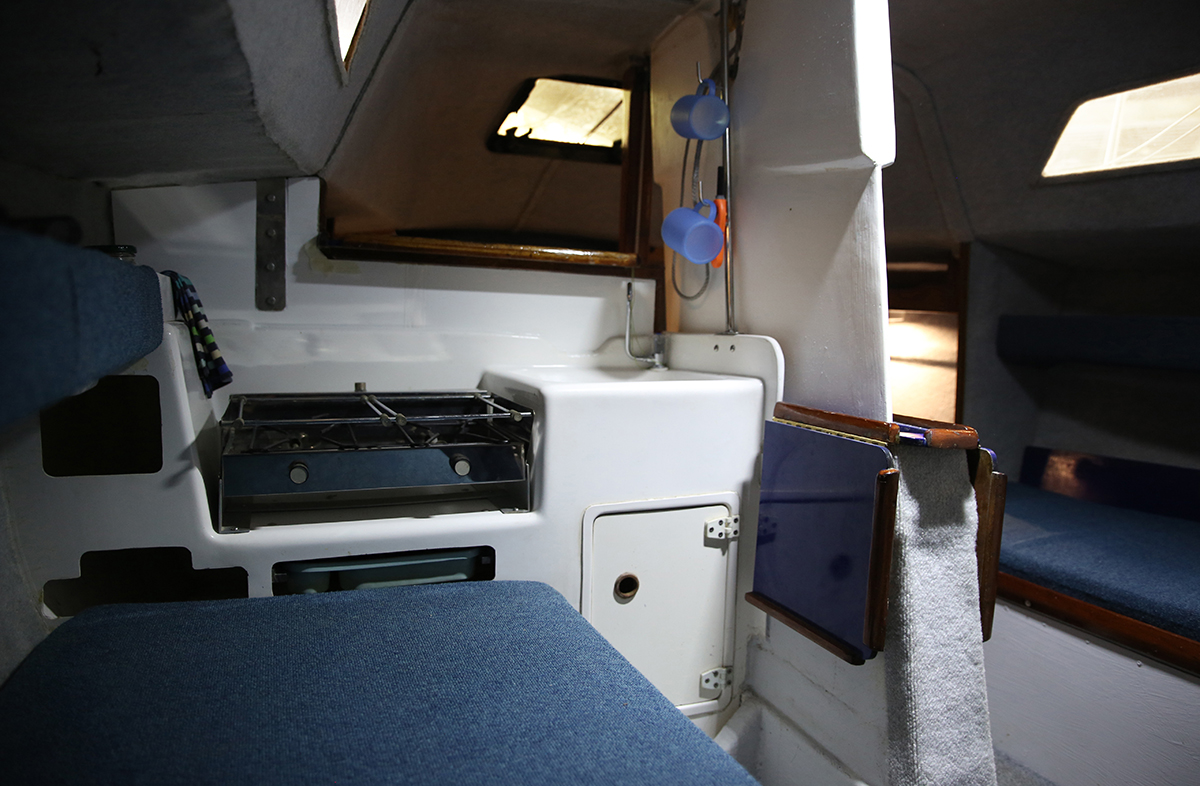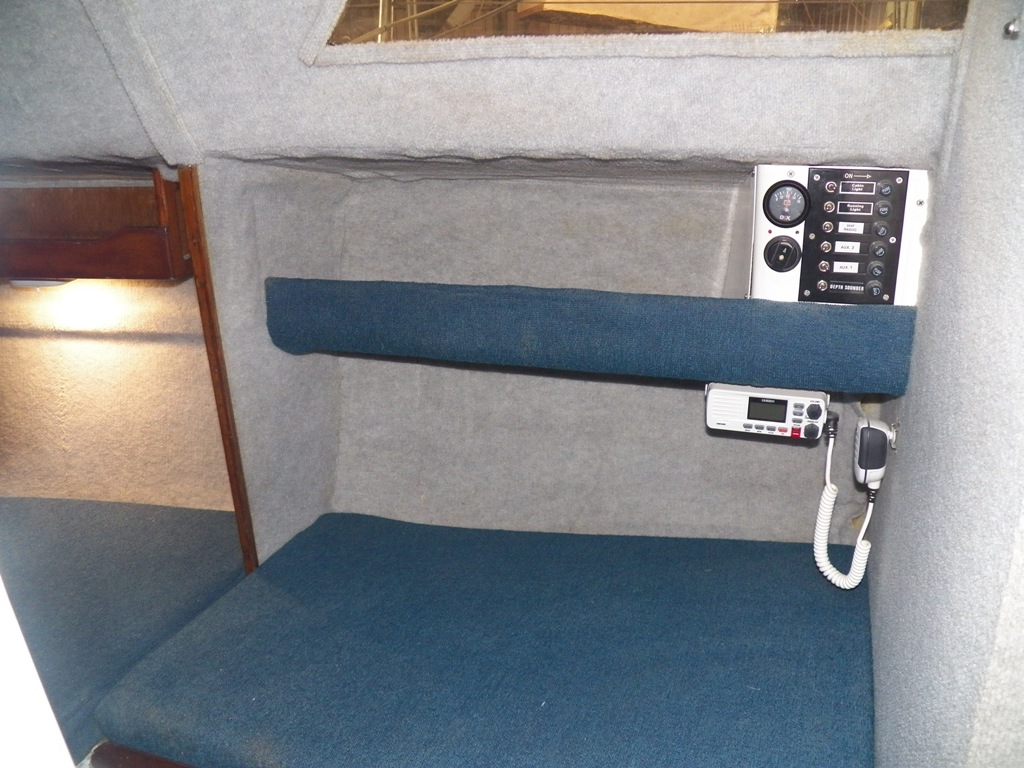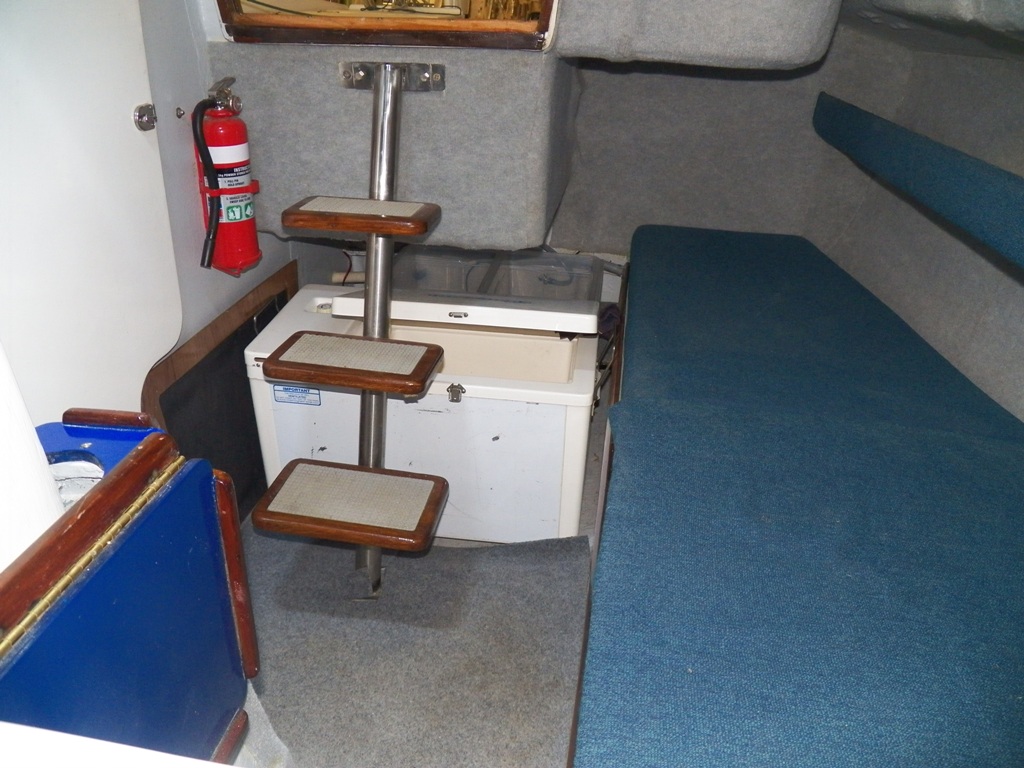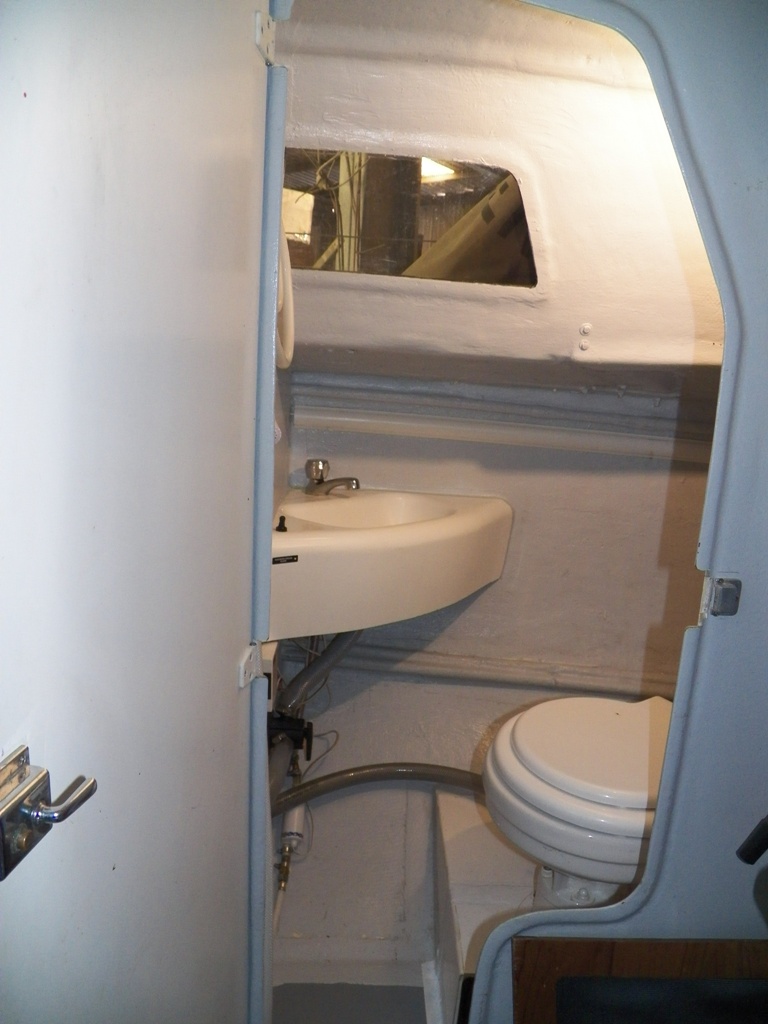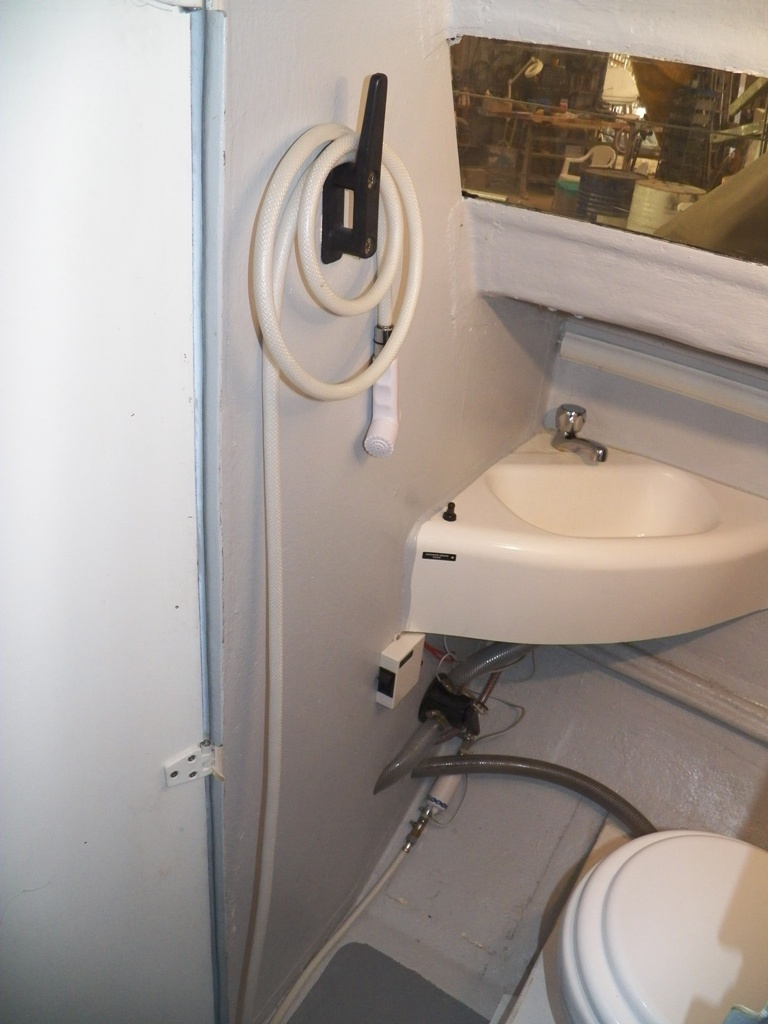 Airwave 9.9m yacht "Airtime"
Airtime is not for sale as we will be modifying it to make it into a Moreton Bay Cruiser.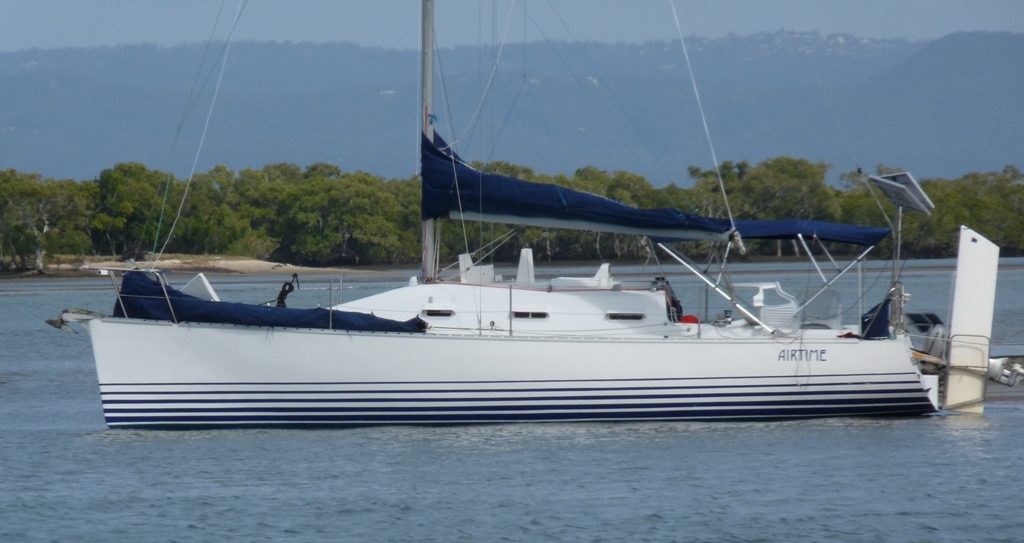 Built in 2004 and recently refurbished inside with a certificated gas oven and a larger front berth.
The Airwave is a 9.9m yacht with electric raisable keel and rudder, that has a very liveable interior, suitable for cruising for long periods.
These Airwave yachts are extremely fast and easy to handle, and the raisable 850kg keel and rudder (which result in a keel-up draft of .3m) means that the shallower areas of Moreton Bay and Hervey Bay are a natural cruising ground for this boat. Stability with the keel up is very positive.
"Airtime"
Airwave 9.9m (32ft6") Trailable Yacht
Length........... 9.9m (32ft 6in)
LWL.............9.7m (31ft 9in)
Beam.............3.01m (9ft 10 1/2in)
Displacement......2400kg app
Ballast in keel ......700kg
Draft keel down.....2m approx (6ft 7in)
Draft keel up.......260mm approx (11 in)Headroom...1.91m (6ft 3in)
Trailer weight...960kg
Hull is XM Coremat sandwich construction. Deck is Divinycell foam sandwich.
Mast and rigging: Allyacht Spars/Selden twin spreader rig, with single line reefing...two reefs.
Power. Honda 20hp remote electric start and electric tilt outboard engine, coupled to tiller.
Rudder electric raise and lower.
Doyle sails.Yarn tempered main, Pentex number 2, yarn tempered number 3, kite with Doyle snuffer for easy hoisting and dousing.
Electric refrigeration.
Electric water pressure
Full headroom throughout
2 x ~110 litre fibreglass water tanks.
Inverter 600w
New blue bimini, boom cover, deck bag for jib.
2 x Maxie Metho stoves, one with griller.
TV/DVD (HD)
Electric keel raise and lower
Electric toilet with 120 litre holding tank, and macerating electric transfer pump.
Autohelm with remote.
2 x 100amp AGM deep cycle batteries New in September 2011
2 x 40w solar panels directional
1 x 20w solar panel for battery maintenance.
Swiftco trailer with electric brakes (trailer is not immersed)
Towing oversized yachts in Queensland:
Under the new rules introduced in March 2014 Airwave Yachts are no longer trailable unless they are modified to reduce their beam to less than 2.9m.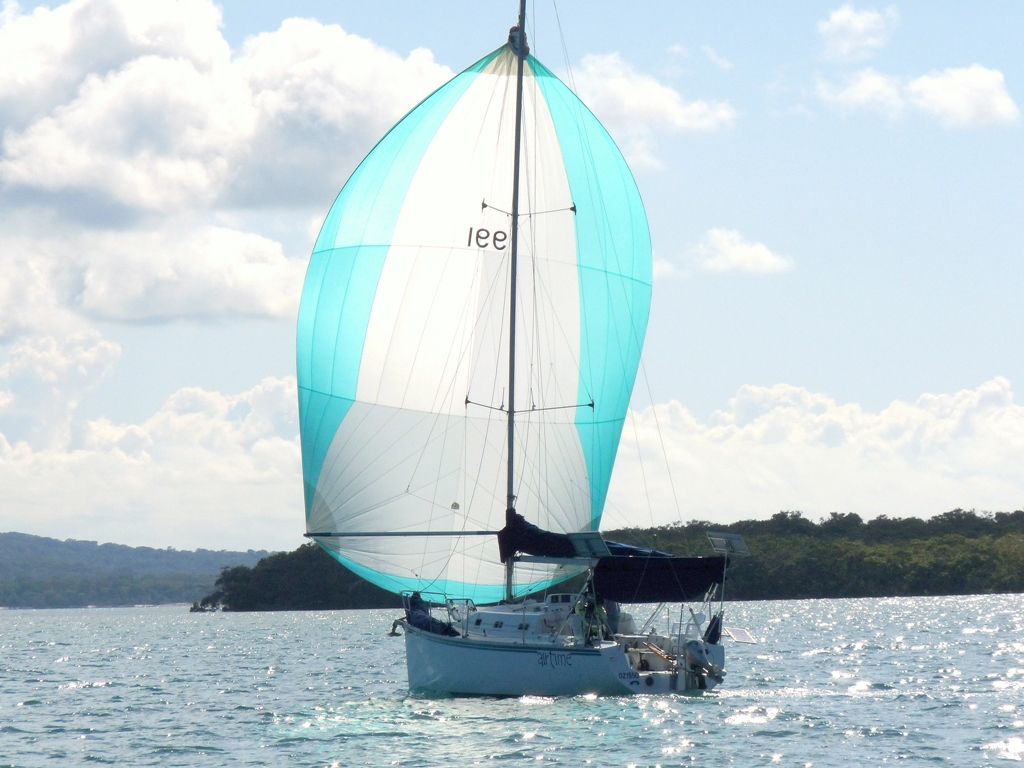 Spinnaker is easy to put up and down with the snuffer
http://www.youtube.com/watch?v=sjlkWAQAZsI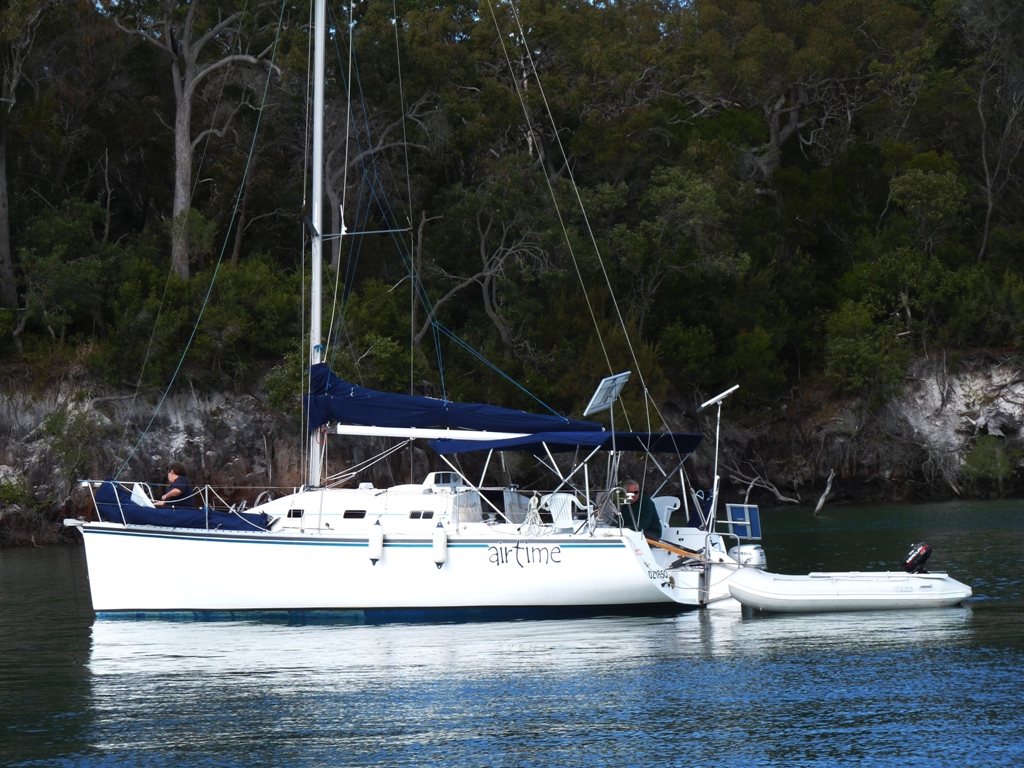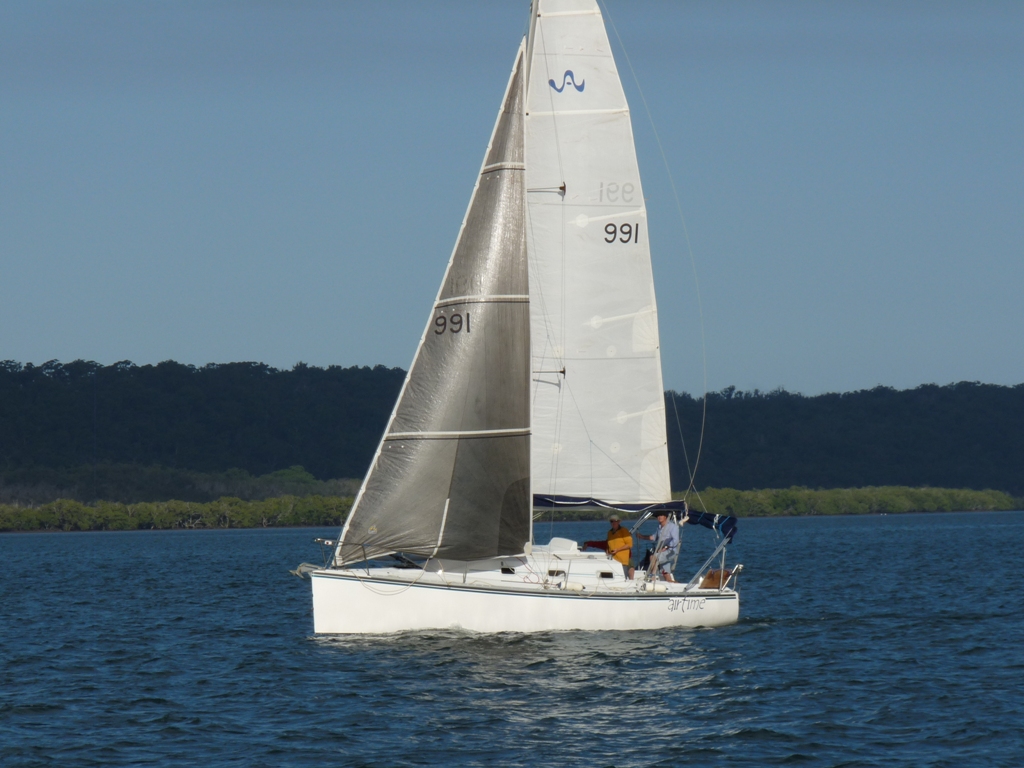 b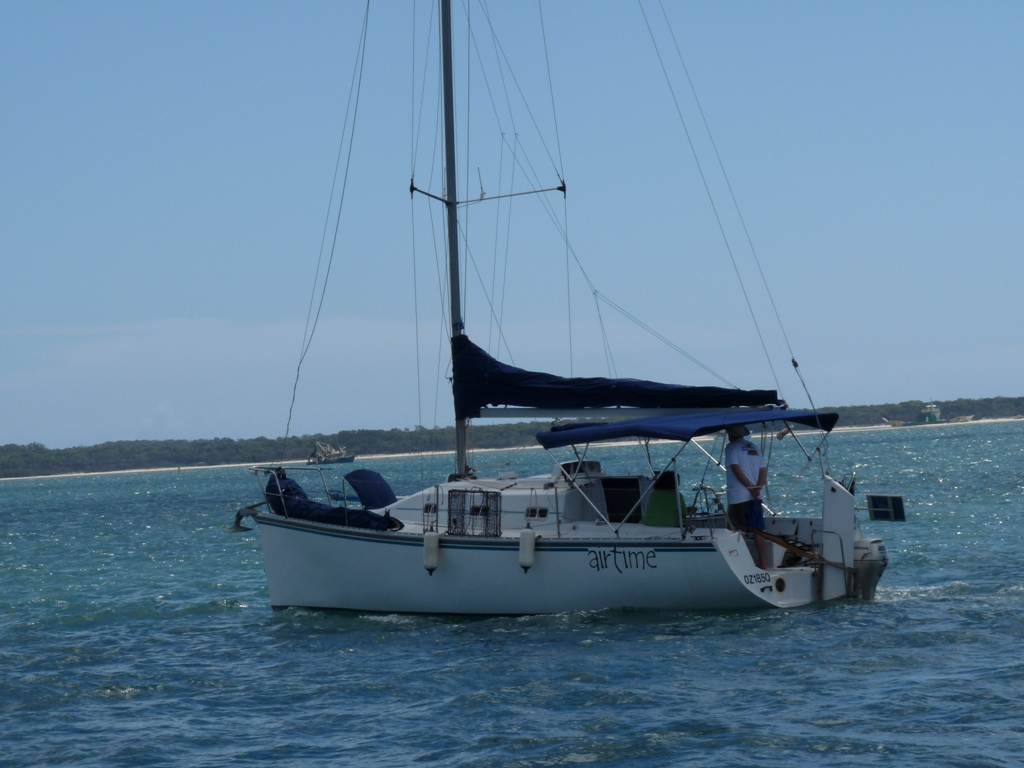 .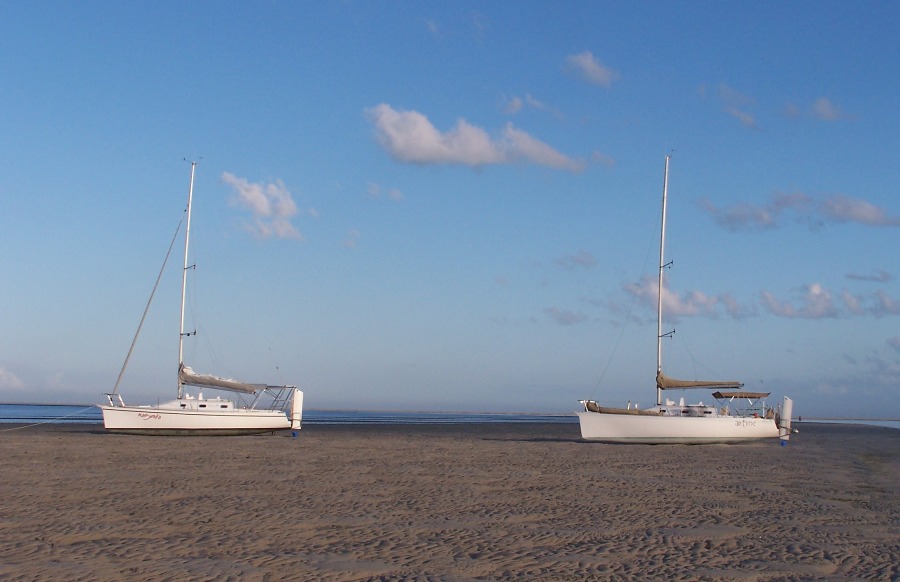 Above: Two Airwaves on the sandbank in Rous Channel. A surprisingly good place to walk around and investigate.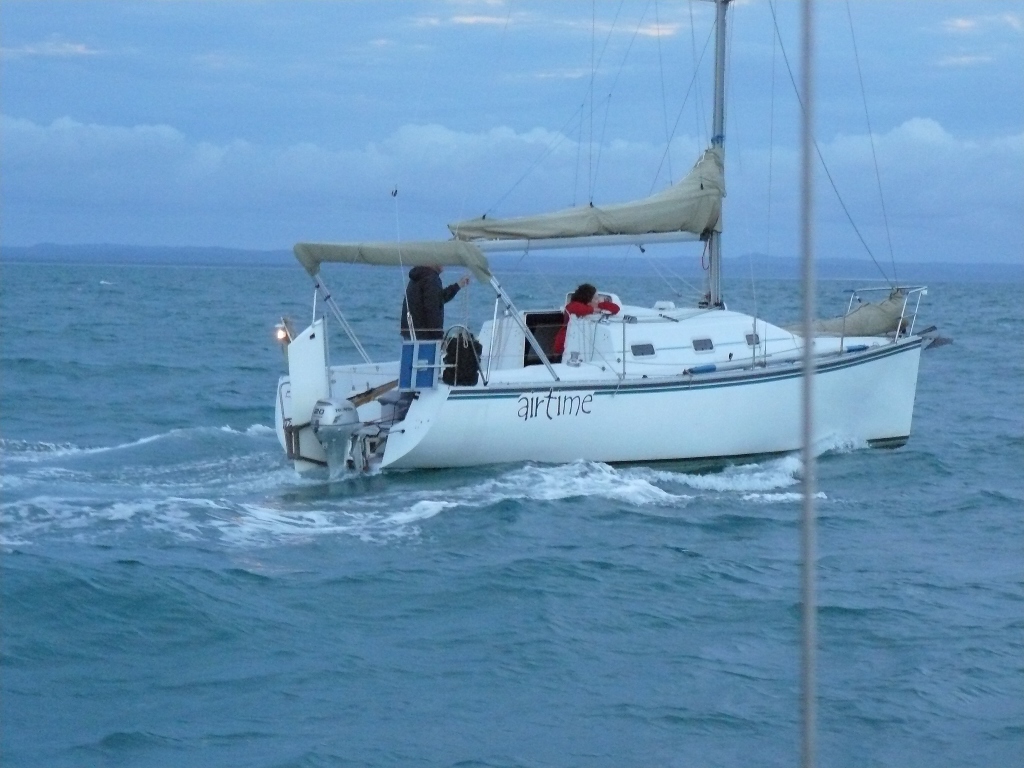 We had to motor 45 n. Miles from Bundaberg to Urangan to get in before a 40 knot gale that was building and came on fullstrength
the next day. Honda 20 never misses a beat and uses little fuel. Here we are getting in as night falls.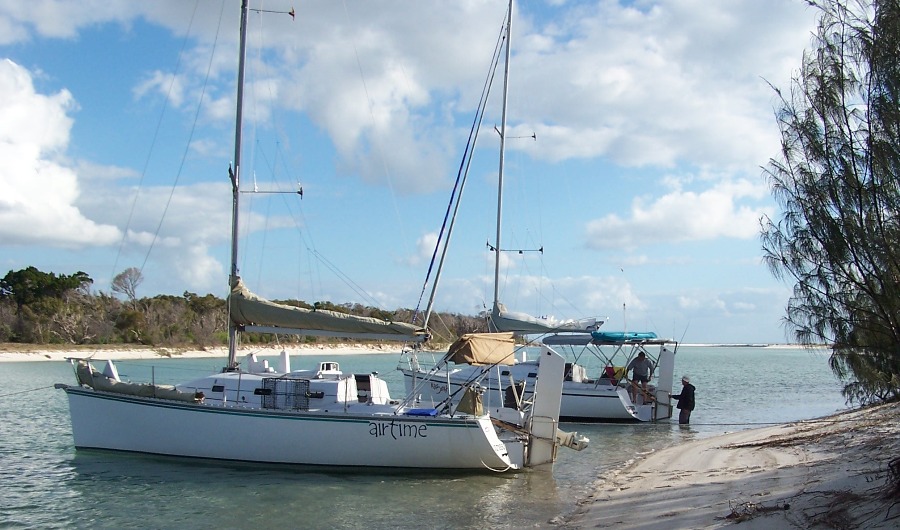 Airtime and Magenta in Coongul Creek.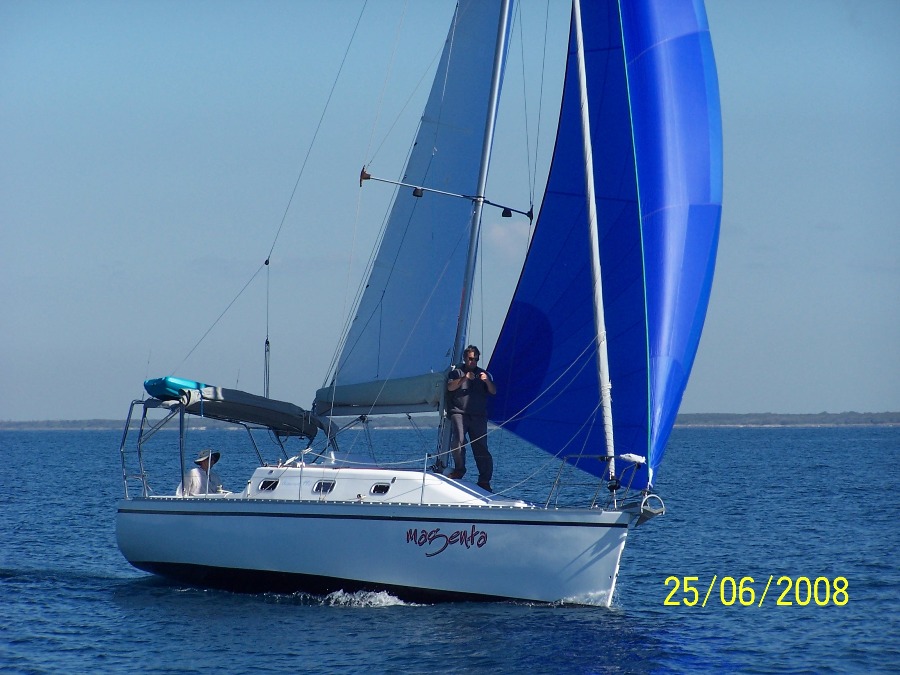 Magenta with her asymmetric blue furling MPS looks a picture heading up the coast from Brisbane to Bundaberg, in company with Airtime.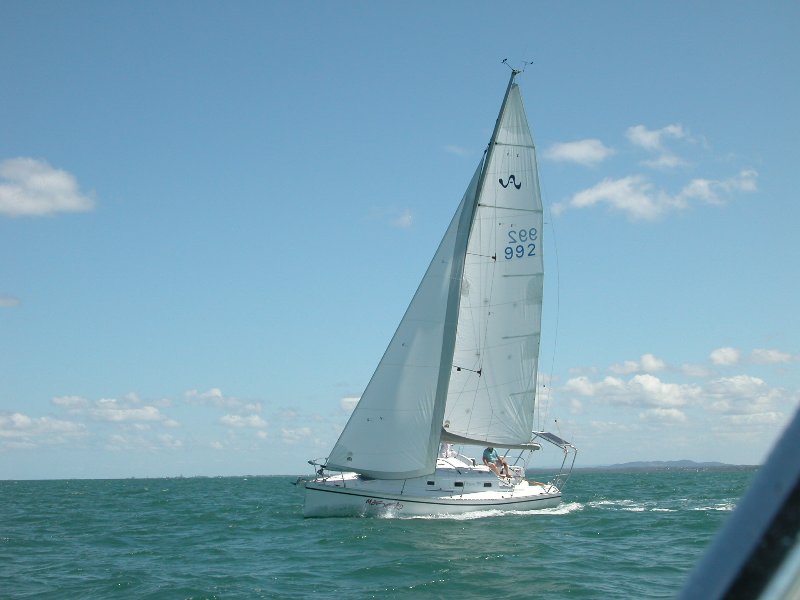 Magenta sailing to Moreton Island in December 06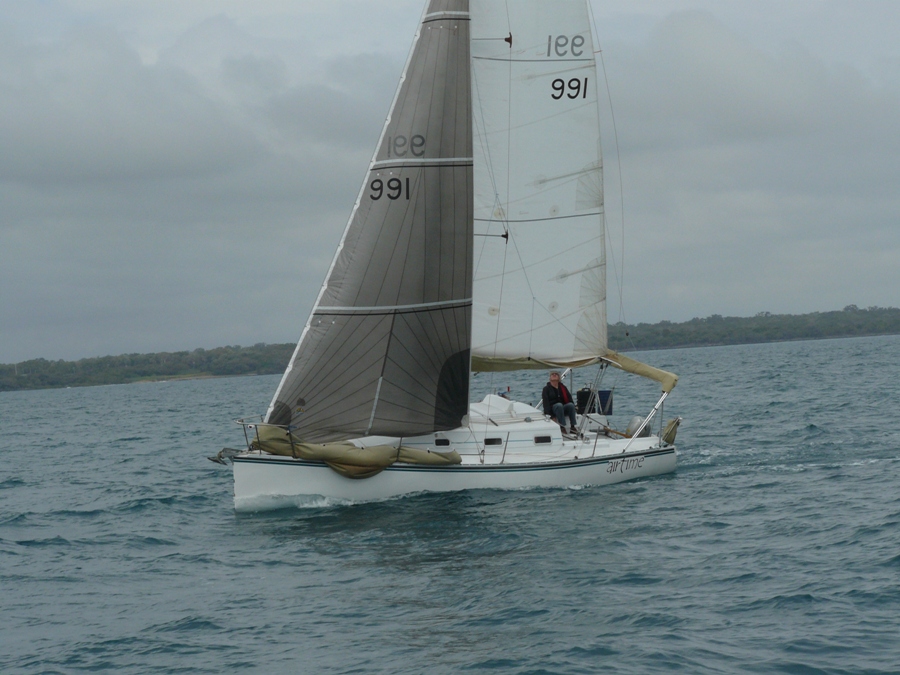 Airtime sailing upwind from Bundy to Urangan. We ended up having to motor as seen above

Airtime is no longer trailable under the new rules. Unless we reduce here beam by about 100mm, which we are contemplating.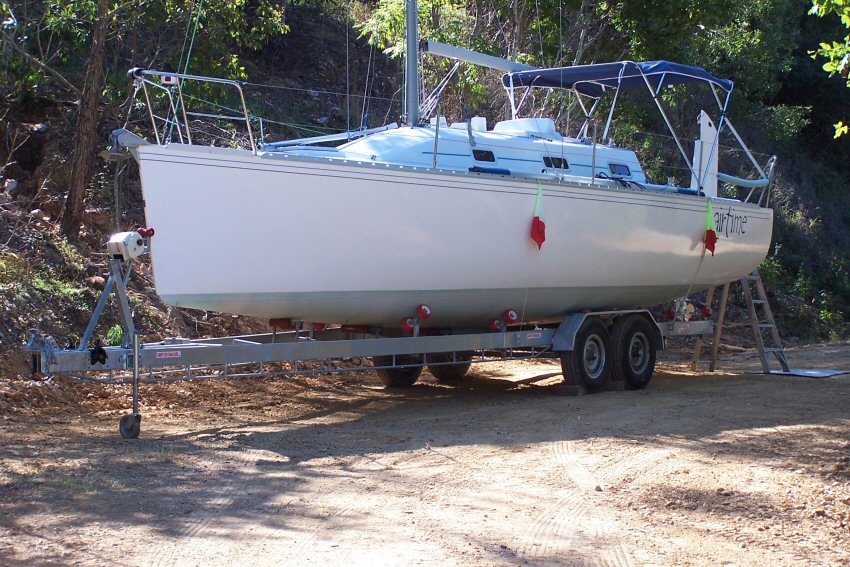 This is our Airwave 9.9 called Airtime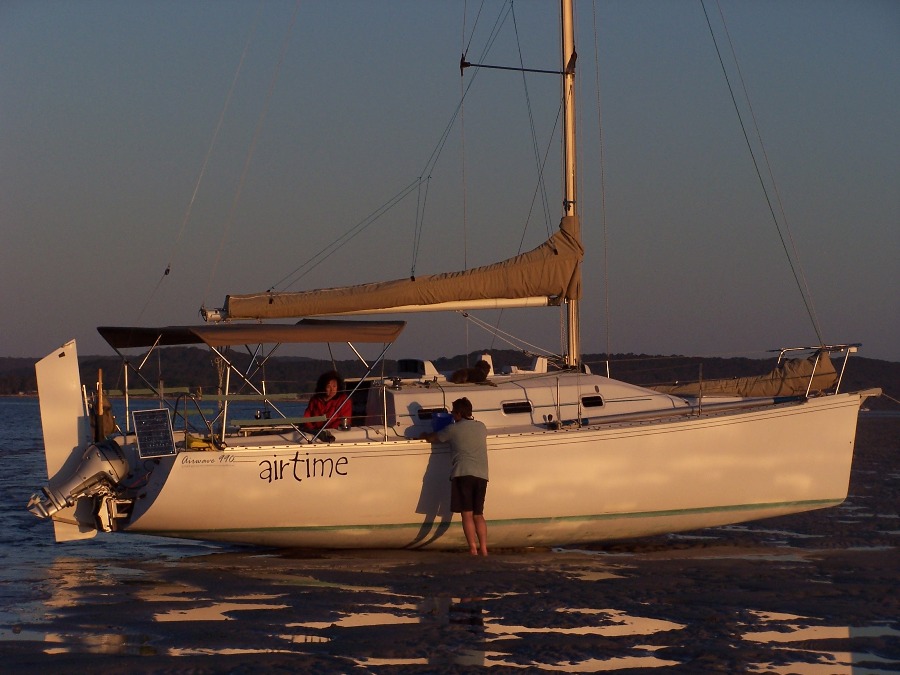 sitting on a sandbank beside Rous channel, Moreton Bay.

This is Magenta, which is a diesel powered Airwave 9.9, just launched 19th October 2006.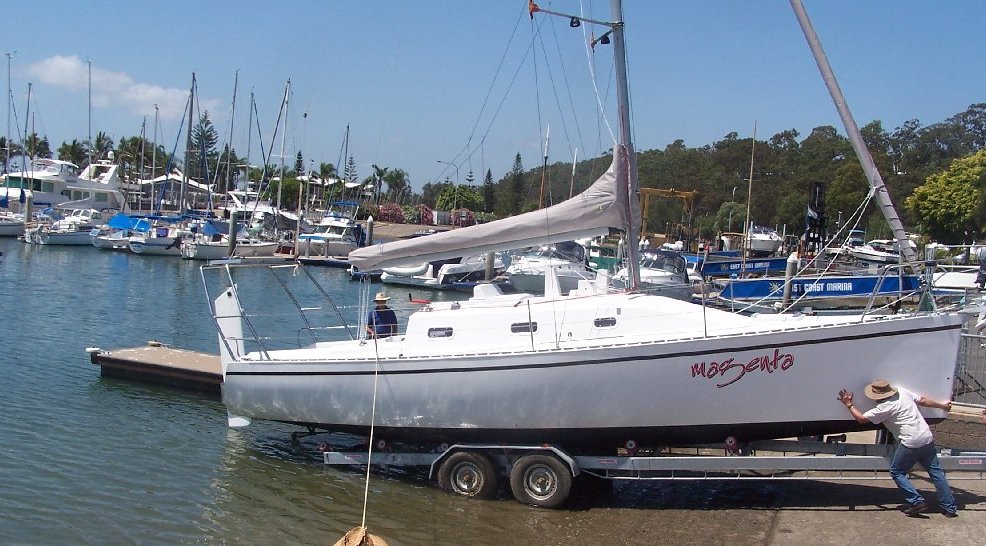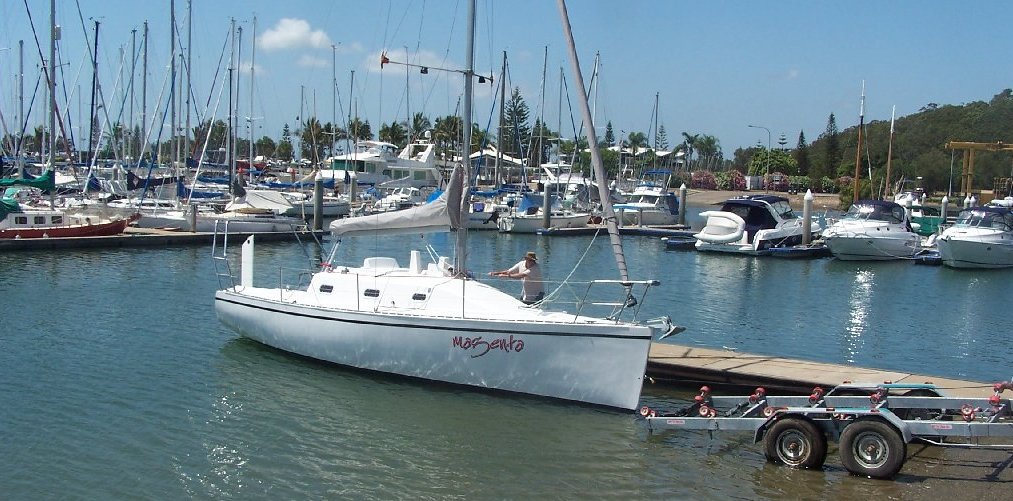 The Concept:The Airwave 99 is intended to be a fast, easily handled yacht, suitable for short-handed or single-handed sailing, able to manoeuvre in shallow water,(app.300mm) and to sit on the sand at low tide. It will be trailable if required, or it can live on a trolley or marina berth in a marina.
Features:Daggerboard style keel, the bottom half of which is 700-850kg of lead.

Draft When the keel is up the yacht draws just over 250mm. Power in the prototype will be via a Honda 20hp 4-stroke outboard with remote throttle, electric start, and electric tilt (although diesel would be an alternative. If a saildrive is fitted, then a bulb keel would be recommended to protect it, and still allow sitting on the sand. Draft would then be about 500mm with keel up.) If a shaft drive diesel is fitted, with a shallow angle on the shaft, then the 250mm is still the keel-up draft.

From skipper's position, sheets for the main, jib, and switches for the electric raiseable keel, electric raiseable rudder, electric anchor winch, and engine tilt and controls will all be within reach without moving.The rig is a 40ft twin swept spreader deck stepped unsleeved 7/8 fractional with high aspect ratio fairly conservative sailplan. Selden boom is only 4m long, with single line reefing from cockpit. The rig is raiseable with a halyard winch single handed, and will roll forward onto the pulpit on a rollered strut in the cockpit.



Interior
this is the saloon which is convertible into a huge double berth, see below
this is a very large double berth from which the occupants,( plus any occupants of the front veeberth,)
can watch the flatscreen tv on the main bulkhead.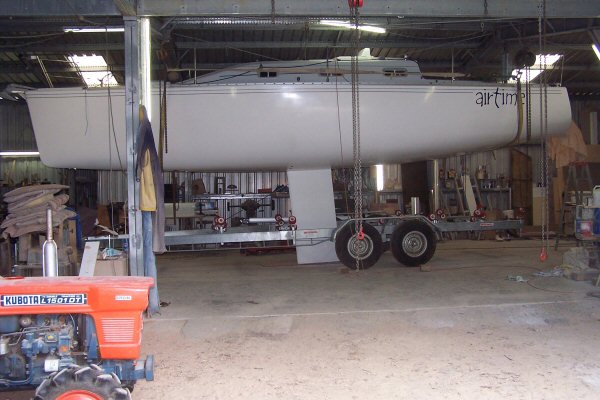 After some initial jamming caused by slight narrowing fore/aft of the centrecase, the keel is through and
goes all the way up and down with no problems.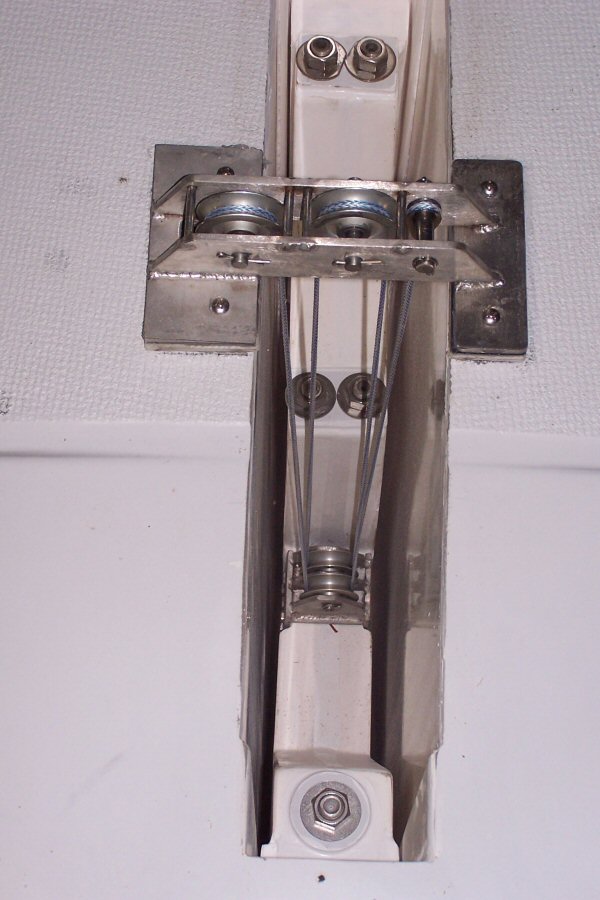 This is the pulley system to raise and lower the keel.
The Ross 780 has been a quiet achiever in the trailer yacht scene in Australia, with so far 67 boats being made since the mid eighties. The Ross in its present form is the inspiration for the Airwave 9.9m yacht, with the aim being to make the big boat a natural follow-on from the smaller one, with all the controls being in similar position.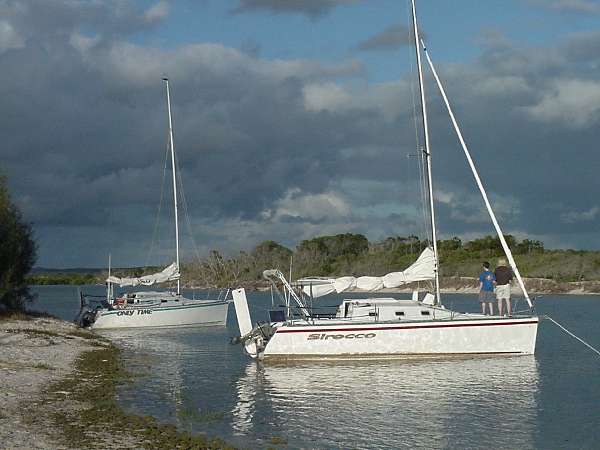 Sirocco and Only Time in Coongul Creek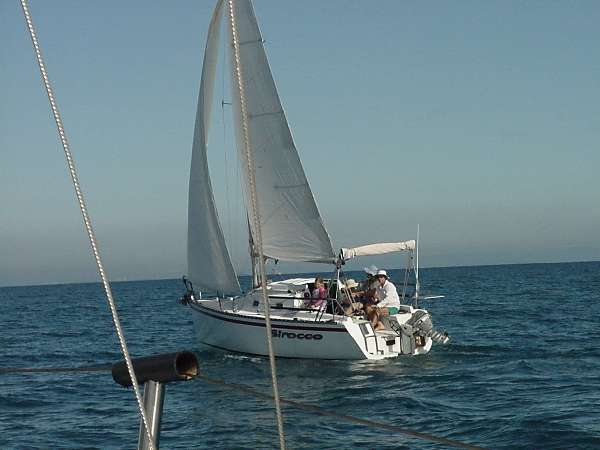 Sirocco sailing across the bay.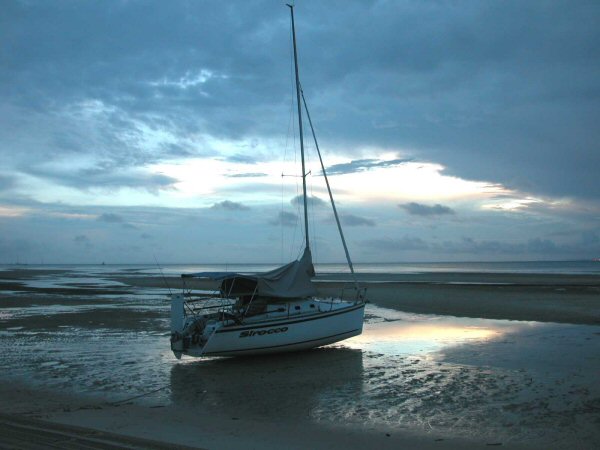 Sirocco at Big Sandhills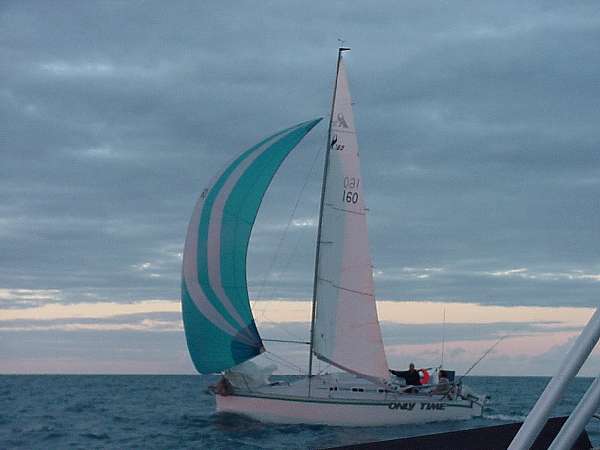 our last Ross 780 "Only Time" crossing Moreton Bay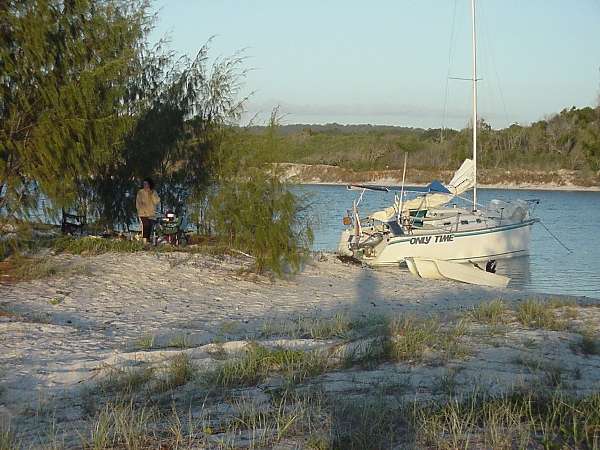 "Only Time" parked in Coongul Creek, Fraser Island, our favourite place in the world.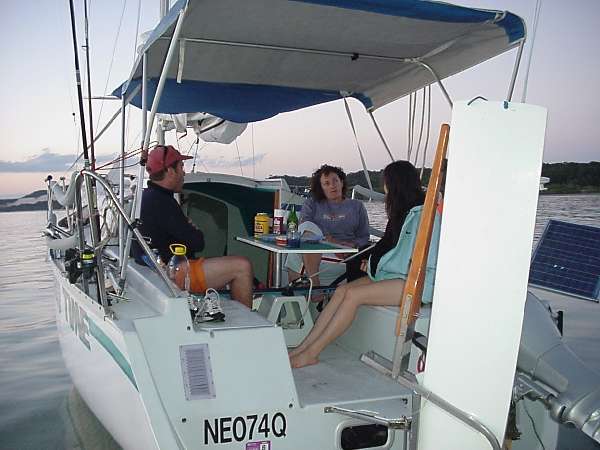 Cockpit sundowner drinks at Sandhills of Moreton Island.
Our Earlier Ross 780's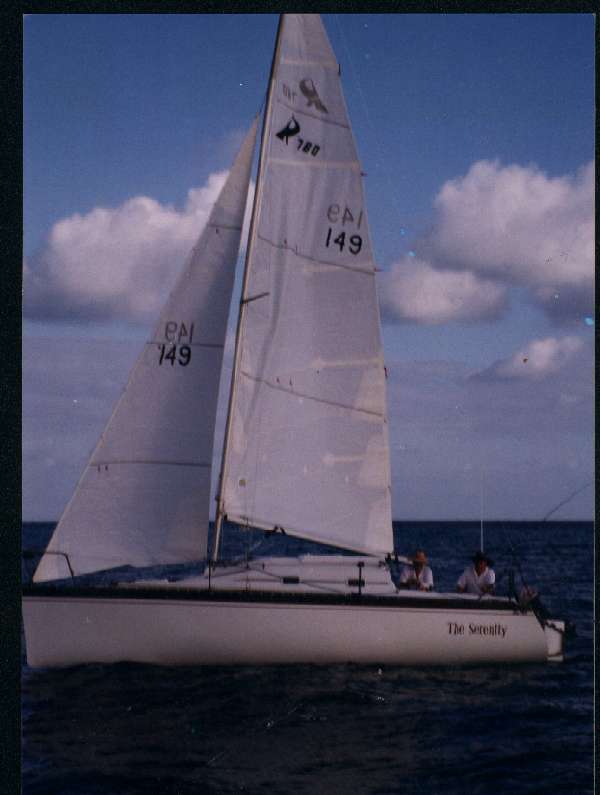 Our third Ross 780 "The Serenity" was the first Ross 780 to have 1.9m headroom and the hot shower setup.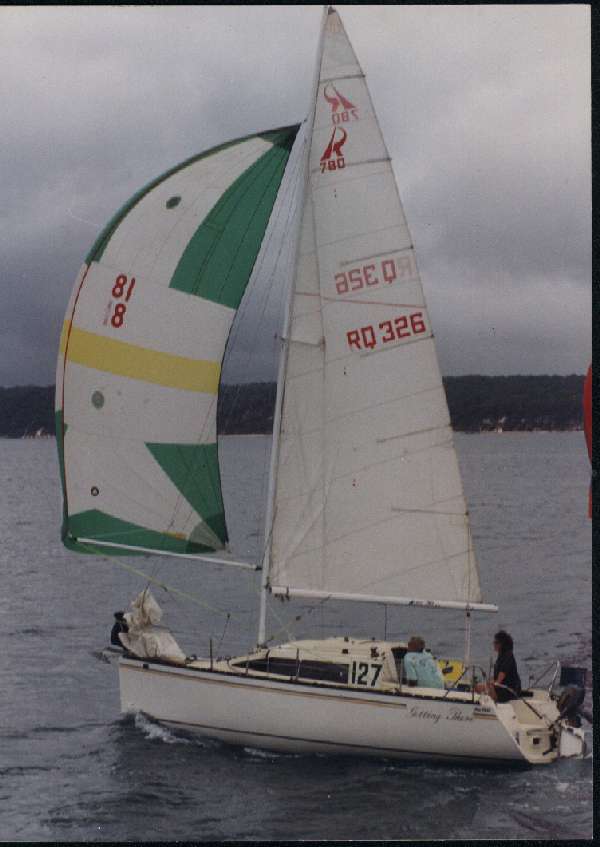 Our second Ross 780 "Getting There" was the first Ross 780 with the open transom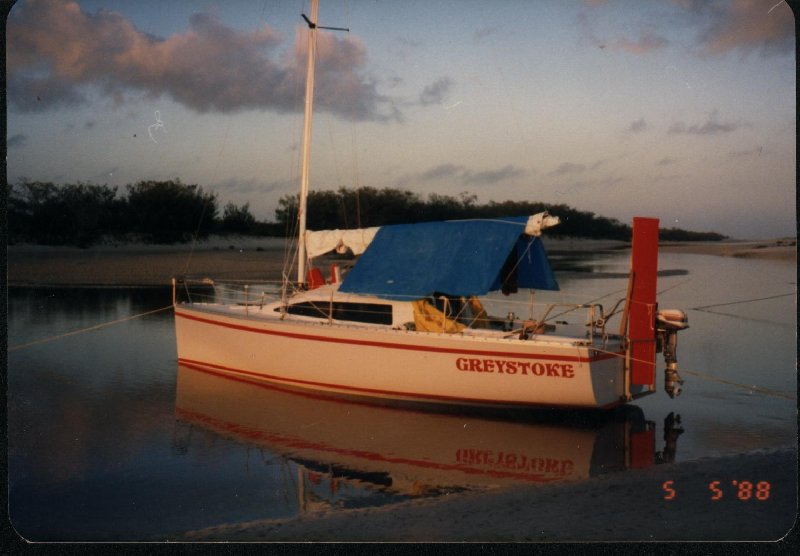 Our first Ross 780 was "Greystoke"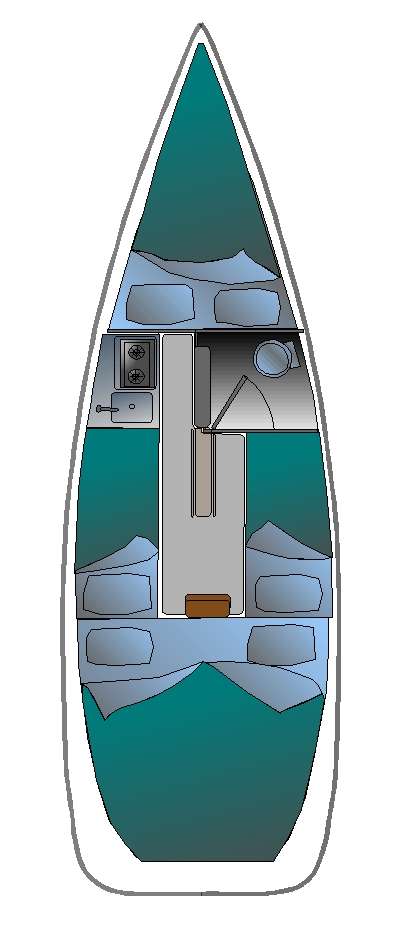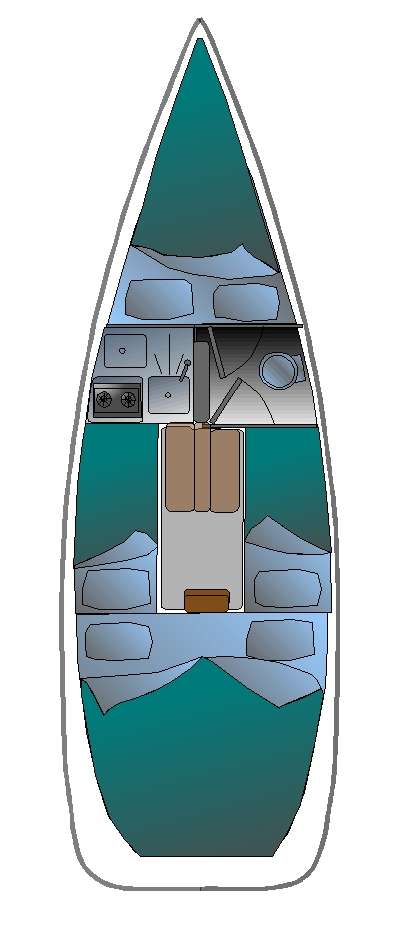 Ross Interior
PULLDOWN TEST
While we were in Coongul creek on one trip we decided to do a pulldown test on the Ross 780. This particular boat had a 243kg
bulb as an experiment. According to the formula in the AYF Blue book the Ross should require a minimum force of 48kg to hold
the boat on its' side from the hounds. As the scale shows it took about 84kg to hold it down, so the boat far exceeds the
AYF pulldown test. The normal keel which is 300kg in a lead section in the bottom of the keel we estimate would result in a
pulldown force of about 75-78kg.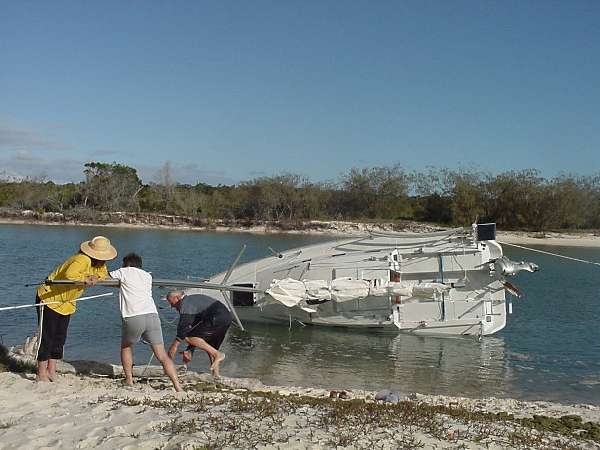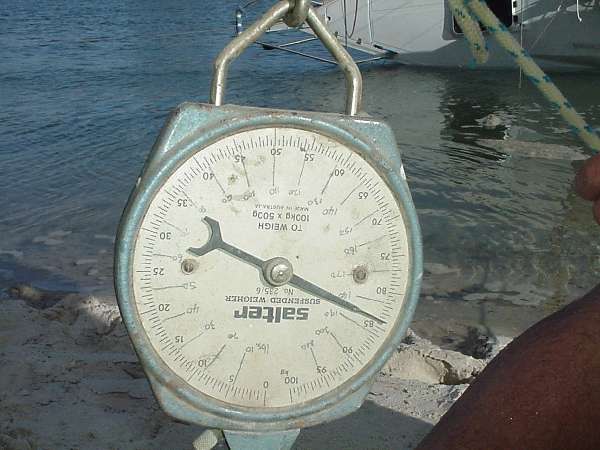 On my list of things to do is to use the 32ft 6" Airwave hull to make a classic Moreton Bay Cruiser style boat like this
Seaway 25 Restoration Project
VOLCANO rebuild.
VOLCANO is a Seaway 25 that was wrecked in Airlie Beach by cyclone ULUI
It was bounced on the rocks for a day or two, and there are many holes and areas of delamination to be fixed.
In addition the deck needs a new cockpit as the old balsa-cored cockpit went soft after being ruined by ingress of water over the years.
These photos show the refurbishment, and are added to almost every day.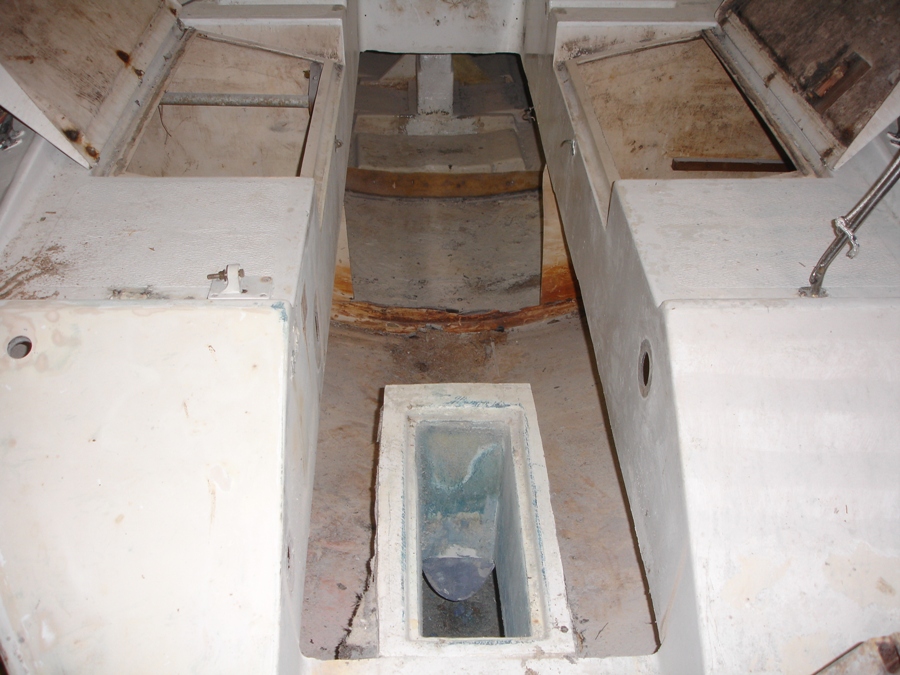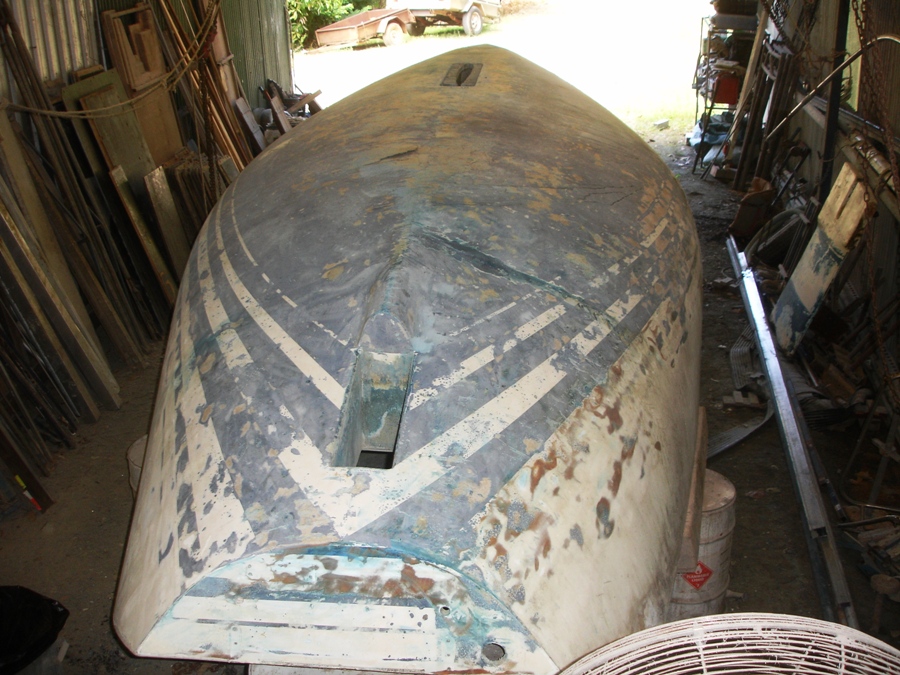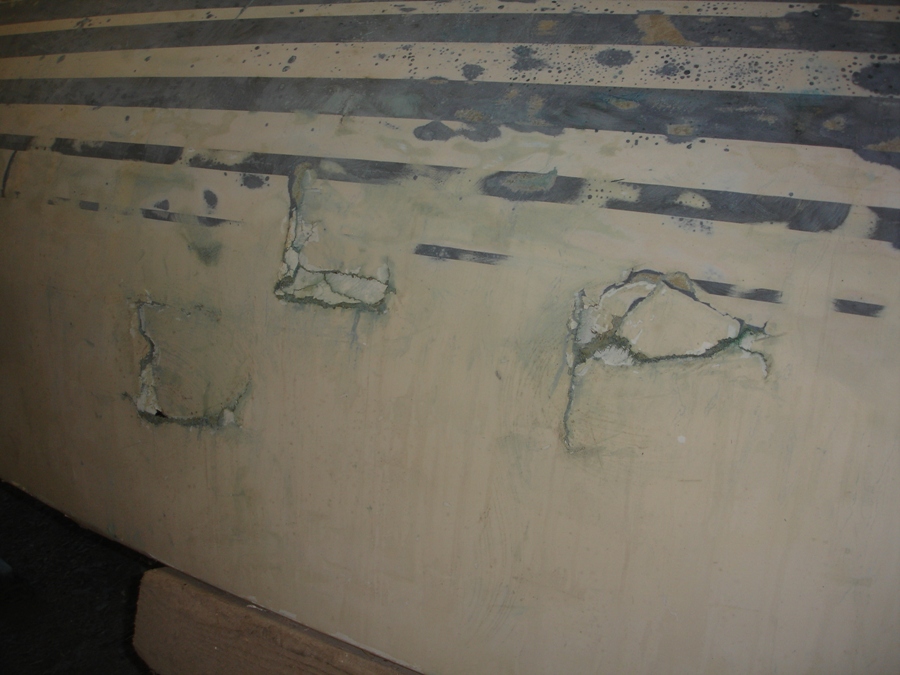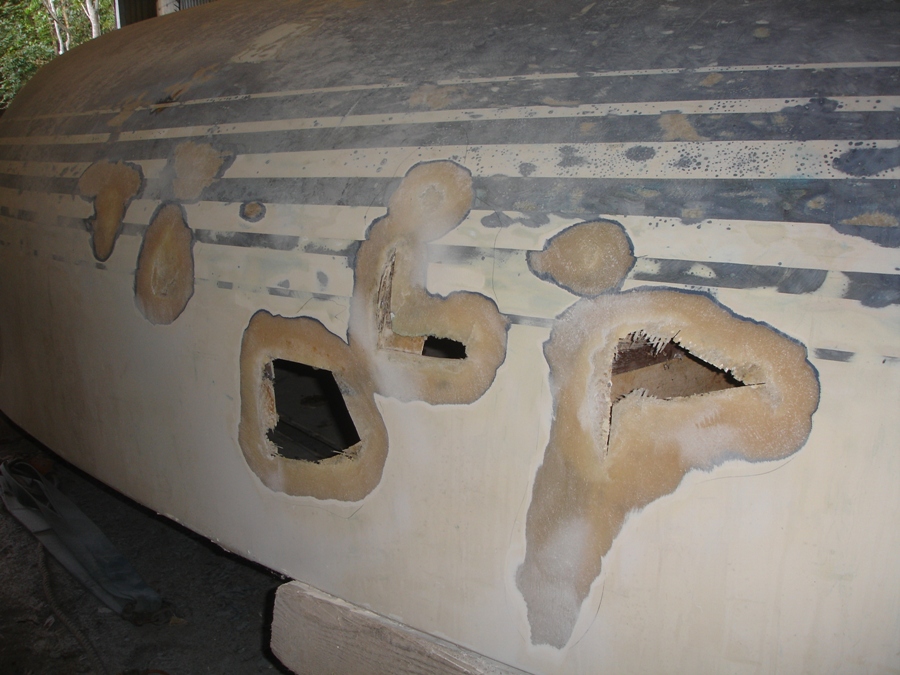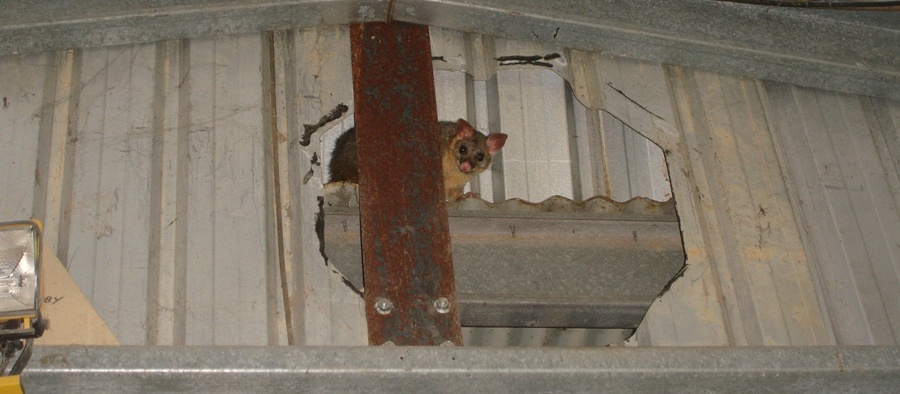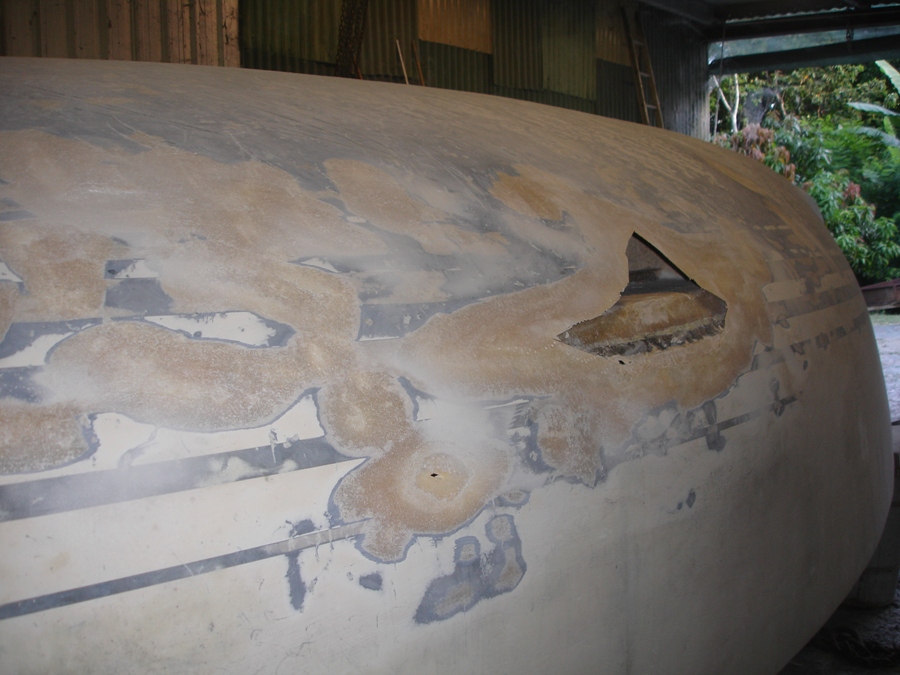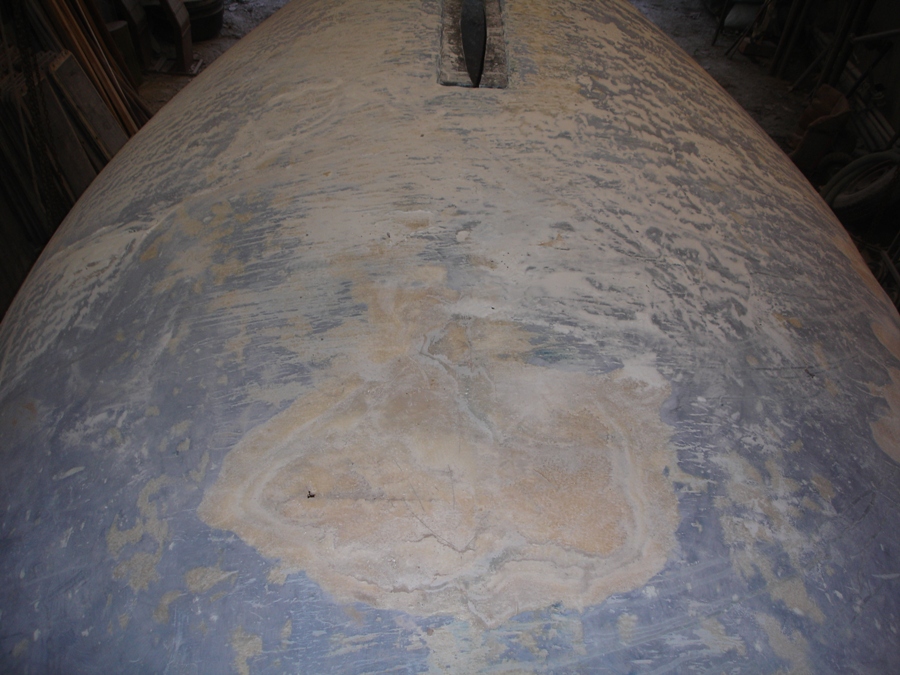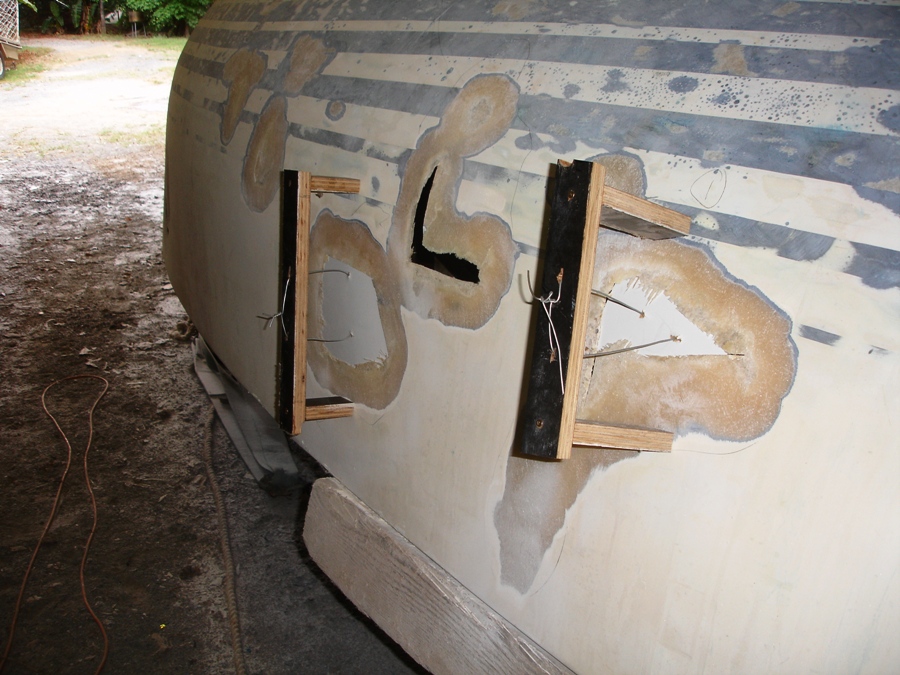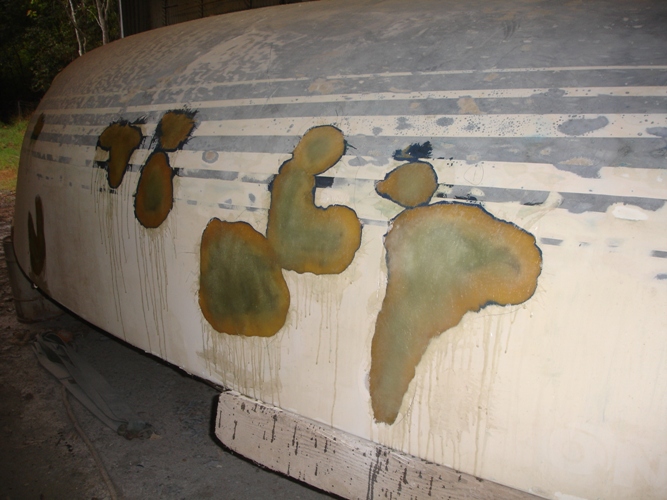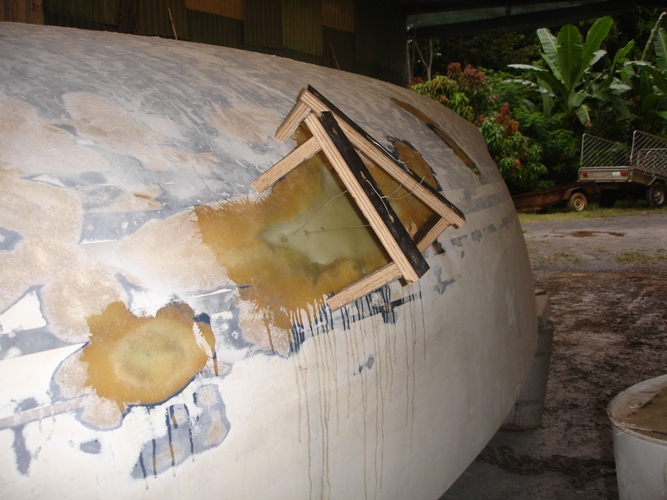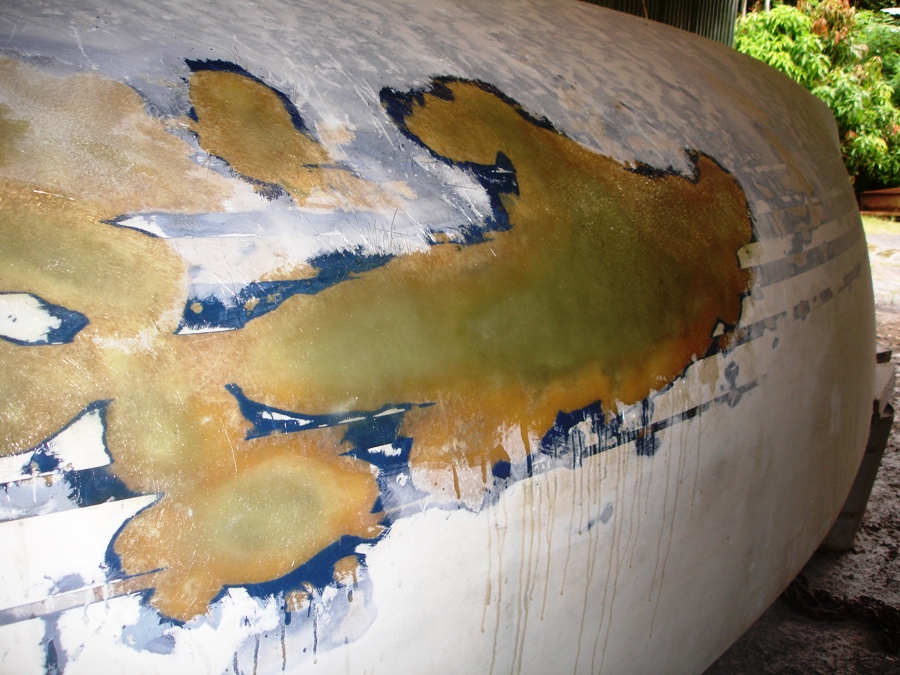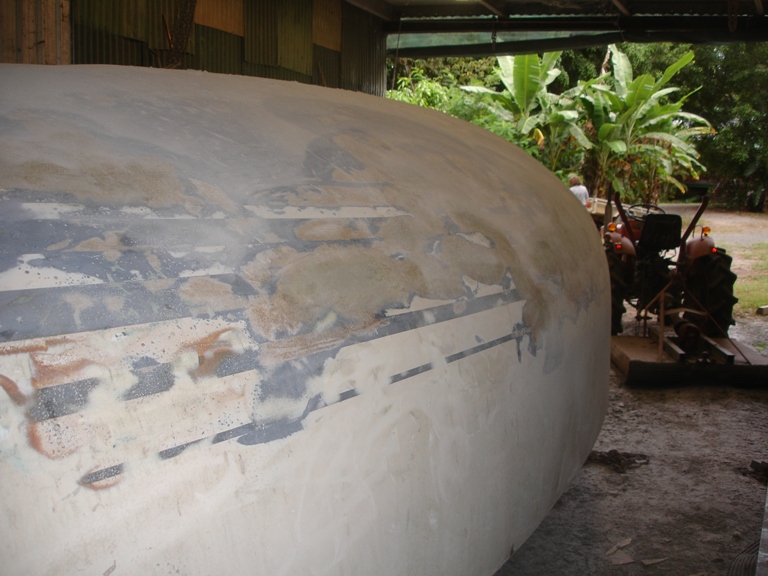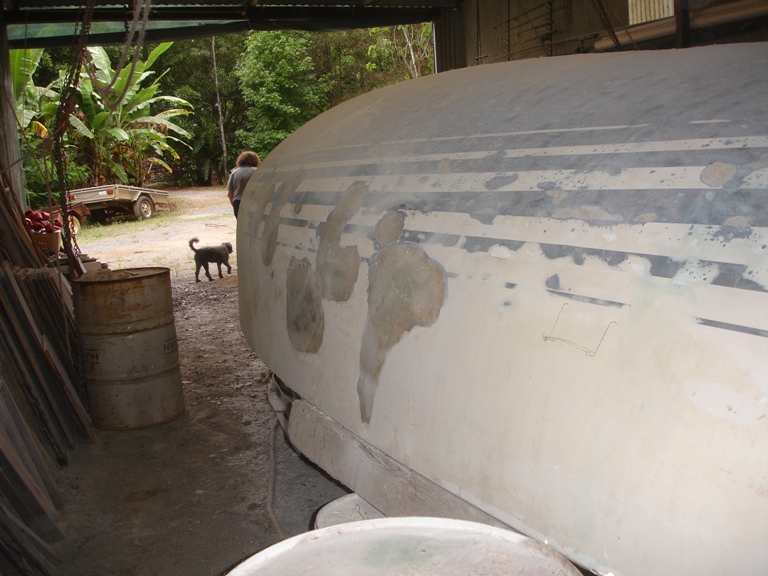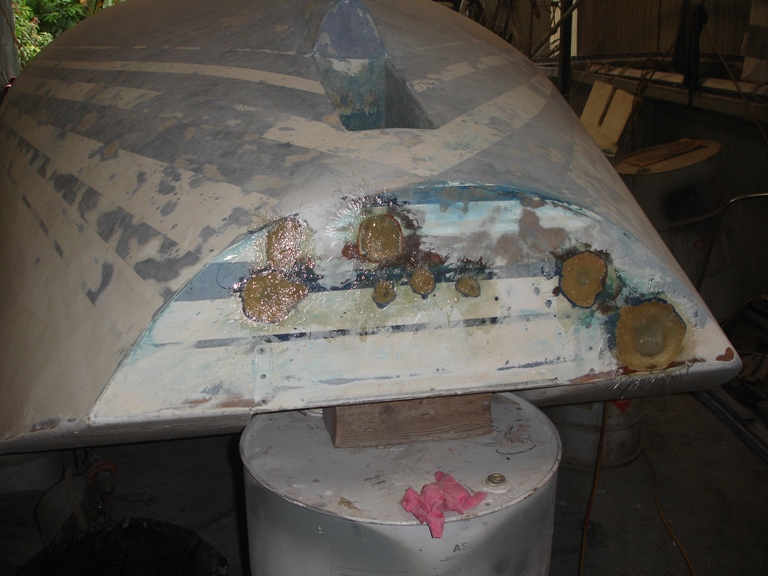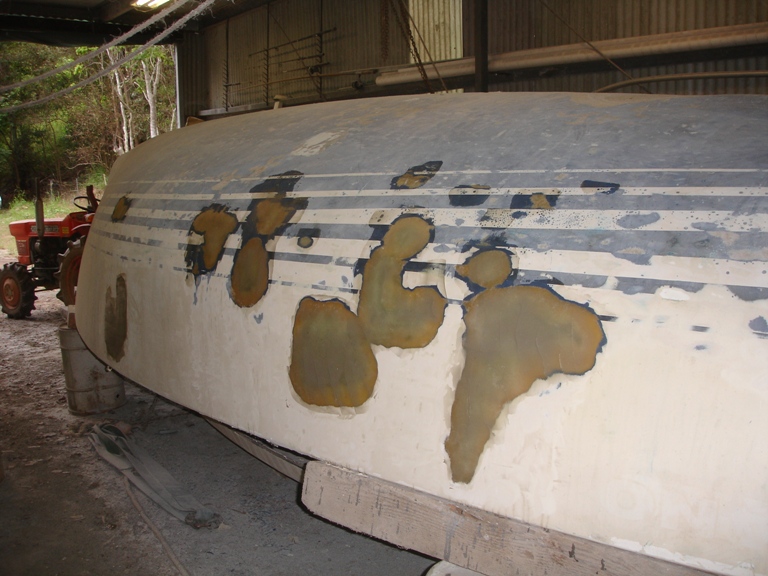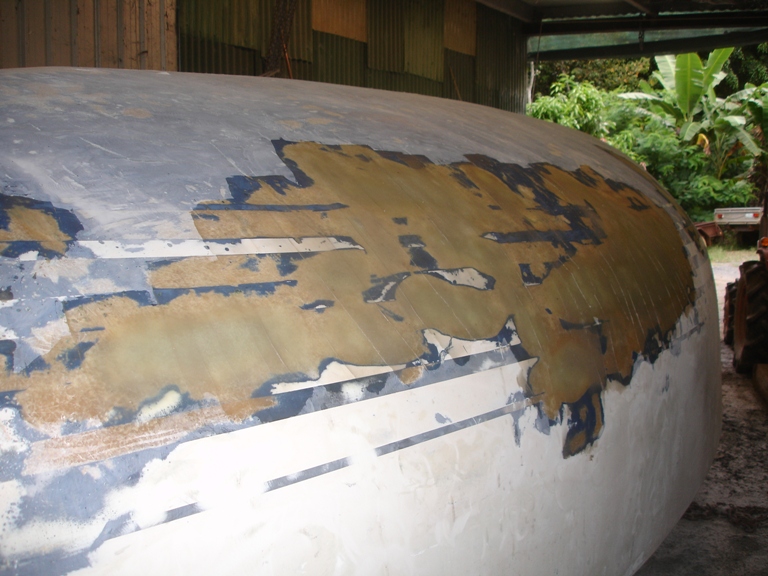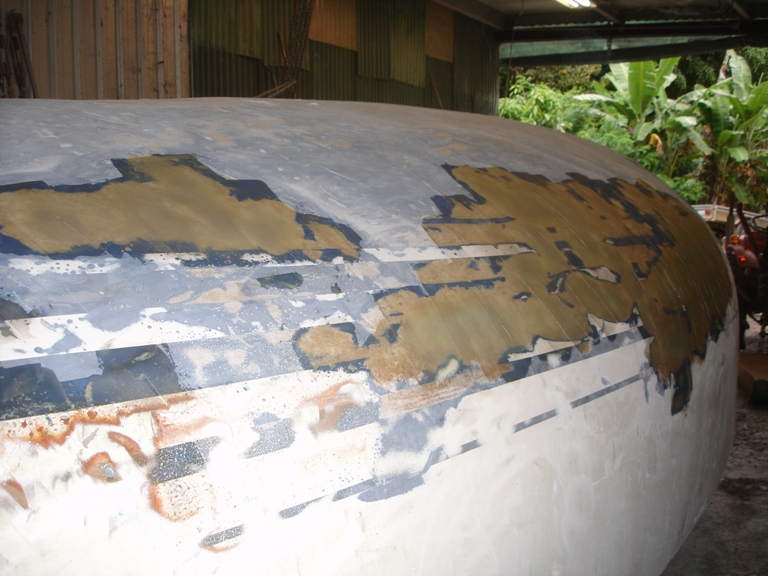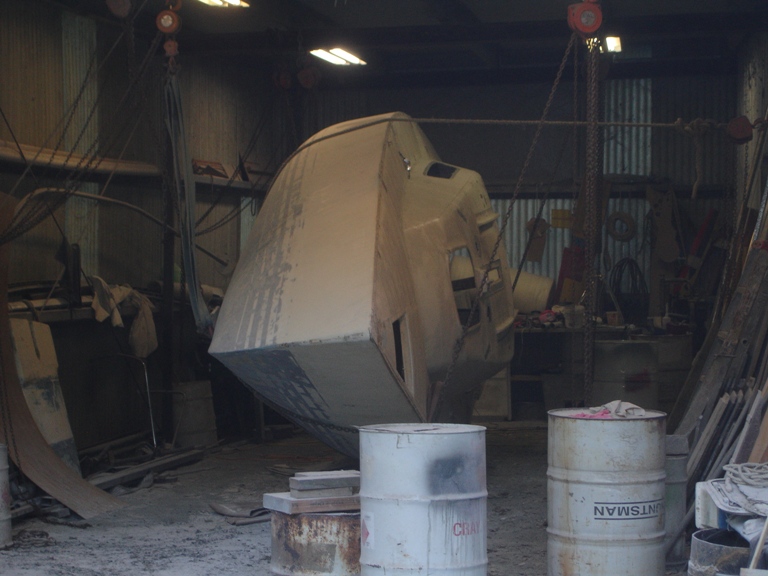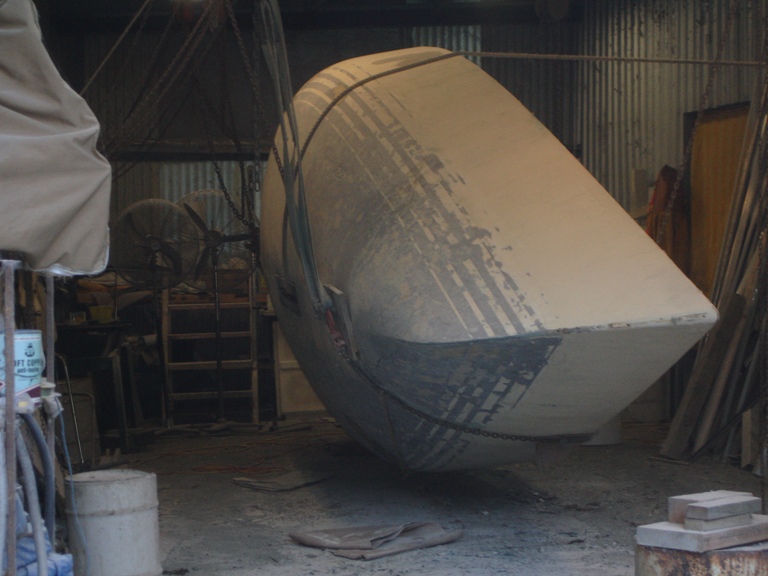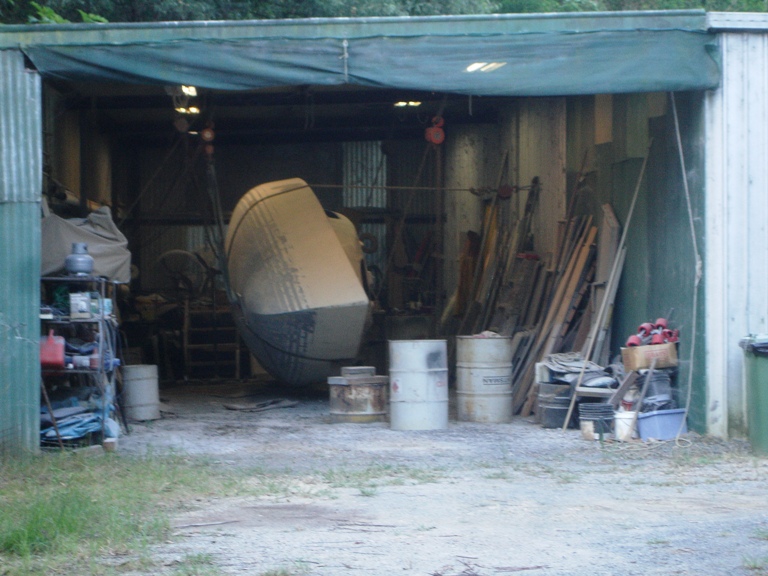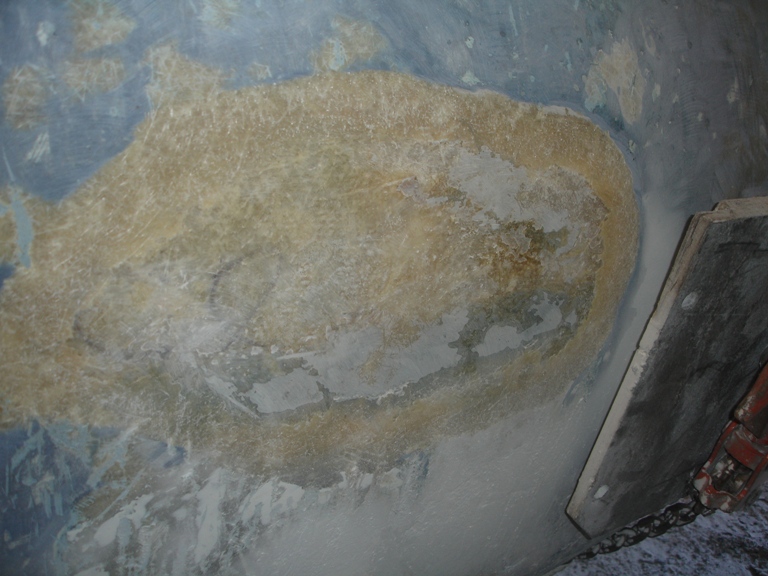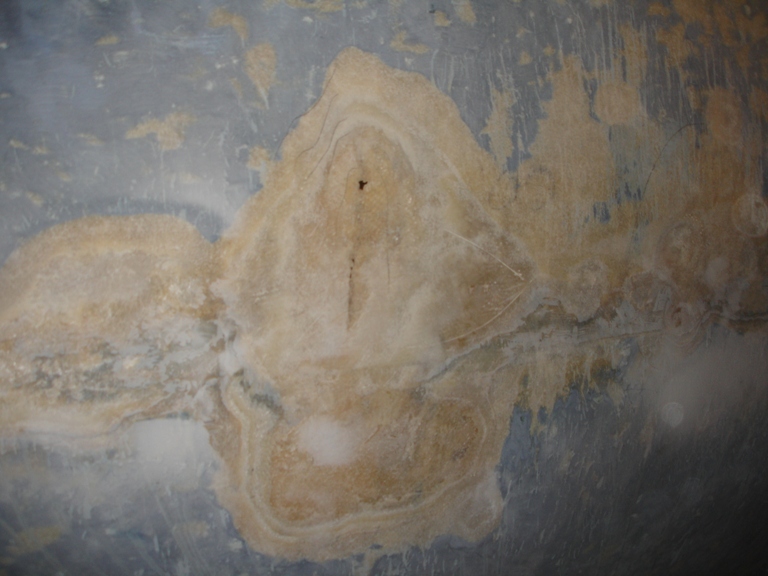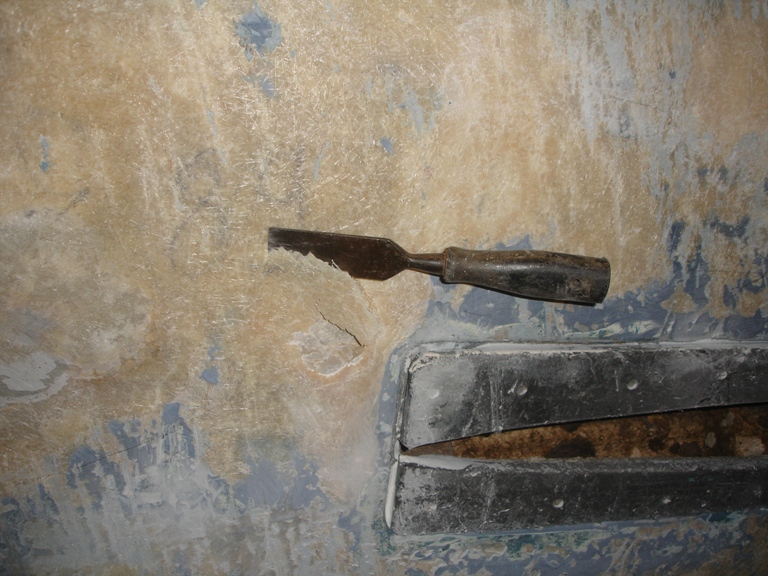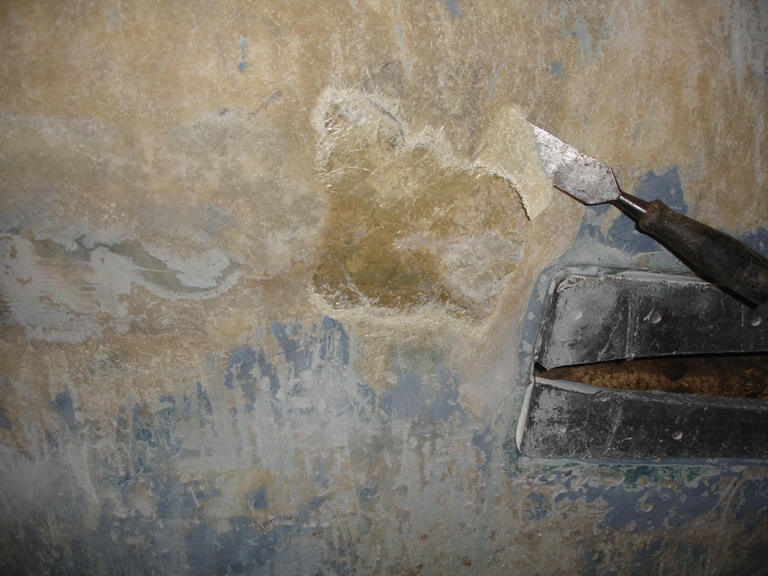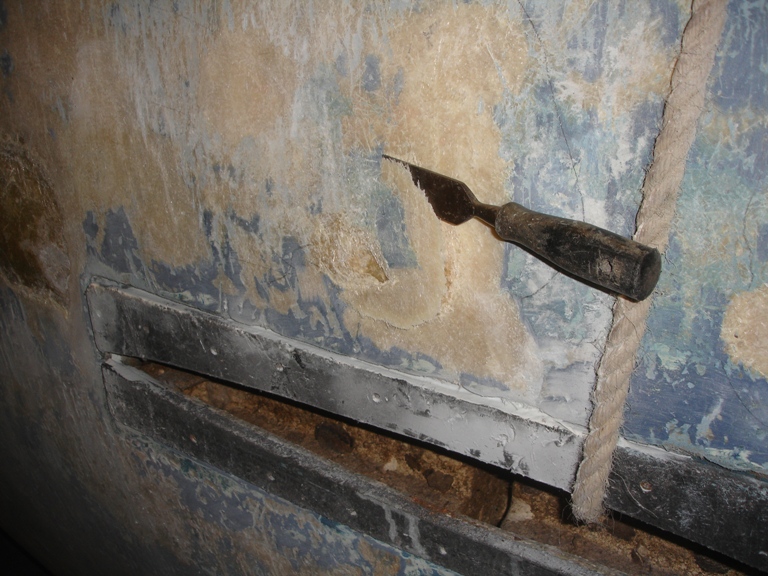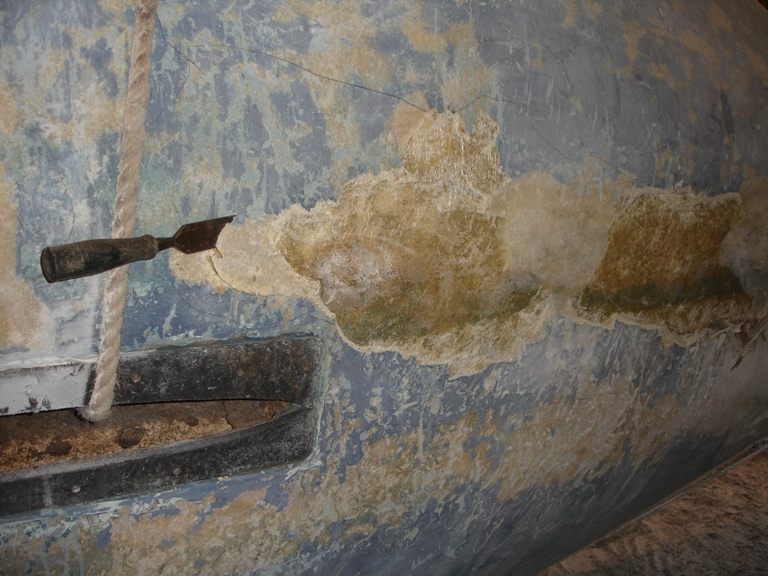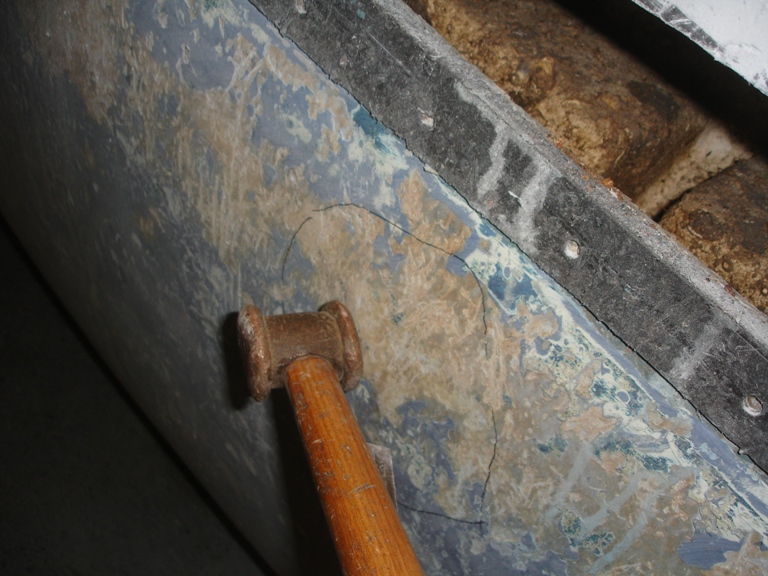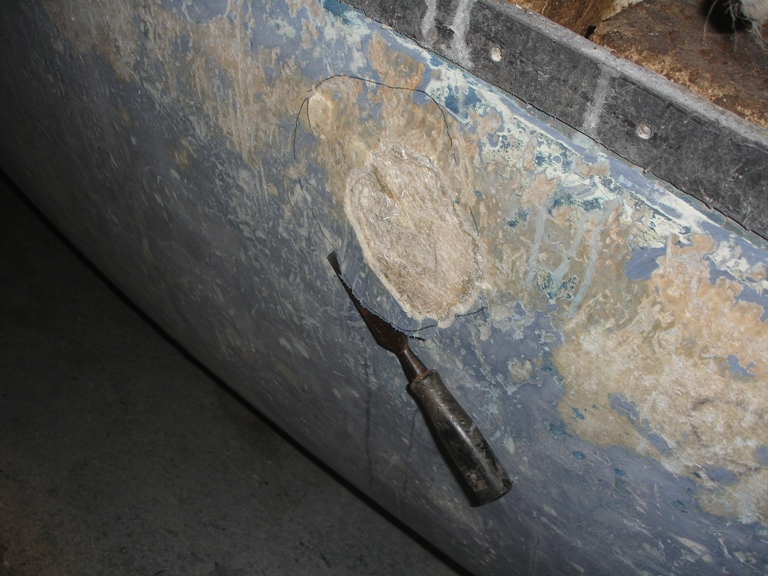 Blazer 740 we recently finished off for a friend. Here it is at Inskip Point.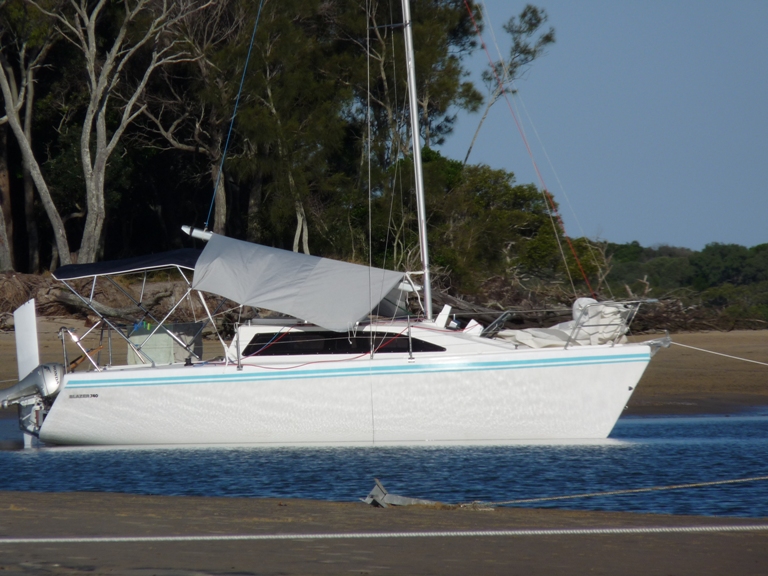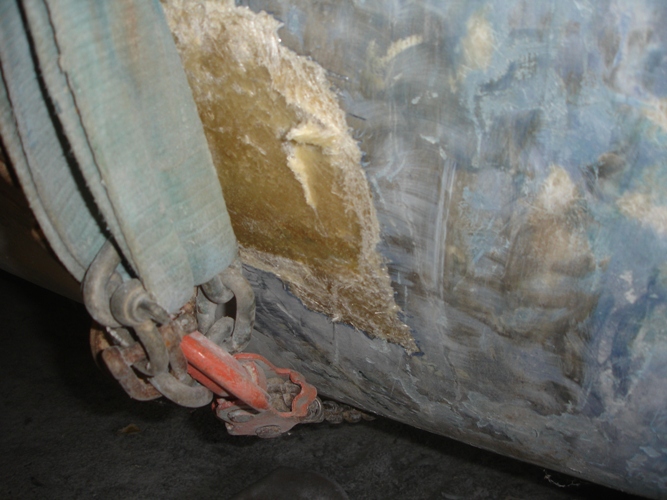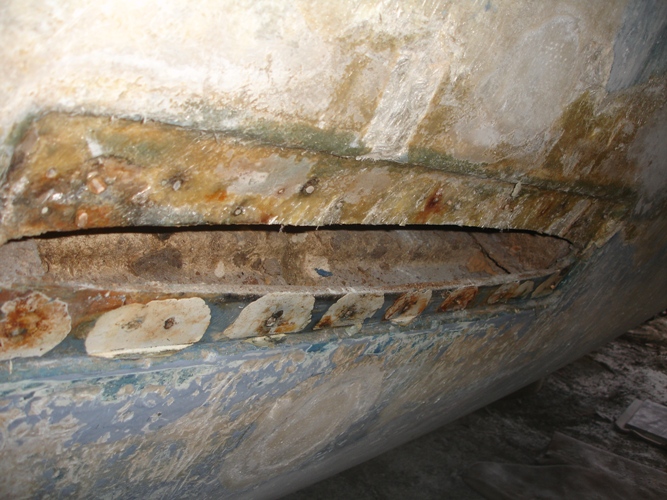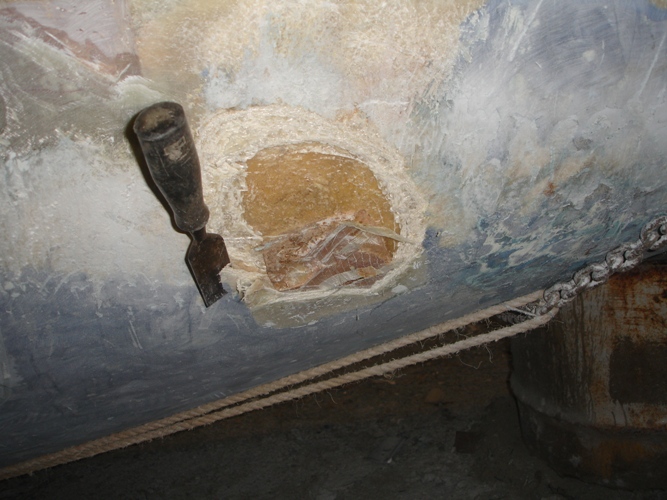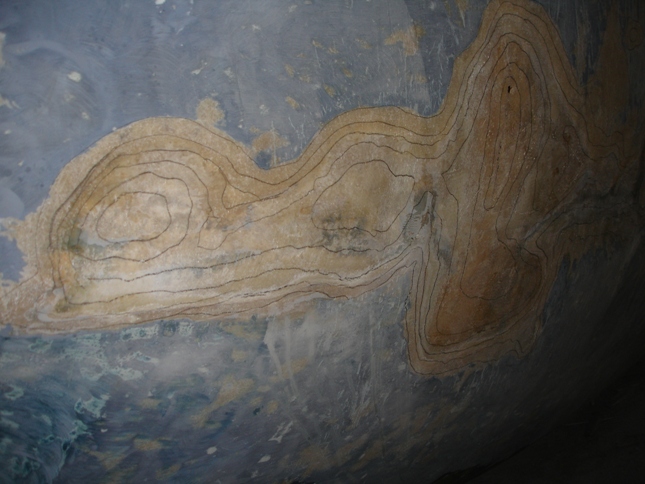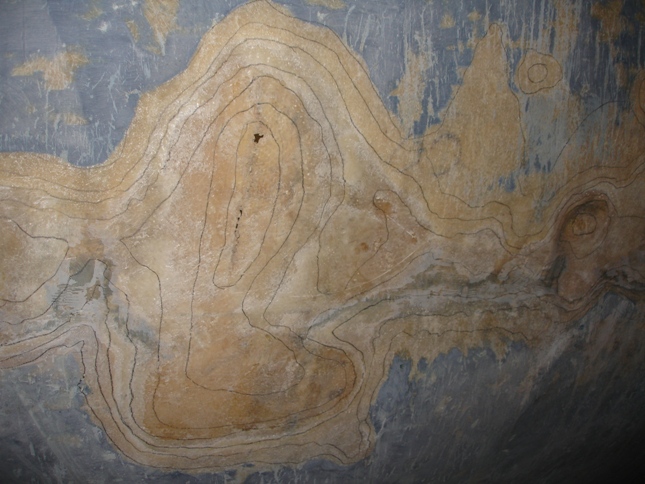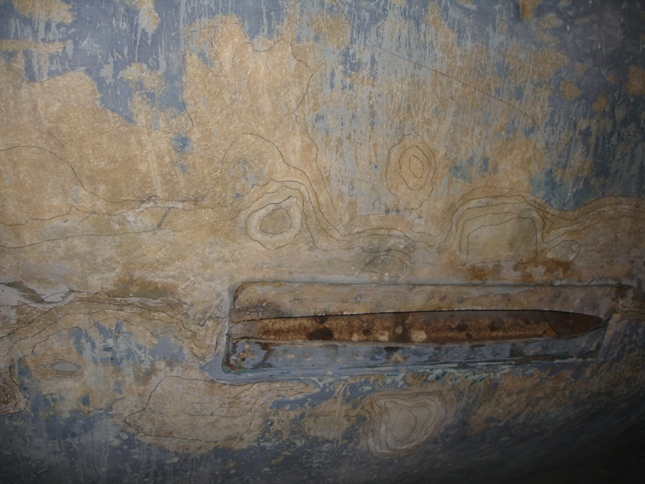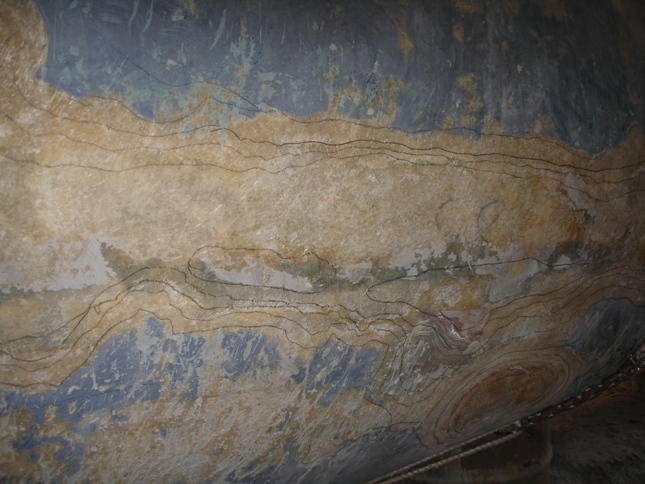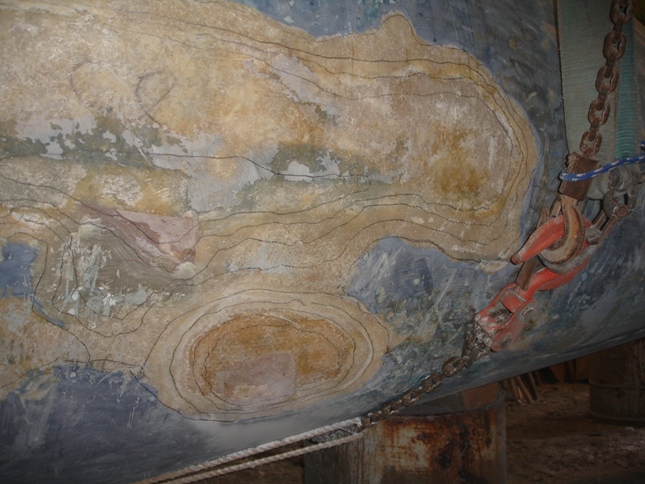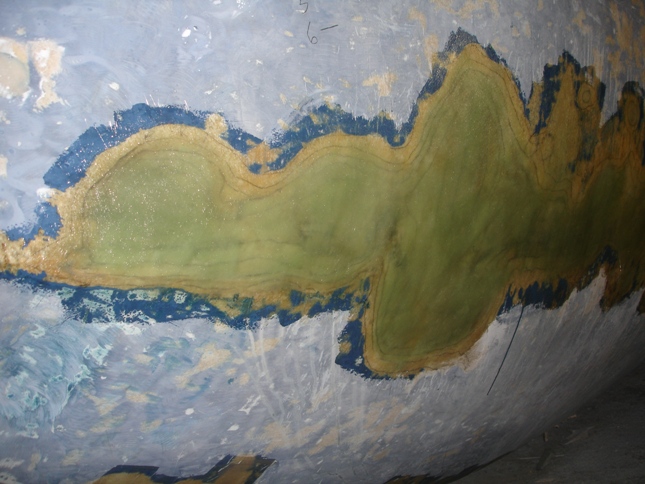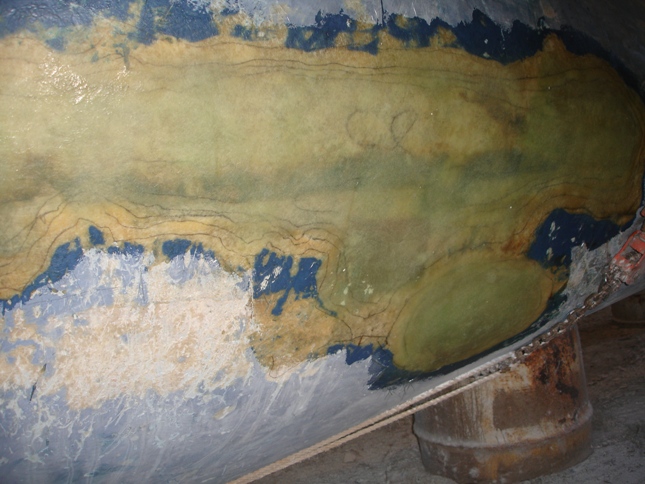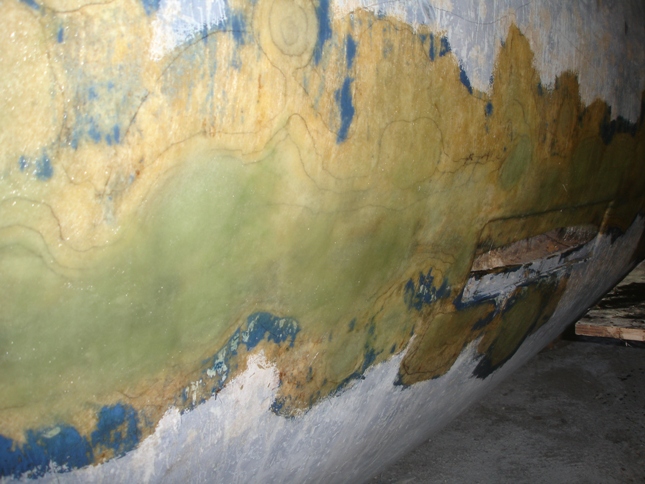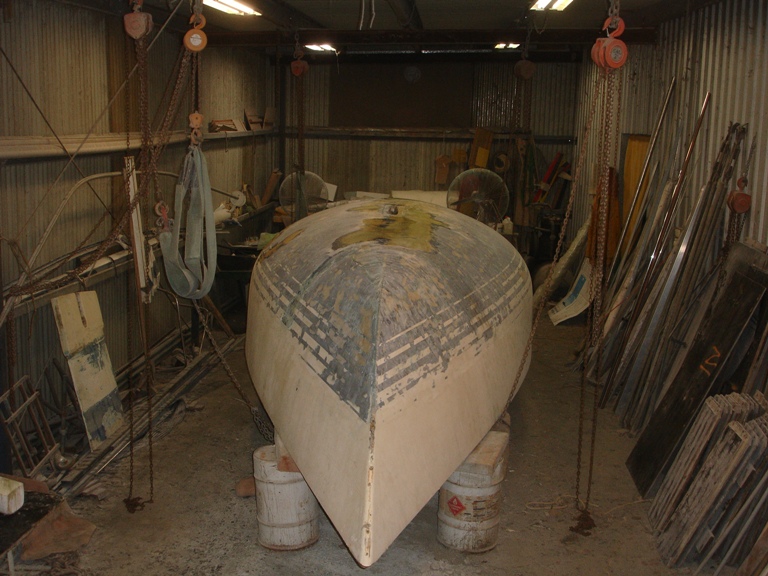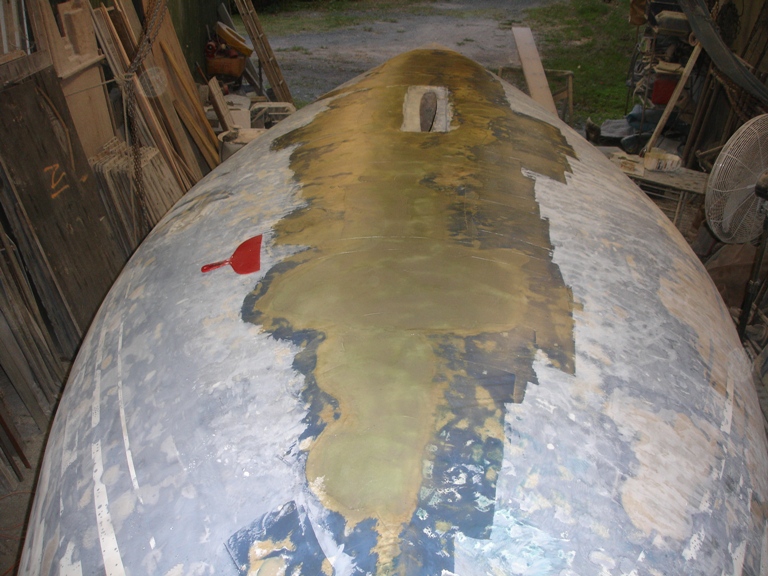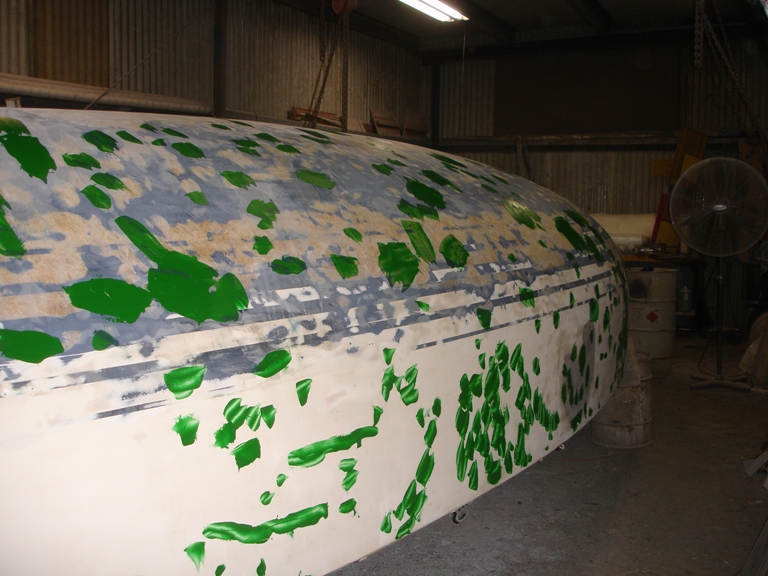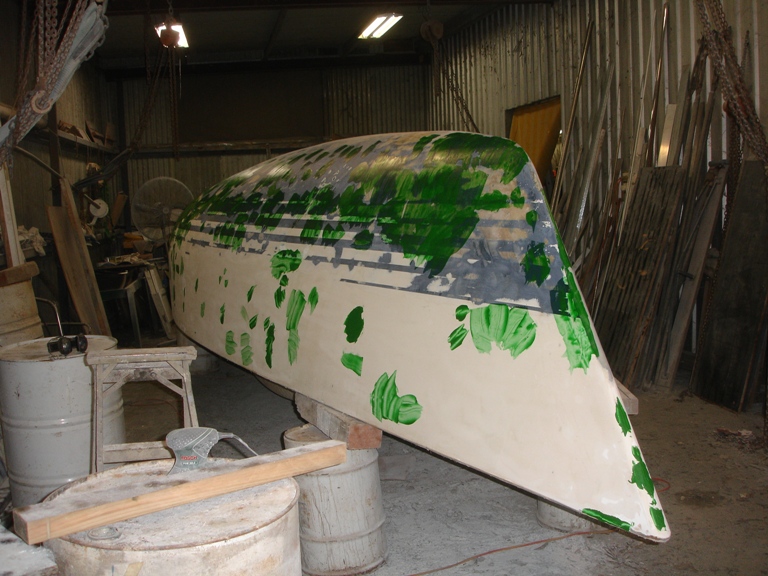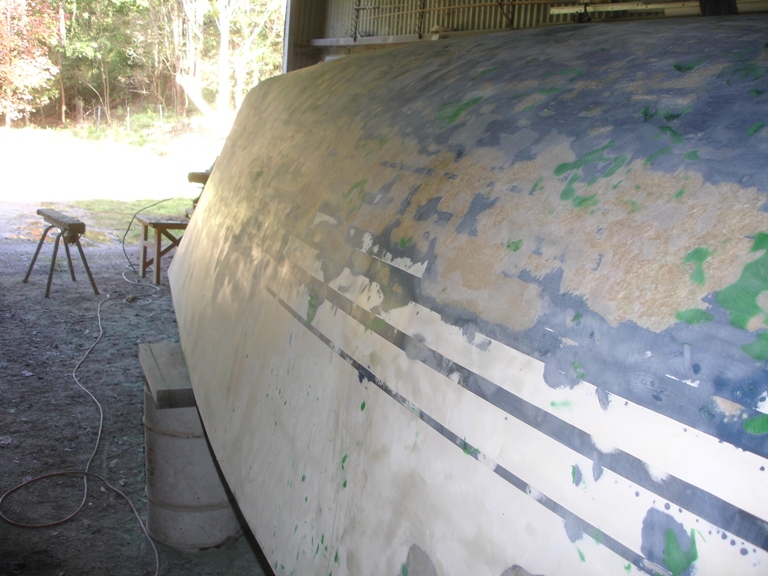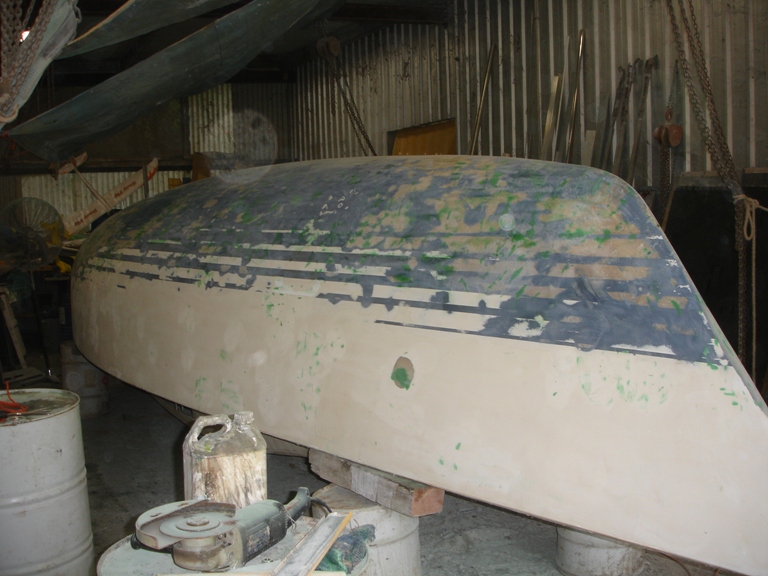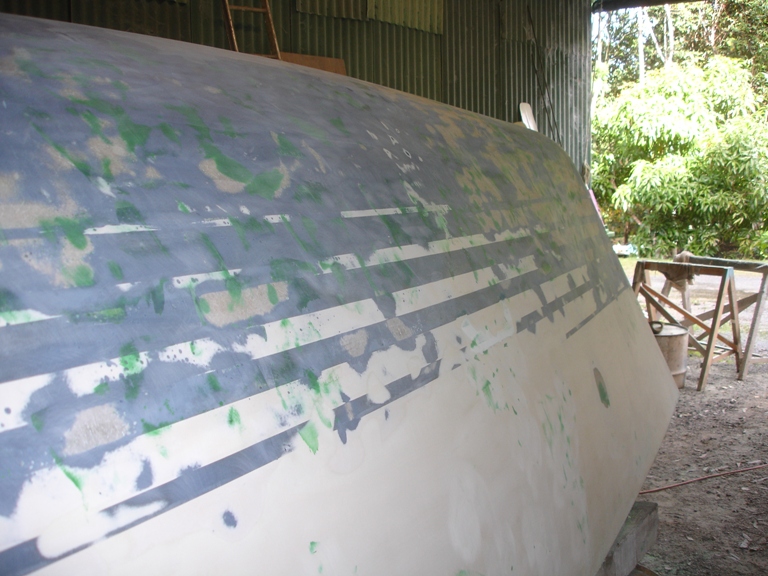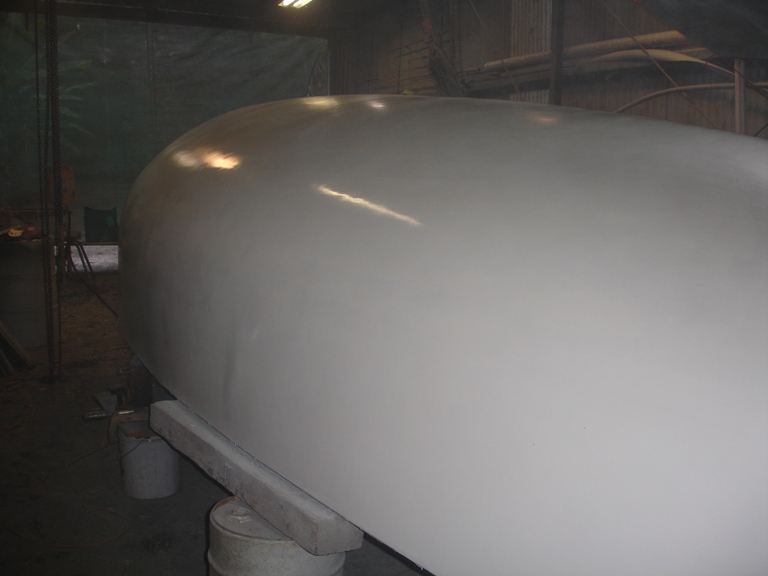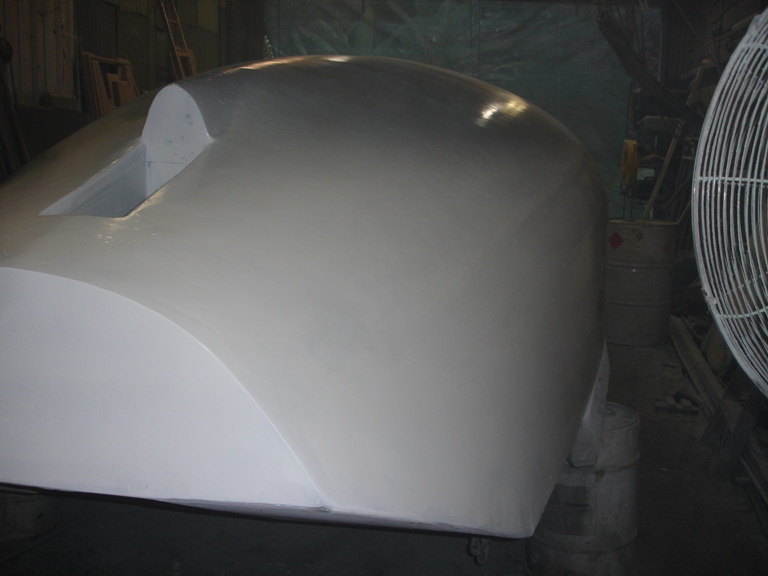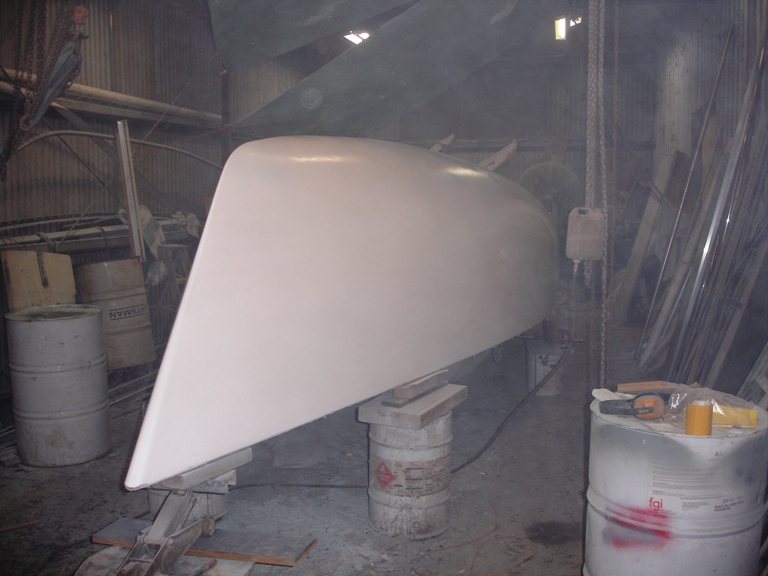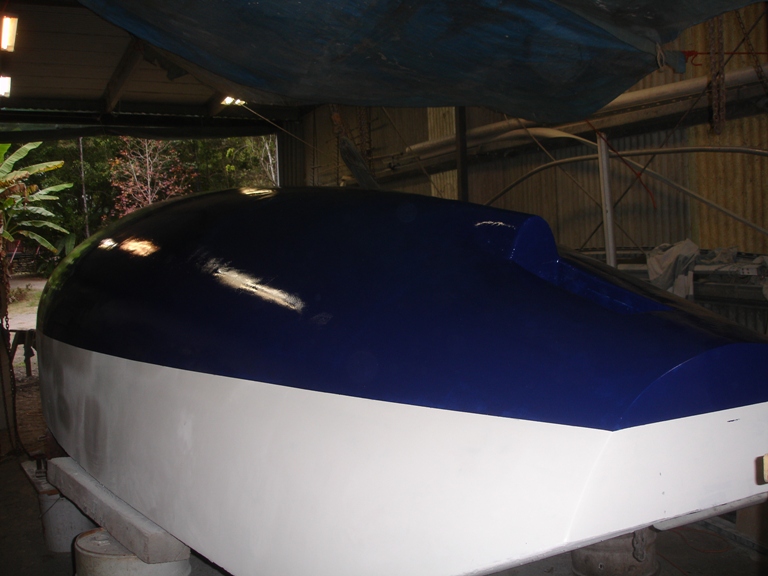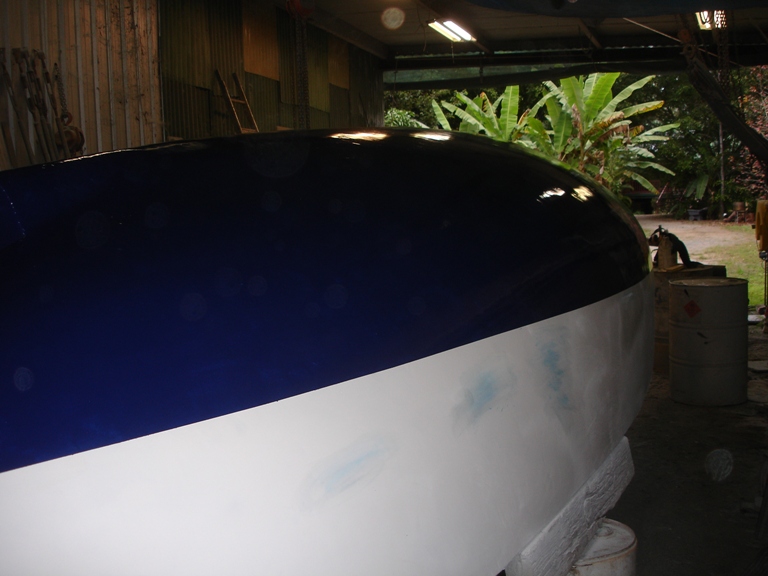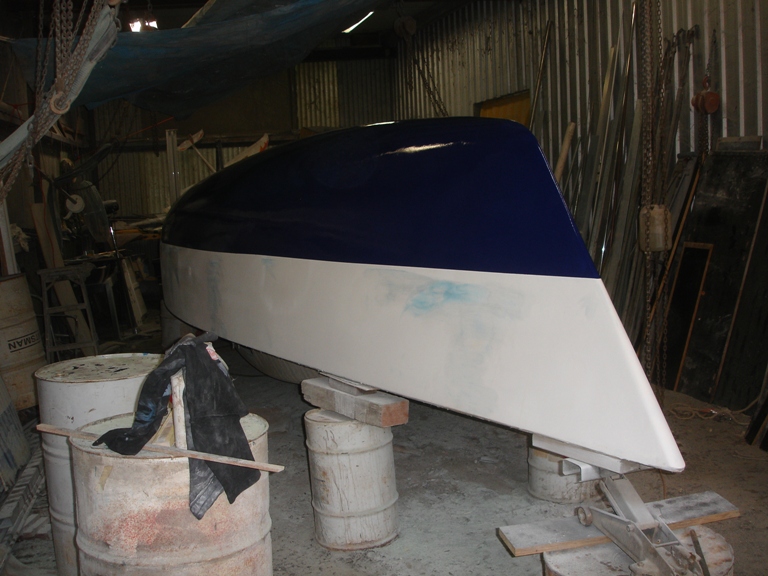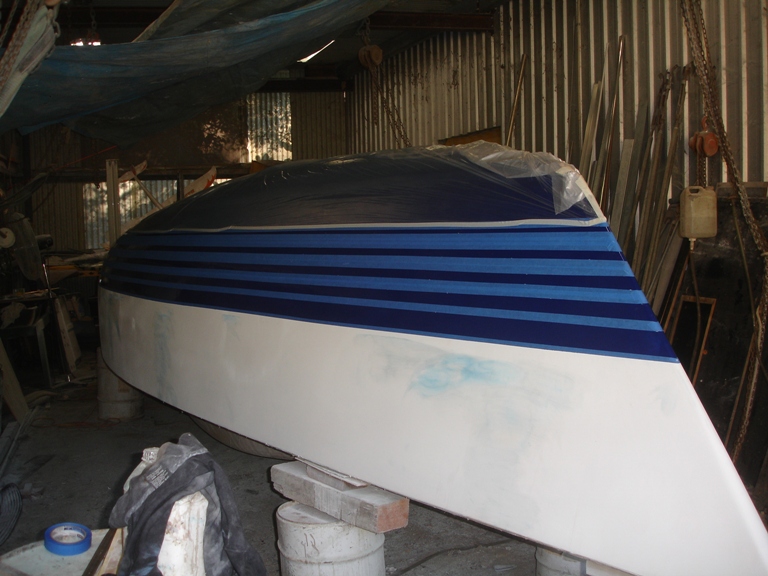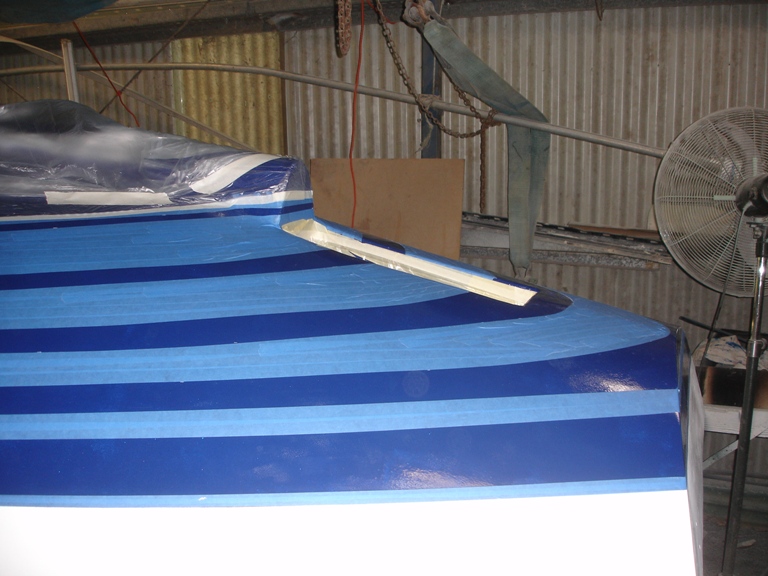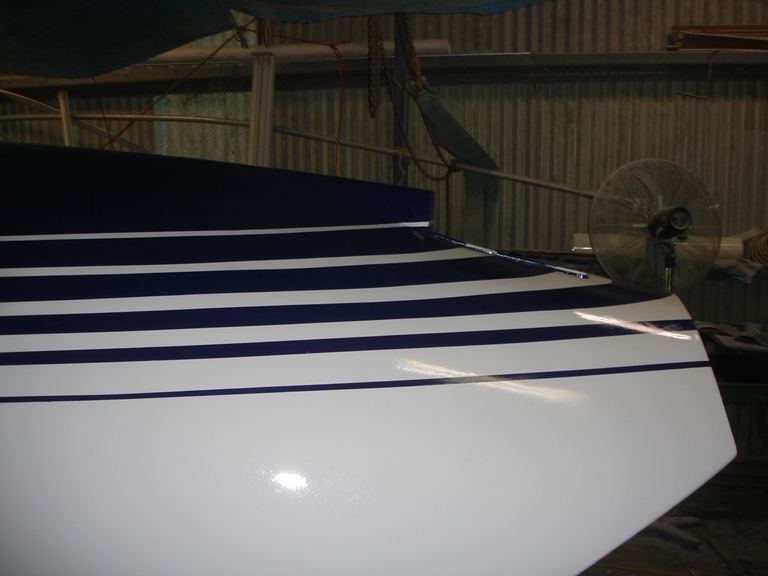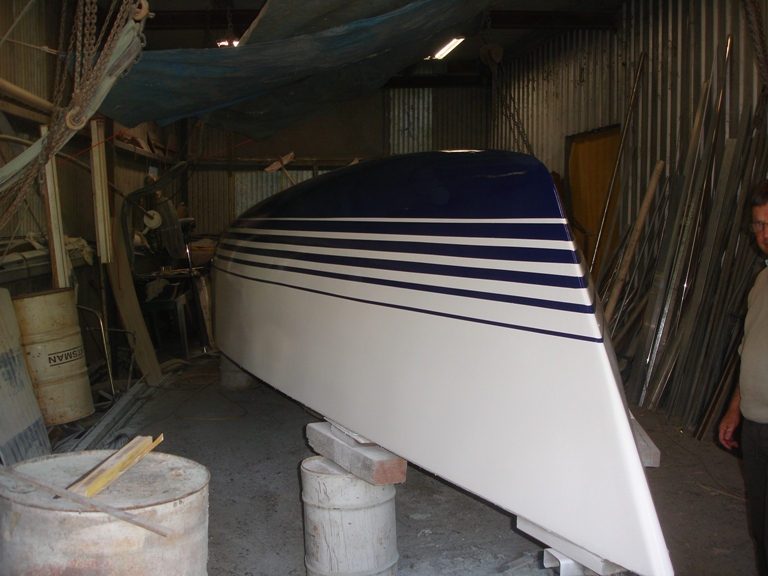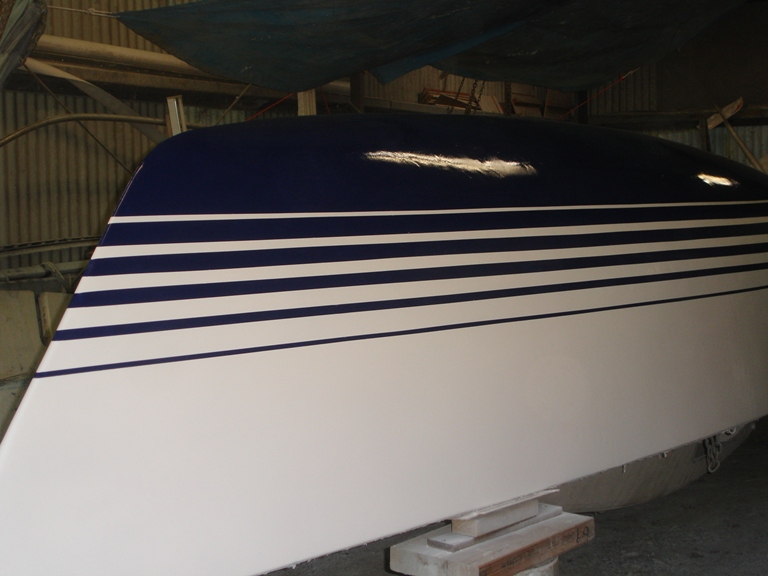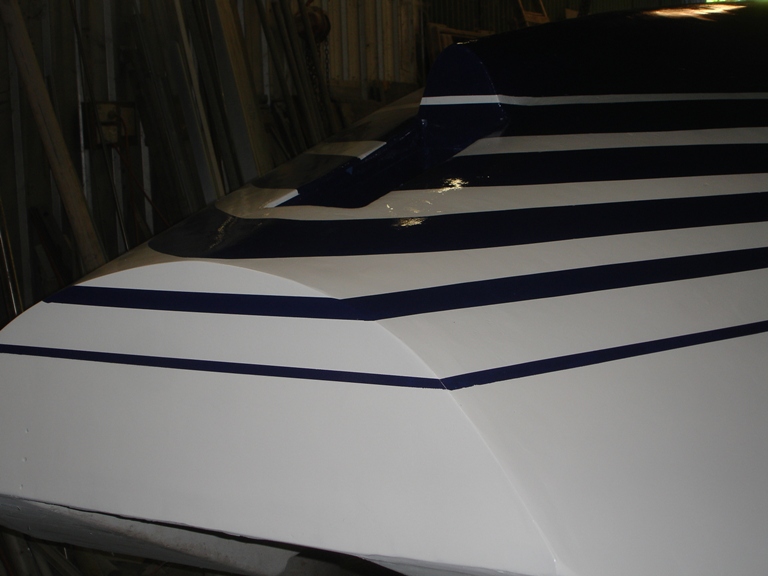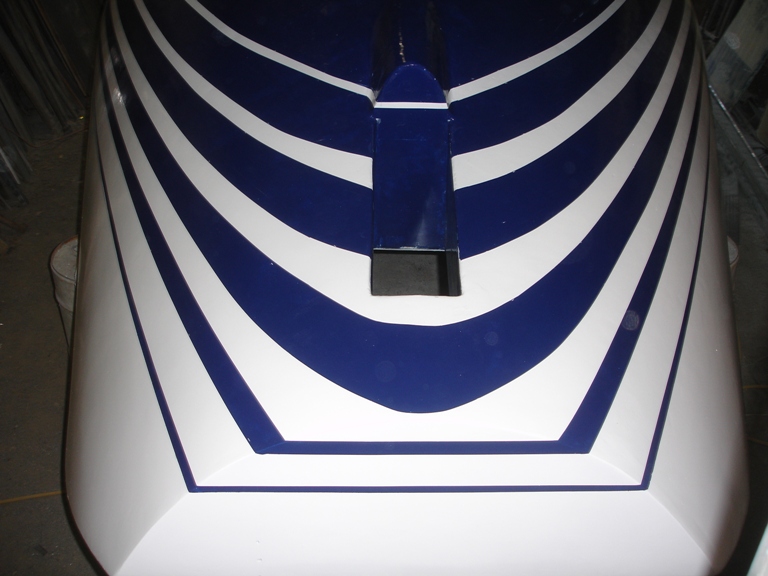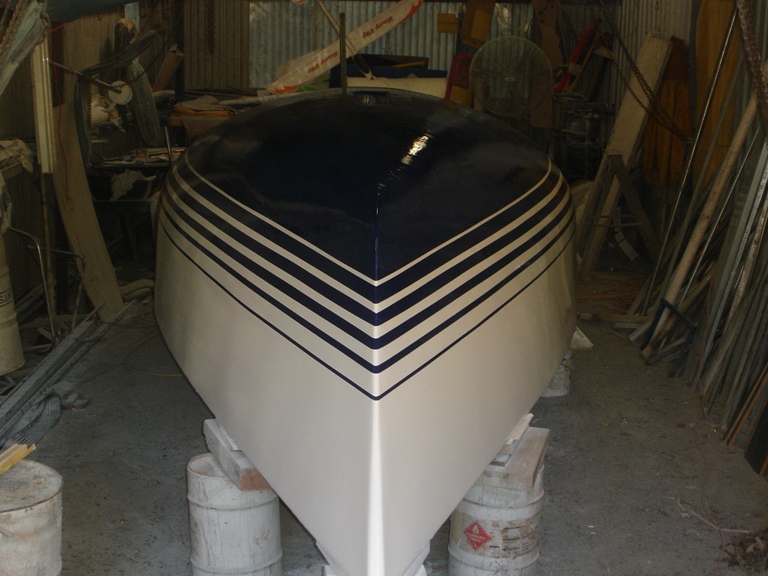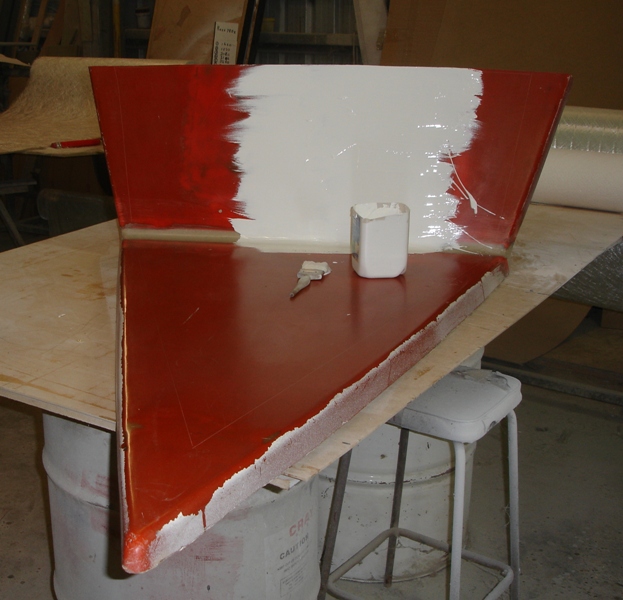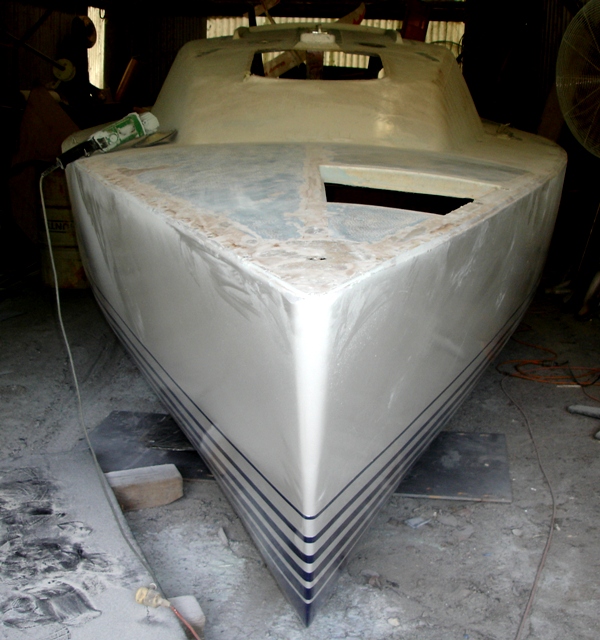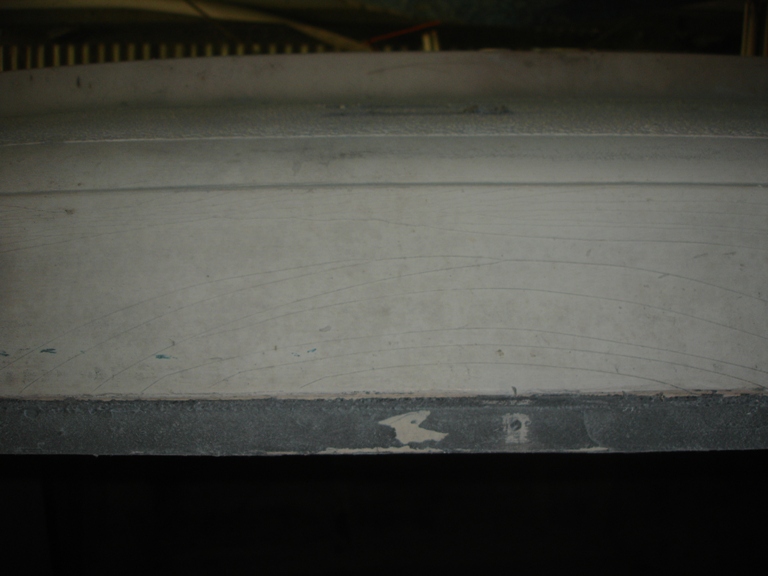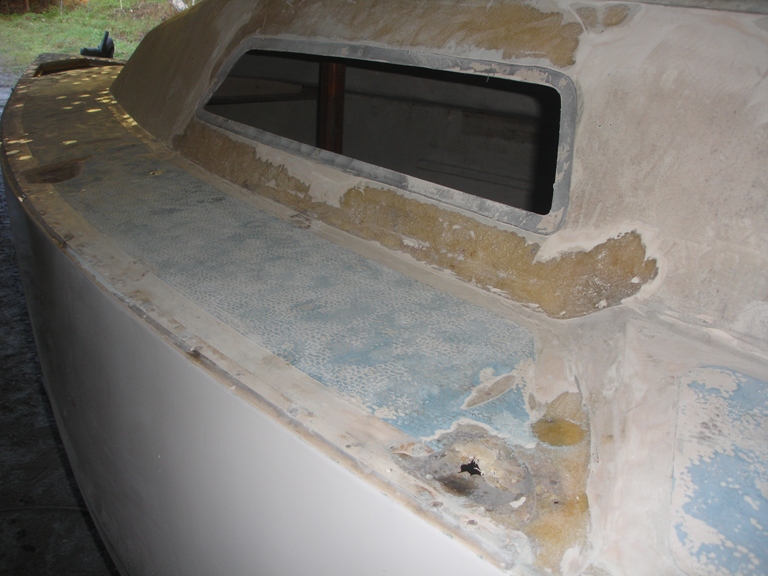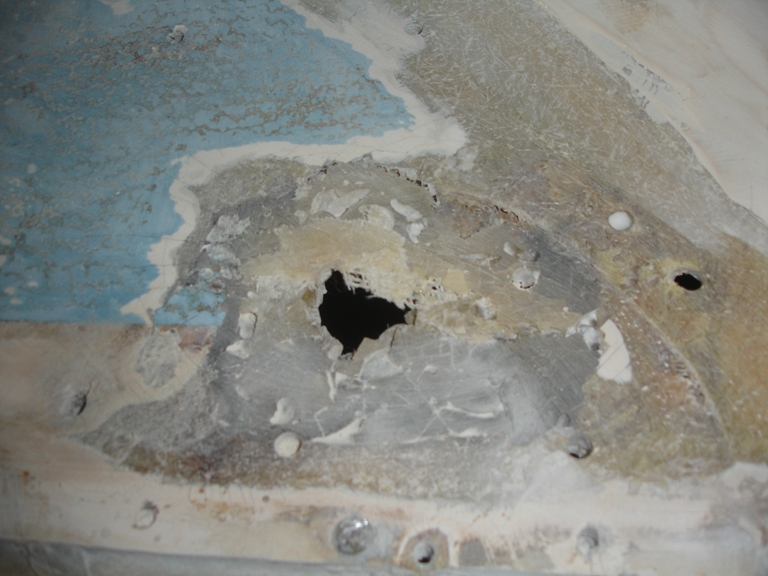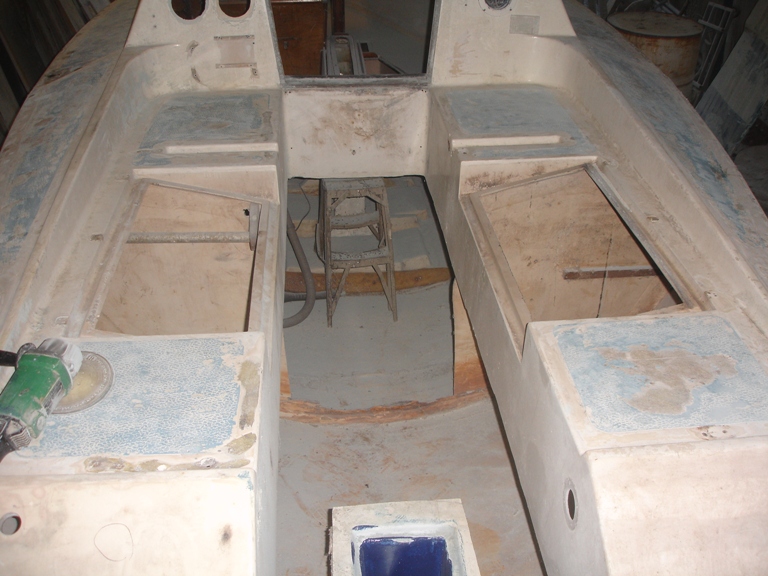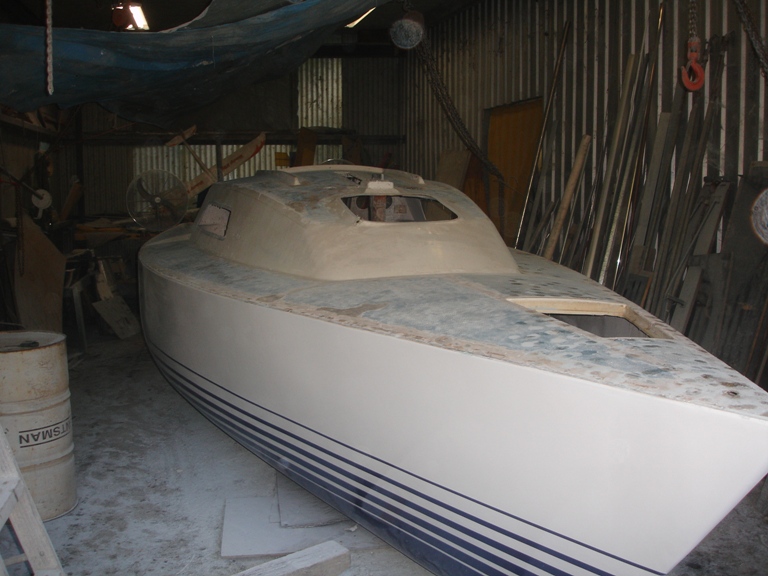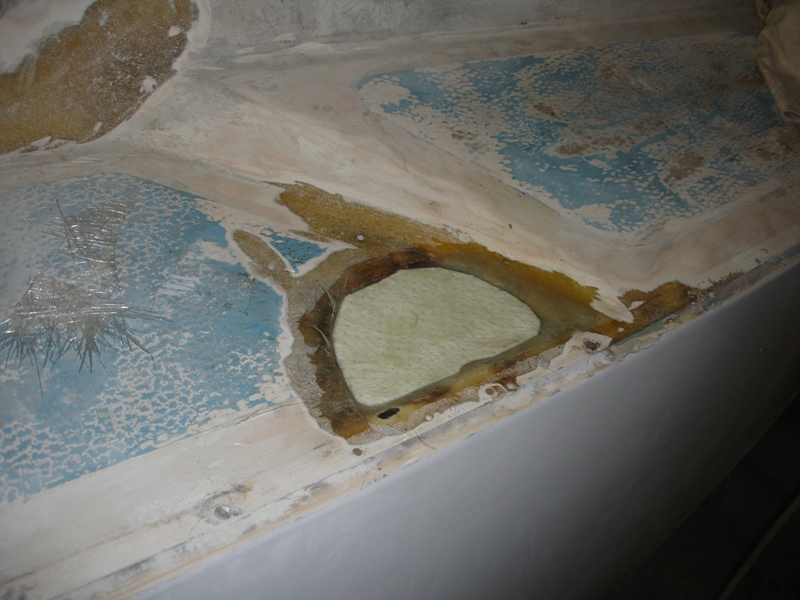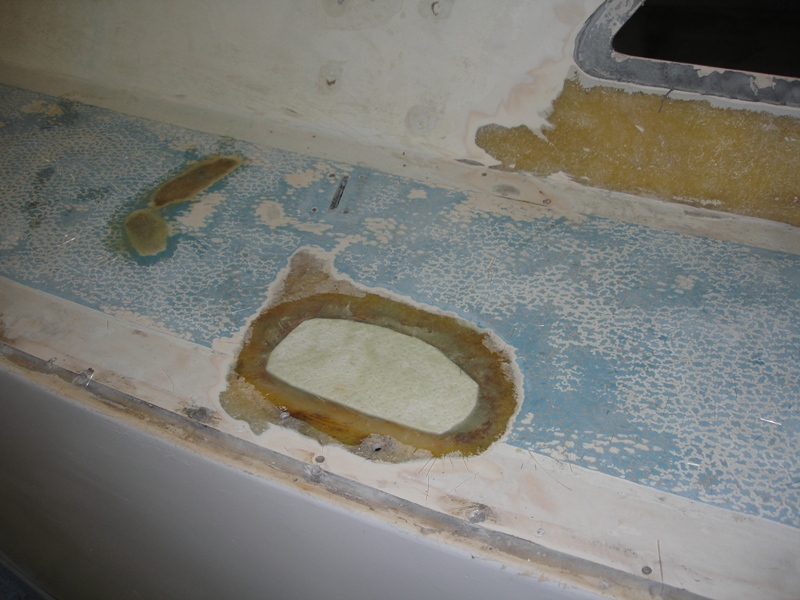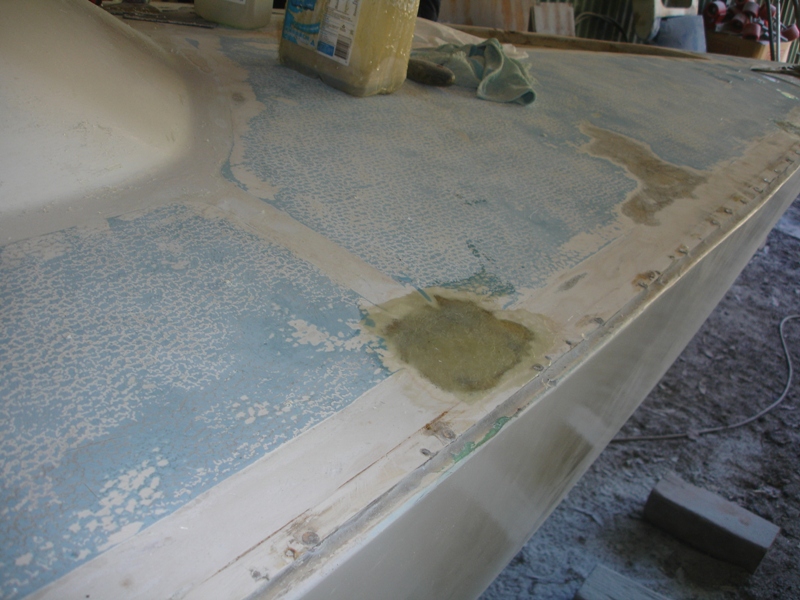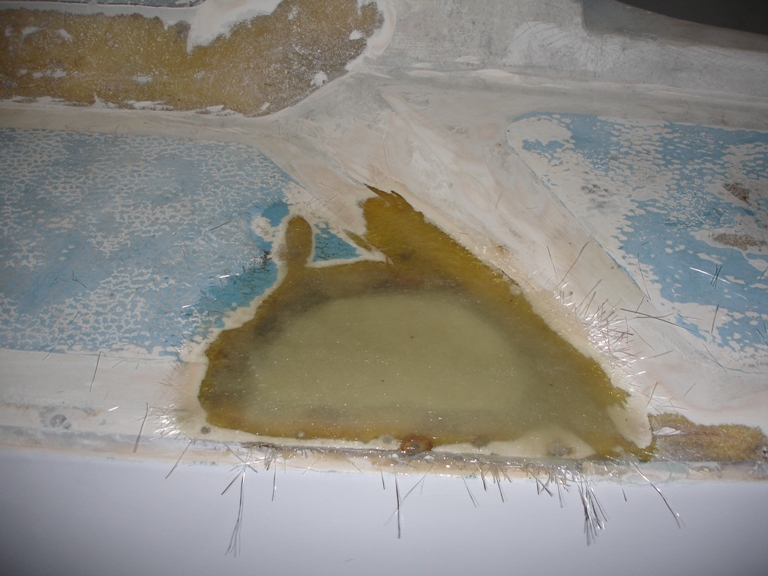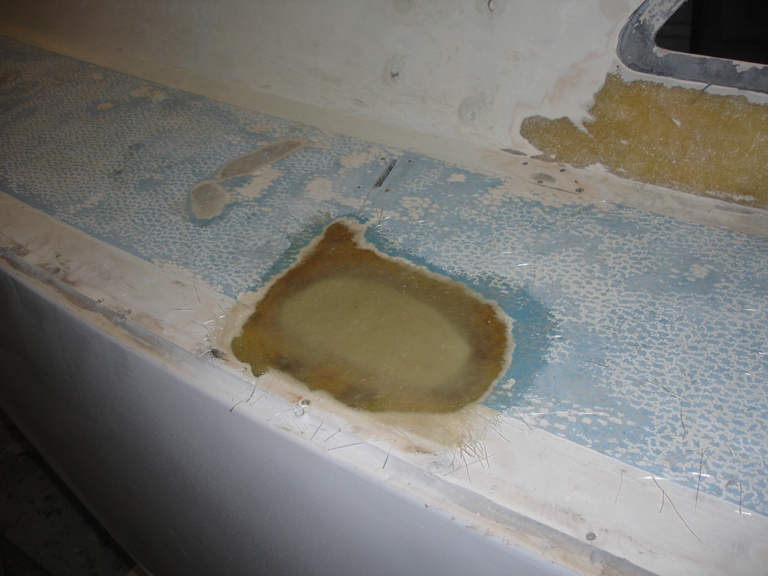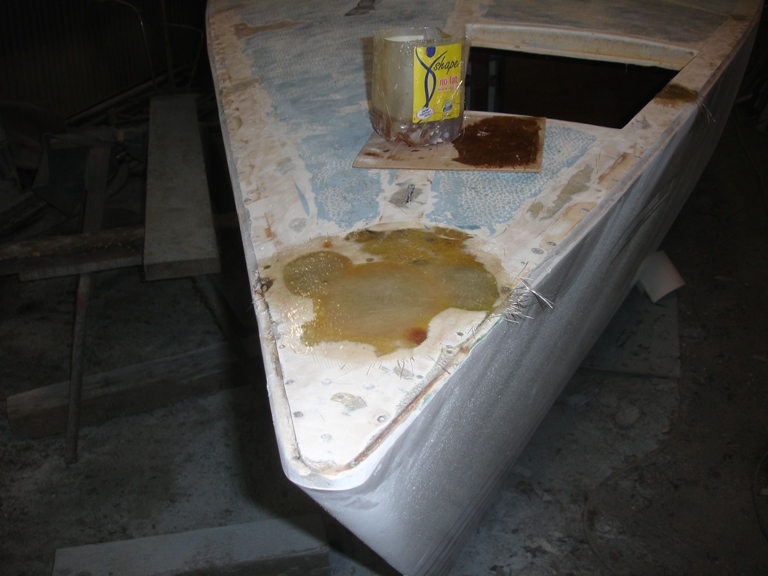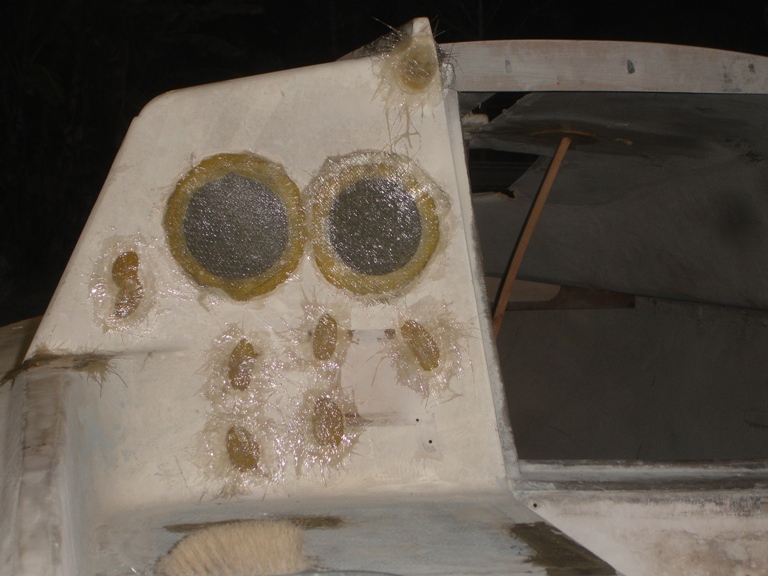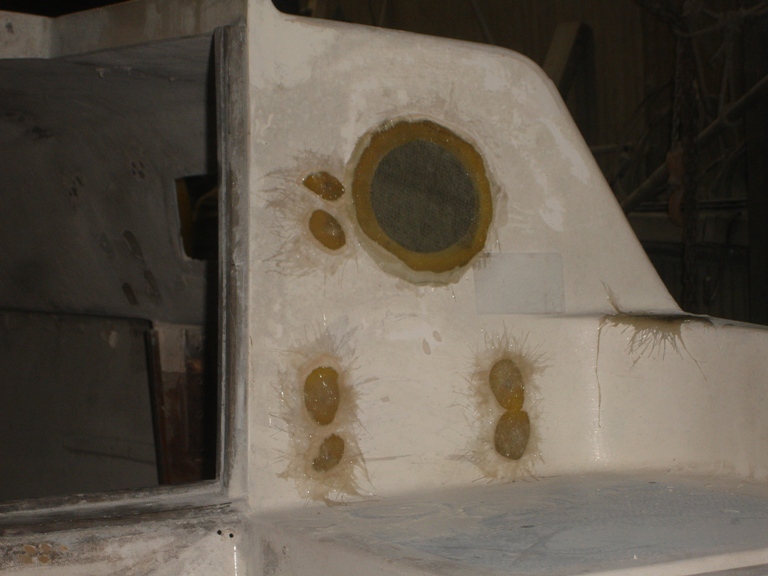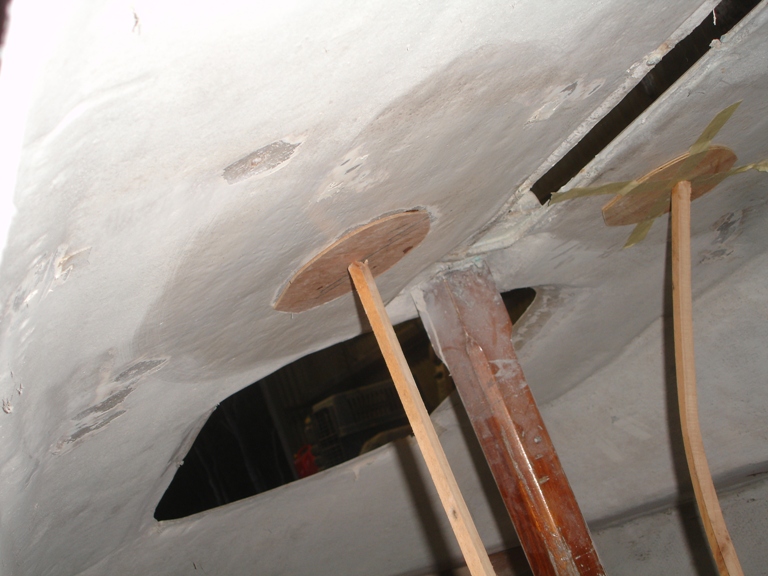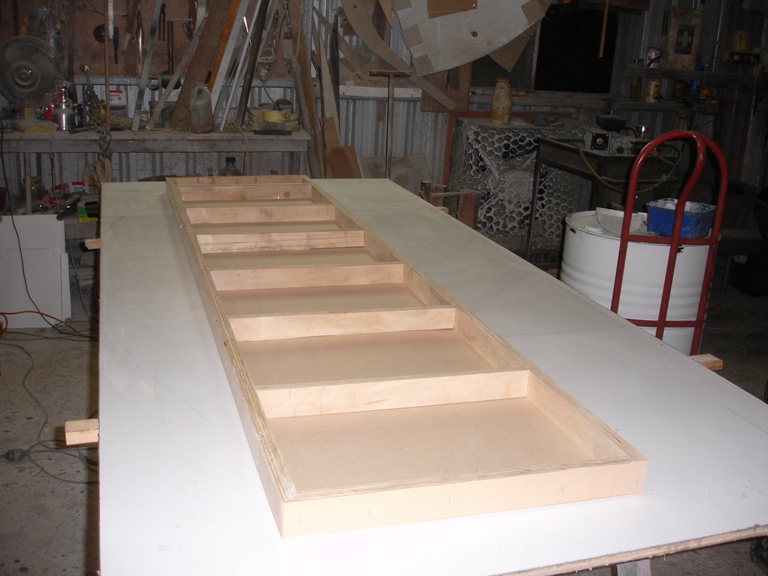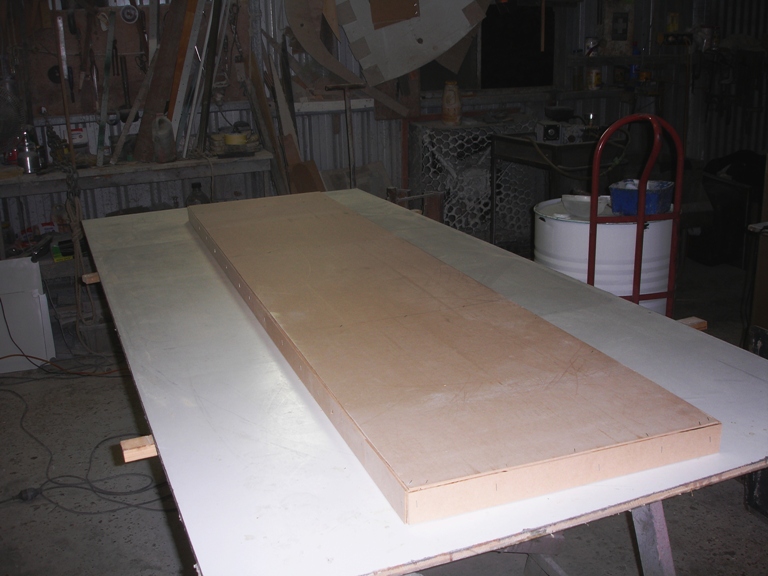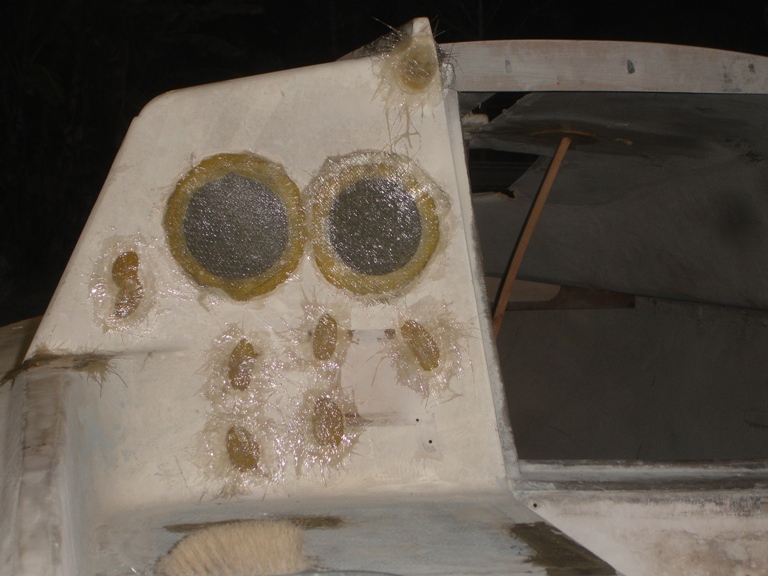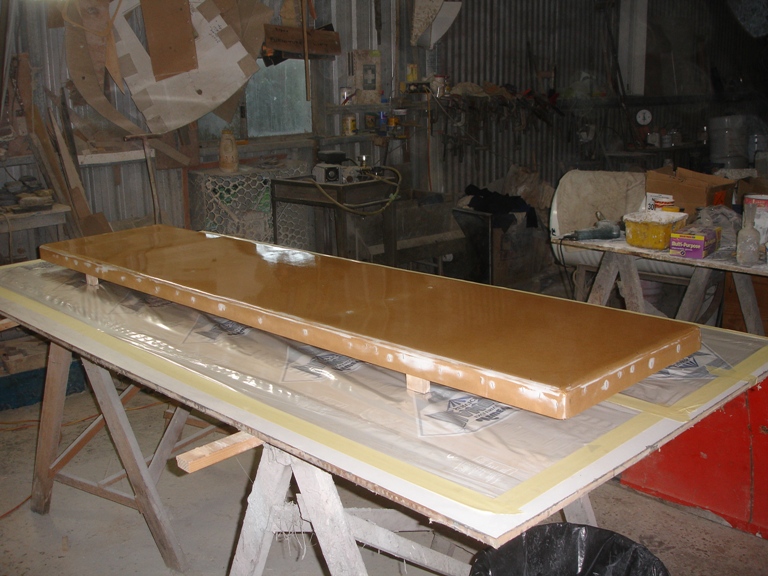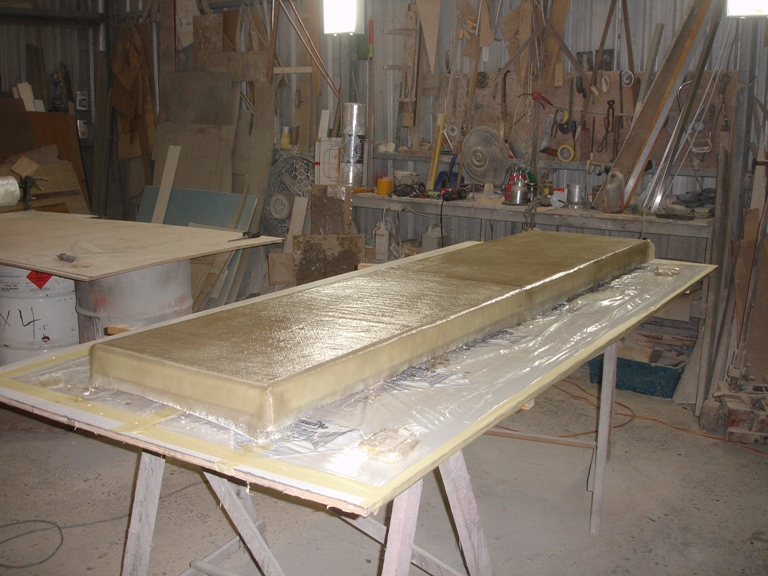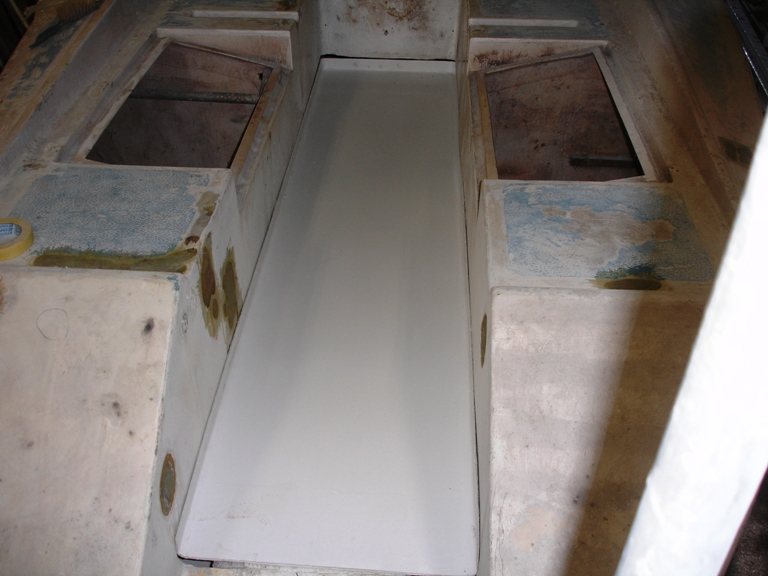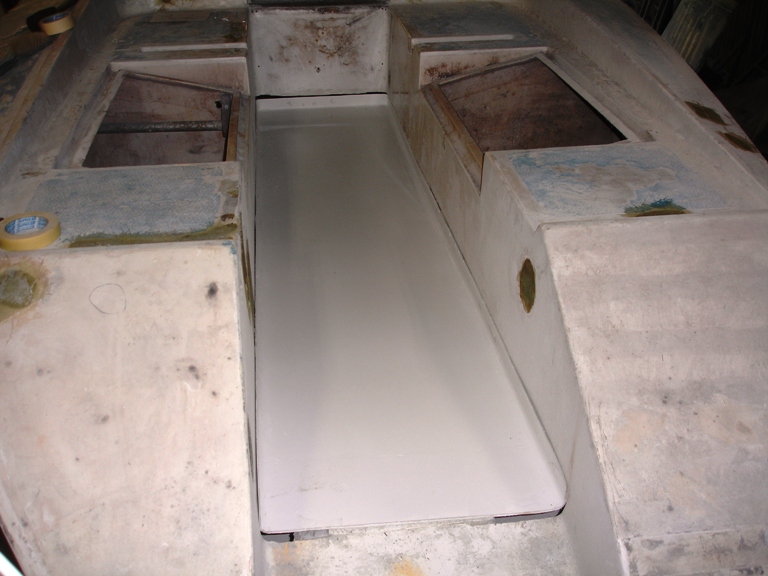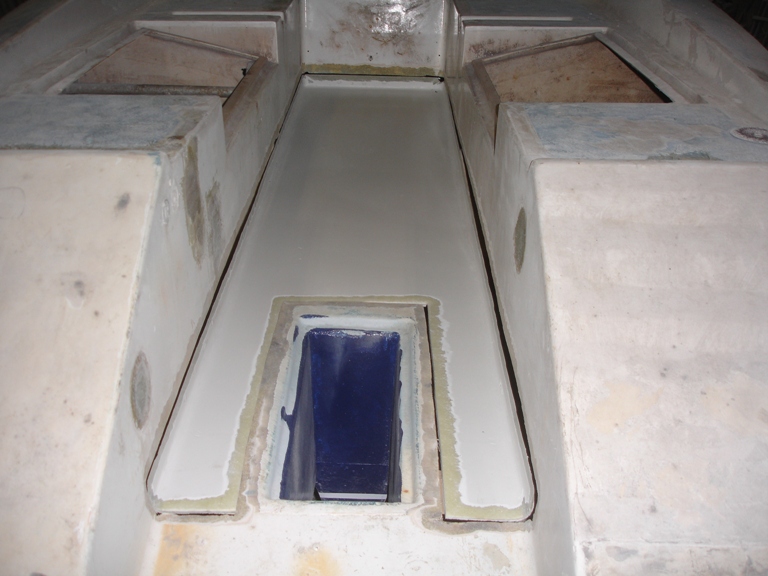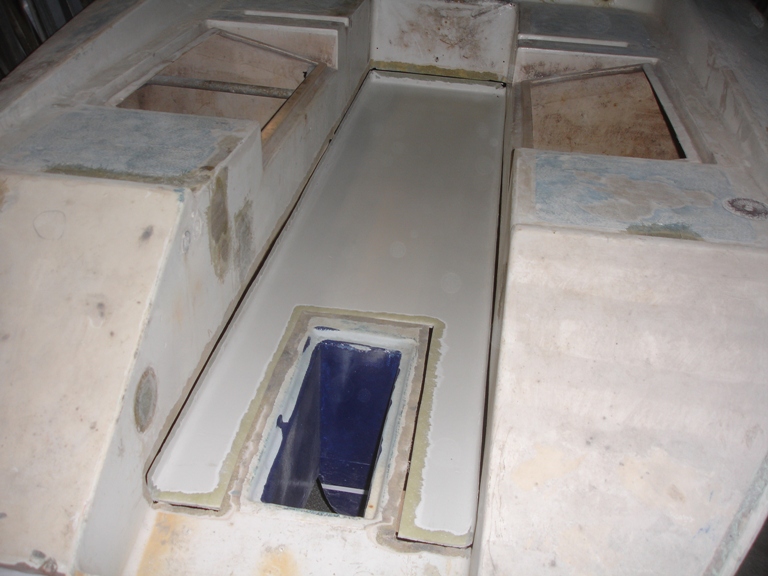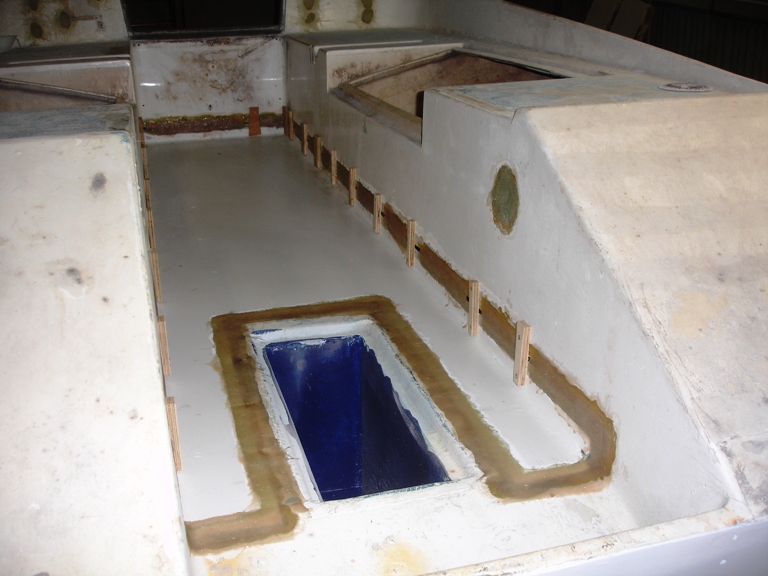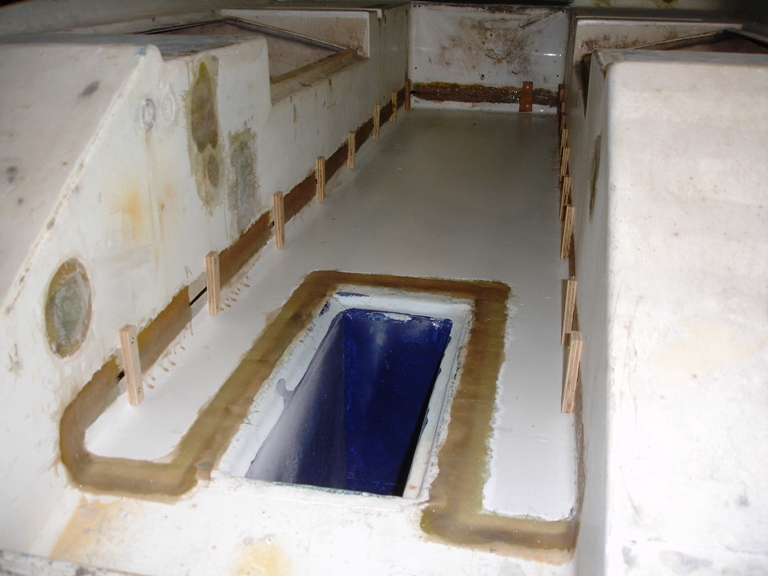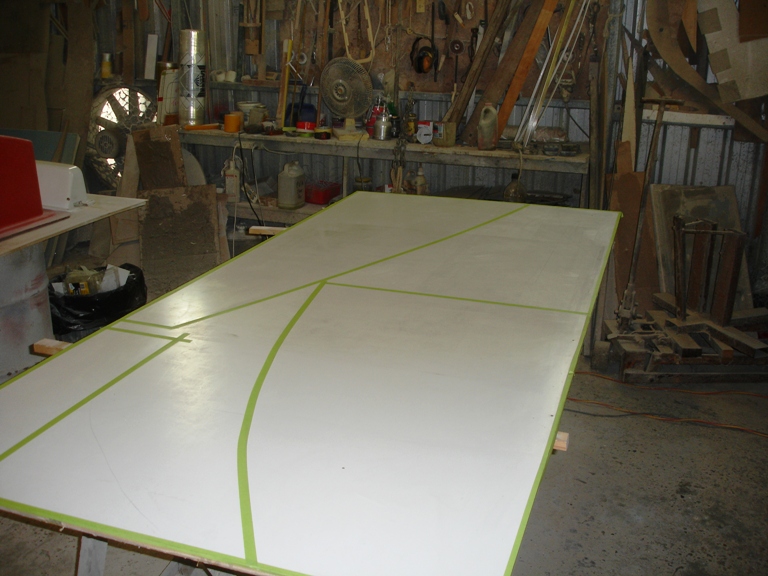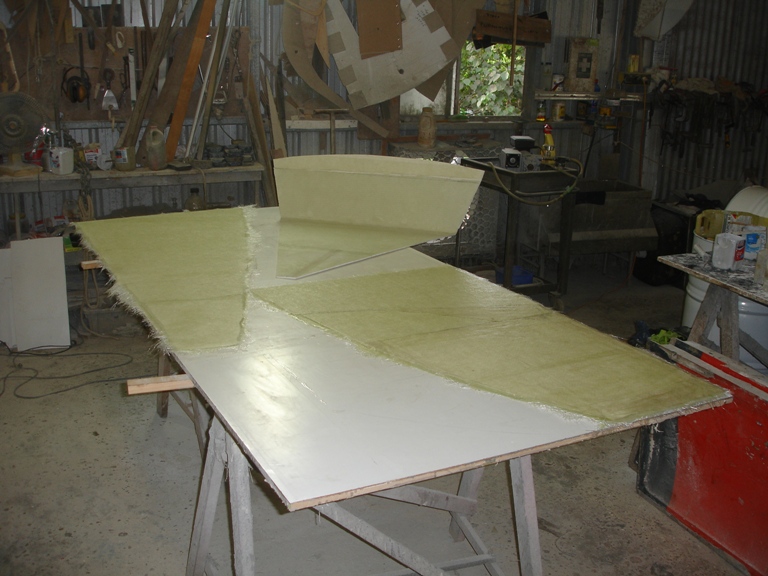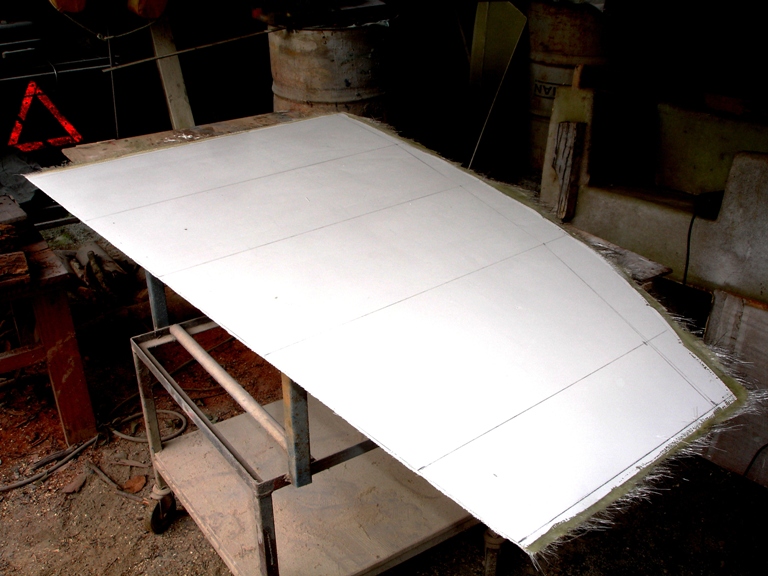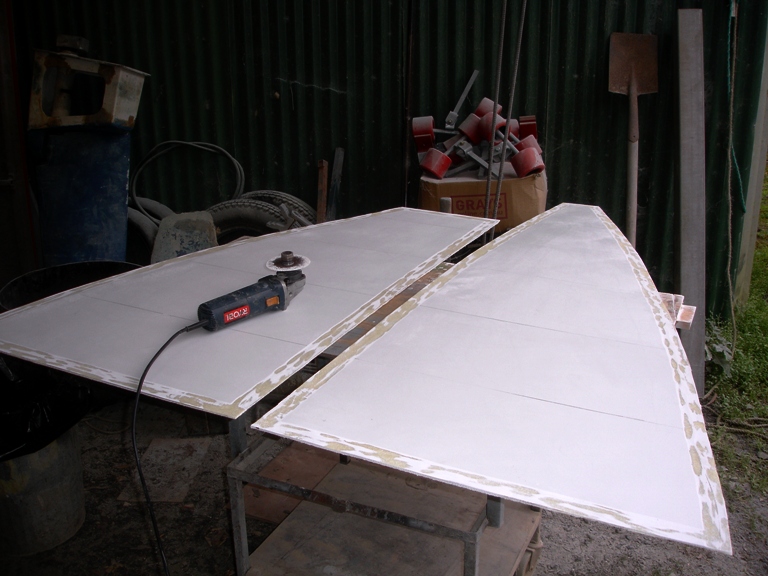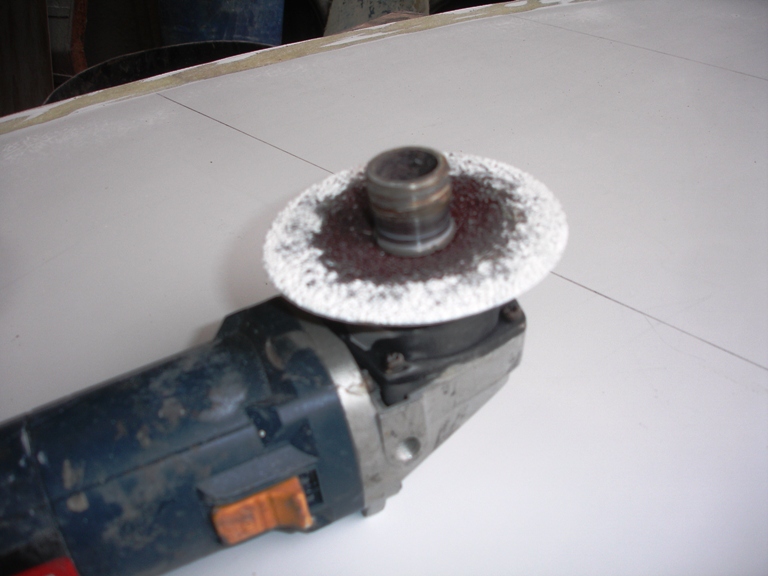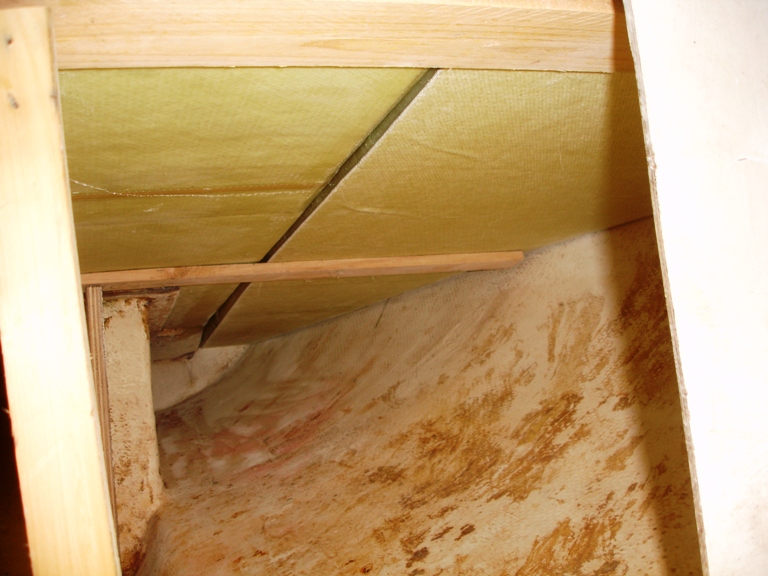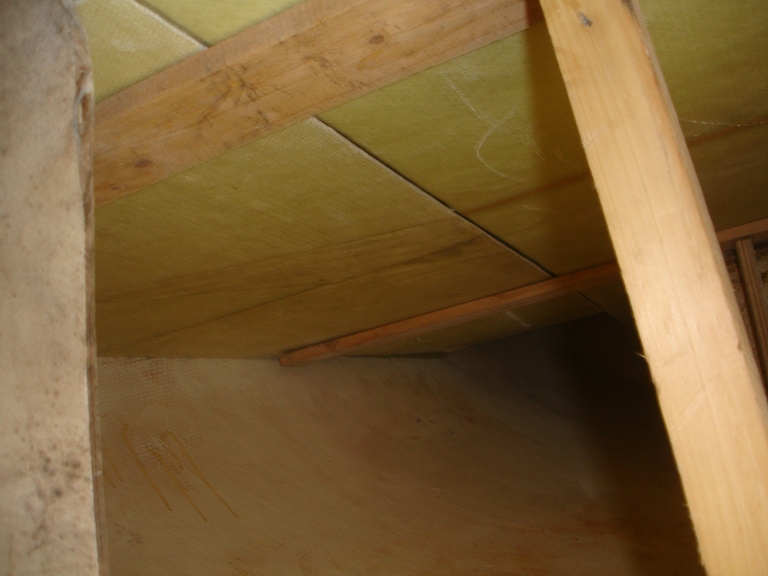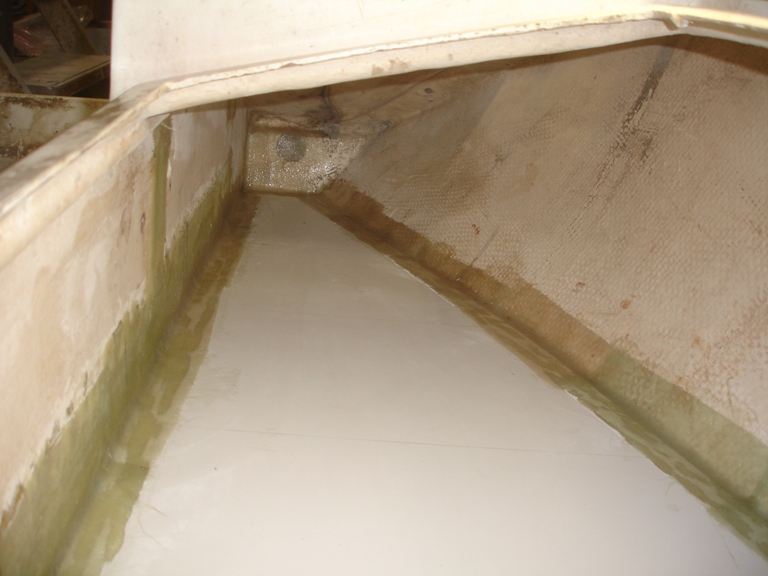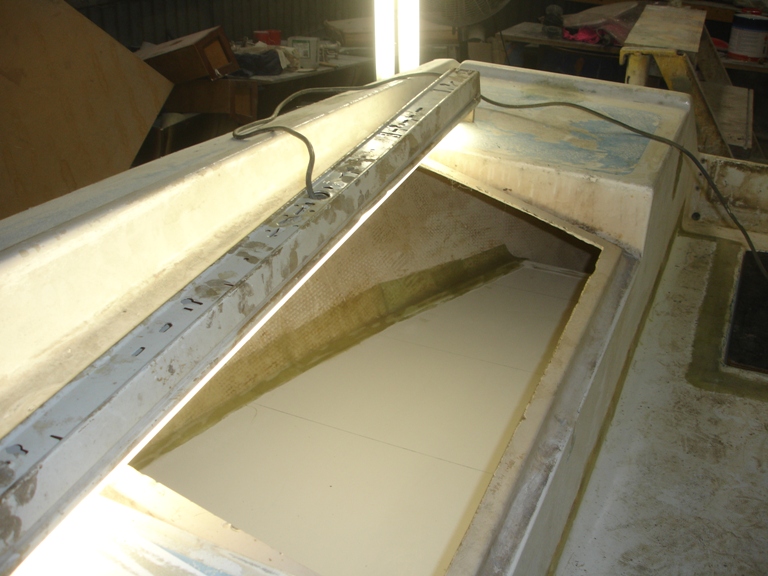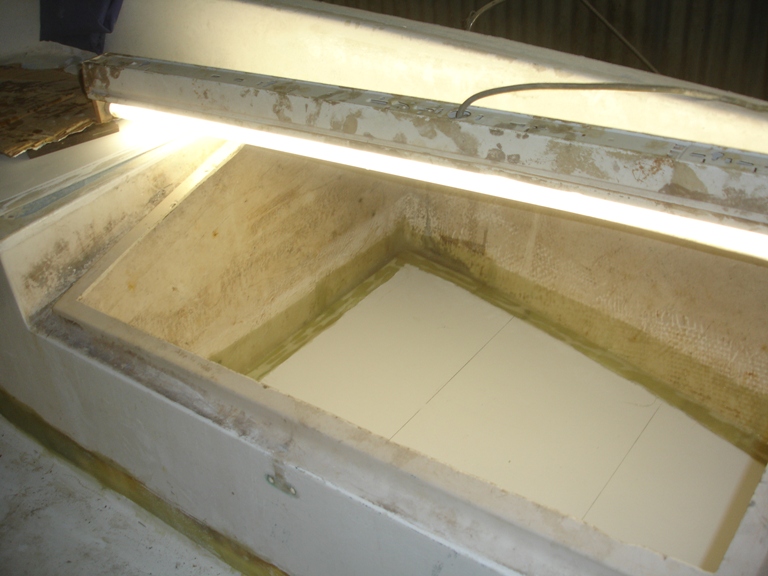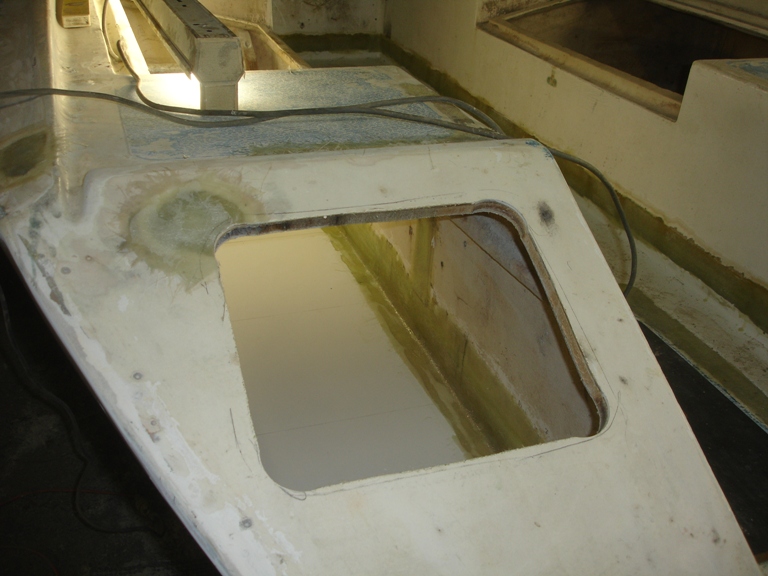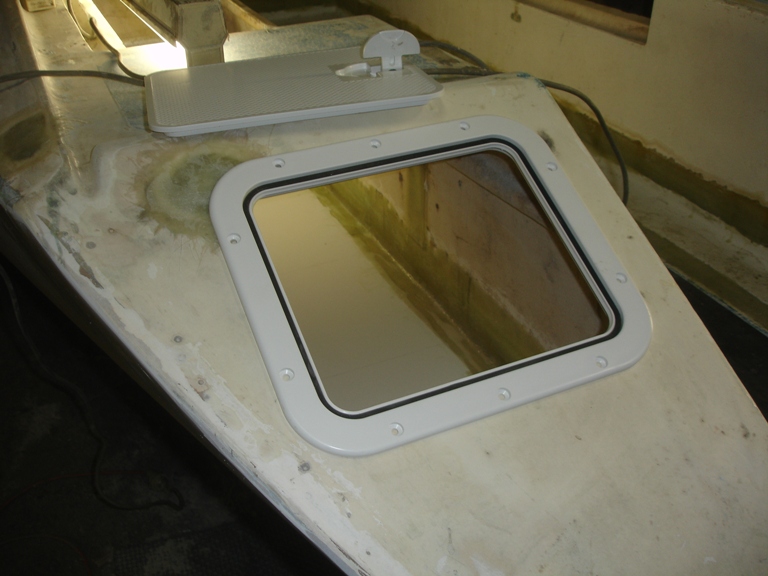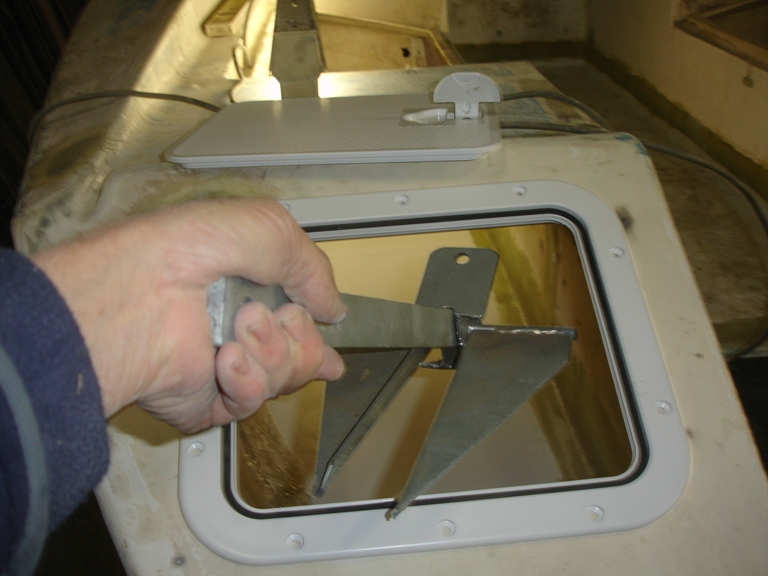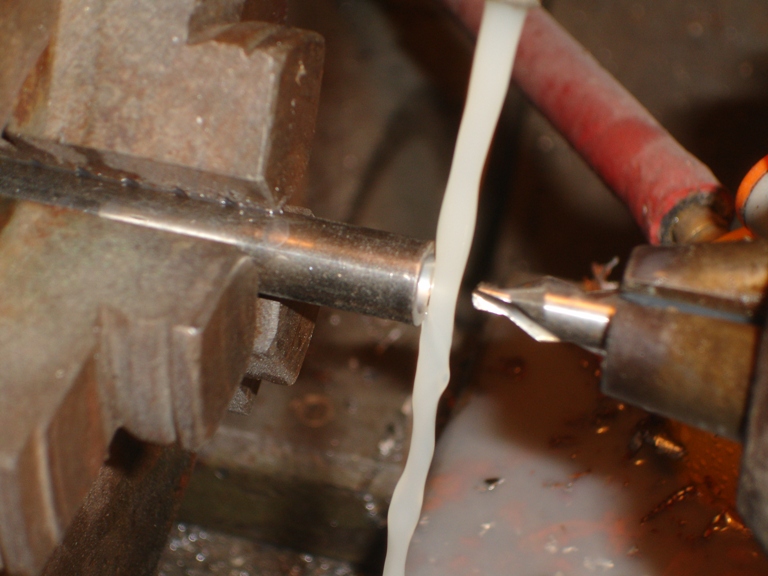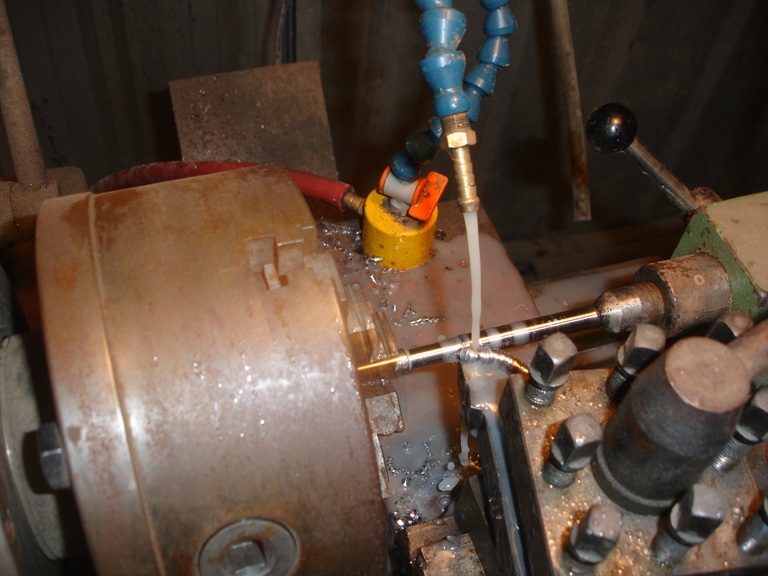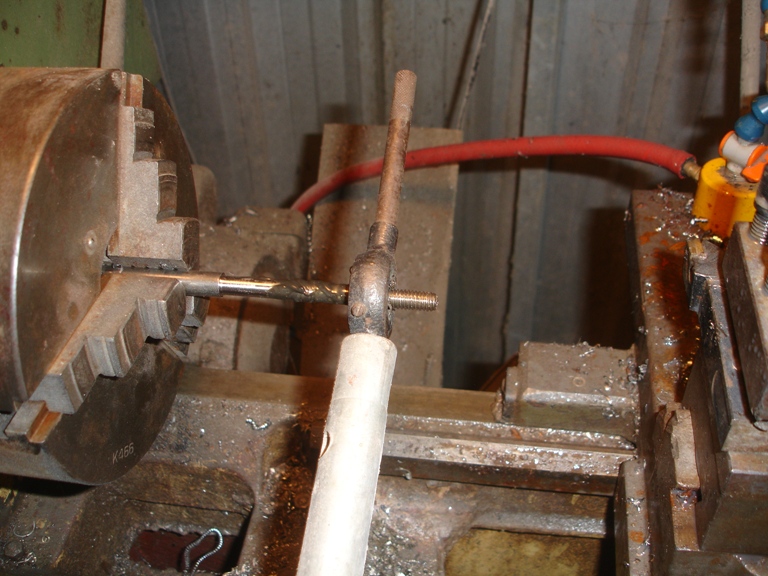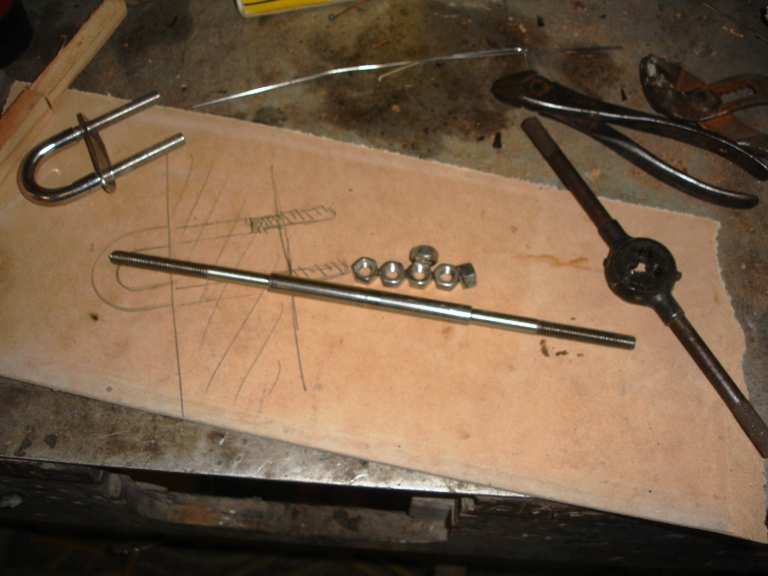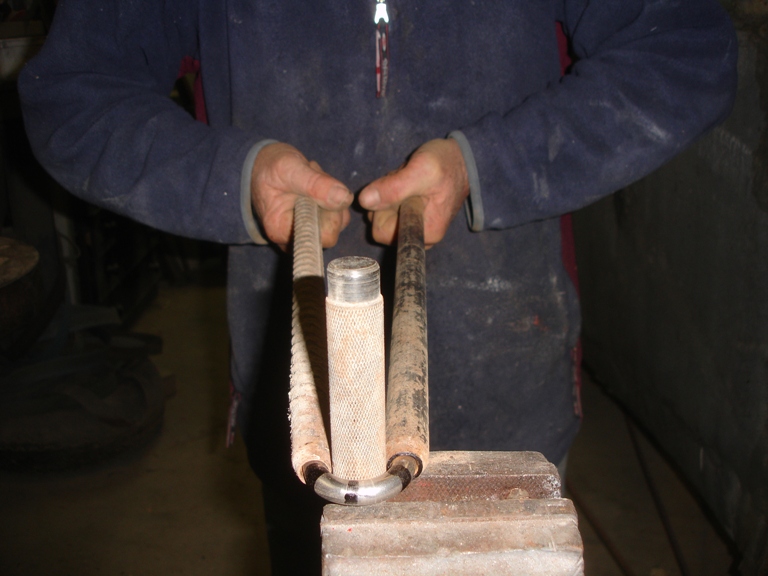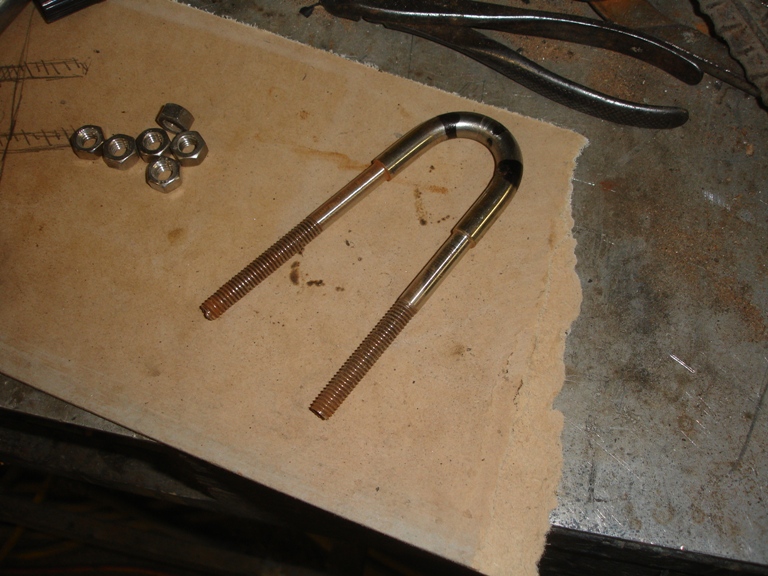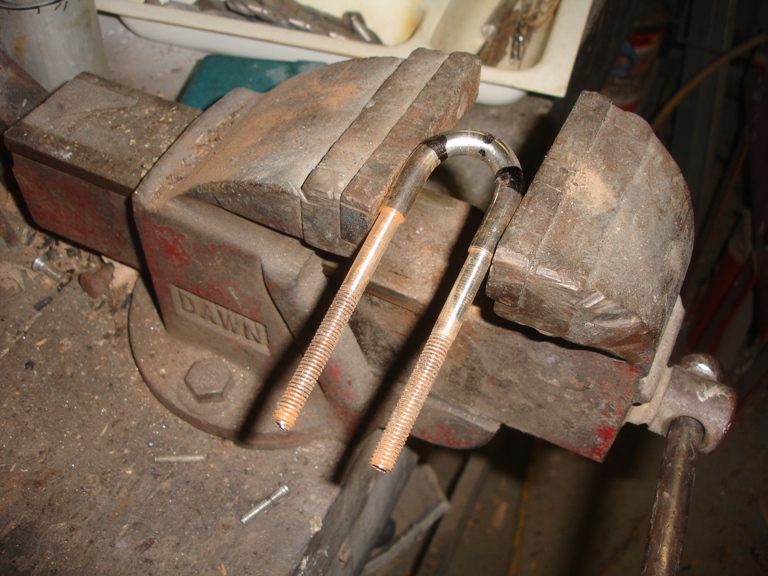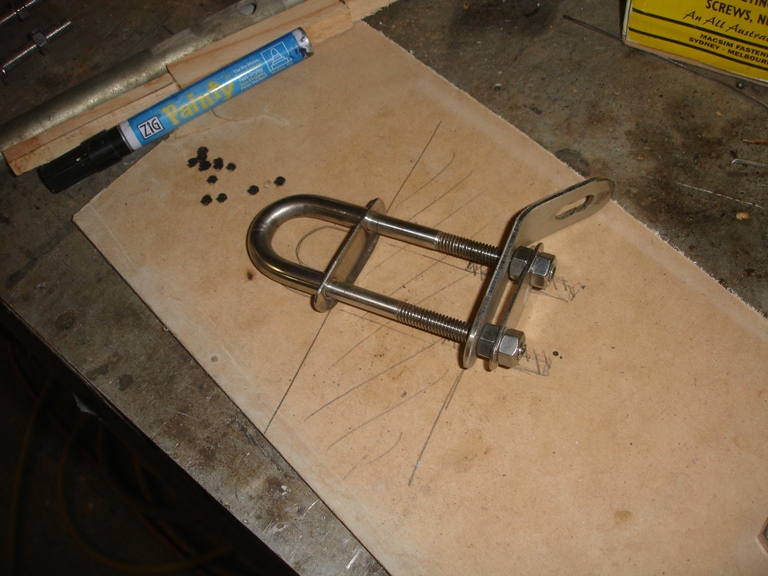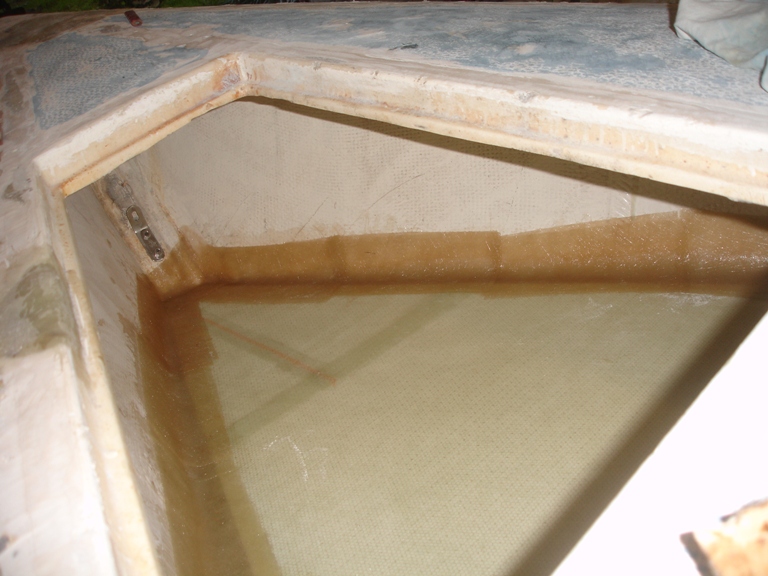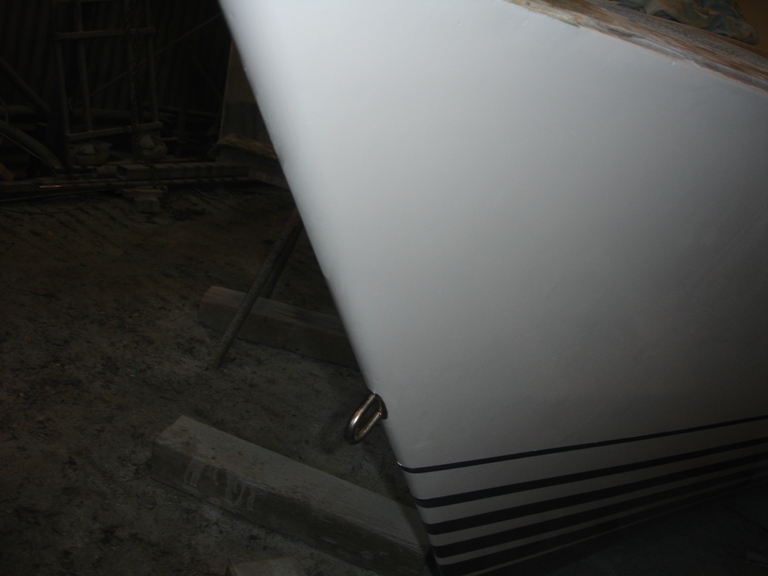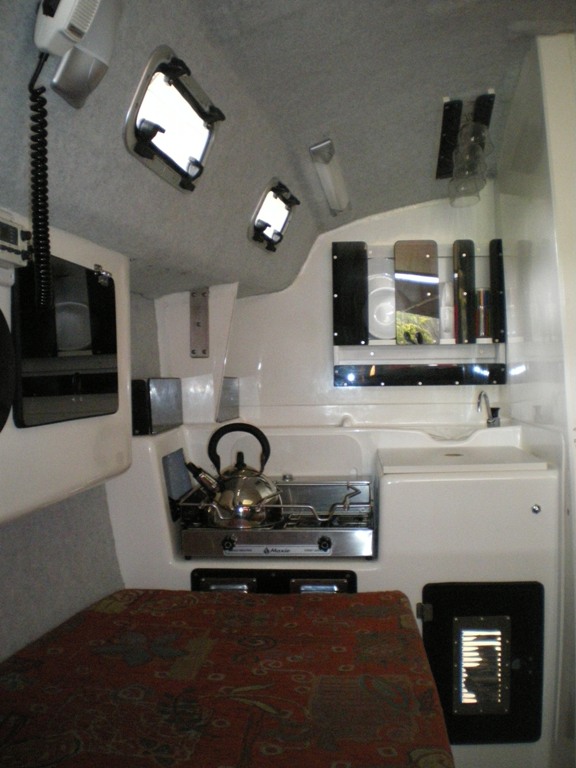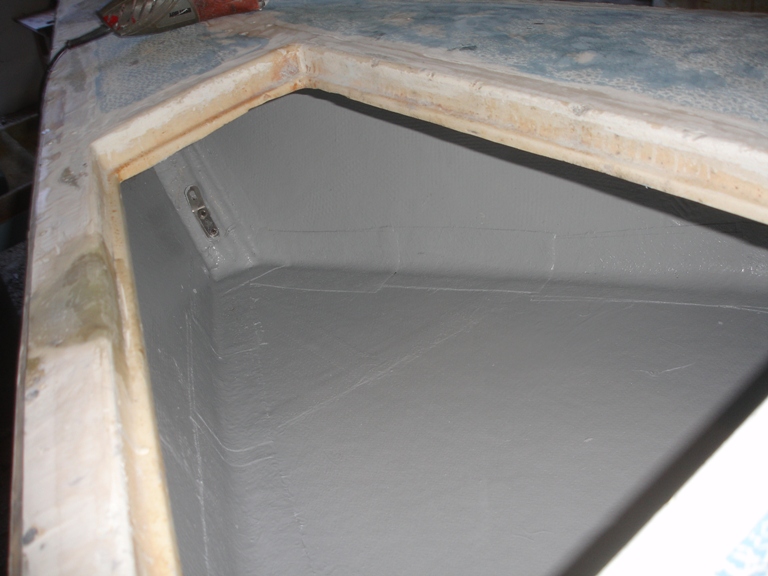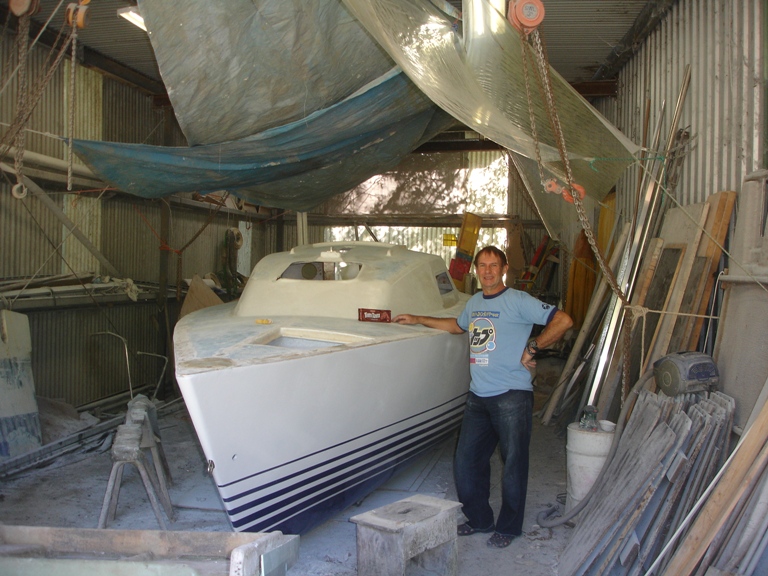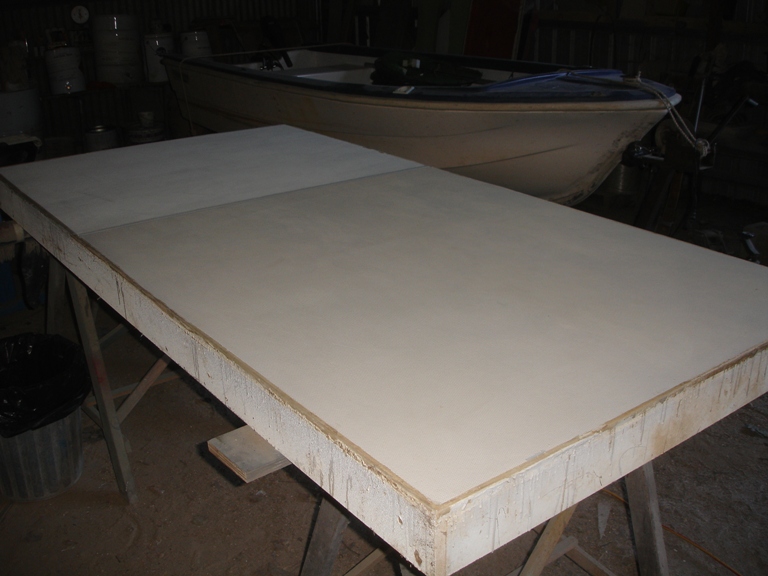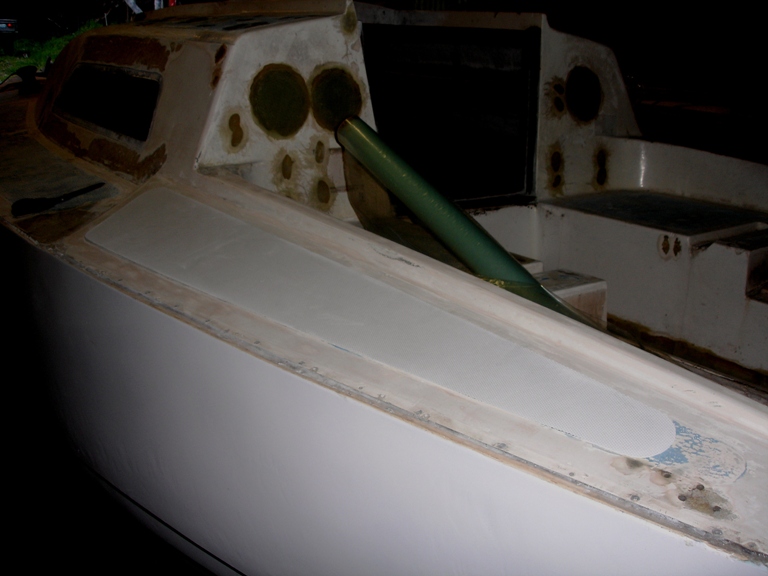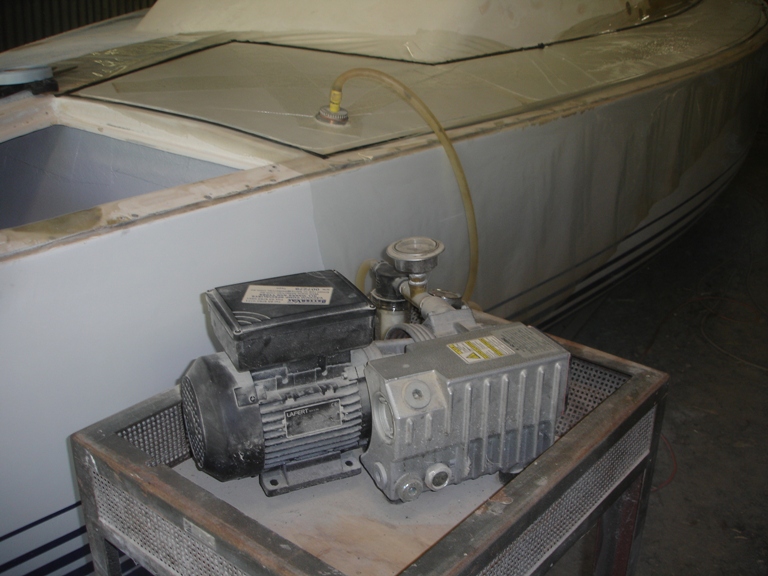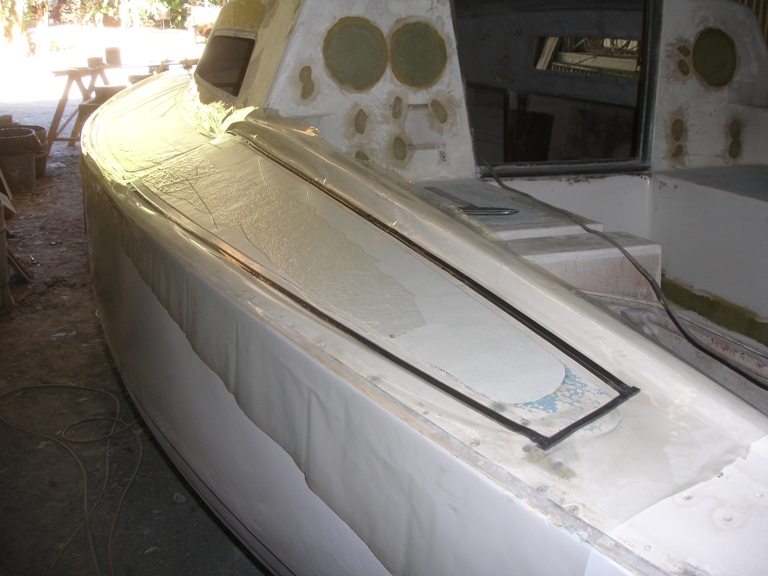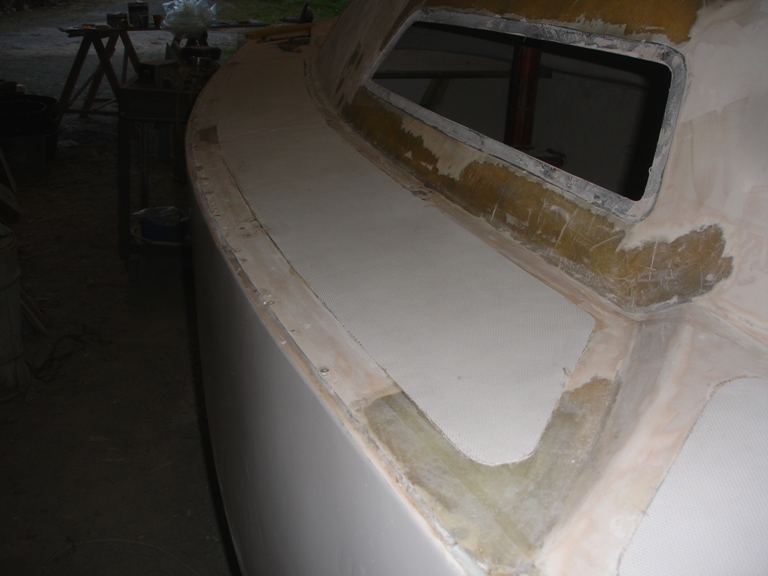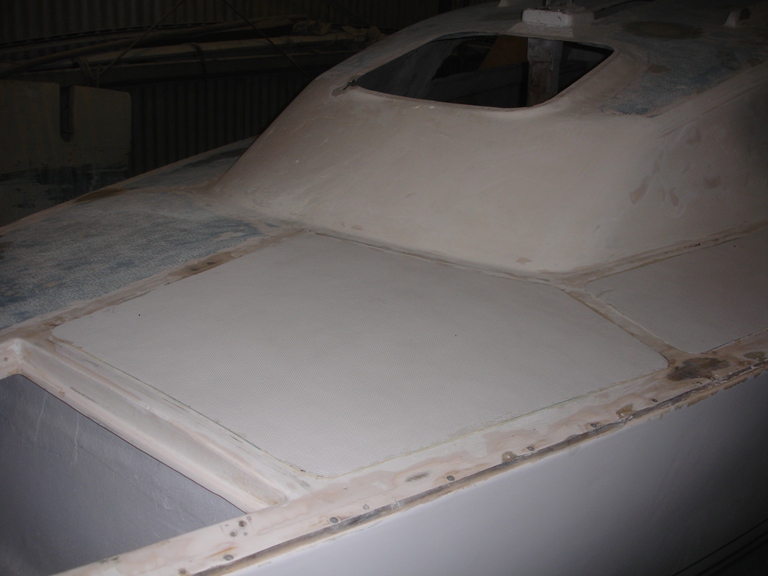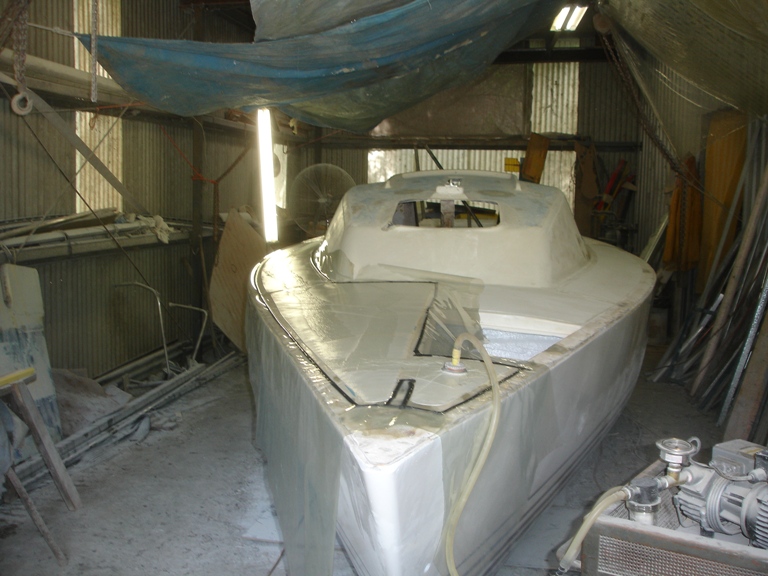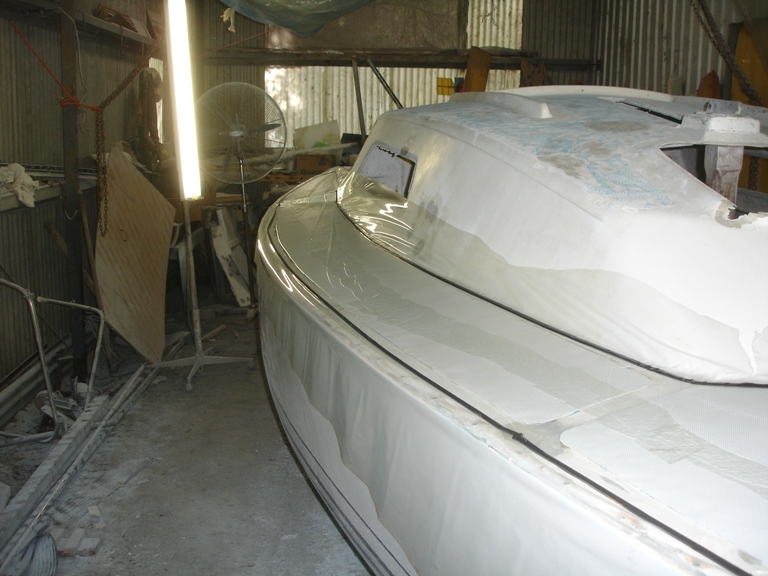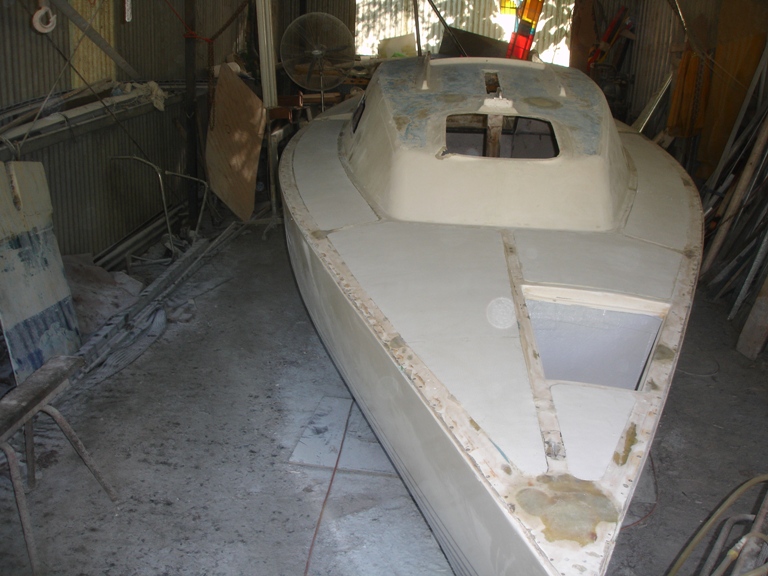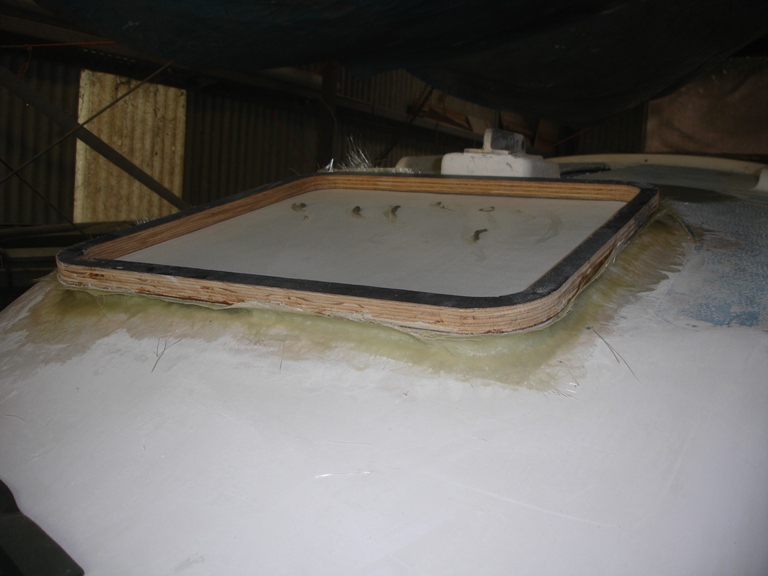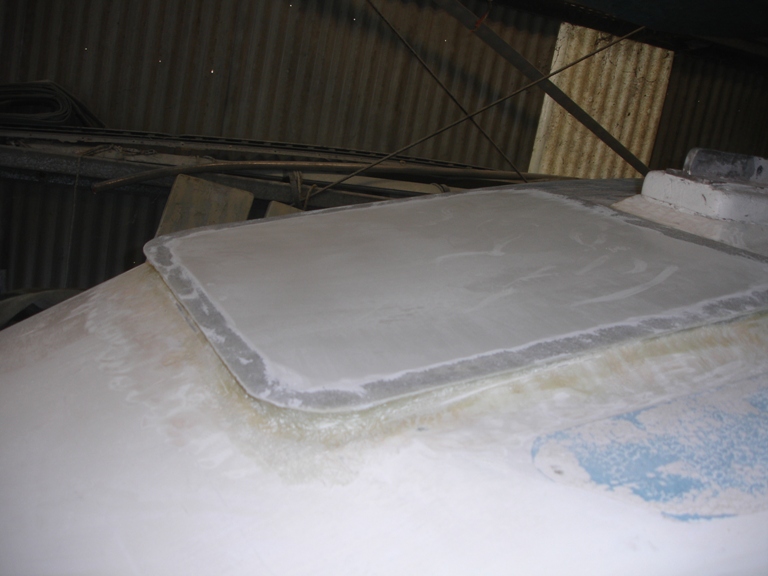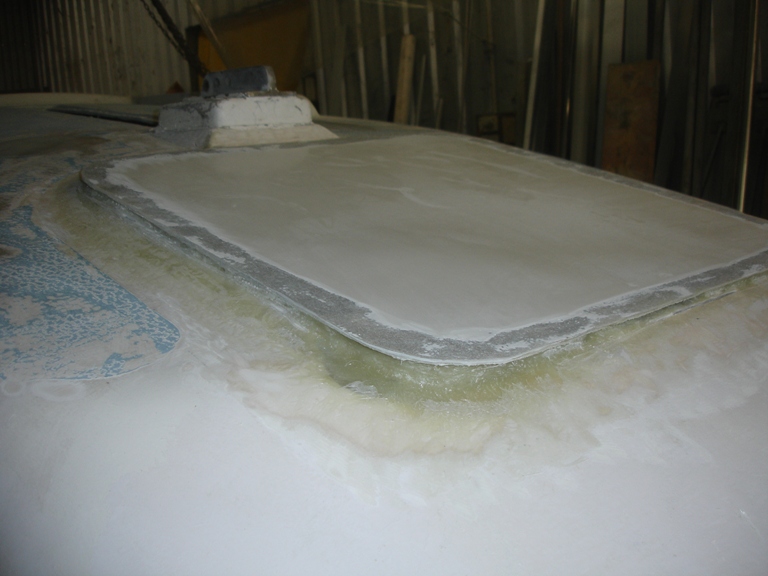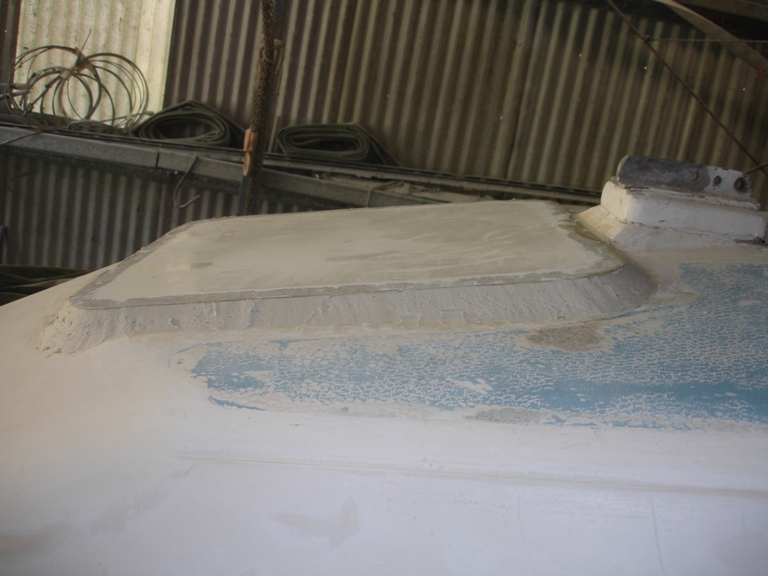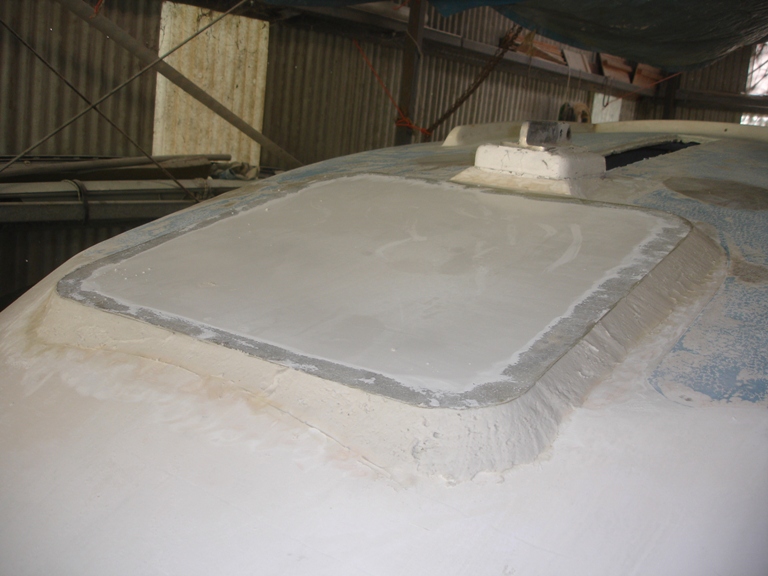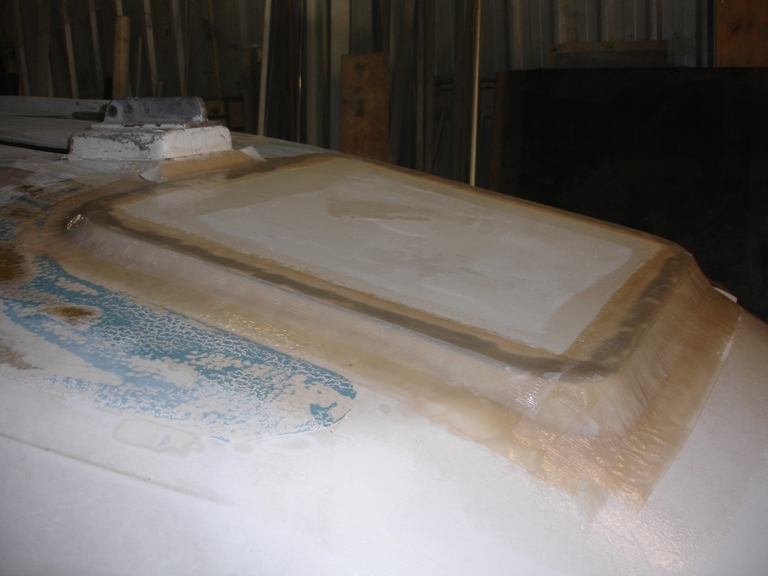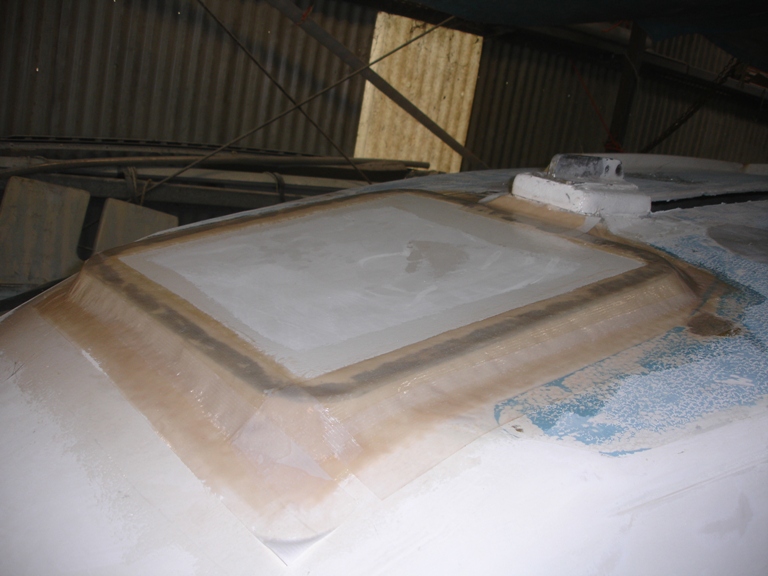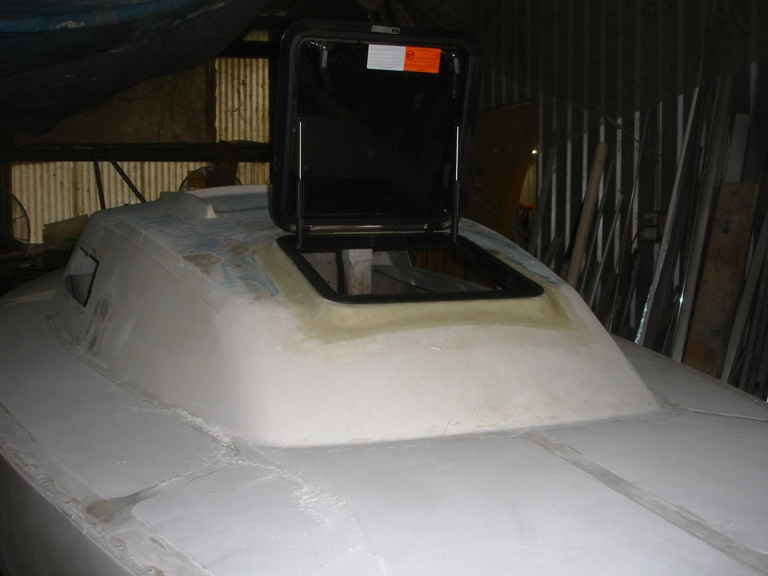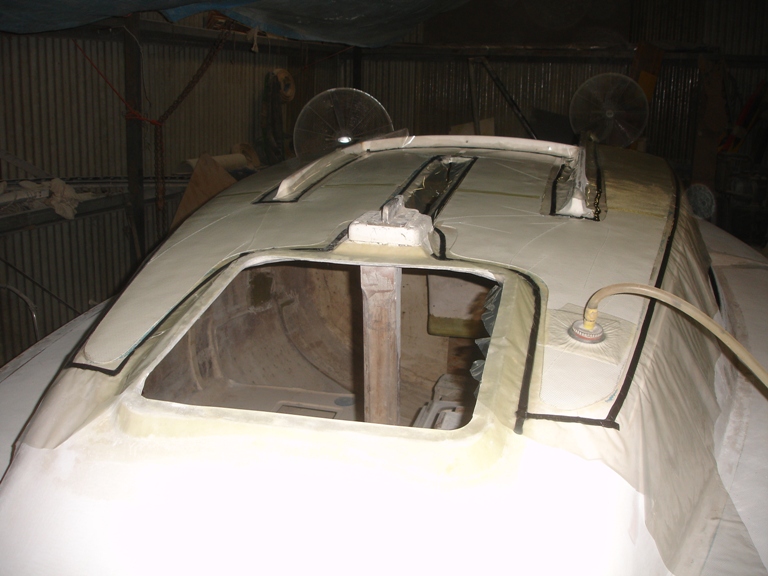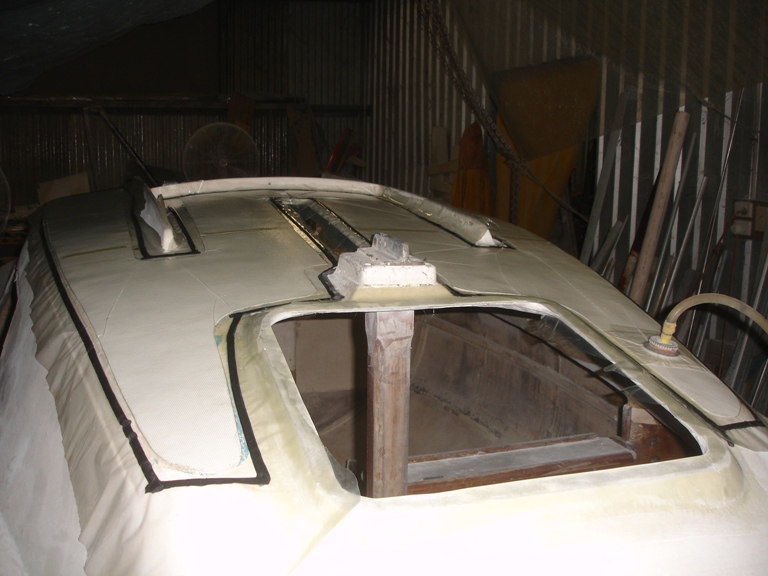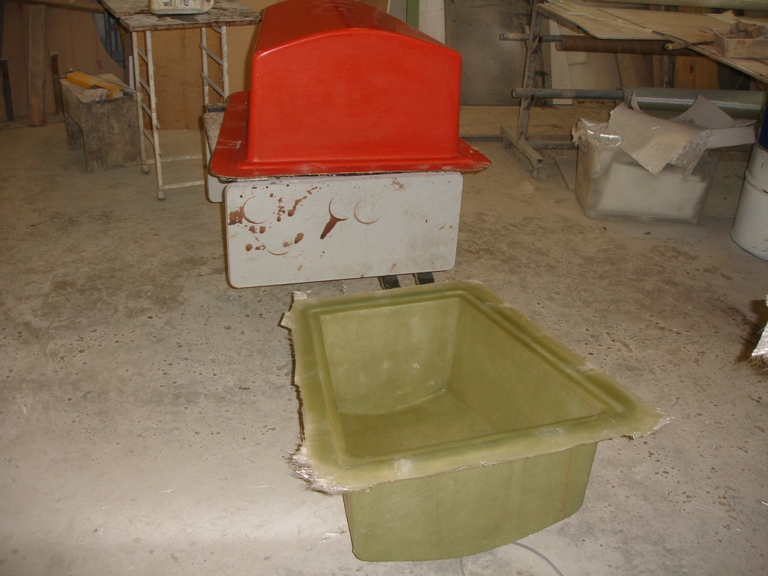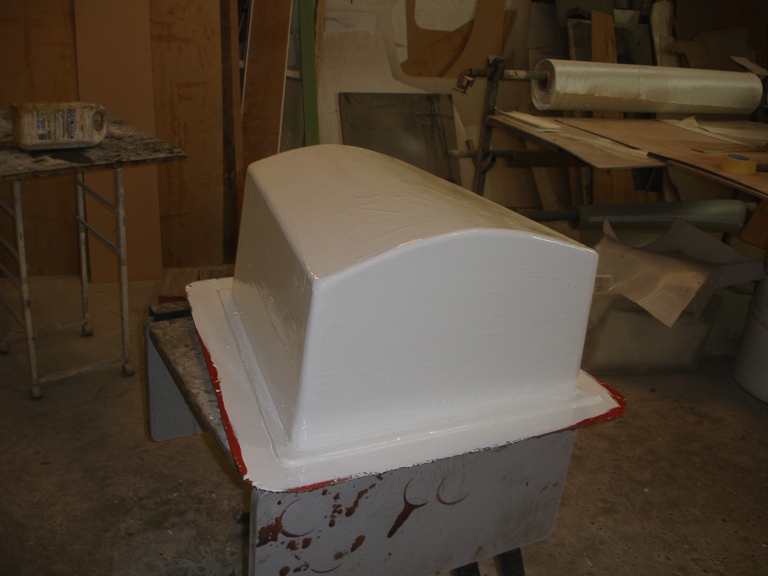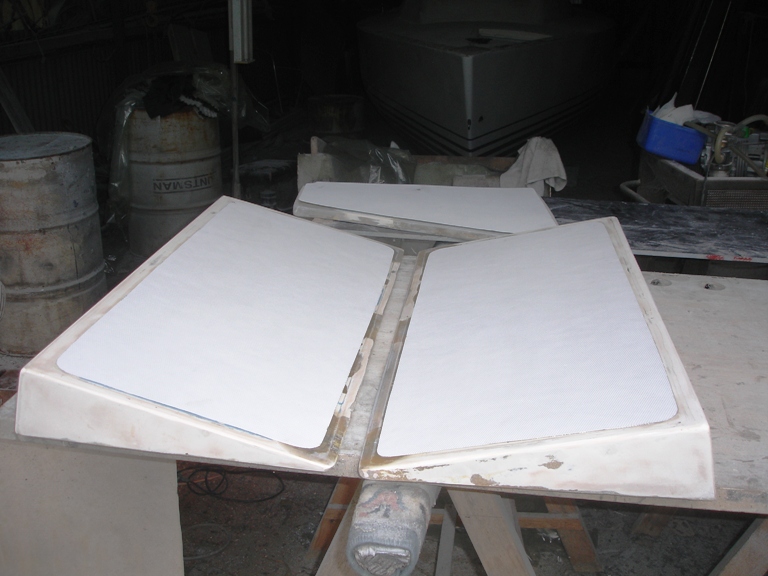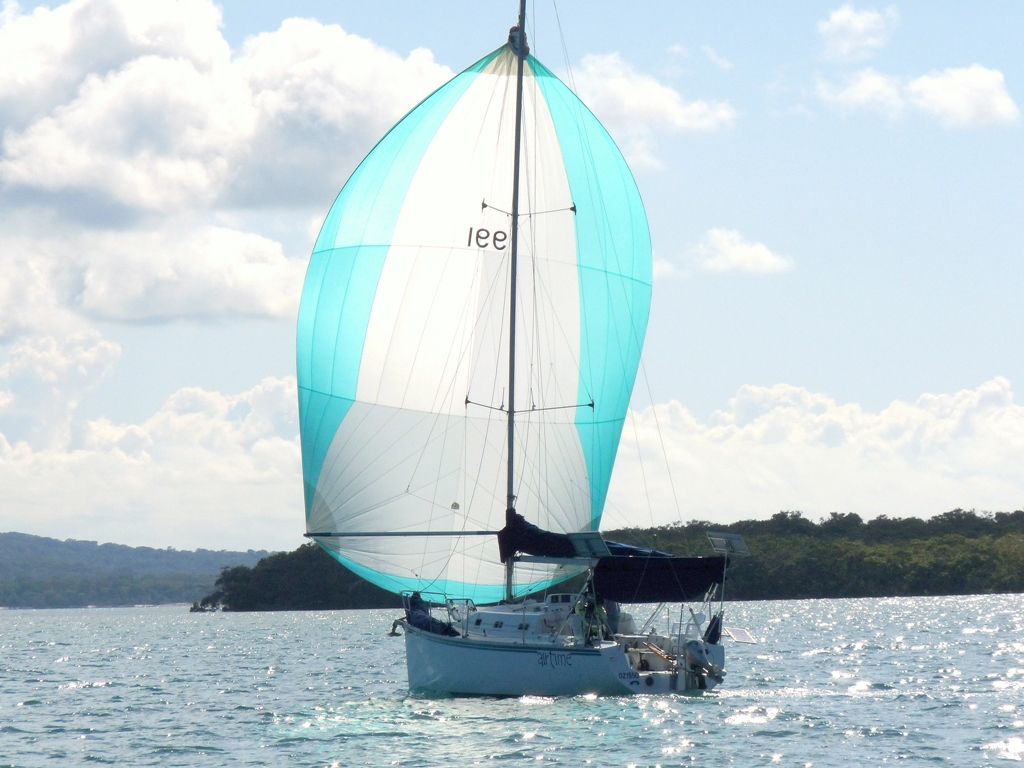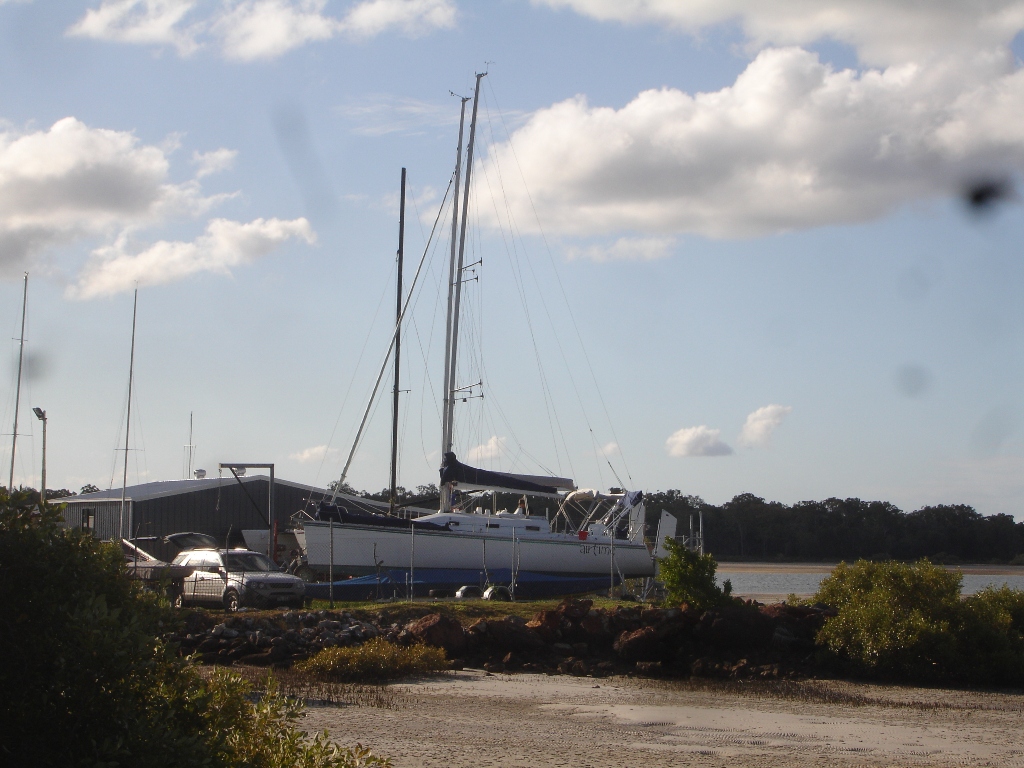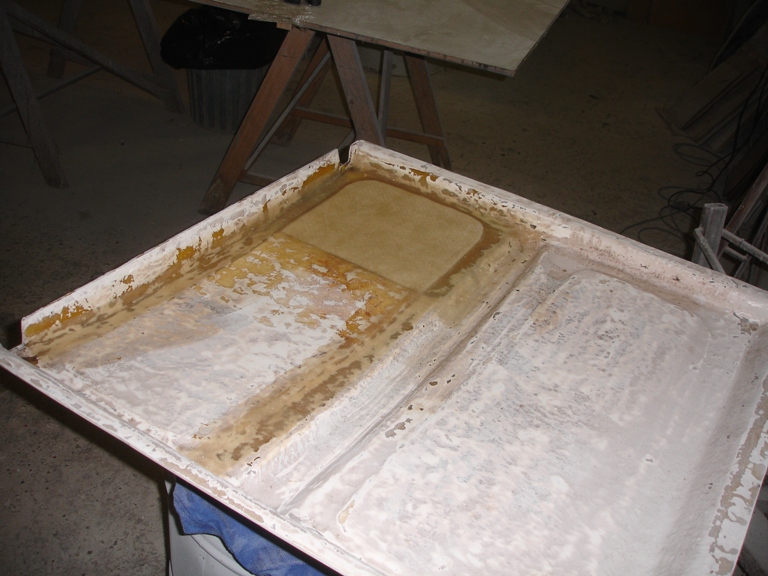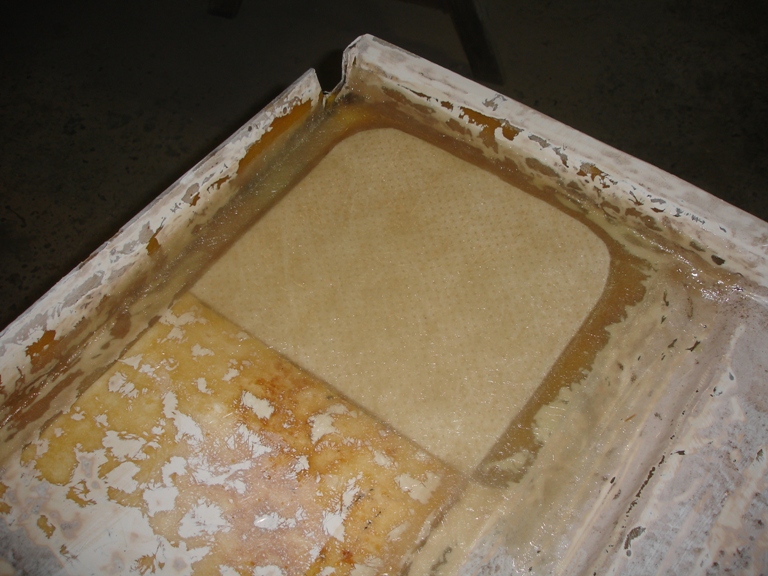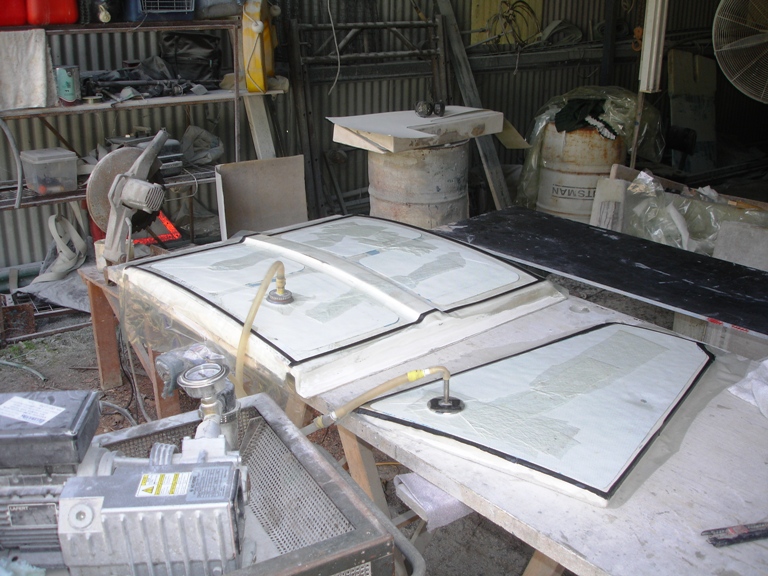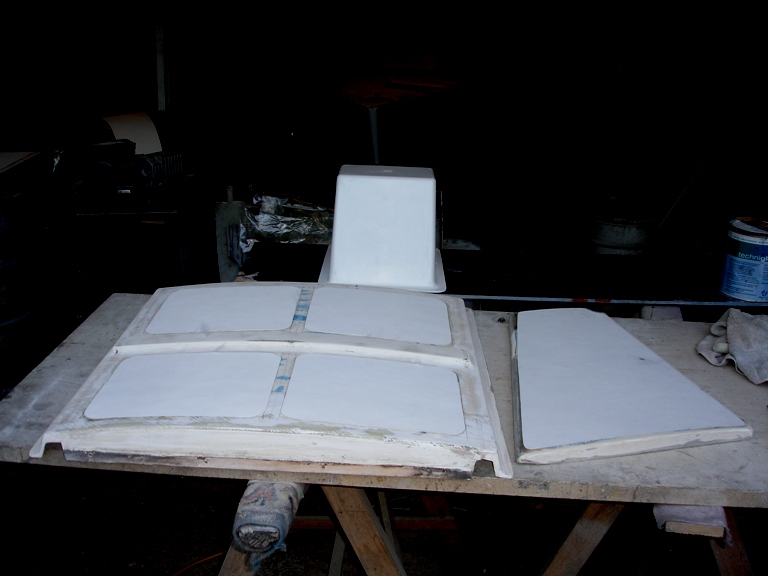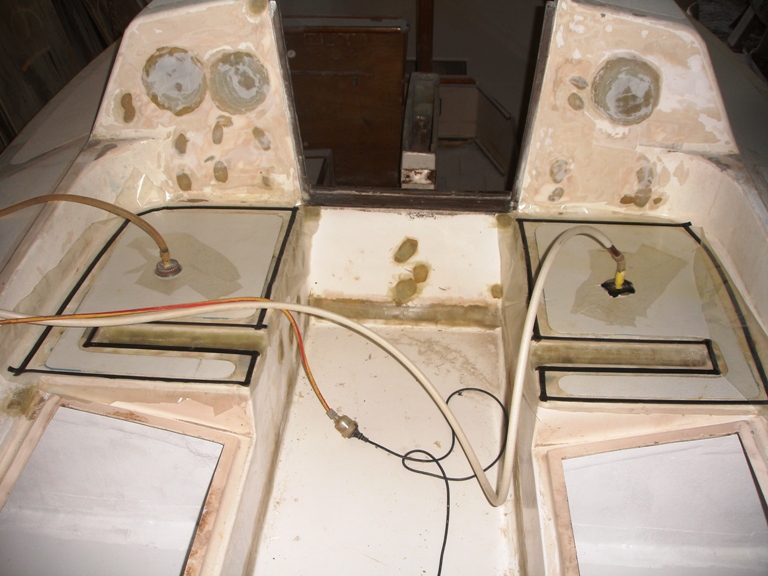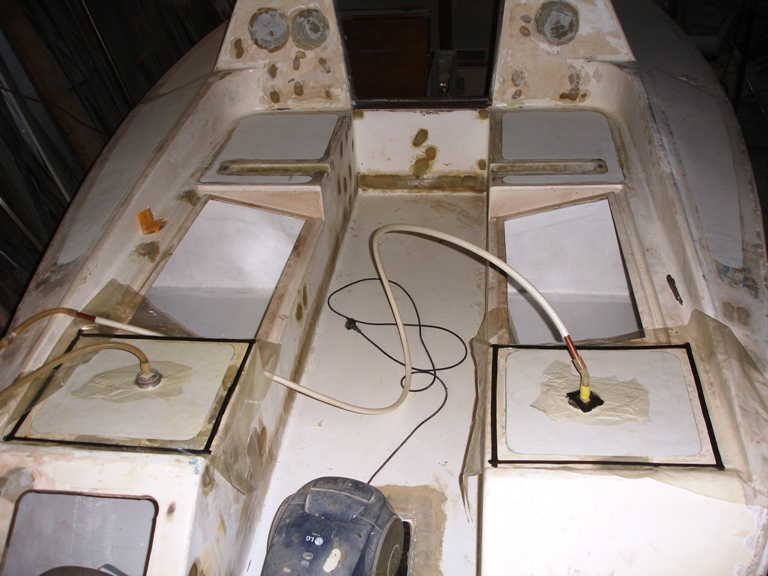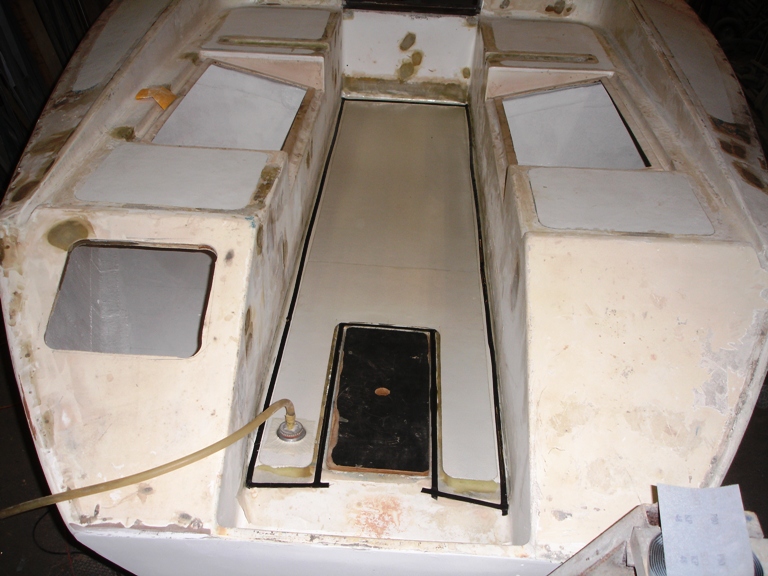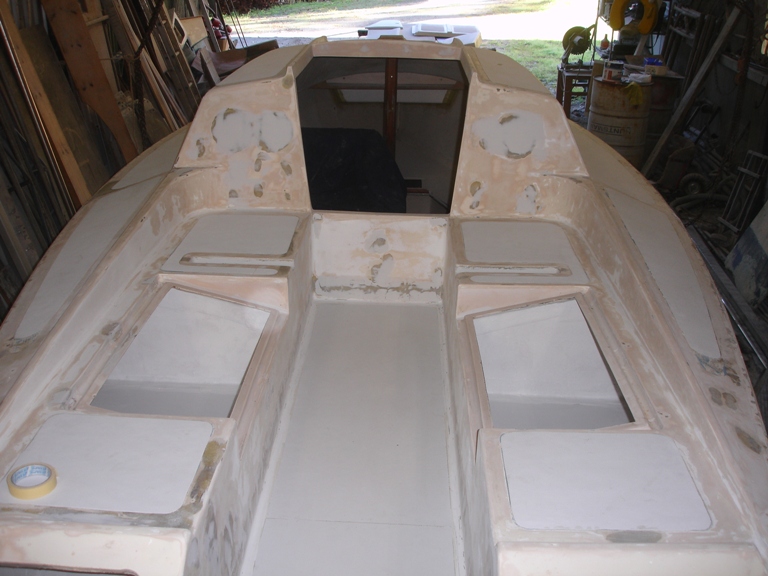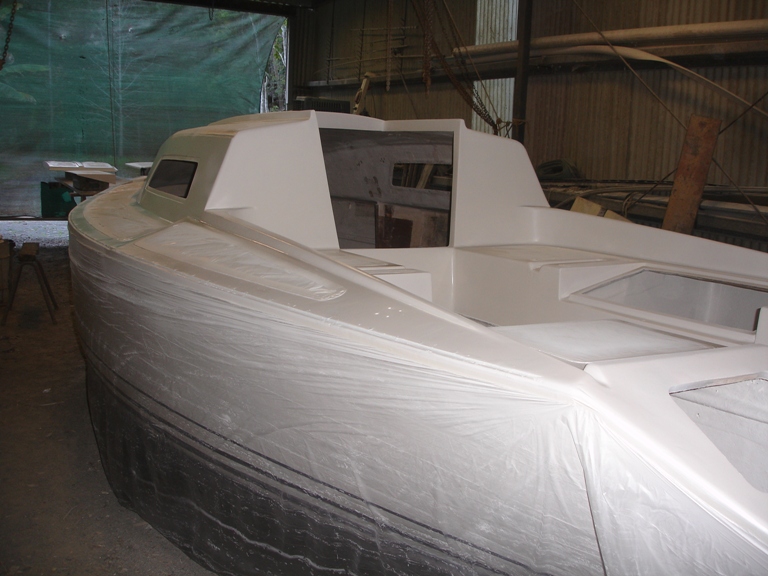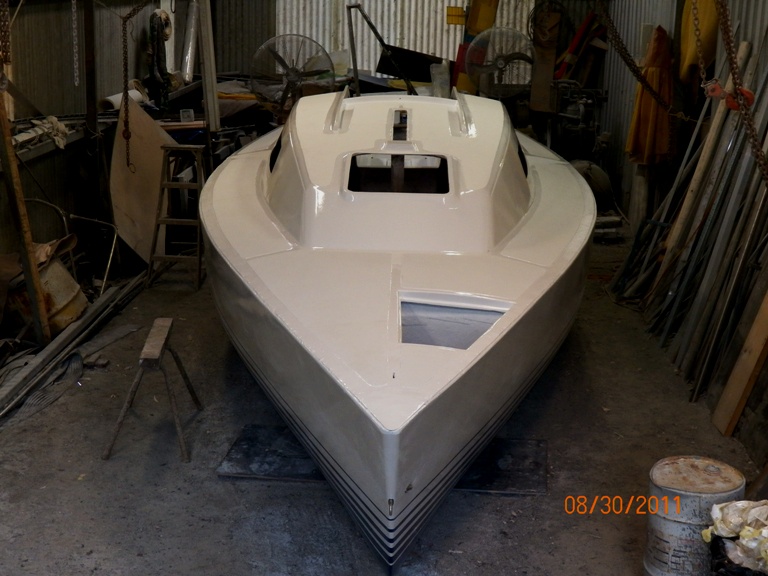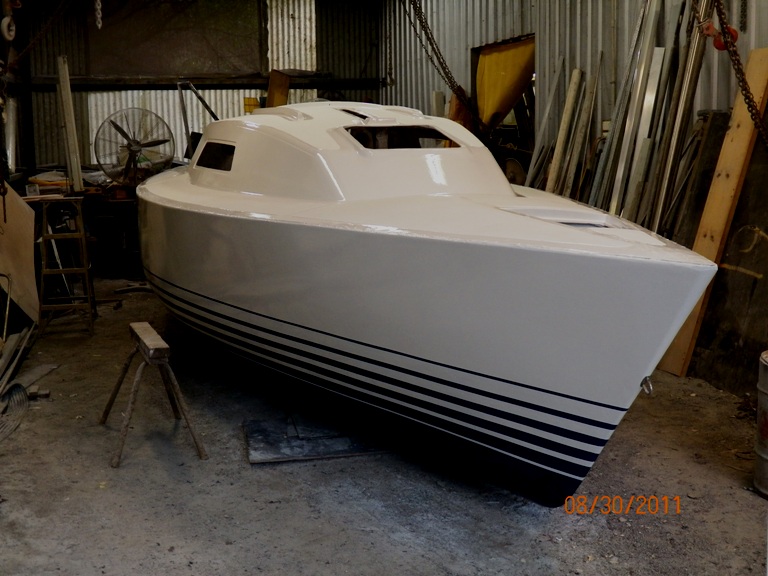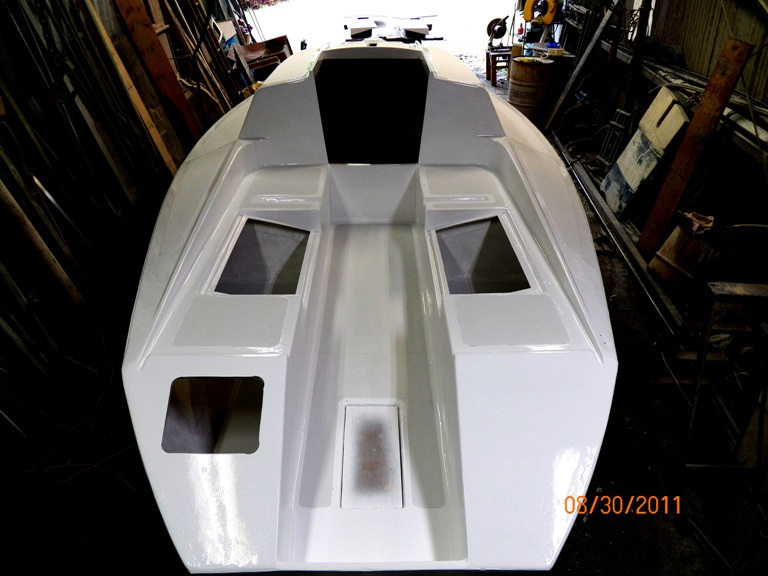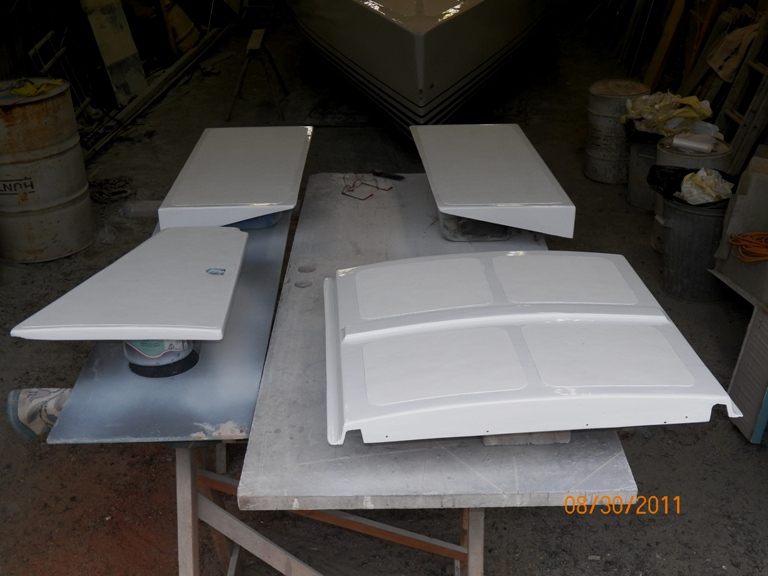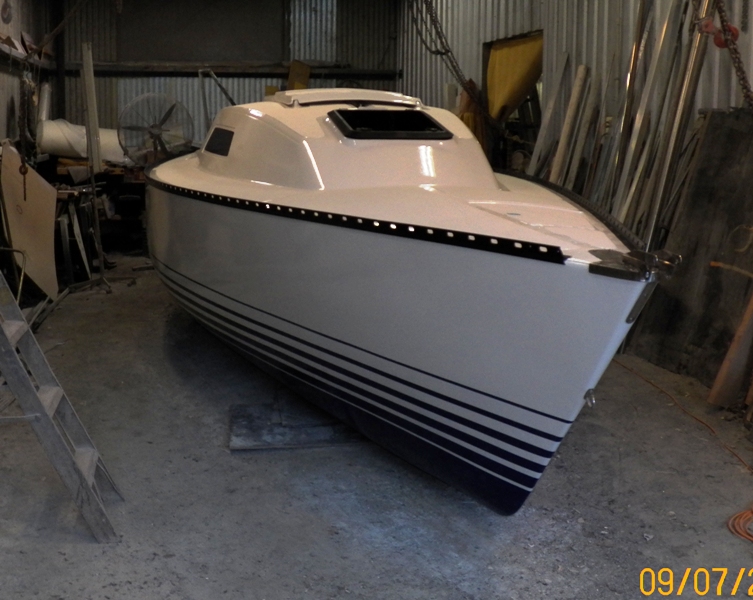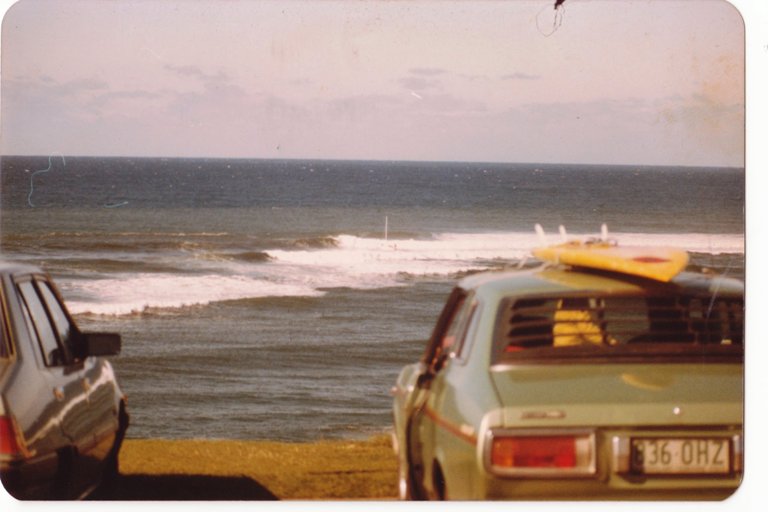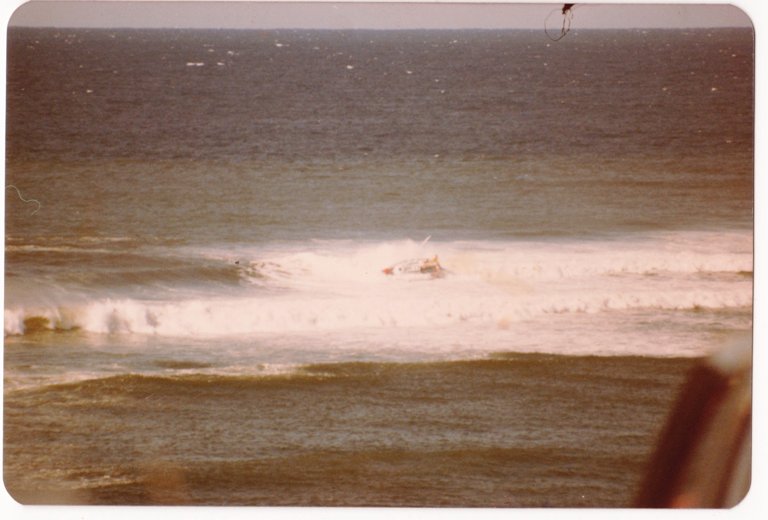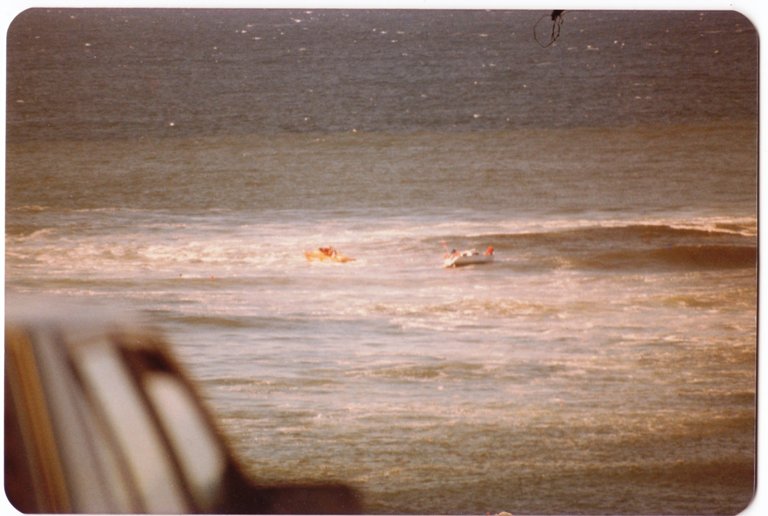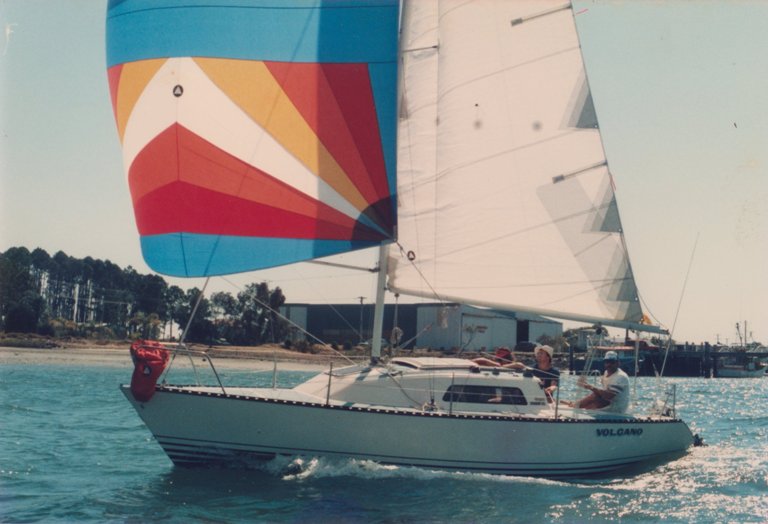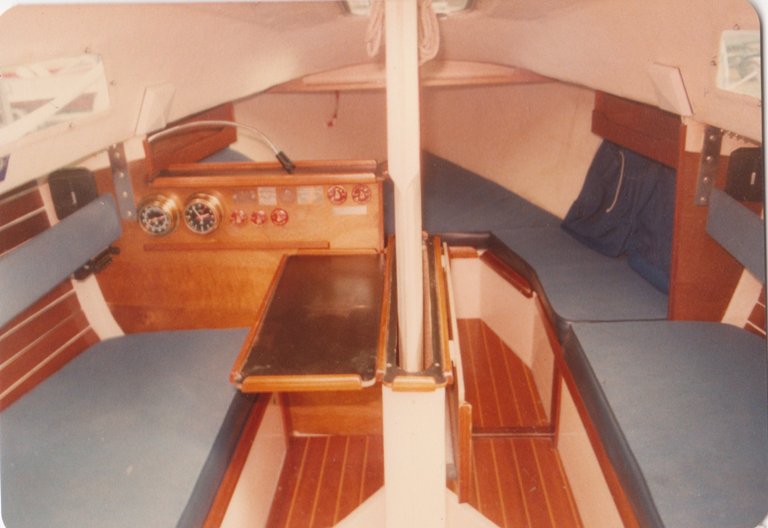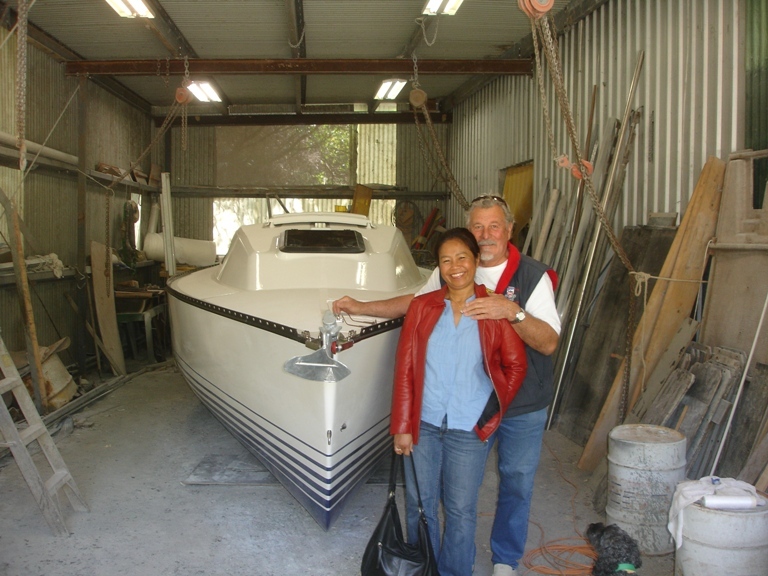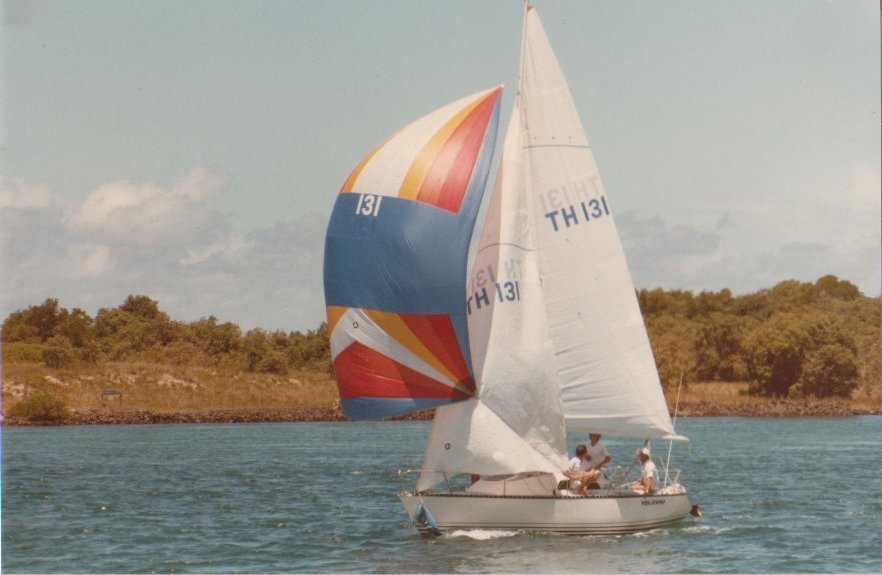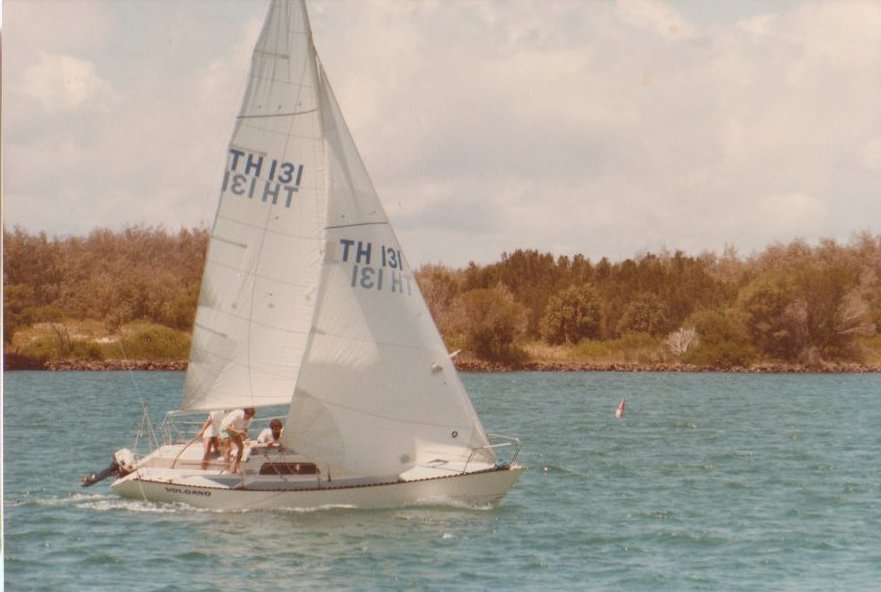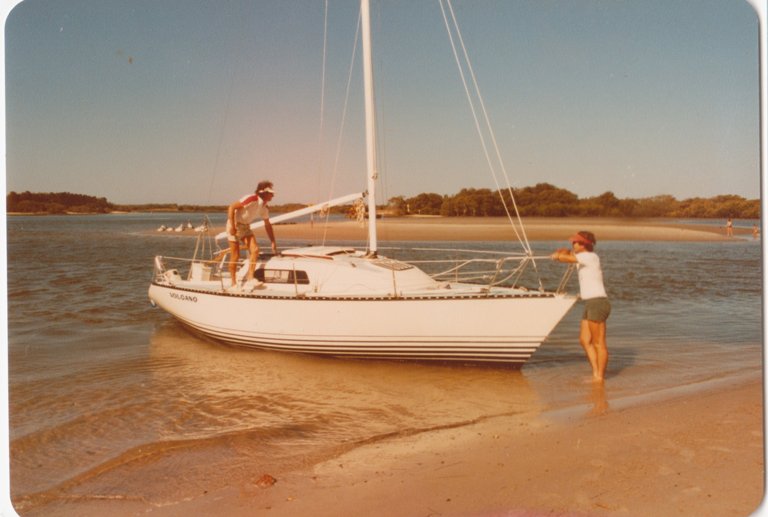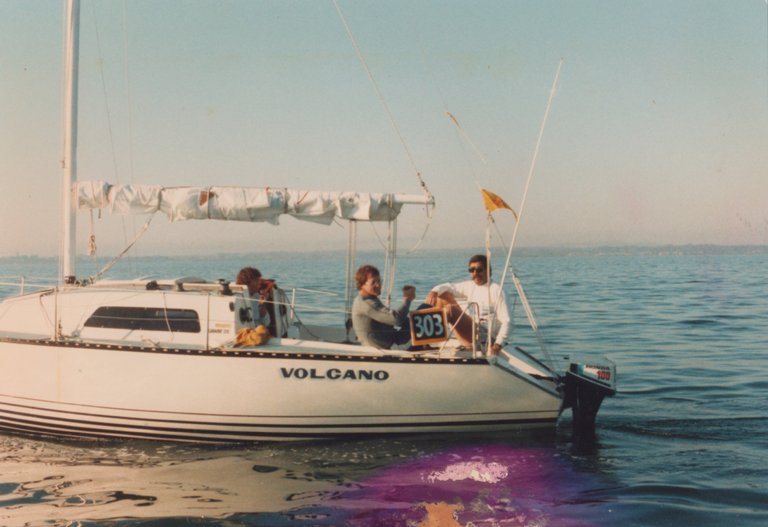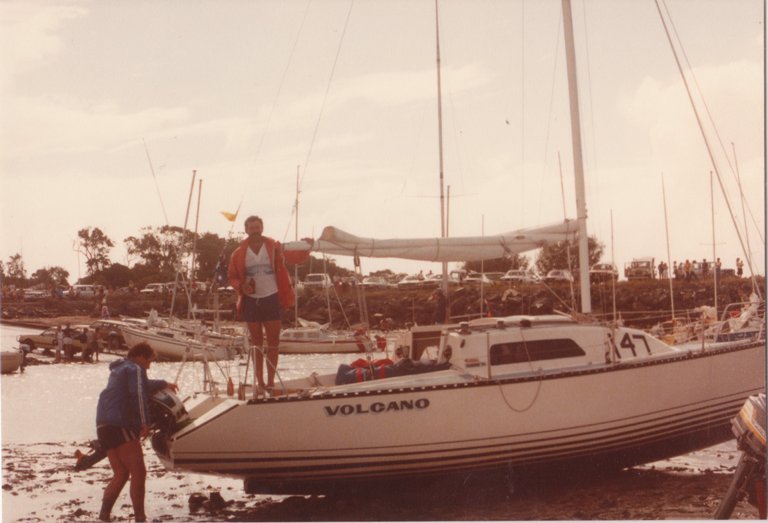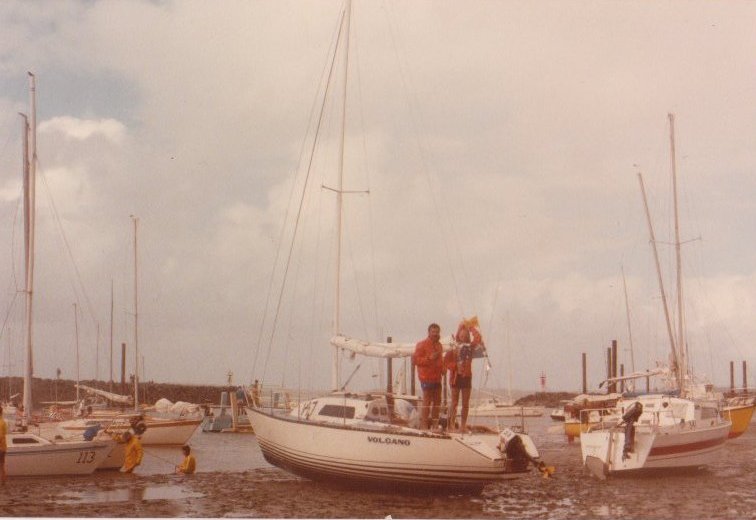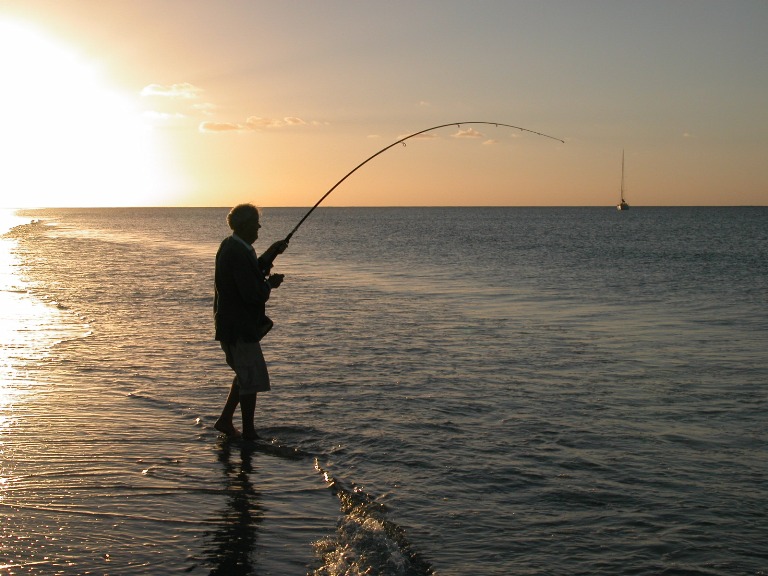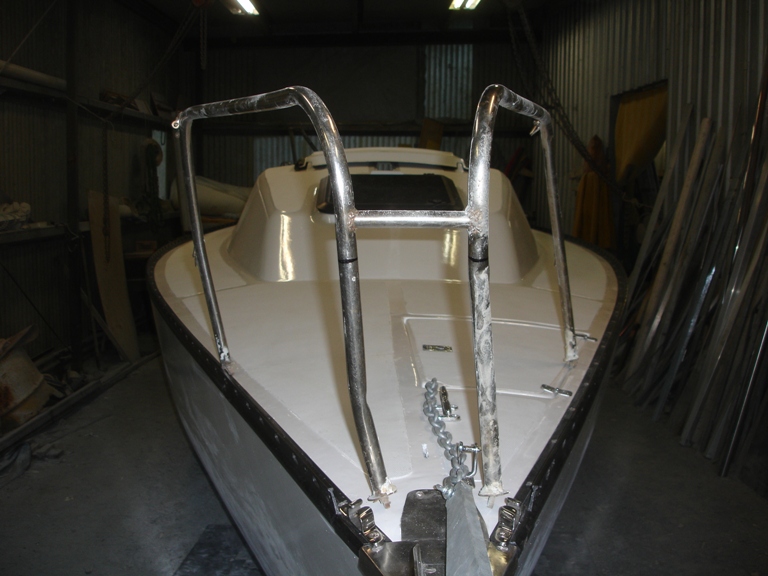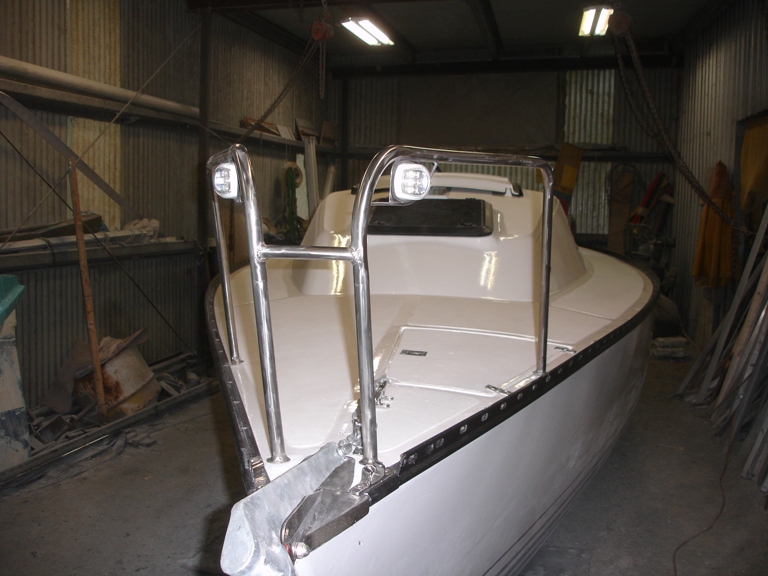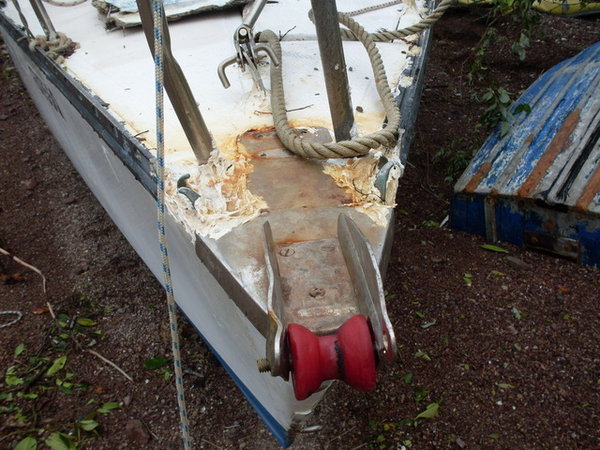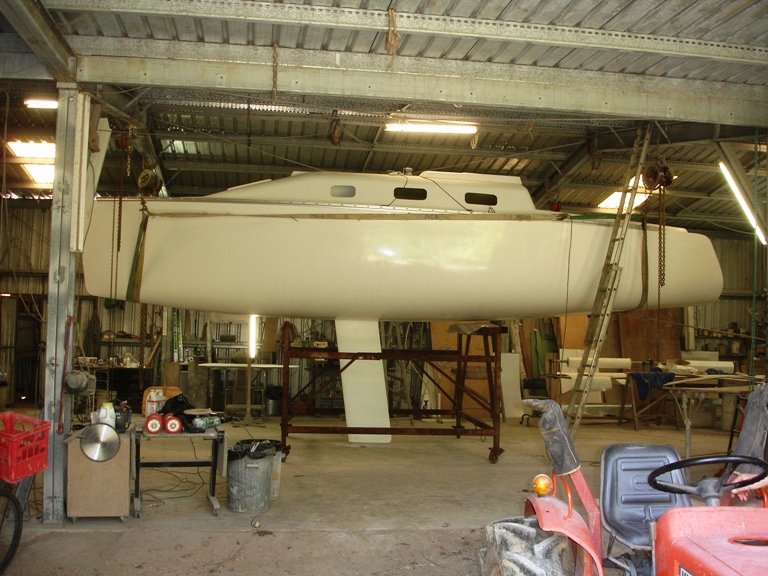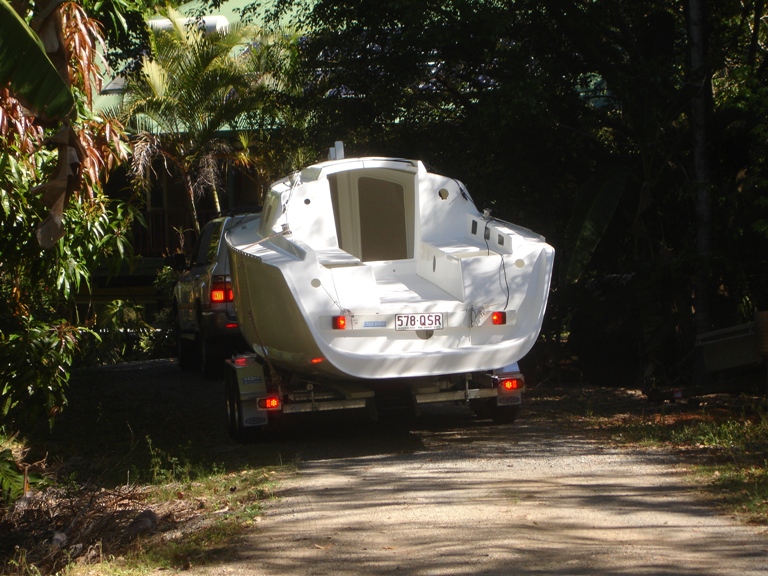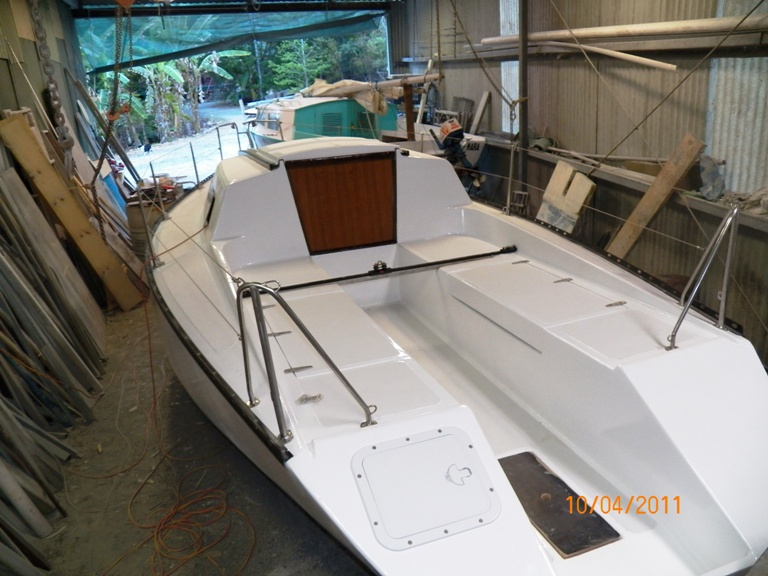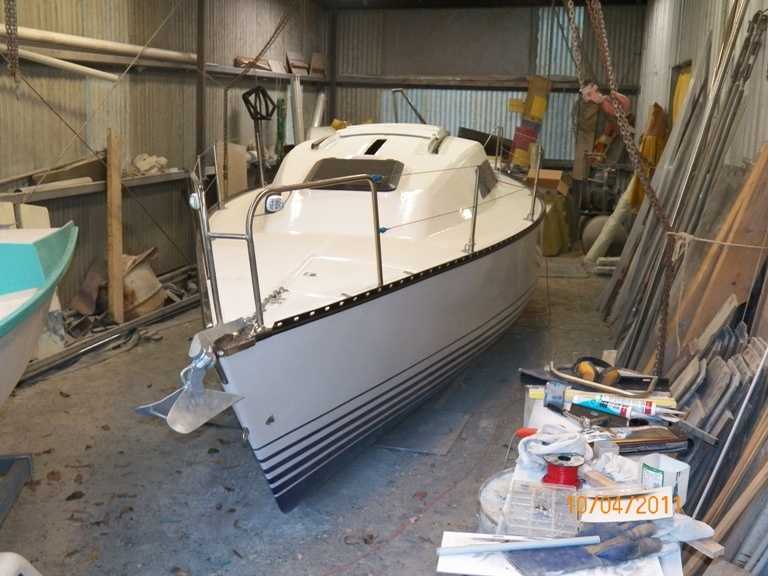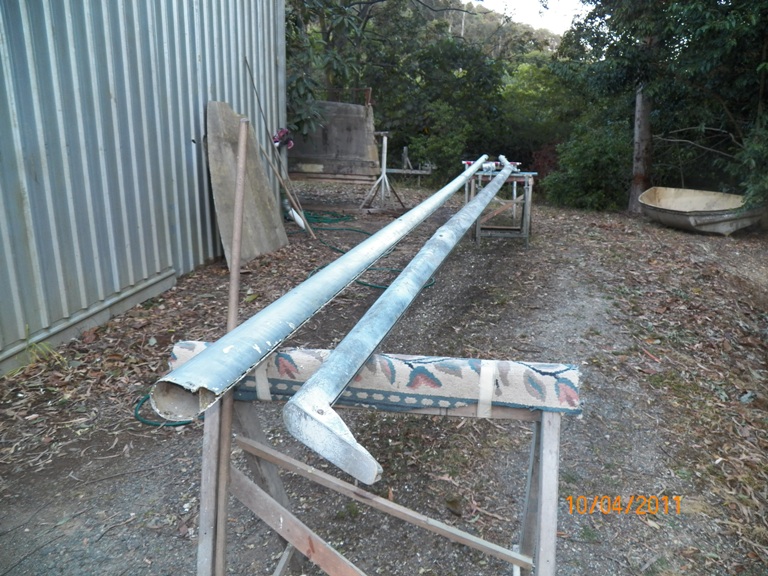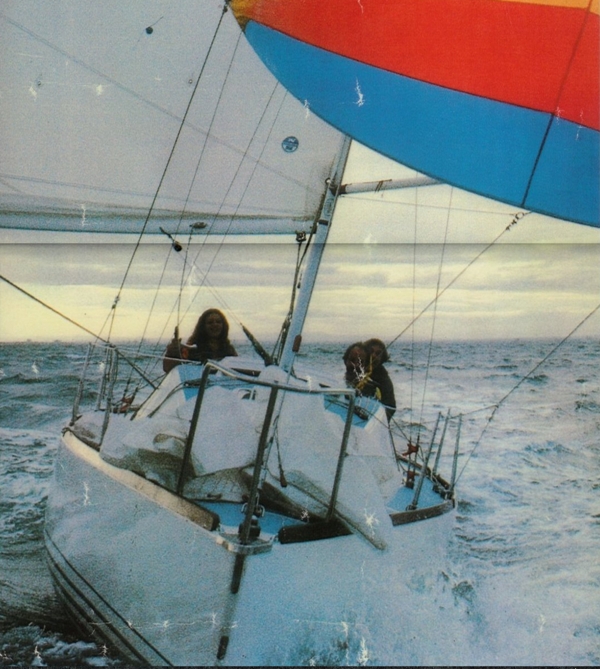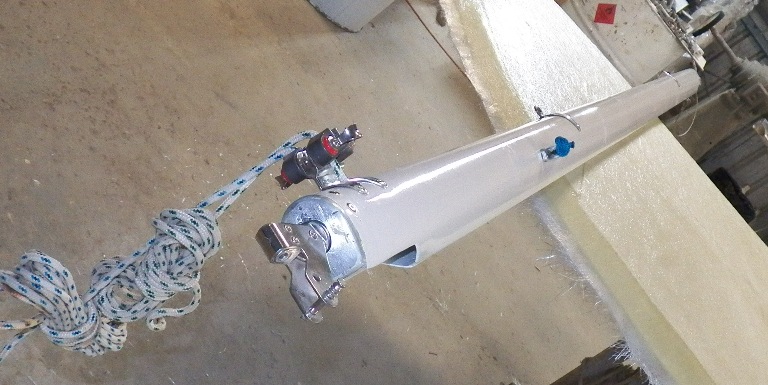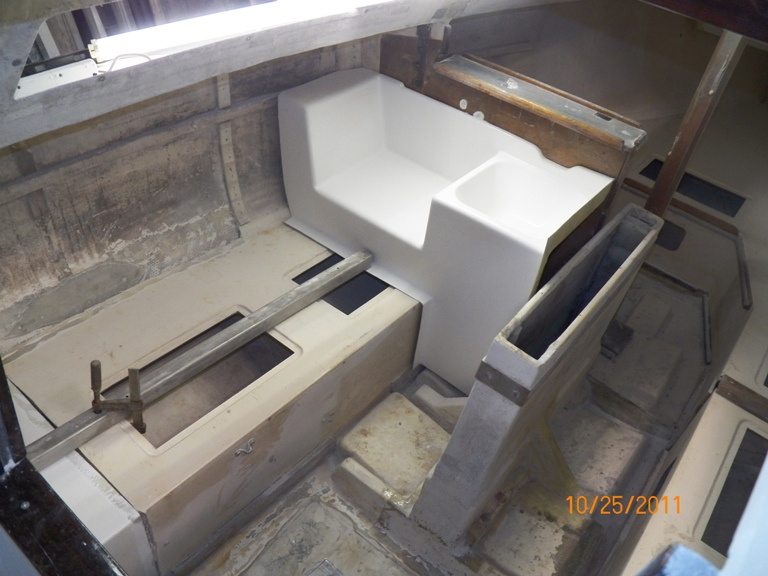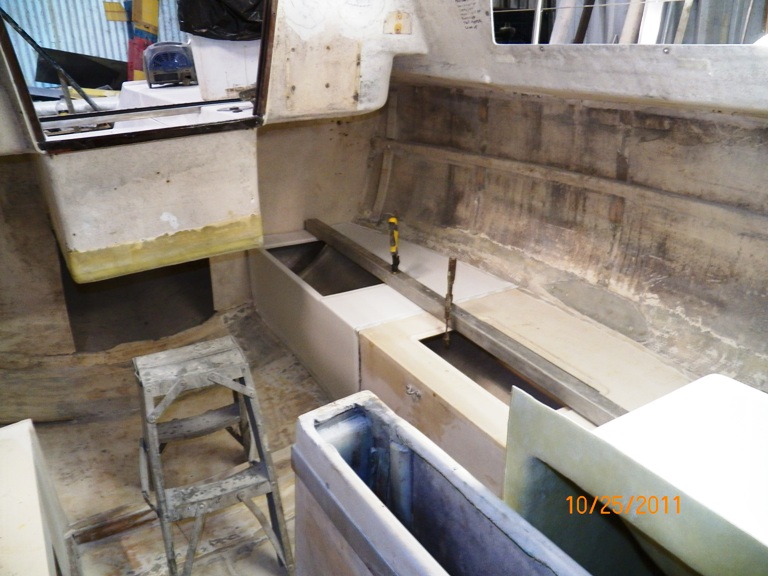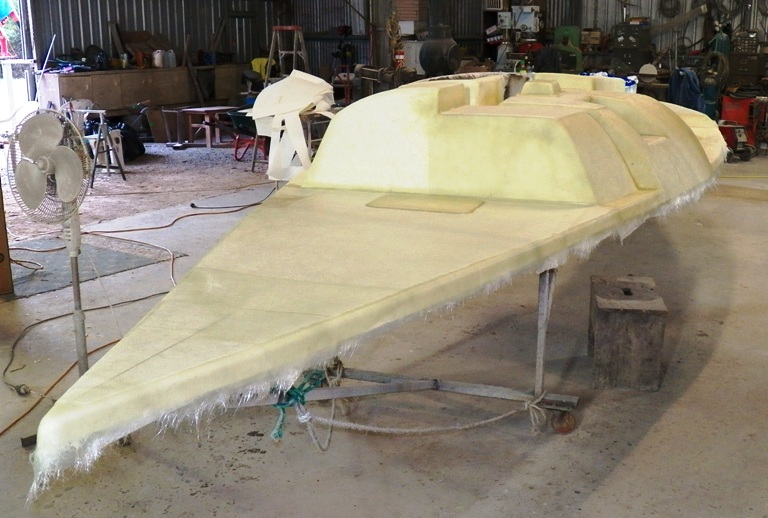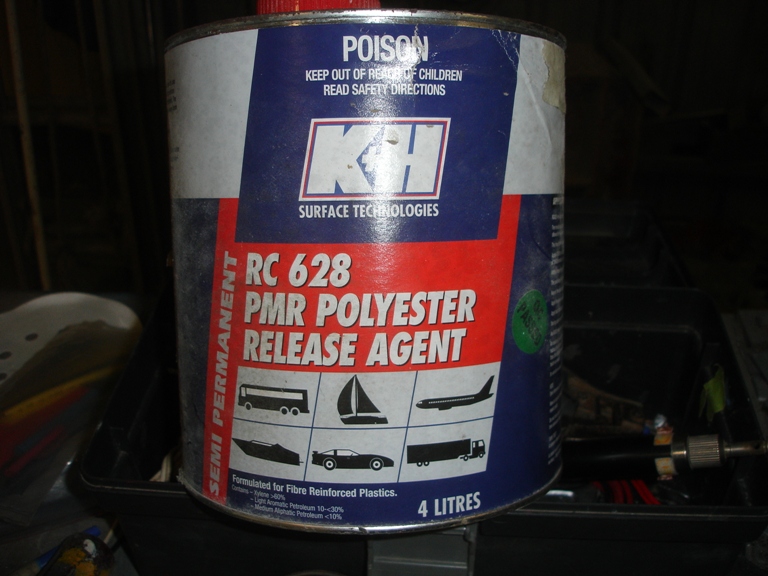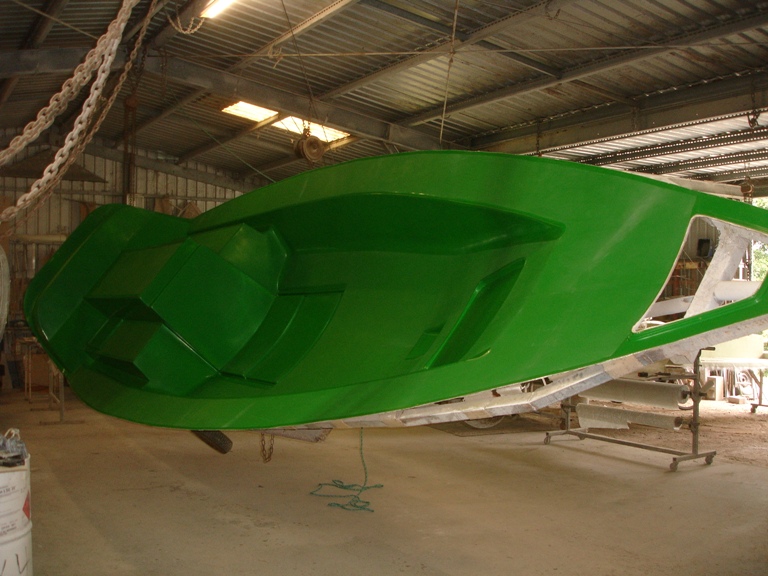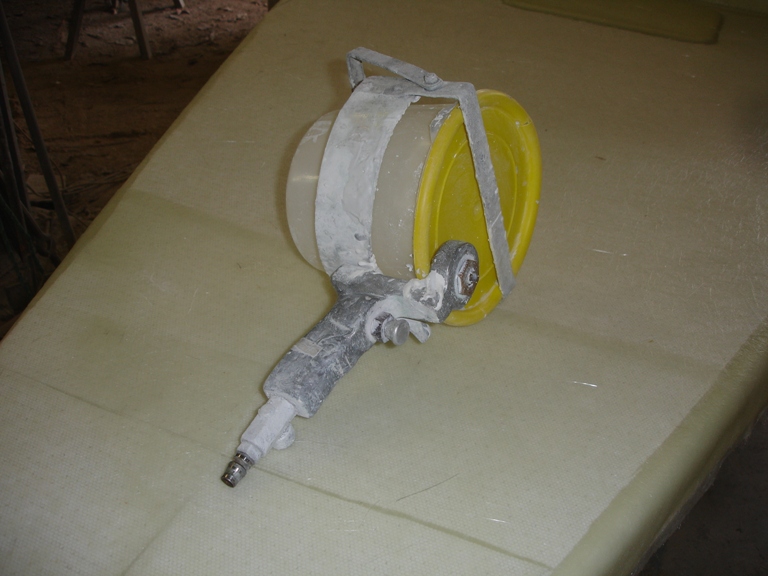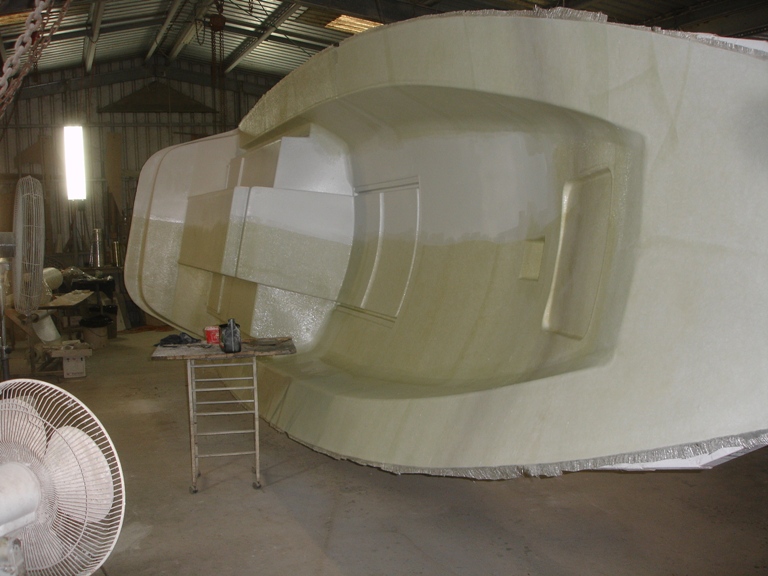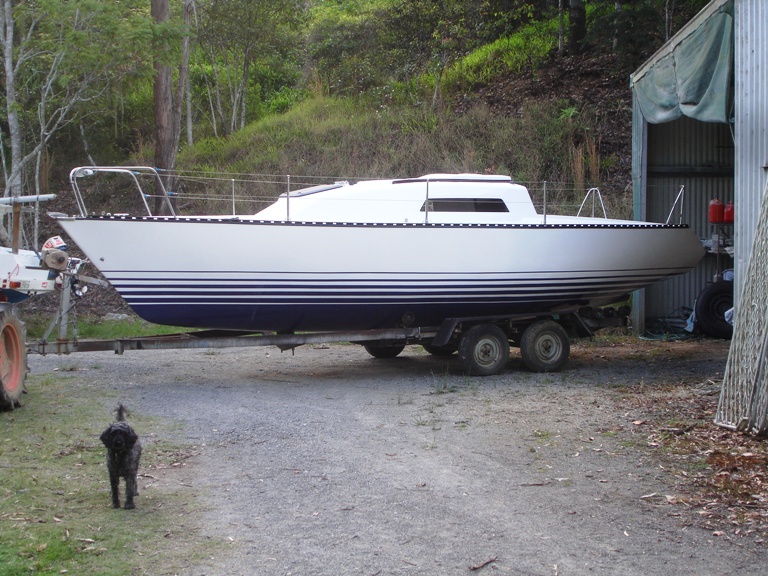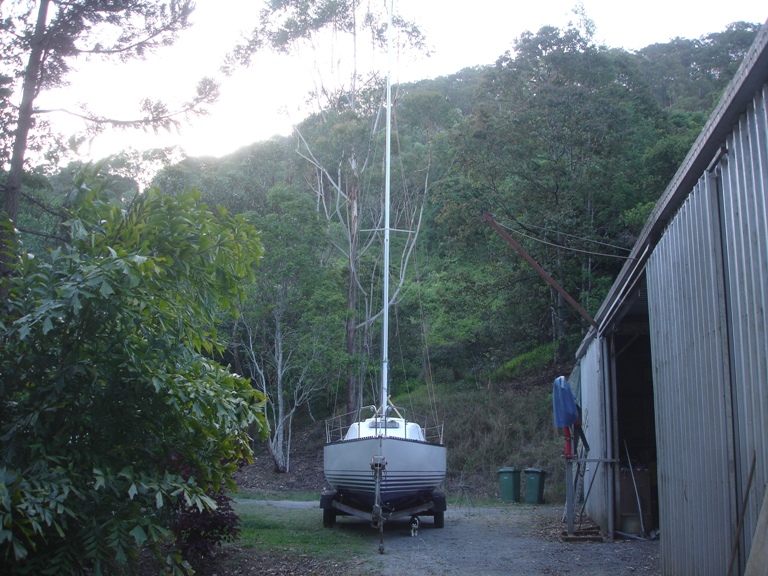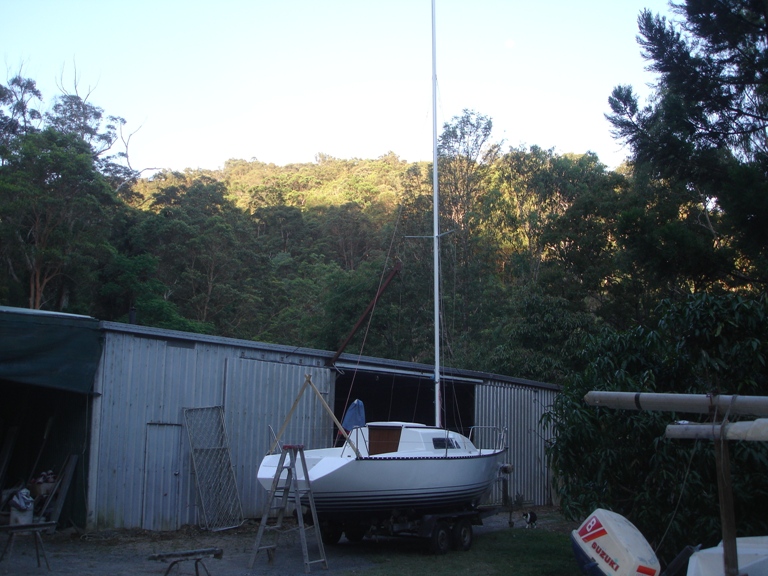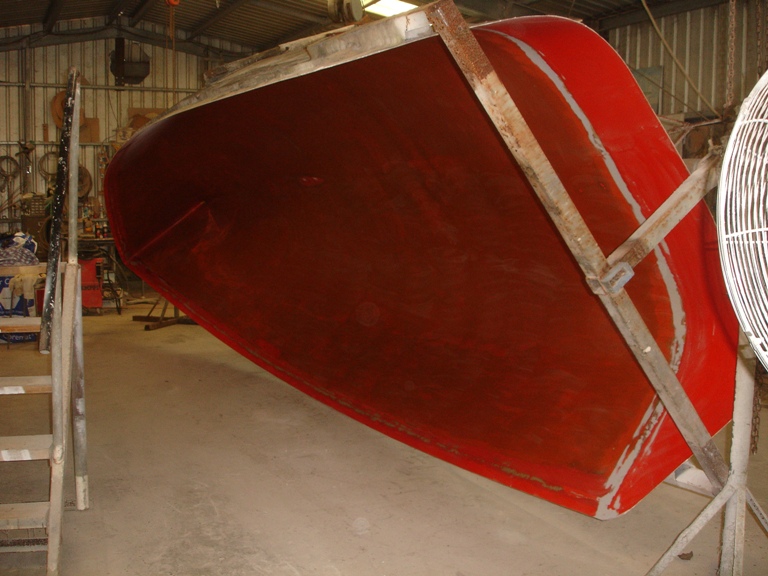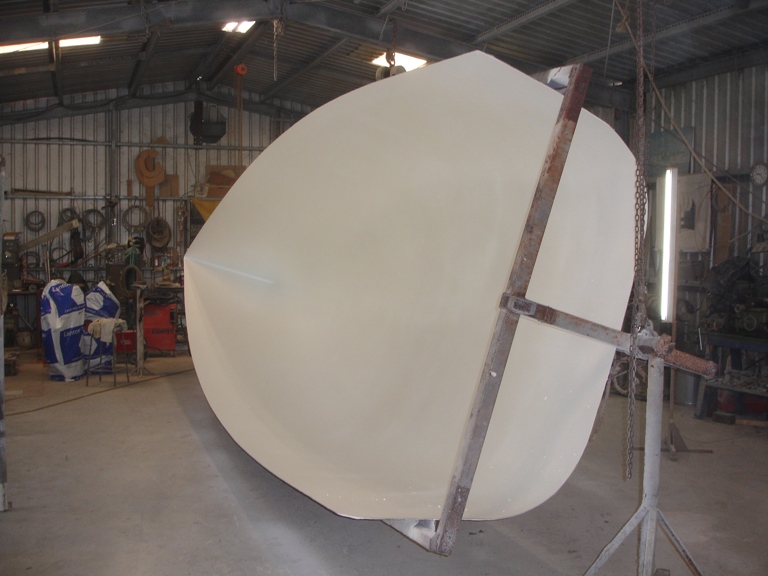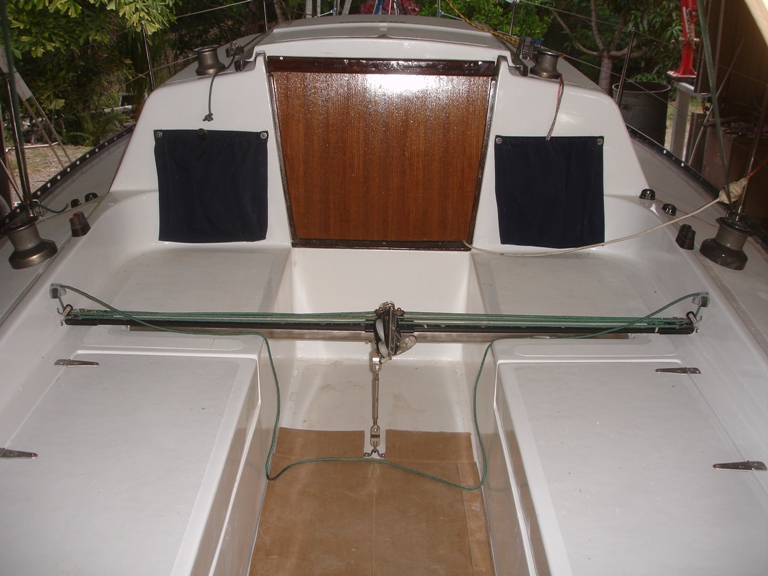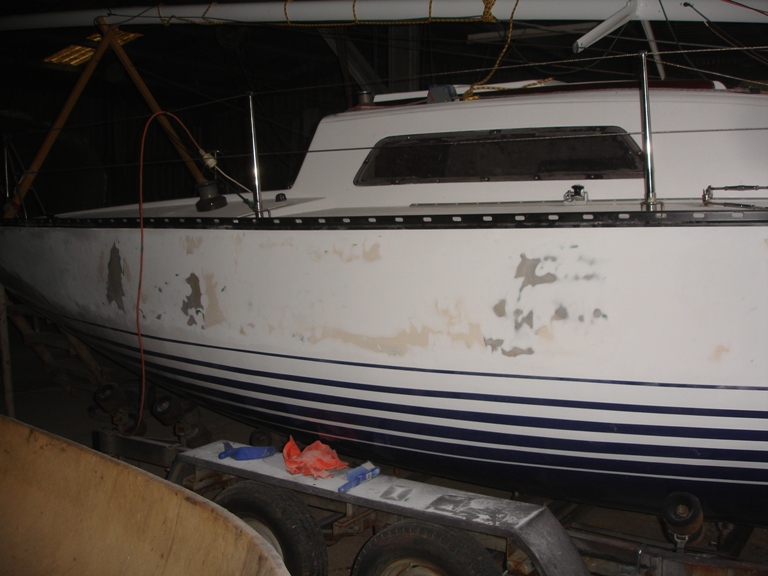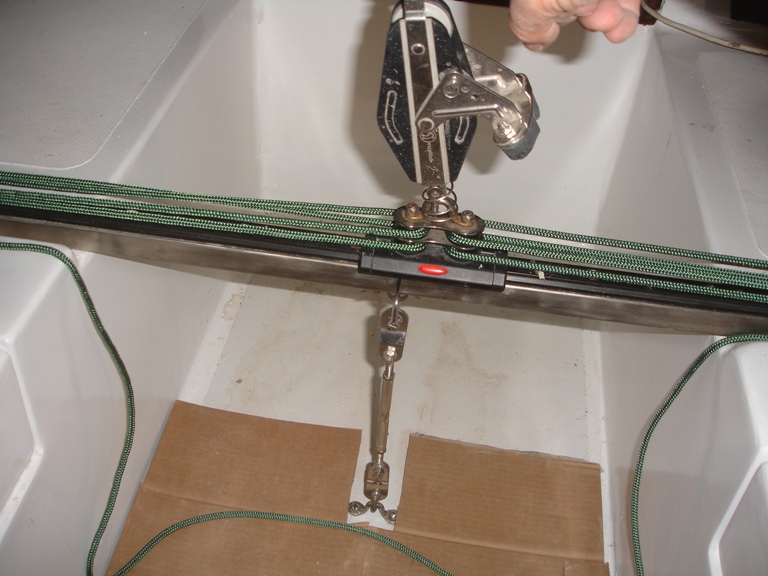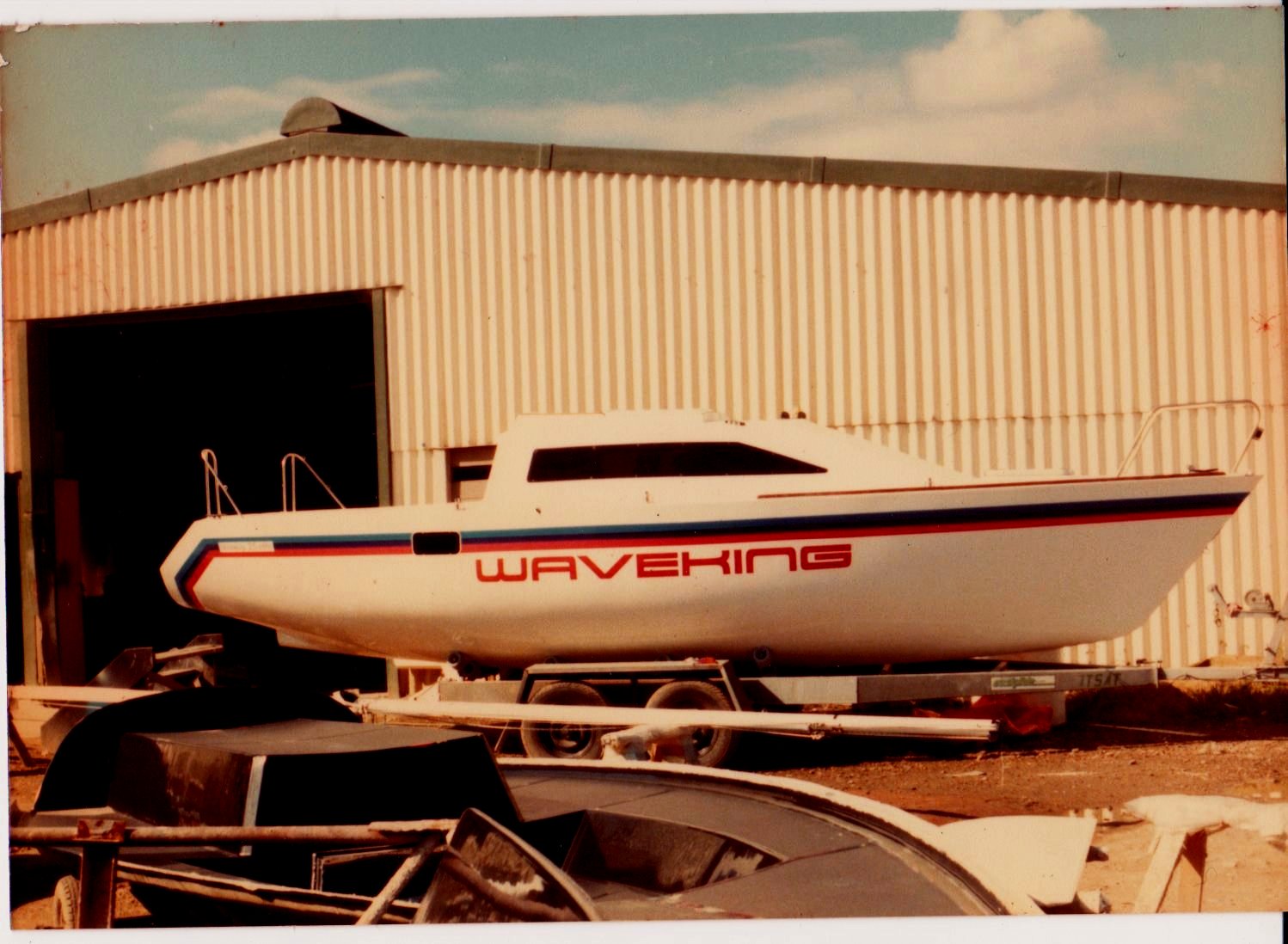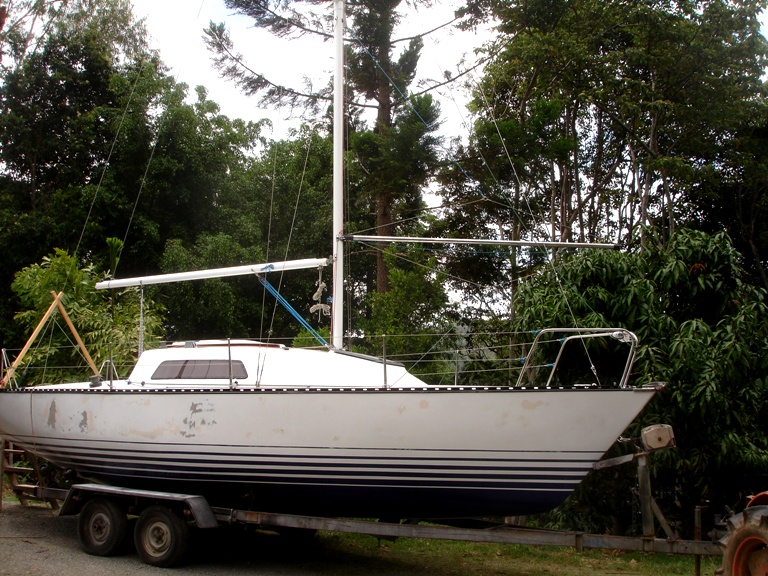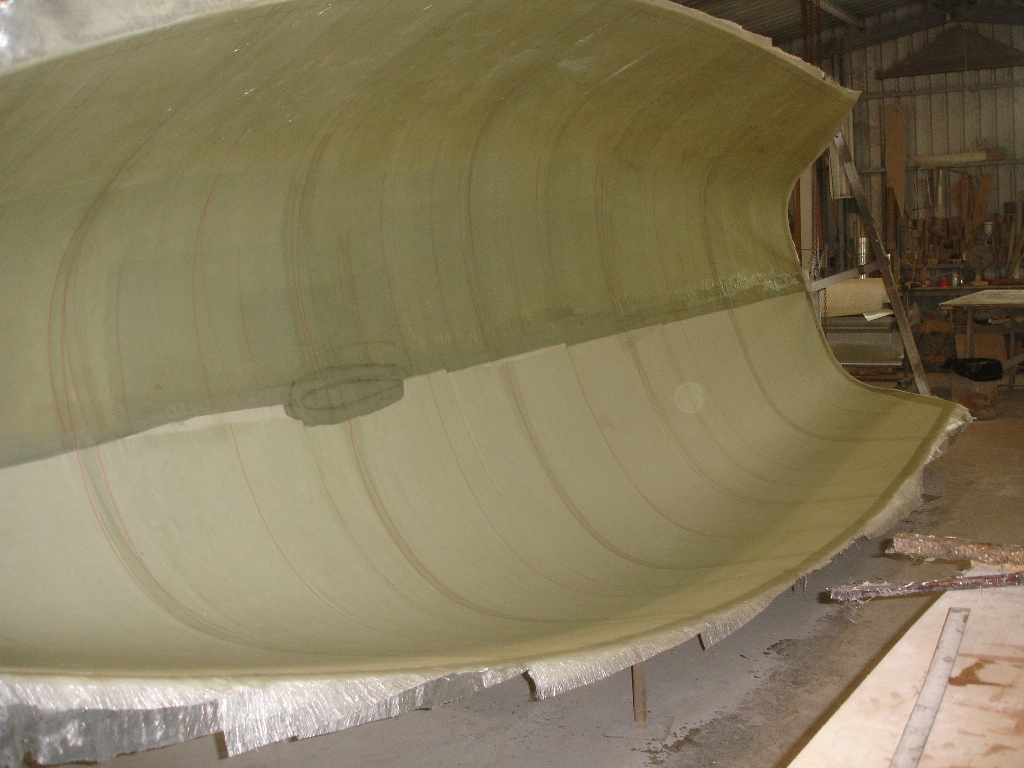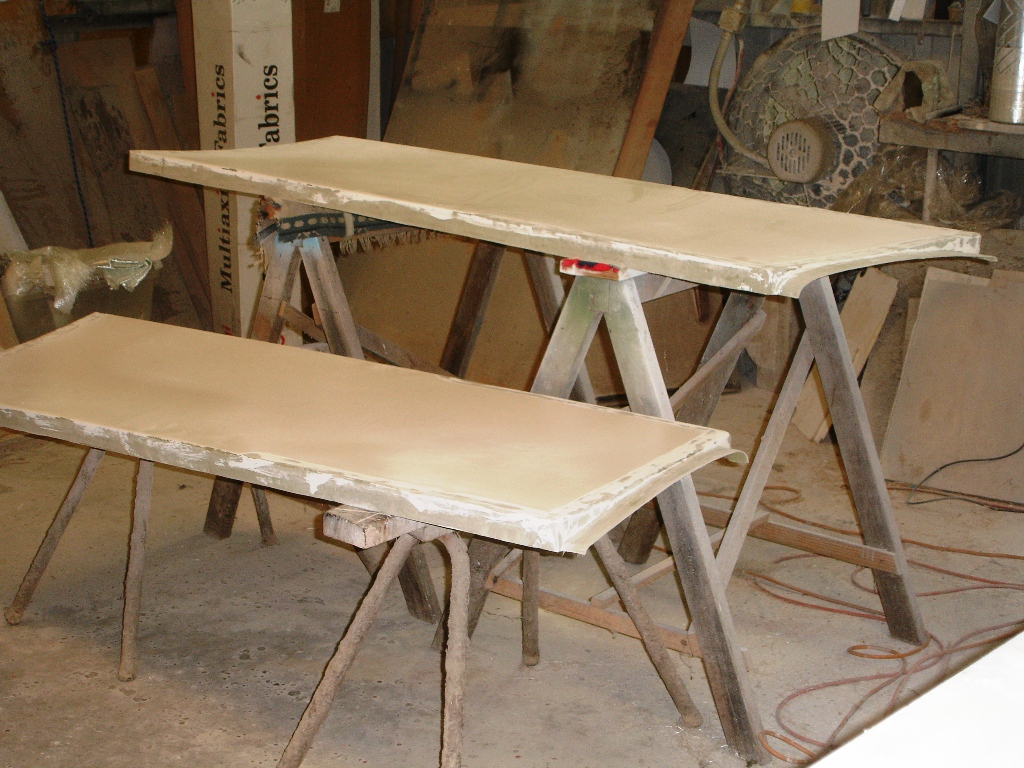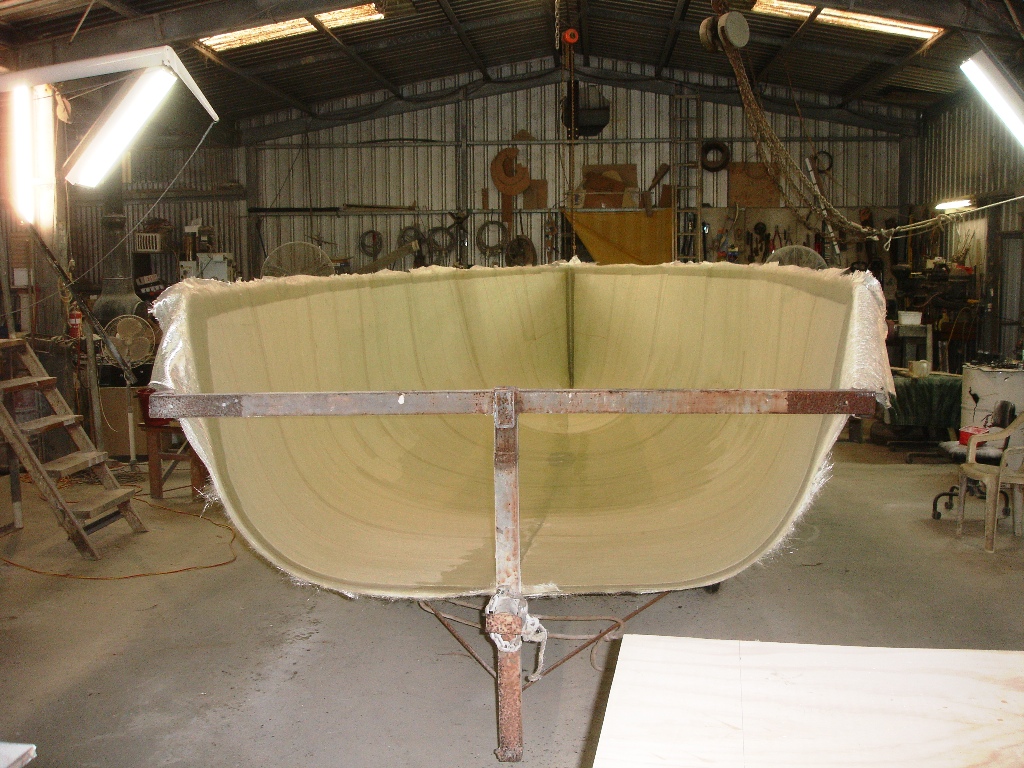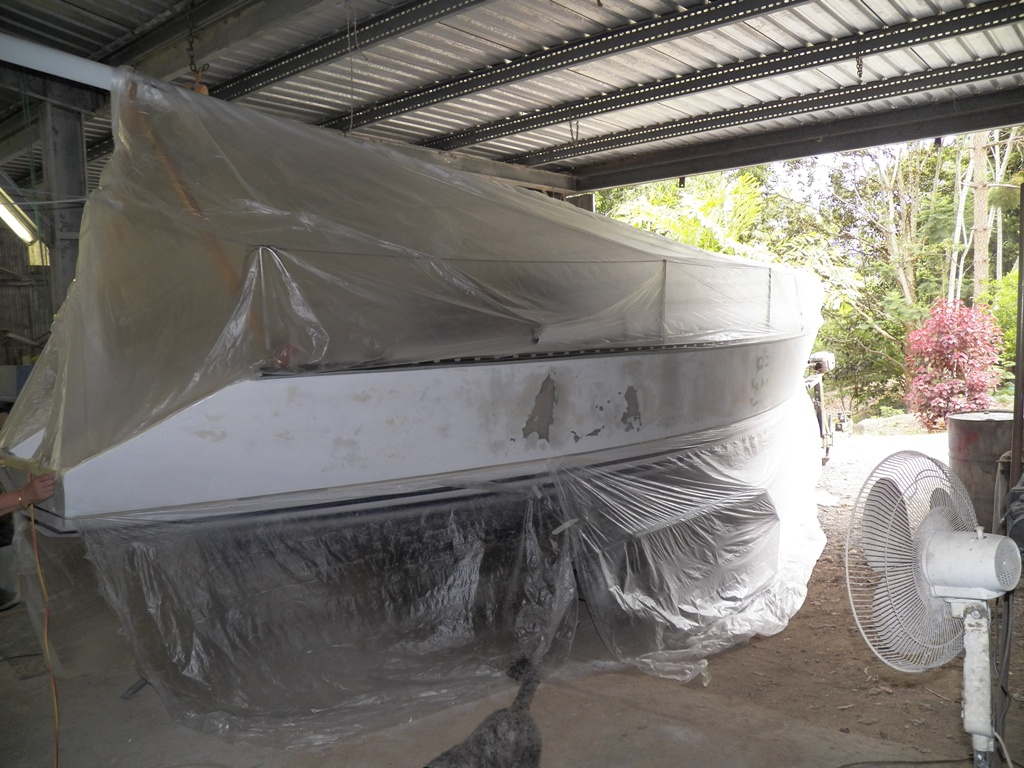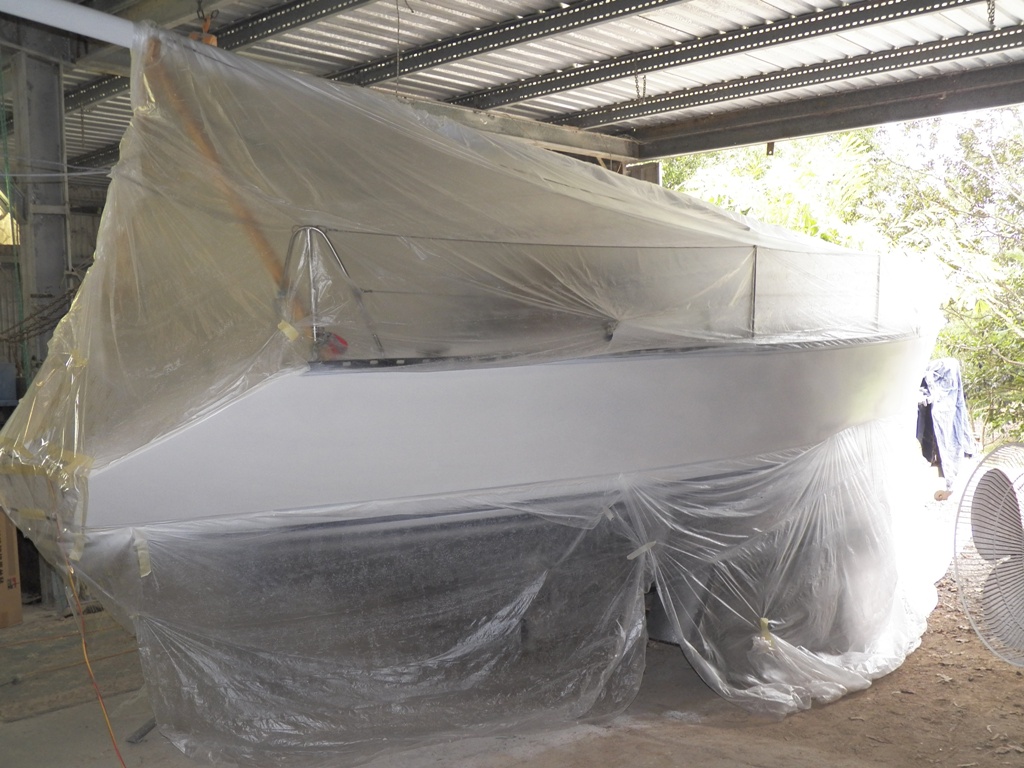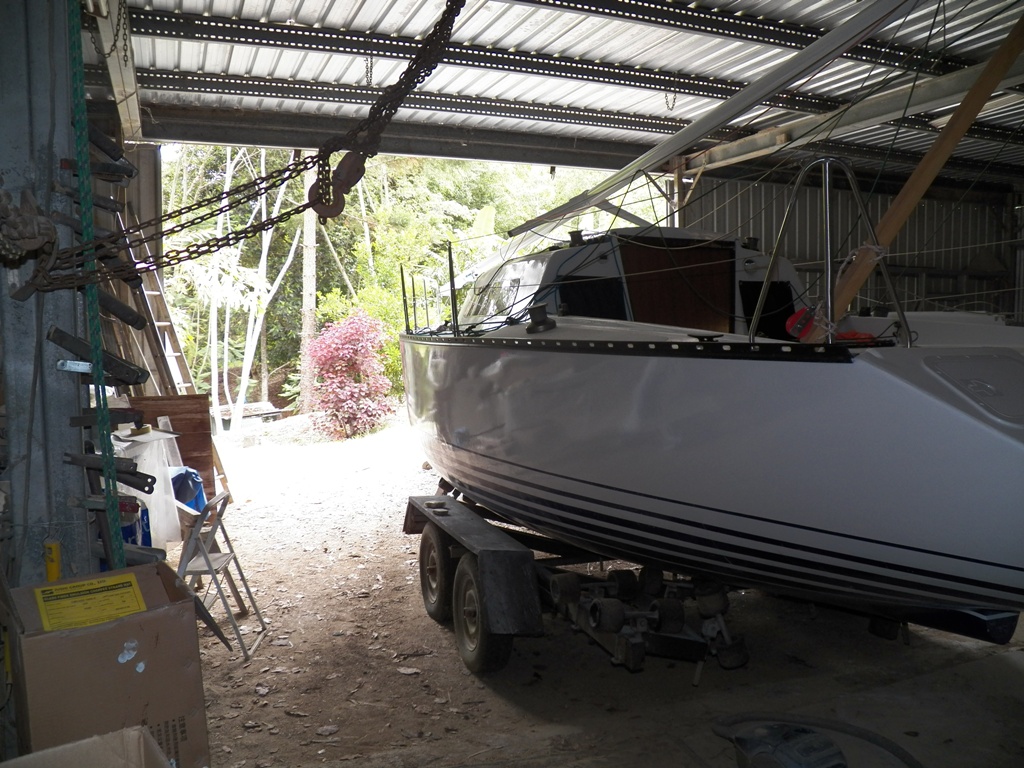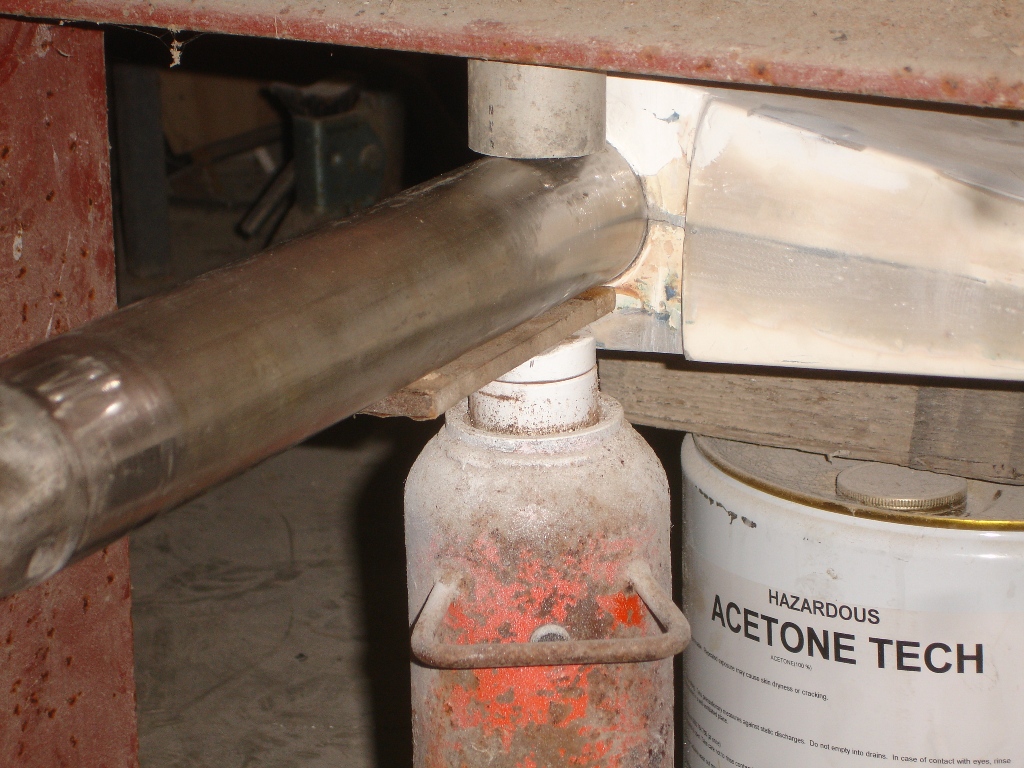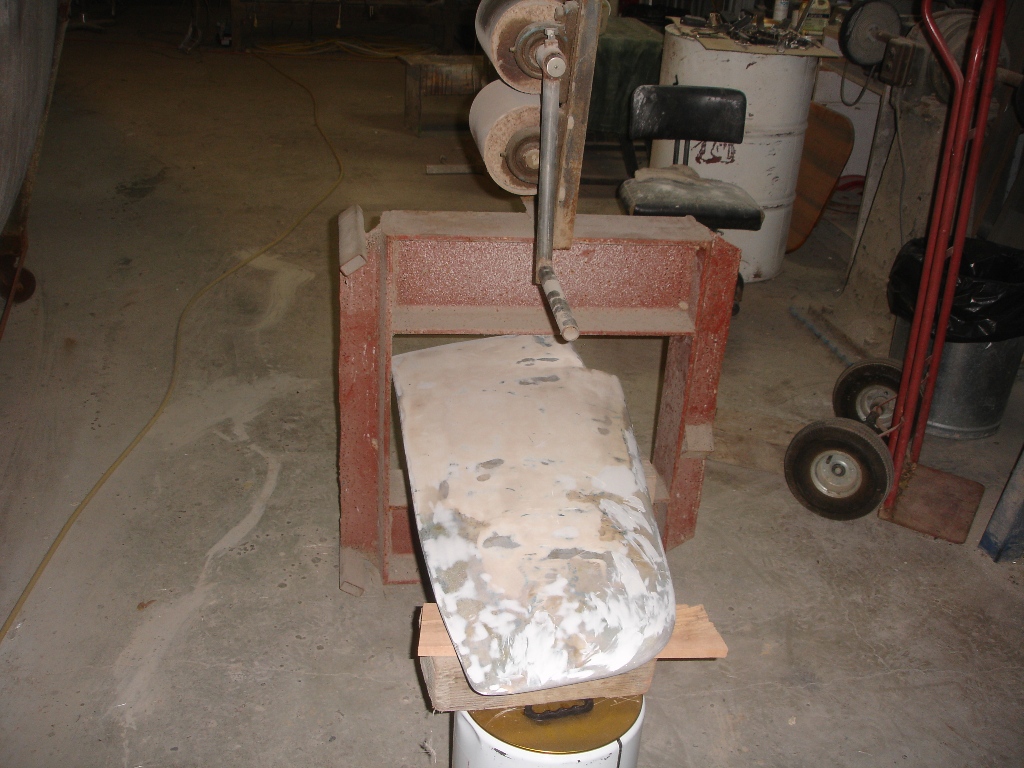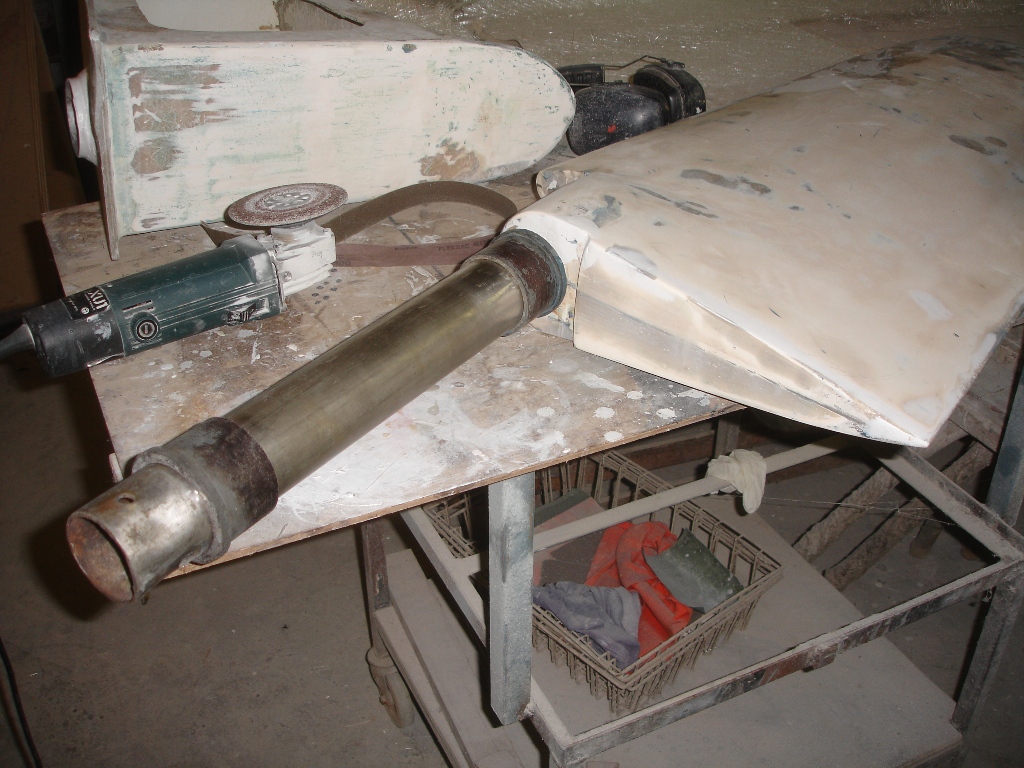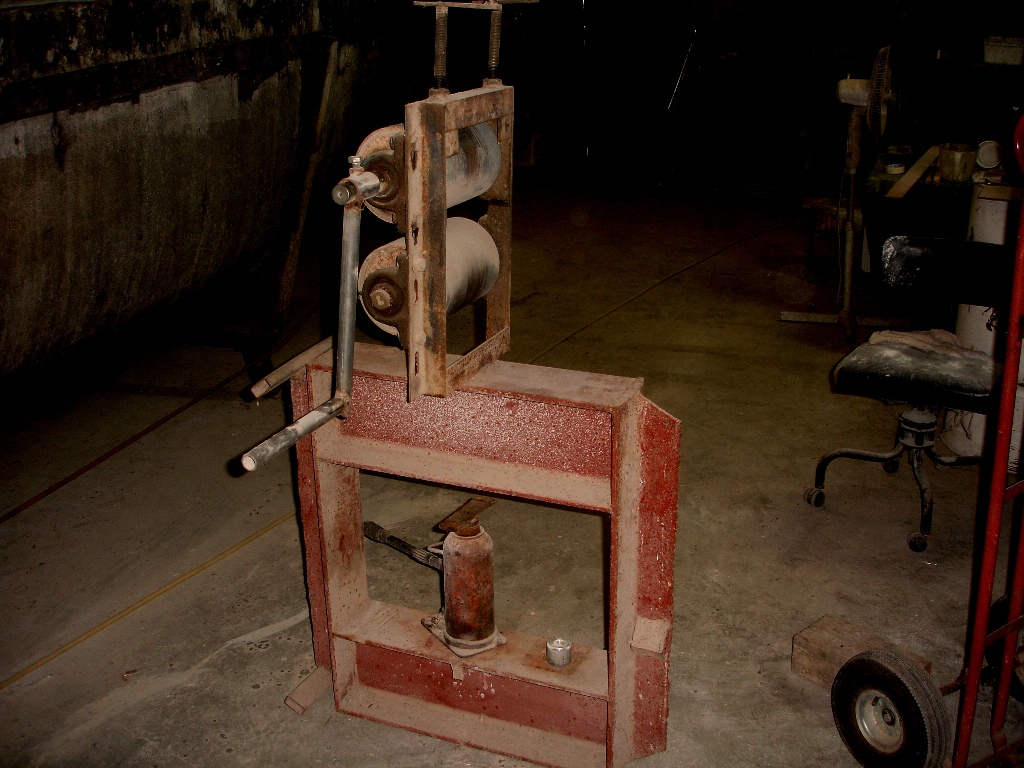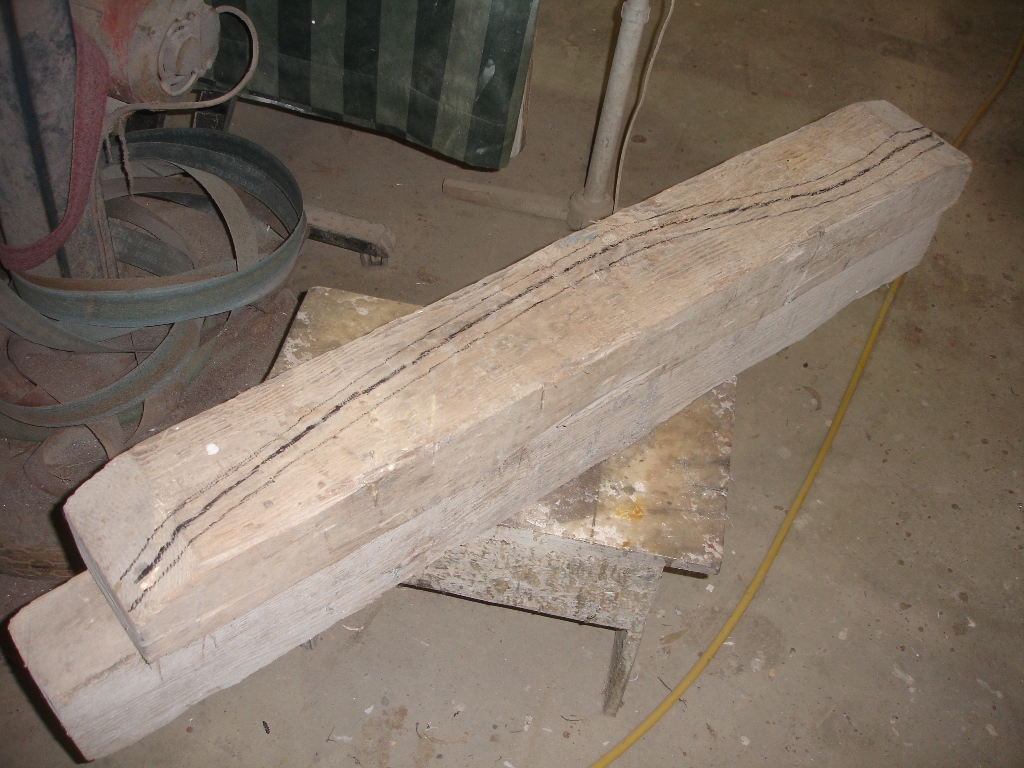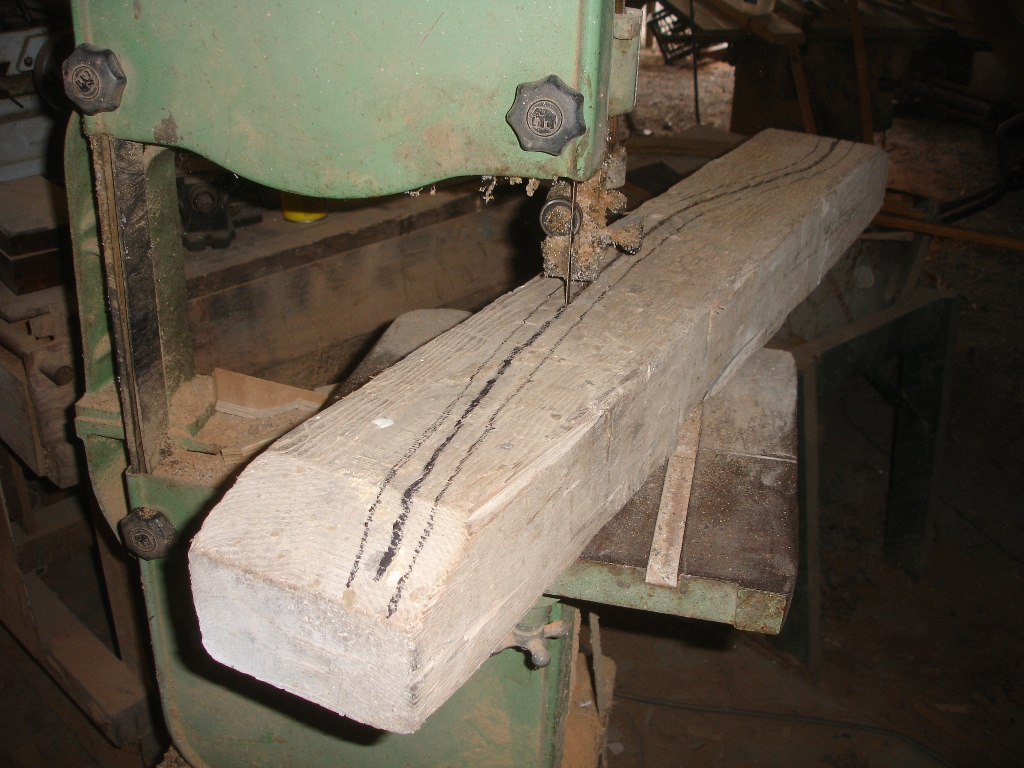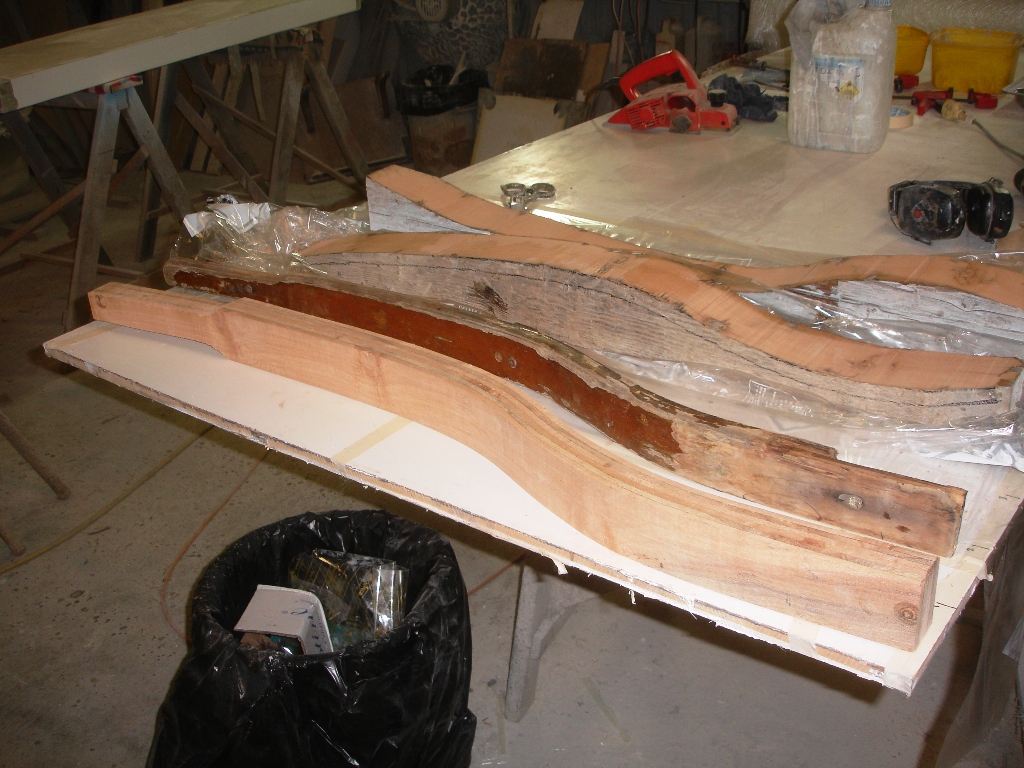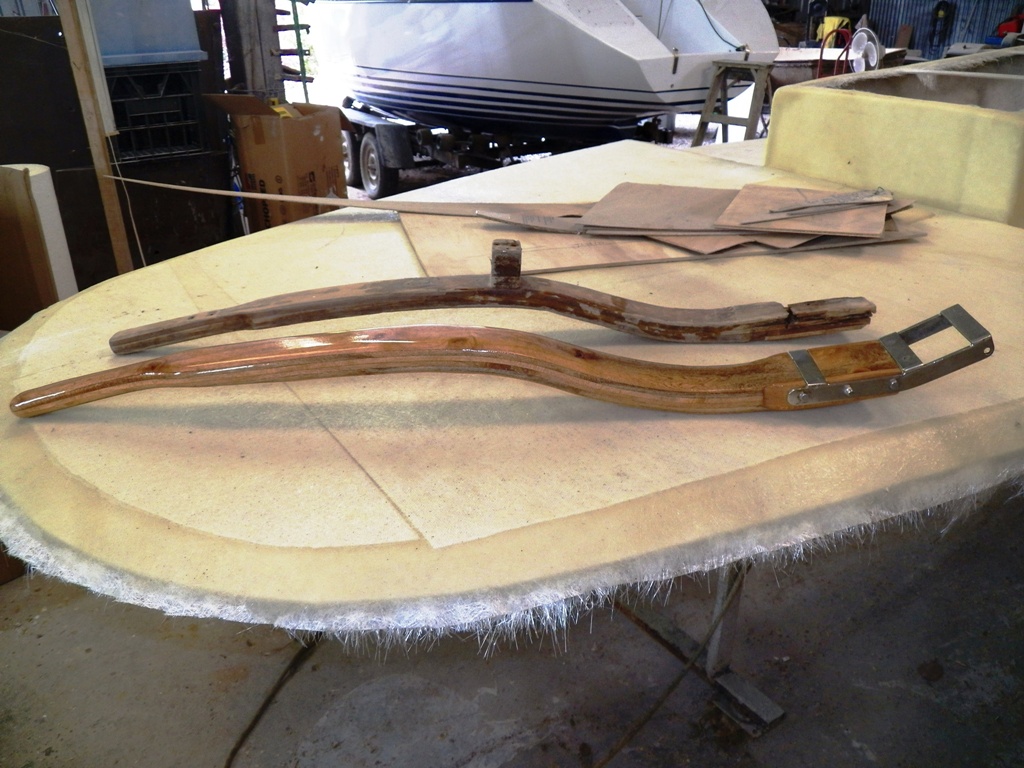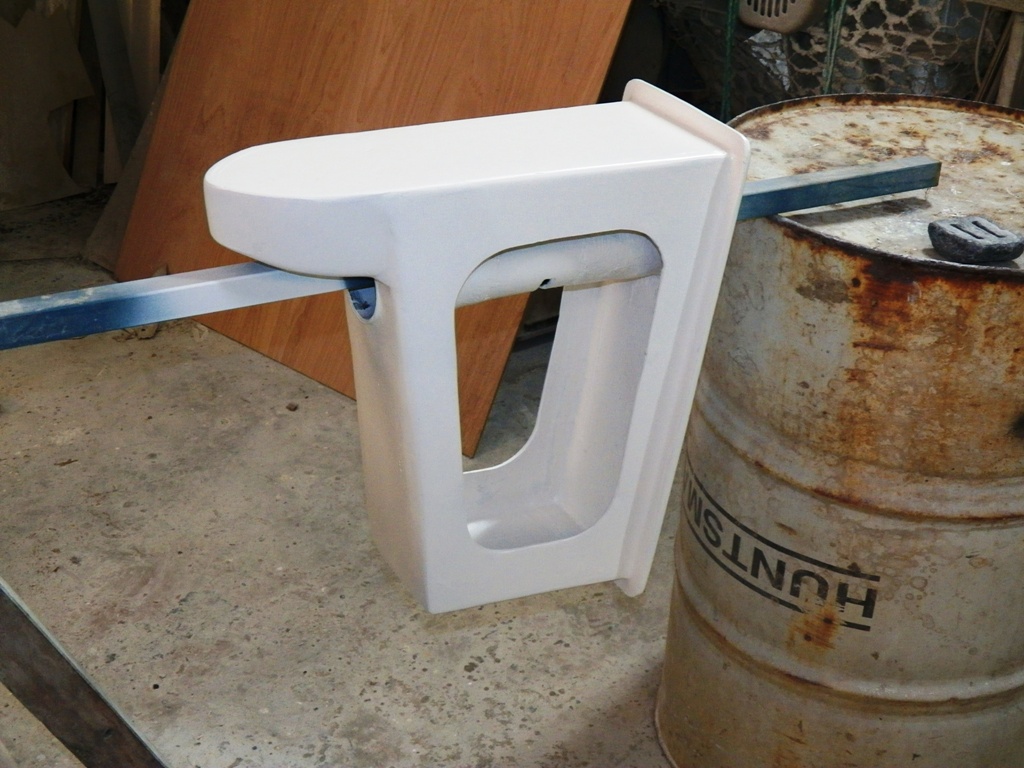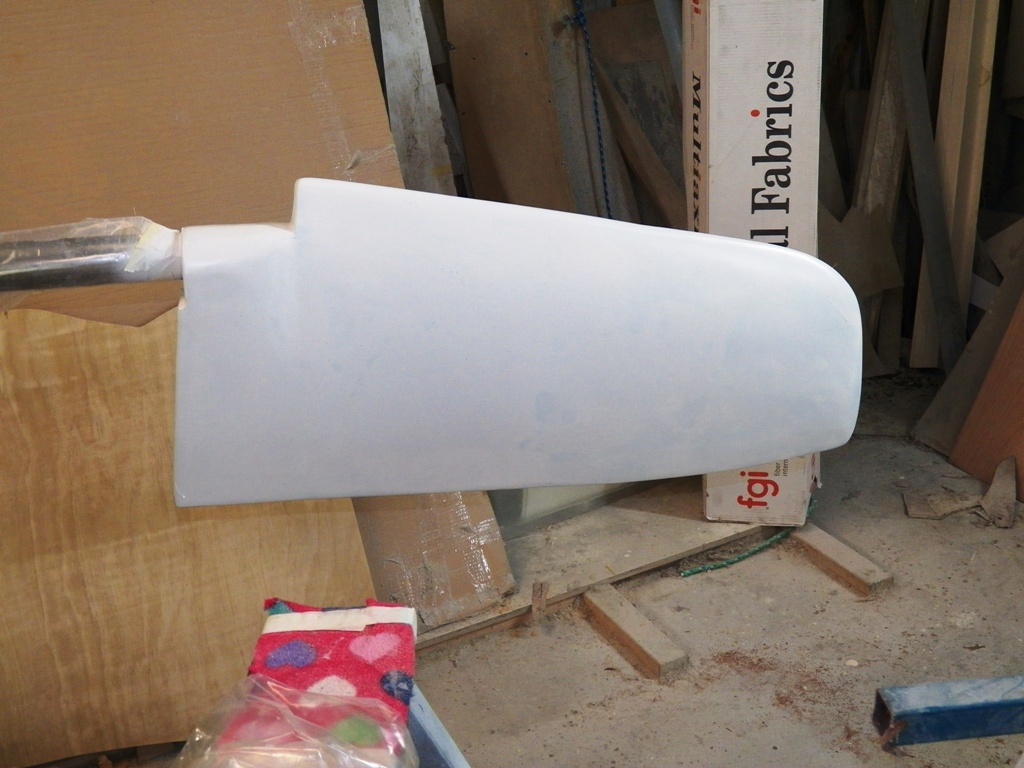 \